Duration

1994–2004




Last appearance

"The Last One"




Mother

Judy Geller




Parents

Jack Geller, Judy Geller




First appearance

"The Pilot"




Father

Jack Geller




Full name

Dr. Ross Eustace Geller






Created by

David Crane Marta Kauffman




Portrayed by

David Schwimmer, Edo Azran




Occupation

Paleontologist, Studies Dinosaurs, College Professor




Spouse

Rachel Green, Emily Waltham, Carol Willick




Children

Emma Geller-Green, Ben Geller




Similar

Rachel Green, Chandler Bing, Joey Tribbiani, Monica Geller, Phoebe Buffay
Ross Geller, Ph.D., is a fictional character from the NBC sitcom Friends, portrayed by David Schwimmer. Ross is considered by many to be the most intelligent member of the group and is noted for his goofy, pathetic but lovable demeanor. He is a compulsive liar to avoid arguments or situations with conflict, often leading to an arcing storyline within a show. His relationship with Rachel Green was included in TV Guide's list of the best TV couples of all time, as well as Entertainment Weekly's "30 Best 'Will They/Won't They?' TV Couples".
Contents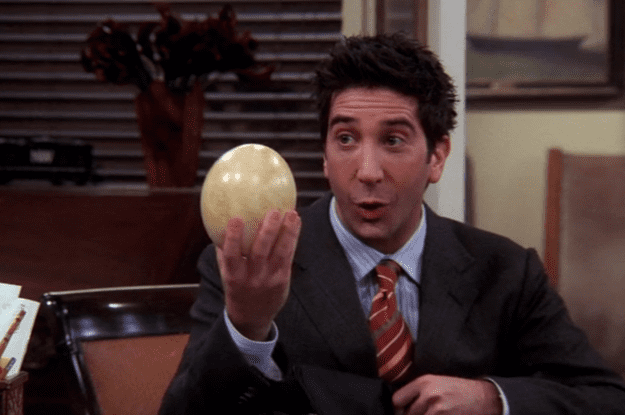 Backstory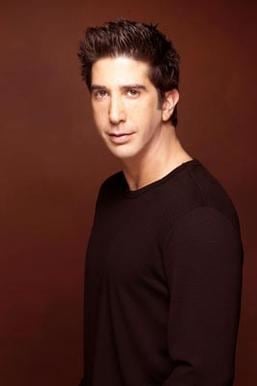 Geller is a paleontologist and has a Ph.D. from Columbia University. He is known to refer to himself as "Dr. Ross Geller." An ongoing theme of his narrative arc is his romantic feelings toward Rachel Green, an infatuation that began in high school. A theme of Friends is their on-again, off-again romantic relationship.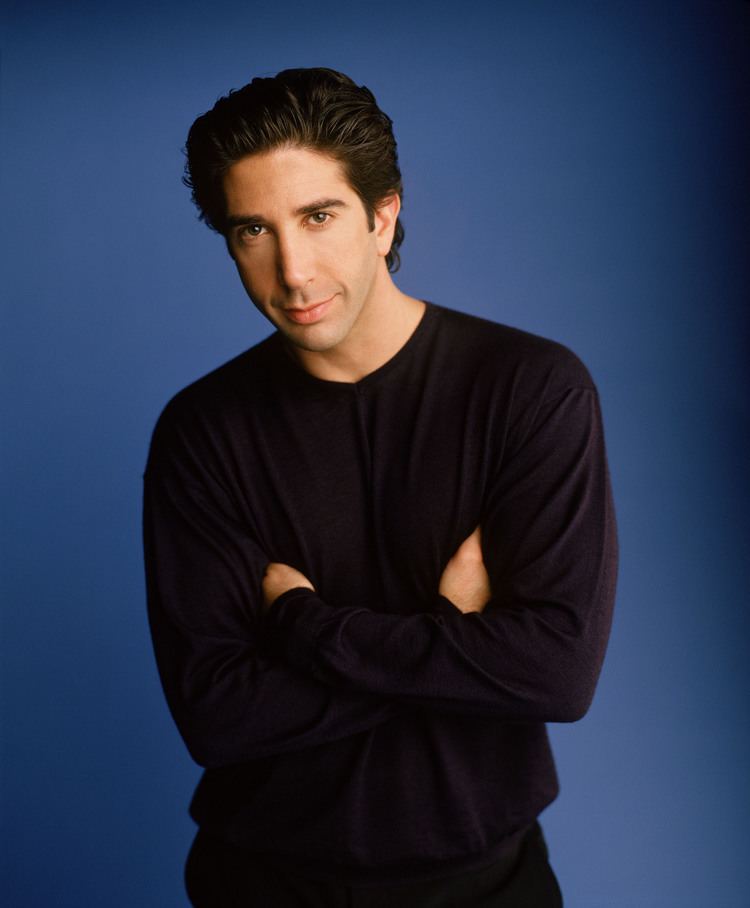 Born on October 18, 1967, and raised on Long Island, Ross is the older brother of Monica Geller. Ross and Monica are Jewish and see themselves as at least cultural Jews, with Ross taking a more active role in wanting to teach his son, Ben, about the faith.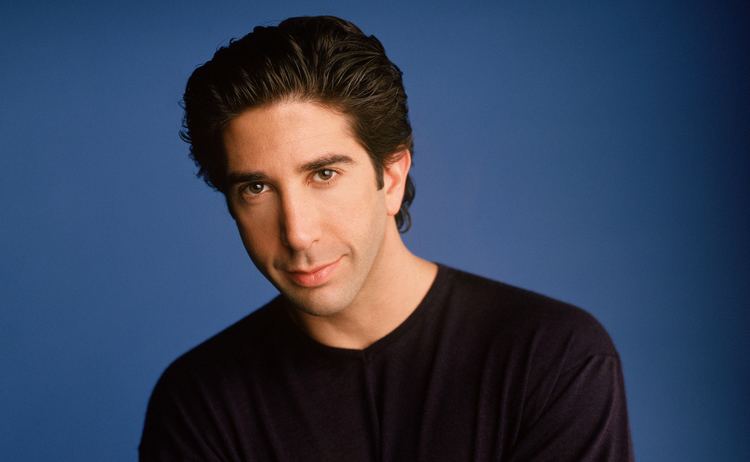 A running theme in Geller's narrative is his competition with his younger sister, manifested through wrestling and paranoia. As children, they took part in a football match for the Geller Cup every Thanksgiving. This ended in its sixth year after Monica "accidentally" broke Ross's nose. The siblings came up with a dance in primary school called "The Routine", which later on allowed them to perform in a New Year's Eve TV broadcast.
1994–2004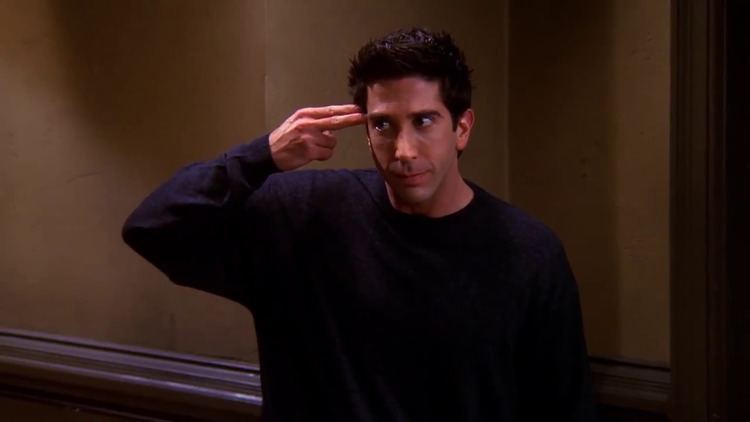 Geller often comes into conflict with his close friend, Phoebe Buffay. His rationality and Phoebe's eccentricity lead to conflict over evolution, gravity, and whether Phoebe's mother was reincarnated as a cat. It is also revealed that Phoebe once mugged Ross (stealing a copy of the comic book Science Boy that Geller had created) when they were teenagers. The two are roommates for a few weeks when a fire forces Phoebe to move into Chandler Bing and Monica's apartment and Phoebe wants to give the newly engaged couple some privacy. In a "flashback" episode, they are alone at the bar and start kissing, but the moment quickly passes when Geller keeps bumping his head.
Geller's best friend since college is Chandler. In college, they were in a band called Way/No Way, and Geller blamed Chandler when he was caught smoking marijuana. Chandler becomes Geller's brother-in-law after he marries Monica. Geller is also close friends with Joey Tribbiani and helps him with movie and stage auditions. He kisses Joey once in order to help him practice a role as a gay man, only to find out that Joey had already done the audition and didn't get the part. Joey and Geller also briefly try to cut Chandler out of their friend group after he ignores them. Toward the end of the series, however, Geller and Joey are seen to become closer friends, often hanging out together after Chandler gets married.
Relationships
Over the course of the show, Geller dates a considerable number of women. He marries and is divorced three times. This is a running gag within the series.
Carol Willick. Geller's first wife. The mother of his biological son, Ben. In the very first episode, Carol has just moved out of their apartment after revealing that she was lesbian and was leaving Ross for a woman named Susan Bunch.
Julie. Portrayed by (Lauren Tom), an old graduate school colleague. She first appears in the final scene of the season 1 finale. They start dating in season 2 but break up after Ross discovers Rachel's feelings for him and he decides he wants to be with her instead.
Bonnie. A love interest to whom Phoebe introduces Geller.
Mona. A love interest [Bonnie Somerville] he met at a wedding who later broke up with him when she found out that his roommate, Rachel Green, was pregnant with Ross's child.
Chloe. Ross's only relationship with Chloe was a one-night-stand during the break with his relationship with Rachel Green.
Janice. Ross has a brief fling with Janice, Chandler's ex-girlfriend, in season 5. Phoebe said they would have very hairy children. Janice ends up dumping Ross because she thinks he whines a lot about his failed marriages. Ross, worried about how he would react, tells Chandler, who, to his surprise, laughs.
Elizabeth Stevens. An immature student who Ross dates. They break up due to her immaturity.
Charlie Wheeler. Ross meets Charlie (Aisha Tyler) in "The One With The Soap Opera Party". She is a paleontologist who has recently joined Ross' department. She initially dates Joey before breaking up with him and gravitating toward Ross, after realizing she has more things in common with Ross. She eventually reconciles with her ex-boyfriend, so she and Ross break up.
Rachel Green
Rachel is Ross's most significant relationship in the series. His attraction to her is established early on; Ross met Rachel through his sister Monica, who was Rachel's best friend in high school. He developed an unrequited crush on her, but never followed through on it. After leaving college, Ross married Carol, whom he had met at college, and had seemingly put his feelings for Rachel aside before he met her again in the pilot episode.
They have an on-again, off-again dynamic throughout most of the show.
In the 8th season, Geller has a daughter with Rachel named Emma Geller-Green.
In the final episode, they profess their love and decide to begin dating once again.
It is implied on Joey that they remarry after the show has ended.
Emily Waltham
During the fourth season, Ross meets and falls in love with Emily Waltham (Helen Baxendale), a British woman who is set up with Ross by Rachel. Ross spontaneously asks Emily to move in with him. This escalates into a marriage proposal. The two plan a wedding in London, to which Rachel is invited.
During the ceremony, Ross, upon seeing Rachel, has a slip of the tongue and says her name instead of Emily's during his vows. They divorce not long afterward.
Career
Ross studied paleontology, completed his Ph.D. and got a job at the New York Museum of Prehistoric History.
In season six, Ross begins working as a professor at New York University. He is not a particularly good teacher: his papers, including a publication on sediment flow rates, are widely discredited among academics; he regularly forgets to go to class; is easily manipulated by his students into giving them higher grades; has been known to bore his students to sleep and non-attendance; receives extremely poor evaluations from his students at the end of each term; grades papers without bothering to read them so that he can have sex with his girlfriend; and once spent an entire lesson trying to explain to his students that he "had the idea for Jurassic Park first".
Arguably, Geller is only employed at the end of the series because of his tenure in the final season, so the college can't fire him. It's also unclear how he got tenure so quickly.
Children
Geller has two children. His son, Ben, was conceived while Geller and Carol were still married and born at the end of Season 1. Ross shares a joint custody of Ben with his former wife Carol and her life partner Susan.
Ben appeared in a total 16 (17) episodes and was played chronologically: as an infant by Michael Gunderson Season 1 to 2, by brothers Charles Thomas Allen and John Christopher Allen from Season 3 to 5, and by Cole Sprouse from Season 6 to 8.
Geller's daughter with Rachel, Emma Geller-Green was born at the end of Season 8. Rachel's pregnancy was originally revealed in the season finale of Season 7. The conception of Emma, was predominantly, a result of one-night stand, which was later revealed in the Season 8 episode, "The One With The Videotape".
In popular culture
Ross Geller has become a well-known figure in pop culture, in particular due to his relationship with Rachel Green. He is arguably the most polarizing of the Friends characters, appearing as a figure of controversy.
In 2015, a play titled Ross & Rachel debuted at the Edinburgh Fringe Festival.
In October, 2016, Ross Geller was voted "the Best Friends Character" in an international poll held by Comedy Central, during six weeks of "FriendsFest" on the channel.
References
Ross Geller Wikipedia
(Text) CC BY-SA