Country

Lithuania


Area

13.28 km²




Capital

Jurbarkas district municipality




Population

13,797



Jurbarkas ( , known also by several alternative names) is a city in Taurage County, Lithuania. It is on the right-hand shore of the Neman River at its confluence with the tributaries Mituva and Imsre. The town became an important road junction after a bridge was built over the Nemunas River in 1978.
Contents
Map of Jurbarkas
Testimony of doba rozenberg about the mass murder of the jews from jurbarkas in lithuania
History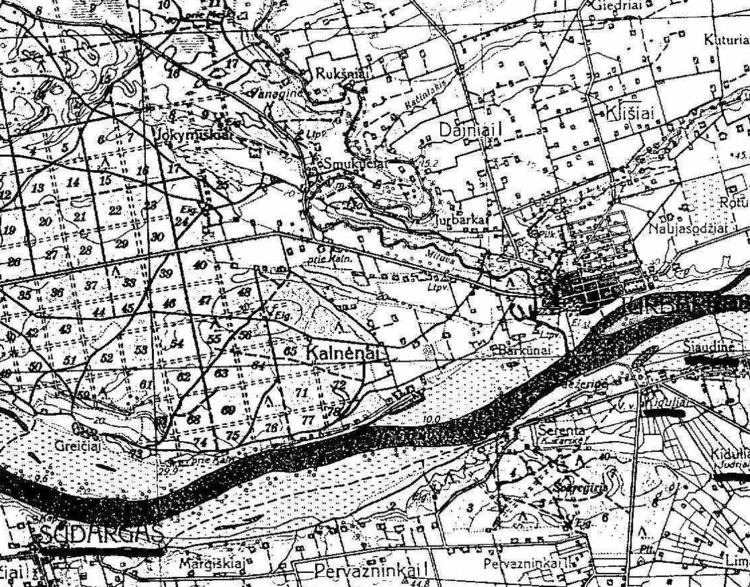 Although Jurbarkas is said to have been a seat of Lithuanian princes from the Palemonids legend, it was first documented in 1259 as the Teutonic Knights Ordensburg castle of Georgenburg ("Georges castle") on the Neman. This castle was constructed 3 km (1.9 mi) west of the current town on a hill now known as Bispiliukai, while the Lithuanians built a castle on Bispulis hill by the Imsre. Although the German crusaders were often at war with the Lithuanians, Mindaugas, King of Lithuania, did not oppose Georgenburgs construction after his conversion to Christianity.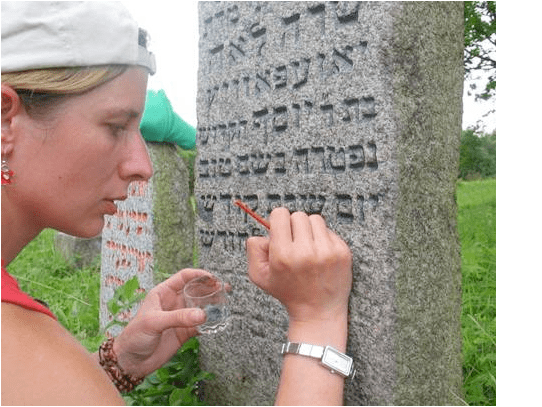 The castle of Georgenburg was abandoned by the Teutonic Knights after their defeat in the Battle of Grunwald in 1410. The region was included within Lithuania in the Treaty of Melno in 1422, and the current site of Jurbarkas began to develop as a border town and customs point, growing through the exporting of lumber on the Neman to Ducal Prussia. In 1586 famous chronicler Maciej Stryjkowski became a church provost in Jurbarkas. King Sigismund III Vasa granted Jurbarkas its Magdeburg rights in 1611.
In 1795 Jurbarkas was annexed by the Russian Empire during the third partition of the Polish–Lithuanian Commonwealth and was part of Vilna Governorate, later a part of Kovno Governorate (1843–1915). Its growth stagnated during the 19th century as traffic on the Nemunas decreased because of the rise of railways. The town was briefly liberated from the occupying Russian forces by the insurgents during the November Uprising in 1831. Because of its riverside location, Jubarkas often suffered from floods (notably in 1862). 120 houses burned down from a fire in 1906.
References
Jurbarkas Wikipedia
(Text) CC BY-SA
(,)http://kehilalinks.jewishgen.org/yurburg/mapsudargs1.jpg(,)http://kehilalinks.jewishgen.org/yurburg/PhotosRiva_files/image003.png(,)https://walkingmylineage.files.wordpress.com/2012/06/20120627-231127.jpg(,)https://farm1.staticflickr.com/231/446335968_c17f5d4f1f_b.jpg(,)http://upload.wikimedia.org/wikipedia/commons/b/b9/Jurbarkas_vutautas_2010.jpg(,)http://upload.wikimedia.org/wikipedia/commons/6/67/Jurbarkas_kauno_gatve.jpg(,)http://upload.wikimedia.org/wikipedia/commons/4/4e/Vytauto_gatve.JPG(,)http://lithuanianphilately.com/wordpress/wp-content/uploads/2011/12/LT-1919-Jurbarkas-MS-reg-74-av-sm.jpg(,)http://www.hist-chron.com/eu/Litauen/EncJud_Litauen-d/EncJud_Lithuania-band11-kolonne365-366-05-synagoge-Jurbarkas.gif(,)http://lithuanianphilately.com/wordpress/wp-content/uploads/2010/06/Jurbarkas-Fig4a.jpg
(,)http://static.panoramio.com/photos/large/27953674.jpg(,)http://jurbarkas.lt/jurb/m/m_images/wfiles/i463632789.jpg(,)http://static.panoramio.com/photos/large/62774393.jpg(,)http://static.panoramio.com/photos/large/23819624.jpg(,)http://www.jurbarkotic.lt/img/upe.jpg
(,)http://www.babilonas.lt/media/dynamic/img/131/174_zoomed_raudone-jurbarkas_map_small.jpg(,)http://www.babilonas.lt/media/dynamic/img/204/367_zoomed_panemunes_pilis.jpg
(,)http://images.ttcdn.co/media/i/product/203458-675c628e62374944a182c262a3a5b98c.jpeg%3Fsize%3D1000(,)http://i1071.photobucket.com/albums/u505/vyrud3/map_geg.jpg(,)http://kehilalinks.jewishgen.org/yurburg/jurb.jpg(,)http://www.billfarran.com/gallery/full/jurbarkas-sky.jpg(,)http://i.imgur.com/LQyIG.jpg(,)http://mw2.google.com/mw-panoramio/photos/medium/44229918.jpg
(,)http://static.panoramio.com/photos/large/45376309.jpg(,)http://i231.photobucket.com/albums/ee59/vyrud/vyrud1/P1090226.jpg(,)http://i231.photobucket.com/albums/ee59/vyrud/vyrud1/P1090230.jpg(,)http://i231.photobucket.com/albums/ee59/vyrud/vyrud1/P1090248.jpg(,)http://i231.photobucket.com/albums/ee59/vyrud/vyrud1/P1090254.jpg(,)http://image.slidesharecdn.com/jurbarkas-141021064055-conversion-gate02/95/jurbarkas-8-638.jpg%3Fcb%3D1413891724(,)http://www.yadvashem.org/untoldstories/database/photos/384/jurbarkas%5B1%5D.jpeg(,)http://i231.photobucket.com/albums/ee59/vyrud/vyrud1/P1090222.jpg(,)http://i231.photobucket.com/albums/ee59/vyrud/vyrud1/P1090232.jpg(,)http://mw2.google.com/mw-panoramio/photos/medium/31014527.jpg(,)http://mw2.google.com/mw-panoramio/photos/medium/24491871.jpg(,)http://mw2.google.com/mw-panoramio/photos/medium/45066863.jpg(,)https://lh6.ggpht.com/_PWSxKpL8OIPKC_gv9suqltTmmlsEK5S0ycjpEByPBuH0gM30lBM6E8a8w%3Dx0-y0-z1-nt0B66YDuWeVr6w2lDrC3OAwEKGvc4(,)https://mw2.google.com/mw-panoramio/photos/medium/27586951.jpg
(,)http://www.viskasturizmui.lt/cimg/imgs/jurbarkas1.jpg(,)http://www.jurbarkotic.lt/upload/212/Poster__Walkers_festival_of_Lithuania_2011_August_5th-7th_.jpg(,)http://www.viskasturizmui.lt/cimg/imgs/jurbarkas2.jpg(,)http://medaus-slenis.lt/images/Pilis.jpg(,)http://www.eventumgroup.lt/eng/Storages/display_image/10695/(,)http://kehilalinks.jewishgen.org/yurburg/100_6904.JPG(,)http://turizmogidas.lt/uploads/images/data/big/jurbarkas-vutautas-2010_mbm37tAA.jpg(,)http://www.eventumgroup.lt/eng/Storages/display_image/10694/