4.8

/

10

Alchetron

4.8

Rate This





First episode date

14 October 2013





Country of origin

United States




Starring

Kira KosarinJack GriffoAddison RieckeDiego VelazquezChris TallmanRosa BlasiMaya Le Clark

Opening theme

"Livin' a Double Life"byKira KosarinJack Griffo

Nominations

Kids' Choice Award for Favorite TV Actor

Awards

Kids' Choice Award for Favorite TV Show

Cast




Profiles



The thundermans then and now 2016
The Thundermans is an American superhero live-action comedy television series that premiered on Nickelodeon on October 14, 2013. The series stars Kira Kosarin, Jack Griffo, Addison Riecke, Diego Velazquez, Chris Tallman, Rosa Blasi, and Maya Le Clark.
Contents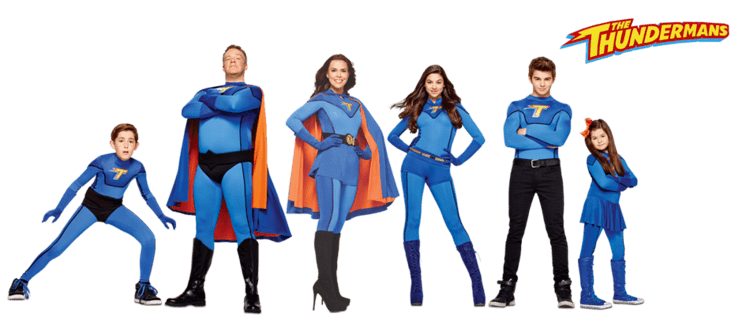 Plot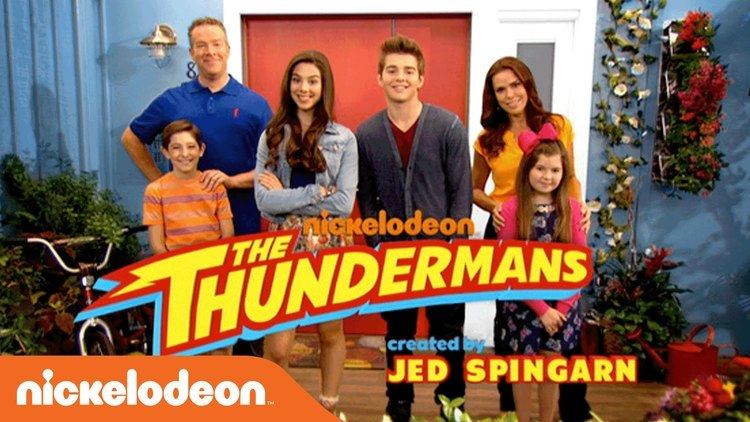 The series revolves around the Thundermans, a suburban family with superpowers who are living normal lives in the fictional town of Hiddenville, Florida. The series specifically focuses on teenage twins Phoebe, who is working to become a full-fledged superhero, and Max, who is trying to be a supervillain.
Main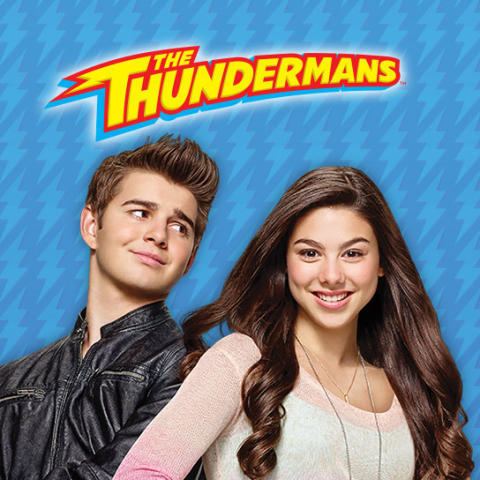 Phoebe Thunderman

(Kira Kosarin) is a superheroine twin to Max and older sister to Billy, Nora, and Chloe. Her superhero alias is Thunder Girl. She is very responsible, a straight A student, and tries to play by the "no powers" rule. She has telekinesis, freeze breath, and heat breath. In "Thundersense", Phoebe develops a new ability called Thundersense, which warns her if she and others are in danger. Since the beginning of season 3, Phoebe has been training to become a superhero and officially became the superhero, Thunder Girl in the special "Thundermans: Secret Revealed". At the beginning of the series, Phoebe is 14 years old.
Max Thunderman

(Jack Griffo) is a superhero/supervillain-influenced twin to Phoebe and older brother to Billy, Nora, and Chloe. Despite being raised by superheroes, Max wanted to become a supervillain for most of the series. He eventually made a choice to become a superhero in the season 3 finale. His basement bedroom serves as his evil lair and it is also where he keeps Dr. Colosso, a supervillain Thunder Man turned into a rabbit. He has the same powers as Phoebe, and like his twin sister, he is 14 at the beginning of the series.
Nora Thunderman (Addison Riecke) is the second youngest of the Thunderman family and a mischievous little sister to Phoebe, Max, and Billy and older sister to Chloe. Her superpower is laser vision. She can easily recruit Billy into any scheme of hers, as she scares him a bit.
Billy Thunderman (

Diego Velazquez

) is the third-born Thunderman child. He is an energetic little brother to Phoebe and Max and older brother to Nora and Chloe. His superpower is super-speed. In one episode, it was revealed that Barb gave birth to Billy in the air while her husband was transporting her to a hospital, implying that Billy likely hit his head after birth, which is probably why he is sometimes unintelligent.
Hank Thunderman (Chris Tallman) is the husband to Barb and father to Phoebe, Max, Billy, Nora, and Chloe. His superhero alias is Thunder Man. His superpowers are super-strength and flight. Hank has now half-unwillingly retired as a superhero in order to give his kids a stable and normal home. He still uses his powers to fly to places around the world.
Barb Thunderman (Rosa Blasi) is the wife to Hank and mother to Phoebe, Max, Billy, Nora, and Chloe. Her superhero alias is Electress. Barb's superpower is controlling electricity and lightning. Unlike her husband, she is completely okay with leaving her superheroine life behind. Barb does, however, agree with Hank that Max is going through a supervillain "phase" that needs to end quickly.
Chloe Thunderman (Maya Le Clark; recurring season 3, main season 4) is the youngest Thunderman child and baby sister to Phoebe, Max, Billy, and Nora. Barb gave birth to her in "A Hero is Born". Chloe's babyhood superpower was making bubbles, and her permanent superpower is teleportation.
Recurring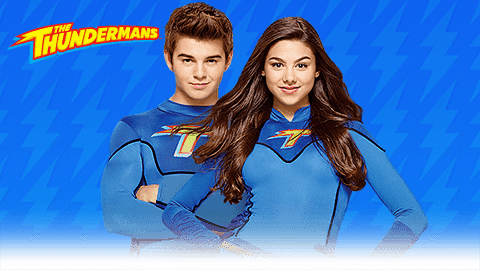 Cherry (Audrey Whitby) is Phoebe's best friend who is bubbly, tech-savvy and dimwitted. She was originally unaware of the family's superpowers, learning about them in "A Hero Is Born".
Dr. Colosso (Dana Snyder) is one of the world's greatest villains of the Villain League and Hank's former nemesis until Hank transformed him into a rabbit while still Thunder Man. He is kept in Max's bedroom. It is shown that Dr. Colosso likes Max very much. In "A Hero Is Born", Dr. Colosso was temporarily turned back to his human form so he could go get an award which was actually a plot by fellow villains King Crab, Lady Web, and Scalestro to get him kicked out due to being inactive in villainy. Other times when Dr. Colosso was turned human was when Kira had him pose as her uncle on family game night and when he stole the animalizer in a plot to disrupt Hank and Barb's wedding vow renewal. His puppet is performed by Stephen, Edward, & Charles Chiodo where they were later assisted by Kevin Carlson.
Cousin Blobbin (Harvey Guillen) is the sidekick of Barb's deceased millionaire Uncle Wilfred and the cousin of the Thunderman children. In his will, Wilfred left his enormous fortune and mansion for Blobbin. Blobbin is very sensitive, but, at the same time, extremely devoted to family and usually helps the Thundermans in whatever way he can.
Mrs. Wong (Helen Hong) is the owner of a pizza restaurant who is never nice to anyone, especially to the Thundermans. In her debut, Phoebe and Max take up jobs in her restaurant, but end up getting fired after they inadvertently destroy her kitchen, thus igniting her contempt for the twins and their family. In "Thundermans: Secret Revealed", she exposes the Thundermans to the people in Hiddenville. It is revealed in this episode that her first name is 'Olympia'. In "Thundermans: Banished," her pizza restaurant is accidentally destroyed by Phoebe and Max's attempts to stop an explosion. She later rebuilt it only for Candi Falconman to crash through her roof. She is among the Hiddenville residents to be fooled by Super President Kickbutt's fake power-removal on the Thundermans.
Oyster (Tanner Stine) is a guitarist boy who is in Max's new band as of "Pheebs Will Rock You". Phoebe initially had a crush on him until she learned that he is somewhat crazy.
Gideon (Kenny Ridwan) is a boy in Max's band.
Madison (Brooke Sorenson) is a cheerleader at Hiddenville High. She is the head of the cheerleading squad and often calls for cheer chats with the other cheerleaders.
Wolfgang (Jake Borelli) is a drum player of Max's band.
Sarah (Keely Marshall) is a girl who also has an obsessive crush on Max.
Principal Bradford (Jeff Meacham) is Hiddenville High's principal.
Maddy (Gabrielle Elyse) is a member of Madison's cheerleading squad who is one of Phoebe's friends.
Link Evilman (Barrett Carnahan) is Phoebe's boyfriend who is the son of Hank's former supervillain nemesis, Evilman. His superpower is elasticity.
Super President Kickbutt (Daniele Gaither) is the president of the Hero League. She alerts the Thundermans of any supervillians in the area and also presents superheroes that graduated from the Hero League Academy their capes.
Dark Mayhem (performed by Omid Zader, voiced by Jamieson Price) is a full-costumed dangerous villain who is an elite member of the Villain League. Dark Mayhem was responsible for the origin of Evilman. Max idolized him up to "Thundermans: Secrets Revealed."
Allison (Ryan Newman) is Hiddenville High's do-gooder who invests in every single social cause. She is Max's girlfriend.
Production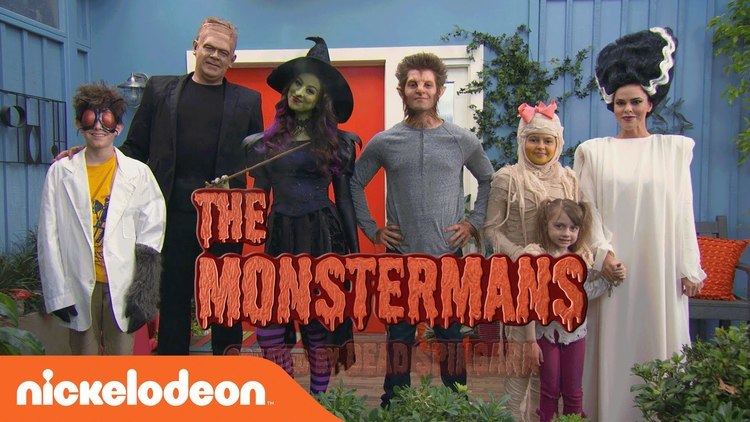 On August 3, 2012, Nickelodeon announced The Thundermans as one of its upcoming live-action series. Shooting began in mid-February and extras were cast at that time and throughout the production at Paramount Studios in Los Angeles. Its pilot was shot in October 2012. On December 20, 2013, the series was renewed for a second season. The second season premiered on September 13, 2014. On March 4, 2015, the series was renewed for a third season. The third season premiered on June 27, 2015. On March 2, 2016, the series was renewed for a fourth season, which premiered on October 22, 2016.
References
The Thundermans Wikipedia
(Text) CC BY-SA