Role

Football player




Place of death

Aalst, Belgium




Height

1.86 m





Playing position




Position

Forward




Name

Rinus Michels




Date joined

1946







Full name

Marinus Jacobus Hendricus Michels




Date of birth

(1928-02-09)9 February 1928




Date of death

3 March 2005(2005-03-03) (aged 77)




Died

March 3, 2005, Aalst, Belgium




Similar People

Ernst Happel, Frank de Boer, Dennis Bergkamp, Michel Hidalgo, Louis van Gaal




Place of birth

Amsterdam, Netherlands



Rinus michels gk 4v4 defensive cohesiveness in the defensive line
Marinus Jacobus Hendricus "Rinus" Michels ( [ˈmɪxəls]; 9 February 1928 – 3 March 2005) was a Dutch association football player and coach. He played his entire career for the club AFC Ajax, which he later coached, and was a member of the Netherlands national team both as a player and as manager. He is regarded as one of the greatest managers of all time.
Contents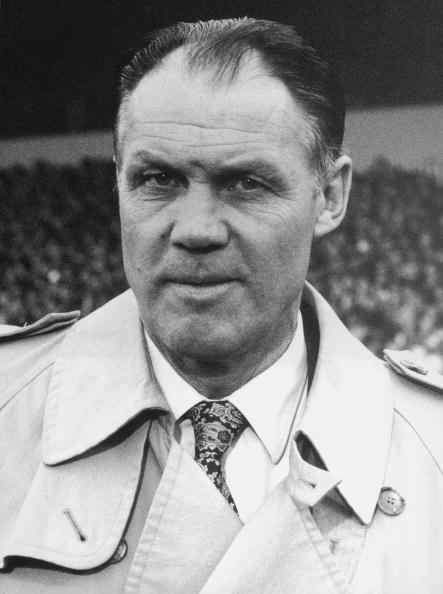 Michels became most notable for his coaching achievements, having won the European Cup with Ajax and the Spanish league with Barcelona, and having had four tenures as coach of the Netherlands national team, which he led to reach the final match of the 1974 FIFA World Cup and to win the 1988 UEFA European Championship.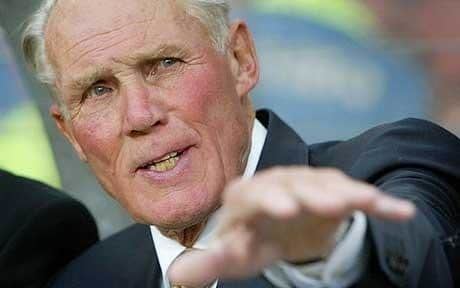 He is credited with the invention of a major football playing style and set of tactics known as "Total Football" in the 1970s. He was named Coach of the Century by FIFA in 1999 and in 2007 the greatest post-war football coach by The Times. In January 2017, Michels was named among the ten greatest coaches since the foundation of UEFA in 1954.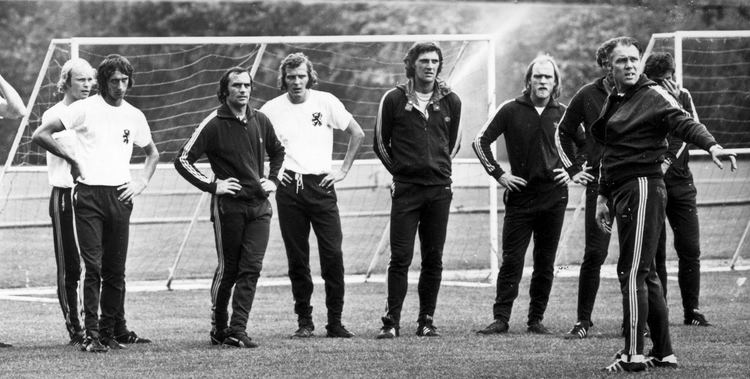 Playing career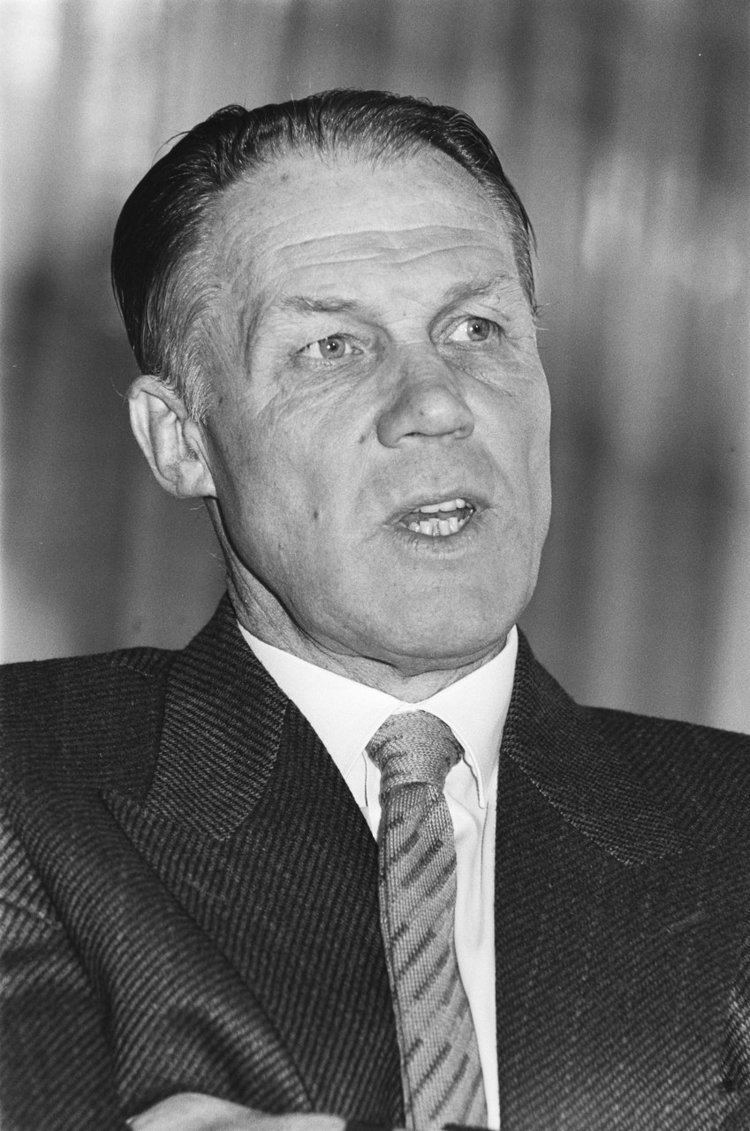 Michels was born in Amsterdam and grew up at the Olympiaweg, a street near the Olympic Stadium. He celebrated his ninth birthday on 9 February 1936, when he received a pair of football boots and an Ajax jersey. Moments later, he was playing with his father at a small field near their home. Via Joop Köhler, a friend of the family who was commissioner at Ajax, Michels was introduced to the club and became a junior member in 1940. When World War II started, and specially during the Dutch famine of 1944, Michels' career was set on hold.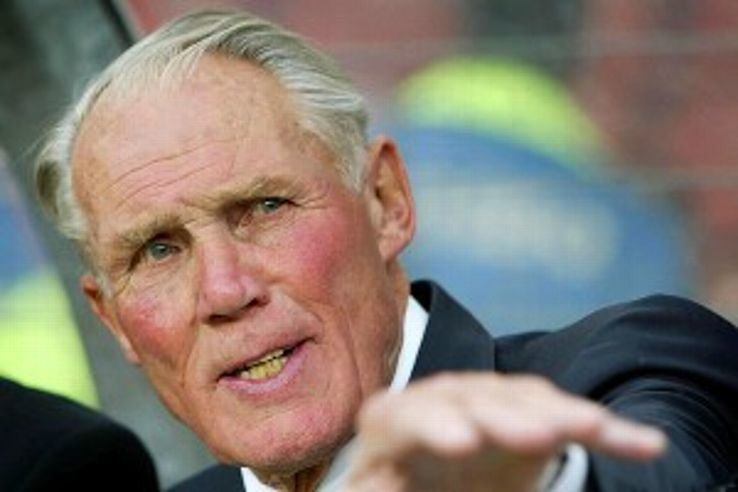 French club Lille had also wanted to contract Michels, but a playing career abroad did not materialize as the Royal Netherlands Army did not allow him to go because he had to serve on active duty.
Ajax first team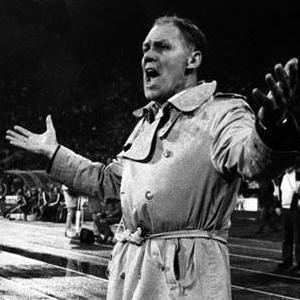 On 9 June 1946, Michels was invited into Ajax's first team squad to replace the injured Han Lambregt. In his debut, Ajax beat ADO 8–3 and Michels scored five times. That season, Ajax won their 14th division championship and a year later they won the Dutch national championship. Although there were doubts about Michels' technical skills, team members like Cor van der Hart and captain Joop Stoffelen were enthusiastic about his strength and heading capabilities. Indeed, Michels was characterized for his hard work rather than for his technical qualities.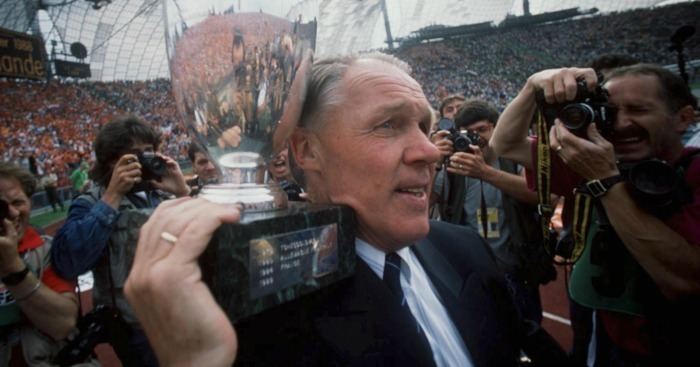 He went on to become a regular for the club, and between 1946 and 1958, he appeared in 264 league matches for Ajax, in which he scored 122 goals. In 1958, four years after the introduction of professional football in the Netherlands and one year after winning his second league title, he was forced to end his career due to a back injury.
National team
Michels' international playing career with the Netherlands national team lasted five matches, making his debut on 8 June 1950 away to Sweden, a 4–1 defeat. He also lost all of his remaining matches as an Oranje player, 4–1 to Finland, 4–0 to Belgium, 6–1 to Sweden and 3–1 to Switzerland.
Coaching career
Michels returned to Ajax as head coach in 1965. Under his tenure and along with great players such as Johan Cruyff and Johan Neeskens, Ajax went from relegation candidates to a team that won the national championship four times and the KNVB Cup three times in the following six years. In 1969, they reached the final of the European Cup for the first time, being defeated 4–1 by Italian side Milan. In 1971, he managed Ajax's to the first of three consecutive European Cups, a feat only achieved previously by the great Real Madrid team of Alfredo Di Stéfano and Ferenc Puskás. While at Ajax, Michels modernized the game by introducing what became known as "Total Football" and using the Offside trap. He then moved to Barcelona in the second part of 1971, being joined by Johan Cruyff in 1973. With Michels and Cruyff, the team won the Primera División title in 1974 before Michels became manager of the Dutch national team.
1974 World Cup
Michels was appointed national coach by the Royal Dutch Football Association (KNVB) after the Netherlands had qualified for the 1974 FIFA World Cup. His first game as the Netherlands' coach was on 27 March 1974 in a 1–1 draw against Austria. At the finals tournament in Germany, their third ever World Cup participation, the Dutch impressed many observers with their style of play which was backed up by their results; they won their first round group, then in the second round group they defeated Argentina and the defending world champions Brazil, and reached the final after five wins and one draw, with 14 goals scored and only one conceded in six matches. At that point, Michels was undefeated in nine matches as the Netherlands' coach. The Netherlands scored first against West Germany in the final, but the host team came back to defeat them 2–1, ending their run. That match was the last of Michels' first tenure in charge of the Dutch team, which he would return to coach ten years later.
Later years
Michels later moved on to the United States where he coached in the ill-fated North American Soccer League. He ended his club coaching career with Bayer Leverkusen in 1989. He had his jour de gloire, however, when he coached the Dutch team to European glory at the 1988 UEFA European Championship.
European champions
Michels returned to coach the team for the Euro 1988 tournament. After losing the first group match against the Soviet Union (1–0), the Netherlands went on to qualify for the semi-final by defeating England 3–1 (with a hat-trick by the tournament's top scorer Marco van Basten), and the Republic of Ireland (1–0). For many Dutch football supporters, the most important match in the tournament was the semi-final against West Germany, the host country, considered a revenge for the lost 1974 World Cup final (also in West Germany). Michels said after the match, "We won the tournament, but we all know that the semi-final was the real final." Van Basten, who would later become national team coach, scored in the 89th minute of the game to sink the German side. The game is also remembered for its post-match shenanigans, including Ronald Koeman, who, in front of the German supporters, provocatively pretended to wipe his backside with the shirt of Olaf Thon as if it were toilet paper, an action Koeman later did not regret. The Netherlands won the final with a convincing victory over the Soviet Union, a rematch on the round robin game, through a header by Ruud Gullit and a remarkable volley by Van Basten. This was the national team's first major tournament win and it restored them to the forefront of international football after almost a decade in the wilderness for almost three years to come.
Death
Michels died on 3 March 2005 at a hospital in Aalst, Belgium, after a heart surgery in the hospital of Gareth, Spain (his second since 1986).
Personality and legacy
Michels became known as a person who was keen on his money and did not want to spend much of it. A common joke in the Ajax changing rooms in those days was, "Does anybody actually know the color of Michels' wallet?". His IQ was high and during foreign trips he always brought a book with him, which he wanted to have read completely before coming home. He was known as someone who did not need anybody and who felt happy on his own, but sometimes he joined his teammates and shared their enthusiastic friendships. At the celebrations of Ajax' 50th birthday in 1950, he was the organizer of the humoristic show that was held and during traditional parties he and his friend Hans Boskamp climbed up the stages to sing some duets. After matches, he was always soaping himself down in the showers of the changing rooms as well, even when the match was lost.
Michels was also known as a practical joker. At a hotel he once borrowed a fur coat of a lady and pretended to be a lady to his teammates. During a training session in Lille, the players went fishing and Michels, who did not enjoy himself, jumped into the water.
Due to his authoritarian style as coach, Michels was called "The General". He said, "Professional football is something like war. Whoever behaves too properly, is lost." This has often been misquoted as "Football is war." Michels felt the quote was taken out of context as he did not intend to equate war with football. Michels was named coach of the century by FIFA in 1999.
The Rinus Michels Award, which rewards the best managers in Dutch football, is named in his honour.
Quotes
Professional football is something like war. Whoever behaves too properly, is lost. Often misquoted in the form "Football is war".
It is an art in itself to compose a starting team, finding the balance between creative players and those with destructive powers, and between defence, construction and attack – never forgetting the quality of the opposition and the specific pressures of each match.
About Michels
"Both as a player and as a trainer there is nobody who taught me as much as him. I will miss Rinus Michels. ... I always greatly admired his leadership." Johan Cruyff
Player
Ajax
Eredivisie: 1946–47, 1956–57
Manager
Ajax
Eredivisie: 1965–66, 1966–67, 1967–68, 1969–70
KNVB Cup: 1966–67, 1969–70, 1970–71
European Cup: 1970–71; Runner-up: 1968–69
UEFA Intertoto Cup: 1968
Barcelona
La Liga: 1973–74
Copa del Rey: 1977–78
Inter-Cities Fairs Cup Trophy: 1971
1. FC Köln
DFB Pokal: 1982–83
Netherlands
UEFA European Championship: 1988
FIFA World Cup Runner-up: 1974
Other
Named Knight in the Order of Orange-Nassau: 1974
Named Officer in the Order of Orange-Nassau: 1988
Named World Soccer Awards Manager of the Year: 1988
Named World Soccer Magazine 2nd Greatest Manager of All Time: 2013
Named Dutch manager of the century: 1999
Named FIFA Coach of the Century: 1999
Named Knight of the KNVB: 2002
UEFA Lifetime Award: 2002
Best Manager in 50 years of professional football in the Netherlands: 2004
The 10 Greatest Coaches of the UEFA era (1954—2016)
References
Rinus Michels Wikipedia
(Text) CC BY-SA