Position:

Quarterback




Name

Colin Kaepernick




Nationality

American




Weight:

230 lb (104 kg)




Height

1.93 m




College:

Nevada








Date of birth:

(1987-11-03) November 3, 1987 (age 28)




NFL draft:

2011 / Round: 2 / Pick: 36




Role

American football quarterback




Current team

San Francisco 49ers (#7 / Quarterback)




Parents

Teresa Kaepernick, Heidi Russo, Rick Kaepernick




Education

University of Nevada, Reno (2010), John H. Pitman High School




Similar People

Blaine Gabbert, Cam Newton, Russell Wilson, Alex Smith, Jim Harbaugh




Profiles




Twitter

Instagram




Place of birth:

Milwaukee, Wisconsin



Colin kaepernick s unexpected rise to the nfl
Colin Rand Kaepernick ( ; born November 3, 1987) is an American football quarterback who is currently a free agent. Kaepernick played collegiate football at the University of Nevada, where he was named the Western Athletic Conference (WAC) Offensive Player of the Year twice and became the only player in NCAA Division I FBS history to amass 10,000 passing yards and 4,000 rushing yards in a career. After graduating, he was selected by the San Francisco 49ers in the second round of the 2011 NFL Draft.
Contents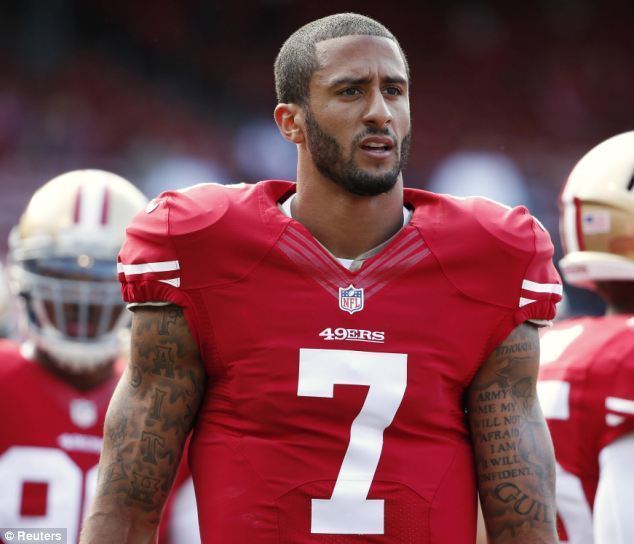 Beginning his professional career as a backup to Alex Smith, Kaepernick became the 49ers' starter in the middle of the 2012 season after Smith suffered a concussion. He then remained the team's starting quarterback for the rest of the season, leading the team to their first Super Bowl appearance since 1994. During the 2013 season, his first full season as a starter, Kaepernick helped the 49ers reach the NFC Championship Game. For the next three seasons, Kaepernick and the 49ers failed to qualify for the playoffs, with Kaepernick's performance in particular being pointed out as a major reason, which eventually led to him being benched multiple times over that span.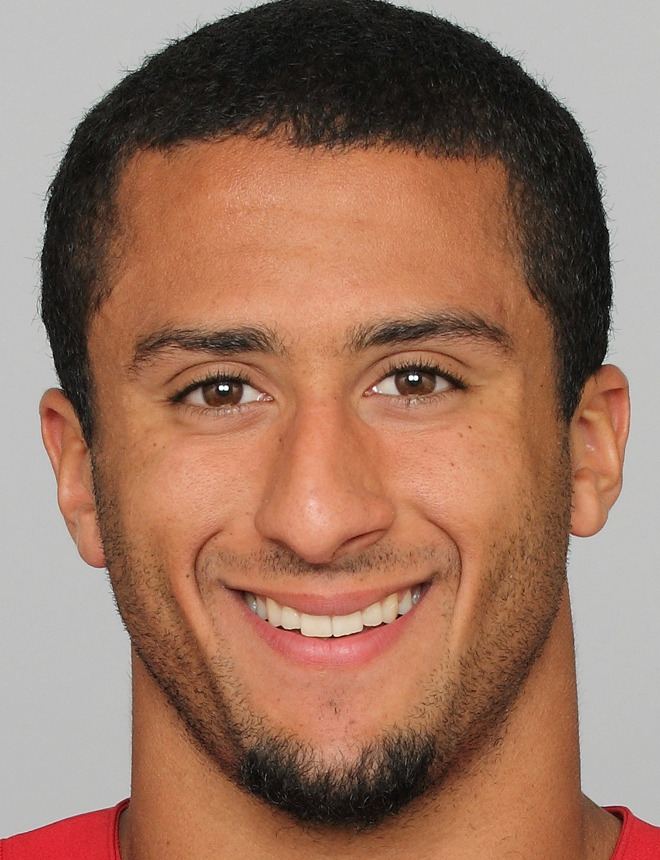 During the 2016 season, Kaepernick gained national attention when he began protesting by not standing while the United States national anthem was being performed before the start of games, motivated by what he viewed as the oppression of people of color in the country. His actions prompted a wide variety of responses, including additional athletes in the NFL and other American sports leagues protesting the anthem in various ways. Following the season's end, he opted to drop out of his contract with the 49ers to become a free agent, which has also been the subject of discussion and controversy, with some believing that his protests, and not performance, were the reason he was unable to be signed with a team for the 2017 season.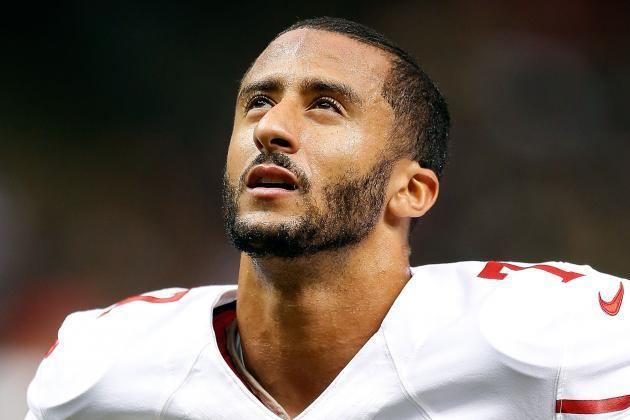 Colin Kaepernick Takes a Knee for National Anthem
Early life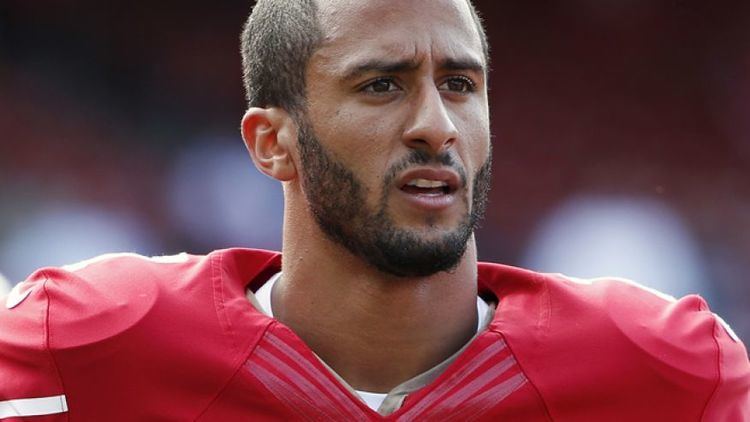 Kaepernick was born in Milwaukee, Wisconsin, to Heidi Russo, a 19-year-old white woman who was single and economically marginalized at the time. His birth father, an African American man, left the family before Colin was born. Russo placed Colin for adoption with Rick and Teresa Kaepernick, a white couple who had two children—son Kyle and daughter Devon—and were looking for a boy after losing two other sons to heart defects. Kaepernick became the youngest of their three children. He lived in Fond du Lac, Wisconsin, until age four, and attended grade school in Turlock, California.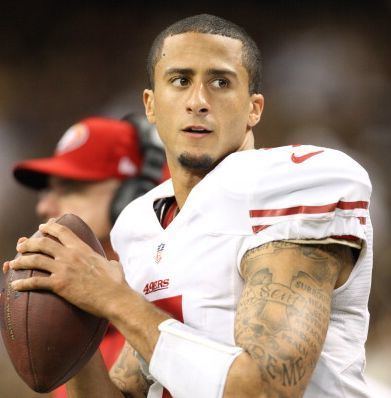 Kaepernick began playing youth football at eight years old as a defensive end and punter. He then became his youth team's starting quarterback at age nine, and he completed his first competitive pass for a long touchdown. A 4.0 GPA student at John H. Pitman High School in Turlock, California, Kaepernick played football, basketball and baseball and was nominated for All-State selection in all three sports his senior year. He was the Most Valuable Player (MVP) of the Central California Conference in football, leading his school to its first-ever playoff victory. In basketball, he was a first-team all CCC selection at forward and led his 16th-ranked team to a near upset of #1 ranked Oak Ridge High School in the opening round of playoffs. In that game, Kaepernick scored 34 points but Ryan Anderson scored 50 to beat the Pitman.
Recruitment
Kaepernick achieved most of his accolades in high school as a baseball pitcher and received several scholarship offers in that sport, yet he desperately wanted to play football in college. He was almost 6' 5" as a senior, but weighed only 170 pounds (77 kg) and his coaches generally kept him from running the ball to limit his risk of injury. He also had poor throwing mechanics, despite his strong arm. During his junior year, Pitman's head coach at the time, Larry Nigro, made a highlight tape which Kaepernick's brother, Kyle, copied to DVD, then sent it to about 100 Football Bowl Subdivision (FBS, then known as Division I-A) programs, receiving some interest but no offers for scholarship. Even as a senior, he received little attention from FBS schools. Although the University of Nevada, Reno coaching staff frequently watched video of his high school team, no one from the Nevada Wolf Pack football staff came to Turlock to see him play during his senior football season. Nevada head coach Chris Ault decided to offer him a scholarship after one of his assistants, Barry Sacks, saw Kaepernick dominate a high school basketball game on an evening he was suffering from a fever of 102 °F (39 °C). Nevada was the only school to offer him a football scholarship, but was concerned that he would opt for baseball until he signed in February 2006.
Baseball
He was a two-time California all-state baseball player and was listed as a draftable prospect on Major League Baseball's website in the class of 2006. He earned Northern California athlete of the week honors as a pitcher. As a senior in high school, he threw a 92 mph (148 km/h) fastball, as reported during Kaepernick's first college football start in 2007 against Boise State. He was also a member of the Brewers Grey squad in the 2005 Area Code games. In his senior year of high school Kaepernick had an ERA of 1.265 with 13 starts and 10 complete games. He finished the year with an 11–2 record with 97 strikeouts and 39 walks.
In the 2009 Major League Baseball Draft, Kaepernick was drafted in the 43rd round by the Chicago Cubs. He decided that he wanted to continue to play football at the University of Nevada and chose not to sign with the Cubs.
2007 (freshman season)
Kaepernick started his college career at Nevada playing in 11 of the team's 13 games. He finished the season with 19 passing touchdowns, three interceptions, and 2,175 passing yards with a 53.8% completion percentage. Kaepernick also added 593 rushing yards and six rushing touchdowns as the Nevada Wolf Pack finished 6-7.
2008 (sophomore season)
As a sophomore, Kaepernick became just the fifth player in NCAA history to pass for 2,000 yards and rush for 1,000 or more yards in a single season. Some of his notable statistical achievements were:
Only NCAA quarterback in 2008 to pass for 2,500 or more yards and rush for 1,000 or more yards.
Ranked second among all NCAA QB's in rushing yardage with 1,130.
Ranked seventh among all NCAA players with 7.02 yards per carry.
Was tied ninth among all NCAA players with 17 rushing TD's.
Kaepernick, with 1,130 rushing yards, and running back Vai Taua, with 1,521 rushing yards, made 2008 the first year in school history that Nevada had two 1,000-yard rushers in the same season.
Despite playing the entire second half with an ankle injury, he set a new Humanitarian Bowl record with 370 yards passing and was awarded the MVP in a losing effort. He was named the WAC Offensive Player of the Year at the end of the season. He was the first sophomore to win this award since Marshall Faulk of San Diego State did in 1992. He was also named first team All-WAC quarterback.
2009 (junior season)
Kaepernick was named the pre-season WAC Offensive Player of the Year at the WAC Media's event in July. On August 3 it was announced he was named to the Davey O'Brien Award pre-season watch list. On August 14 it was announced that he was named to the pre-season Maxwell Award watch list and on August 17 to the Manning Award watch list. Kaepernick led the Wolf Pack to an 8–5 record and a second-place finish in the WAC behind undefeated Boise State. He was named second team All-WAC quarterback. He was the first player in Nevada history to earn the team's MVP award twice, doing so in 2008 as well.
He finished the 2009 season with 2,052 passing yards and 1,183 rushing yards. He became the first player in NCAA history to record back-to-back 2,000/1,000 yard seasons. His 1,183 rush yards along with Luke Lippincott's 1,034 and Vai Taua's 1,345 makes him a part of the first trio of teammates in NCAA history to rush for 1,000 yards each in the same season.
2010 (senior season)
Entering the 2010 NCAA season, Kaepernick ranked first among active college football players in rushing touchdowns. He was second in yards-per-carry (behind Wolf Pack teammate Vai Taua), total offense-per-game, and touchdowns scored. He ranked third in yards-per-play and fourth in pass touchdowns and total number of offensive plays. He was a counselor at the prestigious Manning Passing Academy event in Thibodaux, Louisiana, during the 2010 camp. His performance drew praise from various NFL and ESPN personnel including former New York Giants quarterback Jesse Palmer who said of Kaepernick, "by far, the strongest arm in the camp".
It was also announced that Kaepernick, along with teammates Taua and Lippincott, would have a display in the College Football Hall of Fame commemorating their being the first players in NCAA history to each break 1,000 yards rushing on the same team during the same season. Kaepernick was named to the watch list for six major college football awards: the Manning Award, the Davey O'Brien Award, the Paul Hornung Award, the Maxwell Award, the Unitas Award, and the Walter Camp Award.
On November 26, Kaepernick led his team to a 34–31 overtime victory against the previously undefeated Boise State Broncos, snapping a 24-game win streak that had dated back to the 2008 Poinsettia Bowl. This game was played on Nevada's senior night, the final home game for Kaepernick. Nevada Head Coach Chris Ault would later call this game the "most important win in program history". During this game, Kaepernick surpassed 1,000 rushing yards for this season, becoming the first player in NCAA history to have over 2,000 yards passing and 1,000 yards rushing for three consecutive seasons. Along with Taua's 131 yards rushing in the game, the duo became the NCAA's all-time leaders in rushing yards by teammates (8,285) passing the legendary SMU "Pony Express" duo of Eric Dickerson and Craig James (8,193).
On December 4 against Louisiana Tech University, Kaepernick joined Florida's Tim Tebow as the second quarterback in FBS history to throw for 20 touchdowns and run for 20 in the same season. Later that same evening, Auburn's Cam Newton joined Tebow and Kaepernick as the third. Kaepernick's three rushing touchdowns in that game also placed him in a tie with former Nebraska quarterback and Heisman Trophy winner Eric Crouch for most rushing touchdowns in FBS history by a quarterback with 59 in his career. Nevada claimed a share of the WAC title after defeating Louisiana Tech. Kaeperick was named WAC Co-Offensive Player of the Year with Kellen Moore, who won the award in 2009.
Kaepernick is the only quarterback in the history of Division I FBS college football to have passed for over 10,000 yards and rushed for over 4,000 yards in a collegiate career. He is also the only Division 1 FBS quarterback to have passed for over 2,000 yards and rushed for over 1,000 yards in a single season three times in a career (consecutively).
Kaepernick graduated from Nevada in December 2010 with a bachelor's degree in business management and is a member of Kappa Alpha Psi fraternity.
Professional career
Upon graduation, Kaepernick signed with XAM Sports and Entertainment. He spent time in Atlanta, Georgia, training for the NFL Scouting Combine at Competitive Edge Sports with trainer Chip Smith and quarterbacks coach Roger Theder.
2011 NFL Draft
On April 29, 2011, the San Francisco 49ers traded up with the Denver Broncos from the thirteenth pick in the second round (#45 overall) to select Kaepernick as the fourth pick in the second round (#36 overall) at the 2011 NFL Draft. The Broncos received picks 45, 108, and 141 overall in exchange for the 36th overall pick.
2011 season
For the 2011 preseason, Kaepernick completed 24-of-50 passes for 257 yards and five interceptions. Kaepernick spent the 2011 season as backup to Alex Smith and played his first game in Week 4 (October 2) on the road against the Philadelphia Eagles. On third down and 17 during the first quarter, he came in for Smith as quarterback with the offense in shotgun formation and handed off to Frank Gore, who ran for five yards. In the Week 5 (October 9) home game, a 48–3 win over the Tampa Bay Buccaneers, Kaepernick completed three passes for 35 yards. However, he failed to complete two passes in the 49ers' Week 13 (December 4) game, a 26–0 win over the St. Louis Rams. The 49ers finished the 2011 regular season 13–3 but lost the NFC championship to the eventual Super Bowl champion New York Giants.
2012 season
In 2012 against the New York Jets, Kaepernick scored his first career touchdown on a seven-yard run. Throughout the early season, Kaepernick was used as a wildcat quarterback. In Week 10 against the St. Louis Rams, Kaepernick replaced starter Alex Smith, who had suffered a concussion in the first half. However, the game would end in a rare 24–24 tie, the first tie in the NFL in four years.
With Smith still recovering, Kaepernick got his first NFL start the next game on November 19, during a Monday Night Football game against the Chicago Bears at Candlestick Park. Kaepernick completed 16-of-23 for 246 yards with two touchdowns in a 32–7 win against a highly ranked Bears defense. 49ers head coach Jim Harbaugh spoke highly of Kaepernick's performance after the game, leaving open the possibility of Kaepernick continuing to start. "Usually tend to go with the guy who's got the hot hand, and we've got two quarterbacks that have got a hot hand", Harbaugh said. A quarterback controversy began. Smith was ranked third in the NFL in passer rating (104.1), led the league in completion percentage (70%), and had been 19–5–1 as a starter under Harbaugh, while Kaepernick was considered more dynamic with his scrambling ability and arm strength.
Smith was cleared to play the day before the following game, but Harbaugh chose not to rush him back and again started Kaepernick. In a rematch of the 2012 playoffs against the New Orleans Saints, the 49ers won 31–21 with Kaepernick throwing for a touchdown and running for another. The following week, Harbaugh announced that Kaepernick would start for the 8–2–1 49ers against St. Louis. Harbaugh stated that Kaepernick's assignment was week-to-week, not necessarily permanent, but he remained the starter for the rest of the season.
In his first career postseason start, the 49ers won 45–31 against the Green Bay Packers, and he set an NFL single-game record for most rushing yards by a quarterback with 181, breaking Michael Vick's record of 173 in a 2002 regular season game. He also broke the 49ers postseason rushing record, regardless of position. Kaepernick carried the ball 16 times for 181 yards and scrambled five times for 75 yards, including touchdowns of 20 and 56 yards, and collected another 99 yards rushing on zone-read option plays. He also passed for 263 yards and two touchdowns. In total, Kaepernick had 444 yards of total offense with four touchdowns. Kaepernick became the third player after Jay Cutler in 2011 and Otto Graham in both 1954 and 1955 to run for two touchdowns and pass for two others in a playoff game. In the NFC Championship game, the 49ers defeated the Atlanta Falcons 28–24 with Kaepernick completing 16-of-21 passes for 233 yards and one touchdown. The team advanced to Super Bowl XLVII in New Orleans against the Baltimore Ravens. Kaepernick threw for a touchdown and ran for another, but the 49ers fell behind early and could not come back, losing by a score of 31–34.
2013 season
In the season opener of the 2013 season against the Green Bay Packers, Kaepernick threw for a career-high 412 yards and three touchdowns, the first 400-yard game by a 49ers quarterback since Tim Rattay on October 10, 2004. Of the total 412 yards, 208 yards were to newly acquired teammate Anquan Boldin, making his debut as a 49er. In addition, Kaepernick's performance also marked the first 400-yard passing with three touchdowns performance by a 49ers quarterback since Jeff Garcia in the 1999 season.
In the NFC Championship Game against eventual Super Bowl champion Seattle Seahawks, Kaepernick rushed for 130 yards, including a 58-yard run, and passed for 153 yards. The 49ers led until the fourth quarter. Two turnovers by Kaepernick led to the Seahawks having a 23–17 lead with a few minutes left. Kaepernick drove the 49ers to the red zone but with 22 seconds left, Kaepernick's pass intended for Michael Crabtree was tipped by Seattle's Richard Sherman and intercepted by Malcolm Smith, ending the 49ers' season and attempt to return to the Super Bowl. Kaepernick ended the season with 3,197 yards passing, 21 touchdowns, and only eight interceptions. He also finished with 524 yards rushing yards and four rushing touchdowns.
2014 season
On June 4, Kaepernick signed a six-year contract extension with the 49ers, worth up to $126 million, including $54 million in potential guarantees, and $13 million fully guaranteed.
On September 17, Kaepernick was fined by the NFL for using inappropriate language on the field. On October 9, he was fined $10,000 by the NFL for appearing at a post-game press conference wearing headphones from Beats by Dre, while the league's headphone sponsor was Bose. In a game against the San Diego Chargers, he recorded a 90-yard run for a touchdown. The 49ers finished the season 8–8 and failed to make the playoffs for the first time since 2010. Kaepernick threw for 3,369 yards with 18 touchdowns and 10 interceptions. He rushed for 639 yards and one touchdown. Following the season, head coach Jim Harbaugh left to coach the University of Michigan.
2015 season
In 2015, Kaepernick struggled under new head coach Jim Tomsula. A day after a 27–6 collapse at St. Louis in Week 8, Kaepernick lost his starting job to backup Blaine Gabbert for Week 9 against Atlanta. With Gabbert starting as their new quarterback, the 49ers narrowly won 17–16. On November 21, the 49ers announced that Kaepernick would miss the rest of the season because of an injured left shoulder that required surgery. He finished the season with 1,615 yards passing, six passing touchdowns, five interceptions and 256 rushing yards with one rushing touchdown.
Head coach Tomsula was fired following the season and the 49ers hired Chip Kelly as his replacement. In February 2016, Kaepernick expressed an interest in being traded.
2016 season
Kaepernick entered the 2016 season competing for starting quarterback position with Gabbert. On September 3, 2016, Kelly named Gabbert as the starter for the beginning of the 2016 season. Prior to the 49ers Week 6 game against the Buffalo Bills, Kelly announced Kaepernick would start, marking his first start of the season. On October 13, it was announced that he and the 49ers restructured his contract, turning it into a two-year deal with a player option for the next season. He completed 13-of-29 passes, with 187 passing yards, one passing touchdown and 66 rushing yards in the 49ers 45-16 loss to the Buffalo Bills. On November 27, he recorded 296 passing yards, three passing touchdowns and 113 yards rushing in the 49ers' 24-31 loss to the Miami Dolphins. He joined Michael Vick, Cam Newton, Randall Cunningham, and Marcus Mariota as the only quarterbacks in NFL history to record at least three passing touchdowns and 100 yards rushing in a game. In a Week 13 loss to the Chicago Bears, Kaepernick threw a career-low four yards before getting benched for Gabbert. He returned to the starting lineup the following week and threw for 183 yards and two touchdowns in the 49ers' 13-41 loss to the Atlanta Falcons. On December 24, Kaepernick recorded 281 total yards, two passing touchdowns, one interception, one rushing touchdown, and a two-point conversion on the game-winning drive as the 49ers beat the Los Angeles Rams 22-21 to get their first victory on the season with Kaepernick as the starter. For the 2016 NFL season, Kaepernick played twelve games and ended the season with 2,241 passing yards, sixteen passing touchdowns, four interceptions and added 468 rushing yards and two rushing touchdowns.
On March 3, 2017, Kaepernick officially opted out of his contract with the 49ers, an option as part of his restructured contract, therefore making him a free agent at the start of the 2017 league year.
U.S. national anthem protest
Before a preseason game in 2016, Kaepernick sat down, as opposed to the tradition of standing, during the playing of "The Star-Spangled Banner". During a post-game interview, he explained his position stating, "I am not going to stand up to show pride in a flag for a country that oppresses black people and people of color. To me, this is bigger than football and it would be selfish on my part to look the other way. There are bodies in the street and people getting paid leave and getting away with murder", referencing a series of events that led to the Black Lives Matter movement and adding that he would continue to protest until he feels like "[the American flag] represents what it's supposed to represent". In the 49ers' final 2016 preseason game on September 1, 2016, Kaepernick opted to kneel during the U.S. national anthem rather than sit as he did in their previous games. He explained his decision to switch was an attempt to show more respect to former and current U.S. military members while still protesting during the anthem after having a conversation with former NFL player and U.S. military veteran Nate Boyer. After the September 2016 police shootings of Terence Crutcher and Keith Lamont Scott, Kaepernick commented publicly on the shootings saying, "this is a perfect example of what this is about."
Kaepernick soon became highly polarizing as numerous people took public stances either supporting or maligning Kaepernick's actions; in many cases this polarization correlates with racial divisions. Various members of the NFL and other athletes across the United States, such as Megan Rapinoe, also began kneeling and/or raising their fist like the 1968 Olympics Black Power salute during the playing of the U.S. national anthem. Some U.S. military veterans voiced support using the social media hashtag "veterans for Kaepernick". In the following weeks, Kaepernick's jersey became the top-selling jersey on the NFL's official shop website. An NFL fan poll was taken during the beginning of the 2016 NFL season and Kaepernick was voted the most disliked player in the NFL; this poll was polarized, with 37% of caucasians disliking him "a lot", and 42% of African-Americans liking him "a lot." A few people posted videos of them burning Kaepernick jerseys. Former NFL MVP Boomer Esiason called Kaepernick's actions "an embarrassment" while an anonymous NFL executive called Kaepernick "a traitor". The 2016 NFL season also saw a significant drop in their television ratings. Polls suggest that fans boycotting the NFL because of Kaepernick-inspired protests were a contributor to the decline in viewers. He also claims to have received death threats.
In September 2016, sociology professor Michael Eric Dyson wrote of the double bind faced by black people: "Black folk have, throughout history, displayed their patriotism by criticizing the nation for its shortcomings, and they have been, in turn, roundly criticized." Dyson suggested that the wisdom of the abolitionist Frederick Douglass maintains relevance to racism in the context of Kaepernick and protest. Dyson concluded, "When a black athlete bravely speaks up, we punish him."
In August 2017, former NYPD officer Frank Serpico gave a speech live on Facebook and stood with police officers at the foot of the Brooklyn Bridge in support of Kaepernick. The same month, Pro Football Hall of Famer and longtime civil rights activist Jim Brown told an interviewer that he would never desecrate the flag or "The Star-Spangled Banner" as Kaepernick did.
Controversy over free agency
Following his departure from the 49ers, Kaepernick went unsigned through the offseason and 2017 training camps. Some commentators argued that he was not signed because his performance had declined, while others disputed those interpretations and argued that he was being blackballed because of his on-field political actions. By August 2017, the statistics website FiveThirtyEight concluded that "it's obvious Kaepernick is being frozen out for his political opinions", calling it "extraordinary ... that a player like him can't find a team", after finding that "no above-average quarterback [measured by the total quarterback rating] has been unemployed nearly as long as Kaepernick this offseason".
In late July and early August, the Baltimore Ravens were working to extend an offer to Colin Kaepernick. According to Ray Lewis, the offer was terminated after a tweet by Kaepernick's girlfriend compared the Ravens team owner Steve Bisciotti to a slave owner. According to other reports, Bisciotti had been objecting to signing Kaepernick even before the incident.
Personal life
Kaepernick was baptized Methodist, confirmed Lutheran, and attended a Baptist church during his college years. Kaepernick spoke about his faith saying, "My faith is the basis from where my game comes from. I've been very blessed to have the talent to play the game that I do and be successful at it. I think God guides me through every day and helps me take the right steps and has helped me to get to where I'm at. When I step on the field, I always say a prayer, say I am thankful to be able to wake up that morning and go out there and try to glorify the Lord with what I do on the field. I think if you go out and try to do that, no matter what you do on the field, you can be happy about what you did."
Kaepernick has multiple tattoos. His right arm features a scroll with the Bible verse Psalm 18:39 written on it. Tattooed under the scroll are praying hands with the phrase "To God The Glory" written on them. To the left of both the scroll and praying hands is the word "Faith" written vertically. His left arm features a Christian cross with the words "Heaven Sent" on it referring to Jesus. Written above and below the cross is the phrase "God Will Guide Me". Written to the left and right of the cross is the Bible verse Psalm 27:3. His chest features the phrase "Against All Odds" and artwork around it that represents "inner strength, spiritual growth, and humility". His back features a mural of angels against demons.
When he was ten years old, Kaepernick acquired a pet African spurred tortoise named Sammy. The tortoise since has grown to weigh 115 pounds. When he was in fourth grade, Kaepernick wrote himself a letter, predicting that he would be 6 feet 4 inches, 190 pounds, and would "then go to the pros and play on the Niners or Packers even if they aren't good in seven years", predictions which became accurate except for his weight.
Near the end of the 2012 NFL season, Kaepernick's signature touchdown celebration earned him a photo fad by his namesake, called "Kaepernicking". The signature touchdown pose involves flexing and kissing the bicep of his right arm. Kaepernick says he kisses his "Faith", "To God The Glory", and Psalm 18:39 tattoos and the reason he does the celebration is because "...it's my way of saying I don't really care what people think about my tattoos" and "God has brought me this far. He has laid out a phenomenal path for me. And I can't do anything but thank Him."
Kaepernick reportedly started dating radio personality and television host Nessa in July 2015, and officially went public about their relationship in February 2016. Kaepernick began following a vegan diet in late 2015.
In November 2016, Miami Herald reporter Armando Selguero asked Kaepernick about a shirt Kaepernick had worn in August showing Fidel Castro meeting with Malcolm X with the phrase, "Like minds think alike." Kaepernick said the shirt was a comment "about Malcolm X and what he's done for people, but when pressed about the Castro aspect, added, "One thing that Fidel Castro did do is they have the highest literacy rate because they invest more in their education system than they do in their prison system, which we do not do here, even though we're fully capable of doing that."
References
Colin Kaepernick Wikipedia
(Text) CC BY-SA