7.6

/

10

Alchetron

7.6

Rate This





Country of origin

United States




Created by

Allison M. Gibson

Final episode date

18 February 2007




Starring

Reba McEntireChristopher RichJoanna GarcíaSteve HoweyScarlett PomersMitch HollemanMelissa Peterman

Theme music composer

Shelby KennedyPhillip White

Composer(s)

Steve Dorff (season 1)

Jonathan Wolff

(seasons 2-4)Tree Adams (seasons 5-6)

Cast




Similar

7th Heaven (TV series), Malibu Country, Grounded for Life




Profiles



Reba is an American sitcom starring Reba McEntire that aired on The WB from October 5, 2001 to May 5, 2006 and on The CW from November 19, 2006 to February 18, 2007.
Contents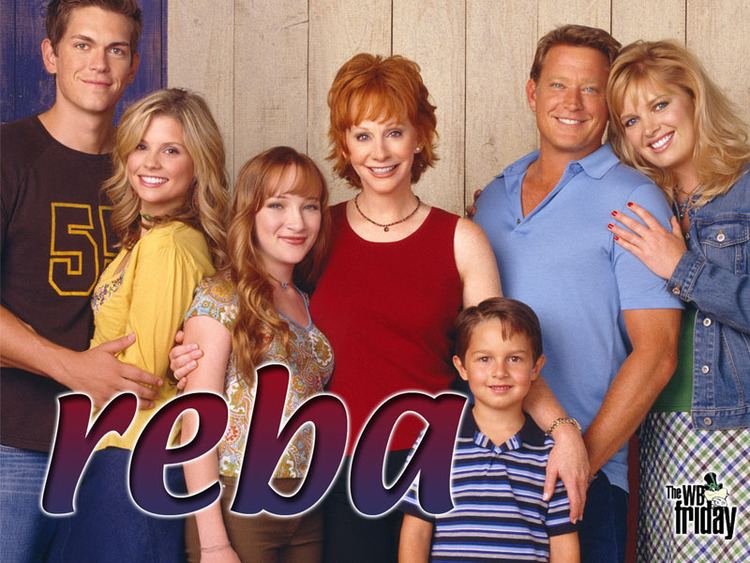 reba barbra jean brock and kyra smoked pot s3 episode 5
Synopsis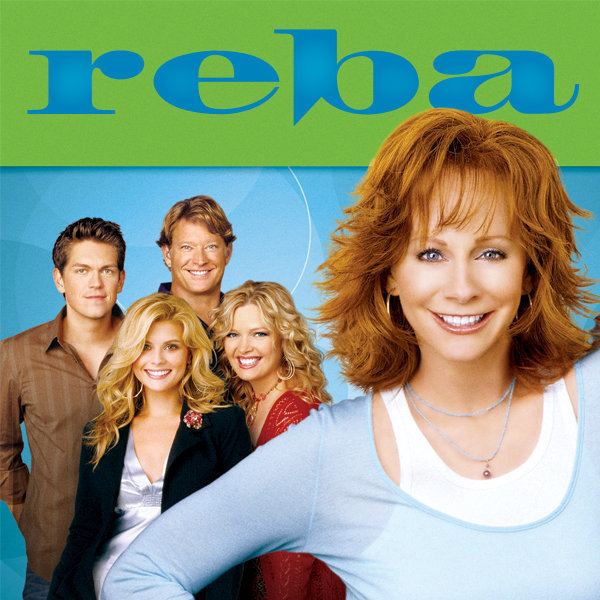 The show is set in the suburbs of Houston, Texas, and stars Reba McEntire as a wisecracking single mother Reba Nell Hart, whose dentist ex-husband Brock (Christopher Rich) has left her to marry young, ditzy Barbra Jean (Melissa Peterman) his dental hygienist after an affair with her, when it is revealed in the pilot episode that Barbra Jean is pregnant. Ironically, though Reba sees "B.J." (Barbra Jean's nickname) as her nemesis, Barbra Jean considers Reba her best (and perhaps only) friend. As the show progresses Reba slowly and painfully comes to the conclusion that despite all her efforts to hate her, she likes Barbra Jean and considers her a friend. In the pilot episode it was revealed that Reba's oldest daughter, then high school senior Cheyenne (JoAnna Garcia), is pregnant.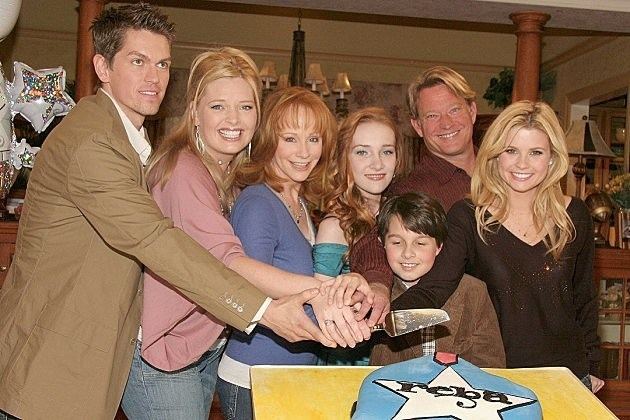 Cheyenne married her baby's father, fellow high-schooler Van Montgomery (Steve Howey), a dim-witted but well-meaning football player. Van moves in with them, as his own parents kicked him out for standing by Cheyenne and Van comes to view Reba as a surrogate parent (something Reba is very comfortable with). Reba's other two children are Kyra (Scarlett Pomers), an intelligent and rebellious teenager who shares Reba's sarcastic streak, and Jake (Mitch Holleman), a young boy just trying to sort through the mess of his family. Since the fifth season, Van and Reba have been real estate partners.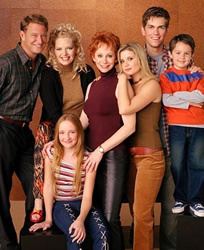 The show was cancelled when The WB Television Network and UPN merged into The CW Television Network. However, in an 11th hour move on May 17, 2006, The CW renewed Reba with a 13-episode order, reportedly to fulfill a syndication contract worth $20 million. In November 2006, The CW announced that the show would be paired with 7th Heaven, Sundays at 7 p.m., beginning later that month. Reba encores were scheduled for Sundays at 7:00 p.m. ET/PT, with a new episode at 7:30 p.m. Reba became the top-rated Sitcom on the CW, also surpassing the dramas Supernatural, One Tree Hill, and Veronica Mars. The final episode aired on February 18, 2007.
Series' end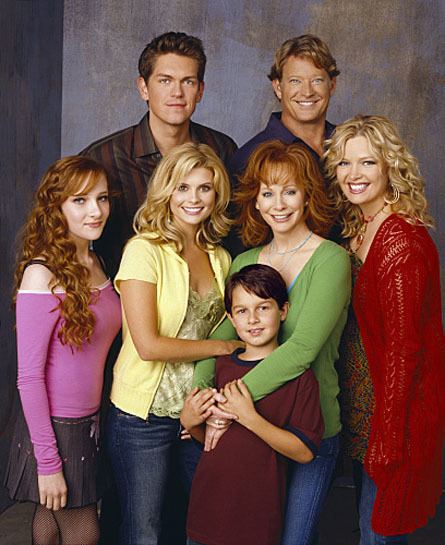 Midway through Season 6, word began circulating that the CW had ordered "the back nine," or the remaining episodes that would have given Reba a full-season order. But on January 19, 2007, during the network's TCA Press Tour, it was revealed that the series had been canceled, with no "back nine" on order.
The series finale garnered 4.44 million viewers in its final half-hour. Rumors continued to float on the CW's message boards and Reba fan sites that the series might still have a chance at renewal, citing the possible removal of programming chief Dawn Ostroff, or that Lifetime may option to a Van/Cheyenne spinoff series. It was soon announced that Garcia and Howey had each been signed to new shows for CBS and Fox respectively.
An interview Reba McEntire gave as part of the press coverage of her then upcoming duets album revealed that the show was not being shopped around and that the series was indeed finished. In an interview with Variety on May 29, 2007, 20th Century Fox TV president Gary Newman said that he regretted The WB's handling of the show in later years, saying that he was sure the series would have been a hit for CBS or ABC.
Cast and characters
Reba McEntire, Christopher Rich, Joanna García, and Steve Howey are the only cast members to appear in every episode.
Opening sequences
The show's theme song, "I'm a Survivor," was written by Shelby Kennedy and Phillip White and performed by Reba McEntire. The song comes from Reba's album Greatest Hits Vol. 3: I'm a Survivor. Though the first part of the TV version's lyrics appear elsewhere in the song, the album version has a different chorus: "The baby girl without a chance / a victim of circumstance / the one who ought to give up / but she's just too hard-headed / a single mom who works two jobs/ who loves her kids and never stops / with gentle hands and the heart of a fighter / I'm a survivor. The show's lyrics are as follows:
Seasons 1, 3, 4, 5, 6, Note: Season 2 was a shortened version.
In Season 1, the opening credits were black-and-white photos of cast members interspersed with clips of each cast member from the show (mostly if not all from the pilot episode), along with color video shots of Reba on a soundstage. The theme song, "I'm a Survivor", was slower and softer, very similar to the original album version. The first ten episodes of season two featured a truncated opening sequence: Cast and crew names were shown during the first and second segments of the show. The song was re-recorded at a faster, more energetic pace, but only two lines of the chorus ("Who I am is who I want to be / I'm a survivor") were sung. New video inserts of McEntire were shot and played with a color photo of the entire cast at the end.
From the 11th episode of Season 2 onwards, a full opening sequence was returned to the show. The fast-paced song played among the new shots of McEntire plus clips of cast members from previous episodes as their names scroll past the screen horizontally. In Seasons 5 and 6, the song was re-mixed again, with more accompanying instruments.
The series finale of Reba ended with a family photo, similar to the first episode and the season five finale "Reba's Heart". This marks the only time that Reba ended back to back seasons using the family photo of season one.
The final season of Reba was originally scheduled to debut in the spring of 2007, but returned in November 2006 following the cancellation of the CW drama Runaway.
Other songs
Other songs in the Reba series include Reba's hit single, "Walk On" which is in the pilot episode, and three unreleased songs performed for the specific episode, the songs are, "Angel's Lullaby" which Reba performs at the end of the season one finale episode, "It Ain't Over Till the Redhead Sings", the second song is Carole King's "So Far Away" which Reba performs at the end of the episode entitled, "Terry Holliway", the third and final song that is unreleased is Reba's and Melissa's performance of the hit Dolly Parton song, "9 to 5" in the episode entitled "Driving Miss Kyra."
Exterior shots
The house used in the exterior shots which served as Reba's house is located at 13522 Butterfly Ln, Houston, TX 77079
American ratings
Reba set a new all-time viewership record for any program on the WB's Friday night (best-ever Friday in women 18–49). During its five seasons on the Friday night lineup, it often ranked 4th in its timeslot (ahead of both UPN and Fox), with a few episodes bringing in over 5 million viewers.
Reba's premiere on The CW Sunday averaged 4.02 million viewers, including 1.64 million viewers and 40 percent among adults 18–49 more than when Everybody Hates Chris and All of Us premiered in the same time slot, thus making Reba the highest rated sitcom on the network. With Reba as a lead in, 7th Heaven saw a season high of 4.51 million viewers.
Reba was averaging 3,630,000 viewers since the beginning of its sixth season, making it the seventh most-watched show and the most-watched sitcom on The CW throughout the 2006–07 television season. The new Reba episodes vary as being either sixth or seventh most-watched program on the network, sometimes ranking as high as #3 for the week.
Throughout The CW's inaugural season (2006–07), no other program had higher viewer turnout for repeat airings than Reba. As a result of the lackluster ratings for encores of the summer drama Hidden Palms, repeats of Reba returned to the CW's schedule in June 2007 after being absent for three months, and they immediately became the most-watched program of the night. Later in the summer, repeats of Reba were the most-viewed program on the CW network.
Syndication
Reba has aired in syndication on Lifetime, Ion Television, and Peachtree TV. It began airing on CMT on Wednesday August 1, 2012 in high definition, and also began airing on ABC Family (now Freeform) on Monday August 6, 2012. It began airing on TV Land in 2015.
International success
Reba is broadcast worldwide in over 30 different countries. Worldwide, the series finale garnered 8.2 million viewers. It was extremely successful in the Czech Republic (under the name "The Diary of a Seasoned Mother") where the season premiere on September 29, 2007, garnered over 1 million viewers. It was also successful in Canada, Mexico, and Croatia. The show is extremely popular in the Caribbean giving McEntire an enormous fan base there.
DVD releases
20th Century Fox has released the entire series run, seasons 1–6, of Reba on DVD in Region 1. All discs are double-sided in an effort to reduce the economics of producing the sets. In 2010, seasons 1-4 were re-released in standard, more compact DVD cases to match the fifth and sixth season releases.
References
Reba (TV series) Wikipedia
(Text) CC BY-SA