Instruments

Harmonium




Died

October 9, 2015, Mumbai


Years active

1971 – 2015




Spouse

Divya Jain (m. ?–2015)




Name

Ravindra Jain




Children

Aayushman Jain




Role

Musical composer










Born

28 February 1944Aligarh, Uttar Pradesh (

1944-02-28

)


Genres

Indian classical music and Playback singing


Occupation(s)

Composer, music director, lyricist


Parents

Kiran Jain, Indramani Jain




Similar People

Hemlata, Ramanand Sagar, Suresh Wadkar, K J Yesudas, Asha Bhosle
Ravindra jain biography music composer lyricist profile
Ravindra Jain (28 February 1944 – 9 October 2015) was an Indian music composer and lyricist. He won the Filmfare Best Music Director Award in 1985. He was born blind and hailed from Aligarh. He was a role model for many people as he overcame his disability of blindness. His first film, Kanch Aur Heera, was released on 31 July 1972.
Contents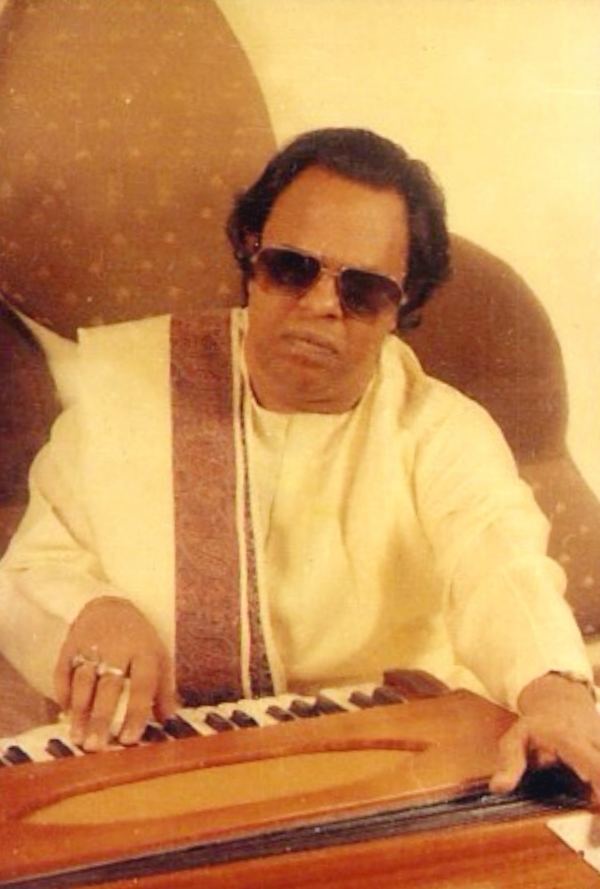 Ravindra Jain Interview | Music Composer | Archives
Early life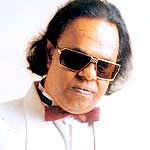 Ravindra Jain was born blind to well-known Sanskrit scholar and Ayurvedacharya, Pandit Indramani Jain and mother Kiran Jain. Jain and his family hail from Aligarh. He is the third child among seven brothers and a sister.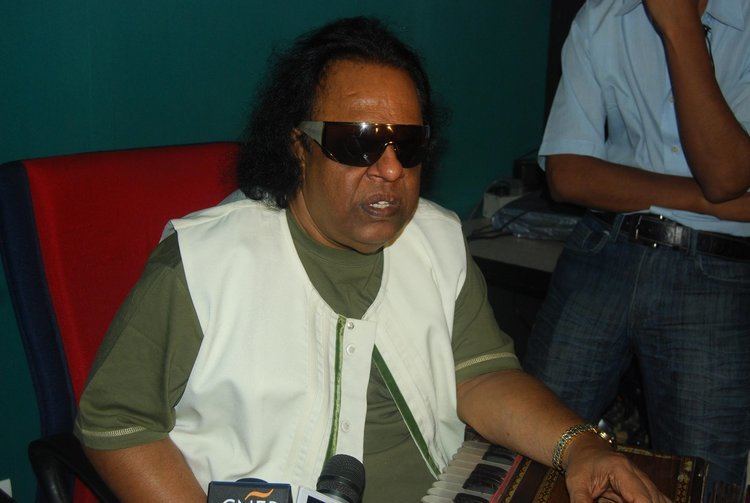 Jain started singing at a very young age, reciting Jain bhajans and poetry by famous Jain poets such as Pandit Dyanantraiji, Pandit Budhjanji, etc. at nearby Jain temples. It was Ravindra Jain's parents that first decided to teach him music. Jain received basic training under Pandit G.L. Jain, Pandit Janardhan Sharma, and Pandit Nathu Ram. Jain's entry into films was in 1960 in Calcutta. Ten years later, Prathibhushan Bhattacharya took Jain to Mumbai where Jain composed for his film Kranthi and Balidaan. In January 1972, Jain started his film career as a composer with his first film song being recorded in Mohd. Rafi's voice—a song that remains unreleased to this day.
Career
Ravindra Jain is one of the most notable of the Hindi music directors who started his career in the early 1970s, composing for hit films such as Saudagar (1970), Chor Machaye Shor (1974), Geet Gaata Chal (1975), Chitchor (1976), Dulhan Wahi Jo Piya Man Bhaaye (1977), Paheli(1977) and Ankhiyon Ke Jharokhon Se (1978). Nadiya ke paar (1982). Along with composing music, he also wrote the lyrics for many of his famous songs. Ravindra Jain's father died during the recording sessions of the film Saudagar, however, Jain did not leave the studio until the recordings were finalised giving utmost importance to his work.
Singing and music career
One of his most famous songs is Ankhiyon Ke Jharokhon Se from the film of same name. Raj Kapoor, made him compose many super hit songs in movies such as Ram Teri Ganga Maili, Do Jasoos and later Henna (film), directed by Randhir Kapoor. B.R.Chopra gave him projects like Pati Patni Aur Woh (1978) and Insaf Ka Tarazu (1980) whereas Hrishikesh Mukherjee asked him to compose music for Kotwaal Saab (1977).
Ravindra Jain also composed for a few non-Hindi films including Sujatha, Sukham Sukhakaram, Aakashathinte Niram (Malayalam); Mhaara Peehar Saasra, Kunba (Haryanvi); Chadi Jawani Budhe Nu (Punjabi); Gomti ni Shakhe, Shree Krishna Sharnam Mamah (Gujarati); Ganga se Naata ba Hamaar, Ganga Maiya Bhar de Achalwa Hamaar, Gaon Desh, Gaon aaja Pardesi, Nadiya ke teer, Piya Milan ki aas, Laagi aisi Lagan, and Jalsa ghar ki devi (Bhojpuri); Harishchandra Shaibya, Dristi (unreleased), Phoolan devi, Bhaalobeshe Radha, Ananya, Bhanga Gara, Punorutthaan, Sesh Aghat, and Pati Param Guru (Bengali); Brahmarishi Vishwamitra (Telugu); Pardesi Chadhei jaa debi Sarva Bhuteshu (Oriya), and Educated Binani (Rajasthani).
During the 1980s and 1990s, Ravindra Jain widely composed for most mythological movies including Navaratri, Gopal Krishna, Jai Karoli Maa, Har Har Gange, Durgaa Maa, Badrinath Dham, Solah Shukrawar, Raja Harishchandra, Bolo he Chakradhari, Brahmarishi Vishwamitra in Telugu, Shanivrat Mahima and Jai Shakumbhari Maa.
In 2008, Ravindra Jain composed music for director Gufi Paintal's debut film Shri Chaitanya Mahaprabhu with upcoming composer Surya RajKamal.
Association with Rajshri Productions
Jain also rendered beautiful music to many of Rajshri Productions' features starting in the 1975 with the film Geet Gata Chal starring Sarika and Sachin Pilgaonkar and continued till 2011.He composed music for Tapasya(1976), Chitchor (1976), Ankhiyon Ke Jharokhon Se(1978), Abodh (1984). He was chosen to compose for Rajshri Productions's Ankhiyon Ke Jharokhon Se sequel Jaana Pehchana (2011) and upcoming Satish Kaushik-directed biopic Tansen. He composed music for projects in 2012 which included Baromas and Barbareek- Sheesh Danee Mahayoddha based on Barbarika.In 2006, he composed music for the Hindi film Vivah directed by Sooraj R. Barjatya and its spin-off sequel Ek Vivaah Aisa Bhi directed by Kaushik Ghatak, both of which were produced by Rajshri Productions.
Association with Yesudas
Jain is credited for bringing south Indian singing sensation Dr. K. J. Yesudas to Hindi movies, in singing in many of his movies in the 1970s and 1980s. Together they gifted some memorable songs like 'Oo goriya re' (Naiyya), 'Beeti hui raat ki' (Ayyash), and 'Gori tera gaon' (Chitchor). It is said that Jain was so enthralled by Yesudas's voice, if he ever received his vision, Yesudas would be the first person he would want to see. Jain has worked on songs after his liaison with Yesudas, but he has failed to attain the pinnacle of glory he achieved with the master singer during the 1970s. Jain has described Yesudas as the 'Voice of India'
Association with Mohd Rafi
Ravindra Jain had a very long association with Mohd Rafi. Most of the songs composed by Jain was popular. Among many, to mention some of the movies Aatish, Ghar Ki Laai, Dada, Habani, Akhri Kasam, Daku Aur Mahatma, Maha Badmaash, Raam Bhorose, Raeszada, Fakira, Kalicharan, Do Jasoos and Toofan. During the 80's, Ravindra Jain got Mohd Rafi to sing a song with a sequence of low, medium and high pitch, Tu hi wo haseen hai film Khwab starred by Mithun Chakborty and Ranjeeta. It was considered to be one of the very difficult song a singer can sing.Beside Tu Hi Woh Haseen Hai, Jain Rafi combo gave us a beautiful brother and sister relation song O Meri Ladli Pyari Behna from film Aatish which was pictured on Jeetendra and Nirupa Roy.
Ravindra Jain described Mohd Rafi as par excellence playback singer for Yesterday, Today & Tomorrow. There wont be a replacement neither come to close. He is the crown king in playback singing forever. who is Unmatchable and untouchable.
Association with Kishore Kumar
Ravindra Jain had a very long association with Kishore Kumar. Some of the popular films in which Jain composed and made Kishore Kumar sing the songs include Chor Machaye Shor(1974), Salaakhen (1975), Deewangee(1976), Fakira(1976) all four which had Shashi Kapoor as the lead male actor, Rakhee Gulzar starrer Tapasya, Manjula Vijayakumar starrer Ek Gaon Ki Kahani (1975), Sanjeev Kumar starrers like Pati Patni Aur Woh (1978) and Daasi (1981), Rajshri productions like Geet Gaata Chal (1975), Asrani production Hum Nahi Sudhrenge in 1980, Randhir Kapoor starrer Ram Bharose (1977), Jeetendra starrer Hum Tere Aashiq Hain (1979), Arun Govil starrer Sasuraal (1984).
Private albums
Hindi
In the 1980s, Jain composed for Asha Bhosle's private album Om Namo Shivay featuring eight bhajans based on Lord Shiva. In 1990s, an album called Guru Vandana was released featuring songs on gurus (teachers) and saints and disciples. In 1991 Jain wrote and co-produced with the singer Hemlata the cassette album Sahaj Dhara dedicated to Shri Mataji Nirmala Devi. Album Timeless Mahatma based on Gandhi's teachings was released in 2011 and was featured in an Indian exhibit in South Africa. In 2014, Jain launched albums Kashi Pushpanjali and Mission BodhGaya. In 2014, Jain released Sampoorna Ramayan—a musical version of the story with simple Hindi lyrics sung by famous Bollywood singers. In September 2016, Anup Jalota released Jain's last recording of bhajans titled Chahe Ram Bhajo, Chahe Shyam Bhajo and Jain's mother-in-law's bhajan album Japle Japle Prabhu ka naam at his residence.
Malayalam
In 1989, Ravindra Jain composed the music under Dr. K. J. Yesudas's production house Tharangini Audios for the Malayalam album Aavanippoochendu. He did the musical score of the Malayalam film Sujatha [1977].
Jain Albums
Ravindra Jain has written and composed many popular Jain bhajans. Some of the memorable songs remain fresh even to this day. Some of his notable songs are Mastakabhishek (1982), first sung at the occasion of Mahamastakabhisheka of Lord Bahubali statue in Shravanabelagola (Karnataka); Bahubali Bhagwaan ki Aarti Utaaro Milke (1982); and Jai Jinendra bolo. Later, Jain worked on bhajan albums for famous Jain pilgrimage centres in India in conjunction with Akshay Jain of Gwalior, son of a renowned North Indian poet and lyricist. In 2014, Jain released album Atma Ajar Amar Hai based on Jain philosophy and teachings in collaboration with Professor Kanti V. Mardia and Pavan Mardia.
Ghazals
Jain composed music for ghazals as well, for example, in singer Suresh Wadkar's album The Morning Sun (1980s), Kahaani Baant lein (2016), Prime Minister Atal Bihari Vajpayee's live recording of Qadam Milakar Chalna Hoga: Svarna Jayanti Sangeet Sandhya and singer Parveen Khan's album Kinaara (2012).
Television career
Ravindra Jain also composed music for many television serials, mainly under the banner of Sagar Films, throughout the 1980s, 1990s, and 2000s (decade). Ravindra Jain provided bhajans and songs for many of Ramanand Sagar's popular TV serials, beginning with Dada Dadi ki Kahaniyaan, then moving on to one of the two Indian epics Ramayan and its follow up Luv Kush. Along with two South Indian composers, K.V. Mahadevan and K. Pukazhenti, Ravindra Jain composed 2 to 3 semi-classical songs for later episodes of Bollywood actress Hema Malini's TV Serial Noopur and the complete soundtrack for the show Women of India- Urvashi. Hema Malini continued collaborating with Ravindra Jain as composer for her dance ballets--Mahalakshmi, Durga, Ramayan, Savitri, Draupadi, and Radha Krishna. The only ballets Jain didn't compose for Malini were Nritya Malika and Meera which was composed by Shelley Dutta and Krishna Balram which was composed by Ashit Desai. Actress Jaya Prada also utilized Jain's compositions for her 2005 ballet Amrapali.
Jain continued his collaboration with Ramanand Sagar in TV serials such as Shri Krishna, Alif Laila, Itihaas ki Prem Kahaniyaan based on historical love stories of India, Tilism-E-Hoshruba, Jai Ganga Maiya, Jai Mahalaxmi, Shree Brahma Vishnu Mahesh, Sai Baba, Jai Maa Durga, and Dharti Ka Veer Yodha Prithviraj Chauhan (for which an original soundtrack was released). In 2000, DD National roped in the composer for the mythological/fantasy-based series Sangeet Dhara which showcased the history of music in the world. Ravindra Jain also provided excellent music for producer/director Sanjay Khan on serials Jai Hanuman and Maha Kavya Mahabharat also called Sanjay Khan's Mahabharat. In 2008, Jain composed for Sagar Arts's remake of Ramayan (with an original soundtrack release), Mahima Shani Dev ki on NDTV Imagine, and Dheeraj Kumar's serial Jai Maa Vaishno Devi on Channel 9X. In 2009, Jain composed the title song for Sagar Arts's new TV serial on Colors (India TV channel) called Sarvopari Shree Swaminarayan Bhagwan. Next, Jain composed for the currently airing religious series Bharat ke Mahaan Sant. In July 2011, Jain composed for the first few episodes of Imagine TV's new mythological series Dwarkadheesh - Bhagwaan Shree Krishn, based on the Hindu god Krishna's adult life. He continued composing music for Zee TV's Shobha Somnath Ki along with composer Surya RajKamal and Kumar Gautam's directorial venture Sankat Mochan Hanuman which started airing on 1 November 2011 on DD National. In 2012, he composed for Mahuaa TV's religious production Surya Puran and for the first few episodes of Zee TV's Ramayan- Jeevan ka Adhaar.
Jain has been featured as I Mahaguru in the Indian music reality show Sa Re Ga Ma Pa Challenge 2009, a judge on Indian music reality show Performer, and today devotes his time composing and participating in Kavi Sammelans, Mushairaas, and various literary, cultural, social, political, and religious activities.
For his collection of shayaris titled Ujaalon Ka Silsila in Urdu, Jain was presented with the Sahitya Award (Uttar Pradesh Hindi-Urdu Sahitya Award Committee) in Lucknow on 6 June 1997 by Romesh Bhandari, Governor of Uttar Pradesh. Ravindra Jain has also received many other prestigious awards such as Raaseshwar, Sur Singer, Filmfare Award, Swami Haridas Award, Youth National Award, Ashirwad, Adhar Shila, Uptron, Priyadarshini Award, Jaycees, Lions, Indigo '90, Rotary, Bengal Film Journalists' Association Awards, Uttar Pradesh Film Patrakar Sangh Award, Sangeet Gyaneshwar Award, Almost Faqir, Sangeet Samrat, and other honours by many national, international, socio-cultural and film institutions.
Ravindra Jain co-authored his autobiography titled Sunehre Pal and is referred to as by his close family and friends.
Personal life and death
Ravindra Jain met his mother-in-law, Nirmala Jain, in Delhi while attending a promotion event for the film Saudagar. Soon after, Nirmala Jain's daughter, Divya Jain, insisted upon only marrying Ravindra Jain or nobody else. Her wish later got fulfilled and they have a son named Aayushman Jain.[1]
Jain died on 9 October 2015 at the age of 71 in a hospital in Mumbai, from multiple organ failure.
Filmography as composer
Ajooba (Animation) (2018) (Under Production)
Anna (2016)
Kunba (2014) (1 song)
Naari teri Shakti Anokhi (2014) (2 songs)
Kahin Hai Mera Pyar (2014)
Beehad (2014) (1 song)
Baromas (2014) (3 songs)
Jalsa ghar ki devi (2013) (2 songs)
Educated Binani (2013)
[[Aakashathinte Niram (2013) (2 songs)
Barbareek- Sheesh Danee Mahayoddha (2012)
Laagi aisi Lagan (2012)
Jaana Pehchana (2011)
Punorutthaan (2011)
Azaan- the Awakening Call (2010)
Shri Chaitanya Mahaprabhu
Ek Vivaah Aisa Bhi (2008)
Vivah (10 November 2006)
Radha ne Maala japi Shyam ki
Gaanv Des
Bhaggmati - The Queen of Fortunes (2005) (2 songs)
Ek aur amar prem 2003
Nadiya ke teer
Gaon aaja Pardesi
Krishnavtar Baba Ramdev Peer 2002
Jai Shakumbhari Maa 2000
Krishna Tere Desh Main (2000)
Aakhri Nishchay
Aatish
Abodh
Ankhiyon Ke Jharokhon Se
Ananya
Atyachar (revised title Ghulami ki Zanjeerein)
Bandhan Bahon ka (revised title Kariye Kshama)
Beta ho to aisa
Bhaagya
Bhaalobeshe Radha
Bhanga Gara
Bolo hey Chakradhari redubbed Gujarati title Shree Krishna Sharnam Mamah
Brahmarishi Vishwamitra
Chadhi Jawani Budhe nu
Cheti ka Poster
Chitchor
Chor Machaye Shor
Daasi
Daku aur Mahatma
Dhokebaaz
Do Jasoos
Dristi (unreleased)
Durga Maa
Dulhan Wahi Jo PPPiya Man Bhaye
Ehsaan aap ka
Ek gaon ki Kahani
Fakira
Ganga Sagar
Ganga Maiya Bhar de Acharwa Hamaar
Ganga se Naata ba Hamaar
Geet Gaata Chal
Ghabrahat
Ghar ki laaj
Gomti ni Shakhe
Gopal Bhanr
Gopaal Krishna
Haathi ke Daant
Hamara Sansaar
Har Har Gange
Harishchandra Saibya
Hatyare
Himalay ke Aanchal mein
Hum nahi Sudhrenge
Hum Pyar Karenge
Hum tere Aashiq hain
Insaf ka Tarazu
Jaan pe khel kar
Jai Karoli Maa
Jai Shakumbhari Maa
Jailkhana
Jala kar Raakh kar Doonga
Jeena isi ka naam hai
Jungbaaz
Kahani ek chor ki
Kahani Phoolwati ka
Kahani Phoolan ki
Kalyug ke Avtaar
Kaanch aur Heera
Kaarnaama
Khoon Kharaba
Khwaab
Kotwaal Saab
Kokh
Ladke baap se Badhke
Lallu Ram
Lori (unreleased)
Maan Abhimaan
Maati Balidaan ki
Madhumalti
Maha Badmash
Mann ka Aangan
Meharbaani
Meri Aan
Mhaara Peehar Saasra
Milan ki aag
Mohini
Mujhe Kasam hai
Nadiya ke paar
Naiyya
Navaratri
Nishanebaaz
Nishchay
Paramvir Chakra
Parchhain
Pardes Chadhei jaa devi Sarva Bhuteshu
Pati Patni aur woh
Parakh
Phool aur Faulad
Phoolan Devi
Piya Milan
Piya Milan ki aas
Pratighaat
Pratishodh
Prem Daan
Princess from Kathmandu
Pyar ka Sawan
Pyar Karenge pal pal
Qahar
Raaz
Raadha aur Seeta
Raeeszada
Raja Harishchandra
Ram Bharose
Saawan (unreleased)
Saajan mere main Saajan ki
Safed Haathi
Sajan ke dard
Salaakhen
Sampark
Sarkari Mehmaan
Sasural
Saudagar
Sej piya ki
Shadyantra
Shanivrat Mahima Jai Tirupati Balaji
Shatranj ke Mohre
Shyam tere Kitne naam
Shiva Dada
Sujatha
Sukham Sukhkaram
Solah Shukrawar
Tansen (unreleased)
Tapasya
Toofan
Tulsi
Tum par hum Qurban
Vajraghat
Vanchit
Vidrohi
Yeh aag kab Bujhegi
Yeh Kaisa Insaaf
Yeh na thi Hamari Qismat
Zakhmo ke Nishaan
Zidd
Zinda Laash
Awards and nominations
He was awarded Padma Shri, the fourth highest civilian award of India, in 2015.
Won- Filmfare Award for Best Music Director for Ram Teri Ganga Maili(1985)
Nomination- Filmfare Award for Best Music Director for Chitchor (1976)
Nomination- Filmfare Award for Best Music Director for Ankhiyon Ke Jharokhon Se (1978)
Nomination- Filmfare Award for Best Lyricist for "Ankhiyon Ke Jharokhon Se" in Ankhiyon Ke Jharokhon Se(1978)
Nomination- Filmfare Award for Best Lyricist for "Main Hoon Khushrang" in Henna (1991)
References
Ravindra Jain Wikipedia
(Text) CC BY-SA