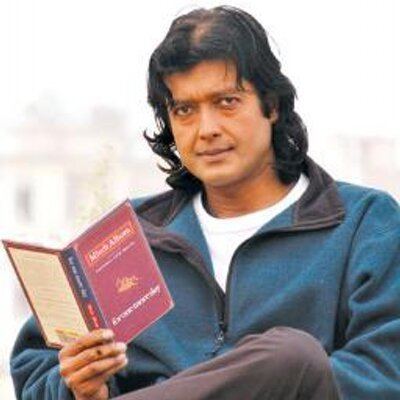 Rajesh Hamal was born in Tansen, central Nepal. He did his schooling at Bhanubhakta Memorial Higher Secondary School up to class 8. Then he went to Moscow, Russia with his father who was Nepalese Ambassador to Russia. Rajesh Hamal finished his M.A in English literature from Delhi University.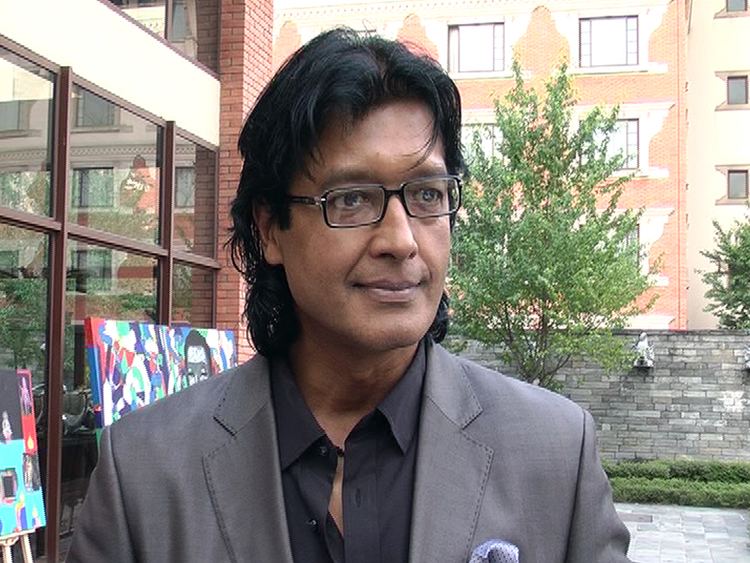 Rajesh Hamal in his college years, first modelled for Fashion Net, an Indian magazine in 1985; he walked the ramp in Kathmandu and New Delhi in 1986. He started his career as a film actor with Yug Dekhi Yug Samma in 1988, a film made by his maternal uncle. Hamal received a National Film Award for "Best Actor Debut" in 1989, for this film. Till date he has worked in over 230 Nepalese, one Punjabi cinema and five hollywood cinemas..
Before entering into Nepali Cinema, Hamal was a well known model; in his college years he first modeled for Fashion Net, an Indian magazine in 1985; he walked the ramp in Kathmandu and New Delhi in 1986.
In 1988 Deepak Rayamajhi made "Yug Dekhi Yug Samma" giving Rajesh Hamal his first break in Nepalese cinema along with Krishti Mainali. The film was a huge success. He also won National Films Award for "Best Actor Debut". He is the only superstar of Nepal after Bhuwan K.C.. He has played above 100 of movies.
In 1990 he did only one film, Adhikar. He was actor at the box office. 1991 proved to be the best year for Hamal with him getting 3 movies Viz. Bhauju, Deuki and Deuta, all becoming hit. Hamal also received his first National Films Award for Best Actor Award in 1991 film Deuta. In 1992 he appeared in Punjabi film named Kachehri. He also appeared in film Chatyang and earned second National Films Award "Best Actor" category award. In 1993 he appeared in only two films Kasam and Adhikar, both becoming box office success. In 1994 he appeared in film Paribhasa and first time nominated in National Films Award "Best Supporting Actor" Category. He received his Fifth National Films Award for the film Bandhan. In 1997 he worked with actress Jal Shah in film juntara and won National Films Best Actor Award. In 1999 Hamal worked alongside actress Niruta Singh for the first time in the film "Chadani". He played the role of the son of a rich man who fell in love with a village girl. Later he appeared in films Ranabhumi, Dharmaputra, Pardesi Kancha, Shankar, Jindagani, Ek Number Ko Pakhe. His last release in 1999 was "Mato bolcha" which was directed by Rajesh Raj Acharya under Sayapatri films banner. Hamal was nominated for many award categories. He ended up winning National Films best actor awards for this role.
In 2000 he appeared in film "Basanti" along with actress Karishma Manandhar with whom he has worked in many films. This Film was based on the era of Rana dynasty. He was critically acclaimed for his acting in the film and this film proved to be the highest-grossing film in the box office. Later he worked in films like Dhuk dhuki, Upakar, Asirbad, Nepal Pyaro Chha, The yug dekhi yug samma". In 2009 he appeared in film "Raju Raja Ram" along with two other stars of Nepalese film industry, Bhuwan K.C. and Shiv Shrestha, where he played role of Raju.
His first release in 2010 was comedy film "Hath ma lagyo sunya" and he was nominated for National Films Award "Best Actor In Comic Role". He also did a special appearance in the 2011 film "Bato muni ko phool" as ACP. His last release in 2011 was "Kawach" which was moderate in box office. Later he appeared in many programme like the Nepalese comedy show, reality shows, and award functions.In 2012 he appeared in three hit movies Night queen,Maya ko Barima, Chabilal kanjus chhaina. He worked for Sayapatri banner movie Mero Rajesh Dai which also featured his look-alike Nepali actor Sital K.C. He also acted as female protagonist in his movie "Shakuntala" which was something new in Nepali film industry.
In 1991 director Tulsi Ghimire's film Deuta shot Rajesh Hamal into super-stardom. Tulsi Ghimire cast him in the leading role for the film Deuta. The film award was a sharp contrast to the romantically themed films that had generally preceded it and established Hamal in a new persona — the "Romantic Fellow" of Nepali cinema. He won his first Best Actor Award in a leading role. Later many Directors and Leading actress like Karishma Manandhar, Bipana Thapa, Jal Shah, Pooja Chand etc. wanted to work with him. He won many Awards on "Best Actor" category. His fan following increased and many fans wanted to see his movies. His movies start to become houseful in many Theatres. He is one of the greatest actor in Nepalese History.
Hamal was mostly popular in action films. It was in 1994, while filming Sadak during a fight scene in prison, he had to save his family from the enemies. He had to break the walls of the prison. While Hamal was performing the fabulous stunt, the bricks of the prison fell upon him and he got injured. The Director stopped the shooting immediately. Hamal was covered with blood and he was at once taken to the hospital. Many fans of Hamal came to meet him in the hospital. Hamal took at least 5 months rest and slowly completed the shooting.The film was the fourth highest-grossing film of the year and Hamal was nominated for best actor award. He is the only famous superstar till date to be known by most Nepalese and Nepali movie admirers.
In 2004, Hamal appeared in the television show called Wai Wai Quiz Whiz. He appeared in several advertisement like Captain Sabun ( Soap), Steel, Himal Cement, Real Juice, Shares and Investment etc. In 2011, he appeared in the Nepalese comedy show "Meri Bassai" as a superstar "Rajesh Hamal". He was also a special guest in 2011 Miss Angel program. He was also Requested to host the show "Nagad Paanch lakh" but he refused the offer being busy in shooting. Later the show was hosted by Madan Krishna Shrestha.
In 1991 and 1997 Nepalese magazine rated him among the 50 most handsome people in the Nepal. In 1995 Kantipur magazine ranked him among the 20 sexiest stars in film history in Nepal. Two years later it ranked him among the top 10 film stars of all time in Nepalese cinema. In 2002 and 2003, he was rated by Premiere among the top 10 in its annual Power 100 list. In 2006 Premiere ranked Hamal as Nepalese cinema most powerful actor as Hamal came in at number 20 on the magazine's 2006 Power List, being the highest ranked actor. The same year,Peoples magazine ranked him as the Nepal's most powerful celebrity. In August 2006, "a Nepal Today/Gallup poll in which half of those surveyed registered an 'unfavorable' opinion of the actor" was cited as a reason in addition to "unacceptable behavior" for Paramount's non-renewal of their production contract with Hamal. In addition, Marketing Evaluations reports that Hamal's Q score (which is a measure of the popularity of celebrities), had fallen 40 percent. It was also revealed that Hamal is the celebrity people would least like as their best friend. October 10, 2006 was declared "Rajesh Hamal Day" in Nepal; the Nepalese Memorial Day Association said that he was awarded with a special day because he has made more trips to Nepal than any other Kollywood star. His net worth in 2014 was estimated to be $80
1989-Best Ramp performer
1989-Best Model of the year
1990-Best Ramp Performer
1990-Superstar of tomorrow
1995-Nepali Superstar Awards
1996-Star of the year
1997-Entertainer of the year
1999-Best Record Keeping Actor
2003-Best Actor (Popular Choice)
2003-Star of the Year
2004-Entertainer of the Year
2004-Star of the Year
2005-Star of the Year
2005-Entertainer of the Year
National Film Award Best Actor Award-Also for debut
CG Digital Award For Best Actor-Also for debut
NEFTA Film Award For Best Actor-Also for debut
Kantipur Television Award For Best Actor-Also for debut
Federation of Nepali Journalists for Best Actor-Also for debut
1998-Nepali Magines Awards for Best Actor Forever in Nepali cinema
1998-Honoured by Government of Nepal for his contribution in Nepali cinema
1999-Honoured by Ceremonial Head of Nepal
1999-Honoured by Public Service Commission
2000-Honoured by National Human Rights Commission (NHRC)
2003-Honoured by Armed Police Force
2004-CG Digital Award For Best Actor
2005-Honoured by Nepal Federation of Indigenous Nationalities
2006-Honoured by Nepal Bank limited Awards
2006-CG Digital Award For Best Actor
2006-Honoured by Rastriya Nagarik Sworna Samman (National citizen golden award)
2006-Honoured by Kantipur Television for the contribution in Nepali cinema
2007-Honoured by Image Channel Television for contribution in Nepali cinema
2007-Honoured by Non Resident Nepali Association
2008-Honoured by Federation of Nepali Journalists for Best Superstar Forever in Nepali movies
2008-NEFTA Film Award Life Time Achievement
2009-Lifetime Achievement
2009-Honoured by Nepali Television for the contribution in Nepali cinema