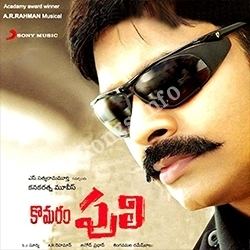 A lady while searching her missing husband faced inhuman behaviour from the local police. Although her husband was an honest police officer. When she met the goon Saleem, came to know that they had killed her husband. Now Saleem is going to kill the woman but she managed to escape and took shelter in a temple. It revealed that she was pregnant. Few days latter the henchmen of Saleem hounded her and she hide herself under the river. In this horrific situation she gave birth of a child, Komaram Puli, who will be the daredavil police officer in future.
Pawan Kalyan as Komaram Puli
Nikeesha Patel as Madhumathi
Manoj Bajpayee as Al Saleem
S. J. Surya as Hussain
Saranya Ponvannan as Puli's mother
Charan Raj as Inspector General of Police
Nassar as Assistant Commissioner of Police
Jyothi Krishna
Brahmaji as Inspector of Police
Girish Karnad as Prime Minister
Gopinath
Shriya Saran in a special appearance as a bar dancer in the song "Dochey"
Puli was director S. J. Suryaah's dream project. Initially he planned to make the movie with Akshay Kumar in Hindi and later with Vijay in Tamil and he sent bound scripts to both superstars. But both the projects did not happen. The storyline was also discussed with Malayalam actor Suresh Gopi. Later, after the confirmation from pawan kalyan, it was finalised to make in Telugu with Pawan Kalyan . Hansika Motwani was originally signed to play the heroine but was replaced by Nikeesha Patel, who made her acting debut in this film. The film was sent to the censor board on 4 September and received an A certificate.
The movie was shot in various parts of Andhra Pradesh and Tamil Nadu, as well as in Malaysia, Singapore, Bangkok and Dubai. The filming was almost completed by May 2010, but the songs were shot from 18 May onwards only. Pawan kalyan's acting fee for this film was ₹10 crore (US$1.6 million).Puli was made with a budget of ₹40 crore (US$6.2 million) from which ₹35 crore (US$5.5 million) is production costs.
The movie was originally titled "Komaram Puli". "Komaram" was taken from the surname of the Gond martyr Komaram Bheem, who fought against the erstwhile Asaf Jahi dynasty for the liberation of Hyderabad State. However, following the objections by Komaram Sony Rao, grandson of Komaram Bheem, and also by a section of Telangana Joint Action Committee activists who called for a boycott of the film, the movie was renamed with title "Puli" on the second day of its release. The soundtrack album is titled "Komaram Puli".
The film was released worldwide with 950 prints in 1250 theatres, a record of sorts for a Telugu film. The film's release faced a minor roadblock in the form of its title. The film critic from NDTV warned the audience by saying "watch the film at your own risk. It's a big-budget film with a solid casting. Just laugh at the poorly directed action scenes." The background score by A. R. Rahman and camerawork by Binod Pradhan were appreciated and many critics rated them as the highlight of the movie.
Its Nizam rights were sold to Geetha Arts for ₹12 crore (US$1.9 million) which is a record sum.
Puli ticket rates price was sold for ₹75 (US$1.20) in its first week
The makers of the film re-edited it due to very poor reviews and re-released the shortened version on 15 September 2010.
The film features a soundtrack consisting of 6 songs composed by A. R. Rahman and lyrics penned by Chandrabose. The highly anticipated soundtrack album was released on 11 July 2010 by Sony Music. The release rights of the album was purchased by Sony Music for ₹ 20 million. The audio was launched by K Rosaiah, Rahman and his mother Kareema Begum in a function held at H.I.C.C Novotel, Hyderabad. The function was attended by K Rosaiah, S. J. Suryaah, Allu Aravind, Pawan Kalyan, Nikeesha Patel, Shriya Saran, A. R. Rahman, Chandrabose, Anand Sai, Singanamala Ramesh, S. R. Murthy and many others. The soundtrack got overwhelming response and became a hot seller. The audio sales reached a total of 300,000 of CDs in the first three days, which is an all-time record in Telugu film history.
The picturisation of the songs was also noted. Two songs were choreographed by Bollywood choreographer Ahmed Khan. The songs he choreographed were "Power Star" (Pawan Kalyan's introduction song) and "Dochey" (an item number featuring Shriya Saran). The songs were filmed in two schedules at Annapurna Studios beginning from 18 May. Of the six songs written for the film, four songs were directly included in the film while the remaining two served as background songs. Lyricist Chandrabose collaborated with Rahman for the second time through this film. He took almost three months to write the song "Amma Thale", while all it took to write the song "Maaralente" was 90 minutes. A. R. Rahman's original score also received critical praise. Rahman collaborated with artists from three European countries to re-record the background score.
The figures don't include the Print and Advertising (P&A) costs.
Puli had a pre-release revenues up to ₹40 crore (US$6.2 million). Puli music rights were sold for ₹2 crore (US$310,000). Its satellite rights were sold for ₹6 crore (US$940,000). Its domestic distribution rights were sold for ₹30 crore (US$4.7 million) while its overseas rights were sold for ₹2 crore (US$310,000). Its Nizam rights were sold to Geetha Arts for ₹12 crore (US$1.9 million) which is a record sum. Kommaram Puli domestic distribution rights were sold for ₹30 crore (US$4.7 million) which is a record sum to Geetha Arts.