32.88 km²




University of Glamorgan, University of South Wales, Coleg Morgannwg, Pontypridd



Pontypridd is both a community and a principal town of Rhondda Cynon Taf, Wales, and is situated 12 miles/19 km north of the Welsh capital city of Cardiff. Pontypridd is often abbreviated to "Ponty" by local residents.
Pontypridd comprises the electoral wards of Cilfynydd, Glyncoch, Graig, Hawthorn, Pontypridd Town, Rhondda, Rhydyfelin Central/Ilan (Rhydfelen), Trallwng (Trallwn), and Treforest (Trefforest).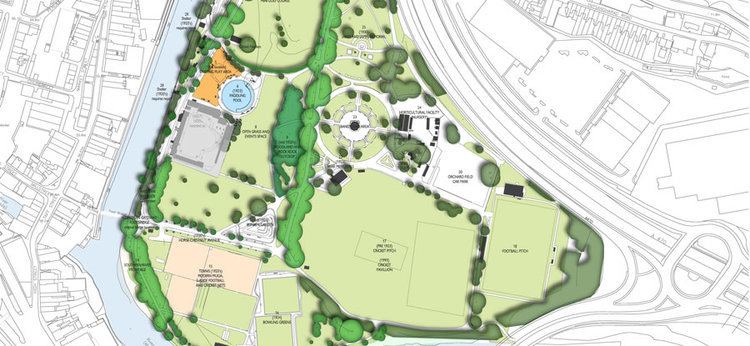 The town sits at the junction of the Rhondda and Taff / Cynon valleys, where the River Rhondda flows into the Taff immediately south of the town at Ynysangharad War Memorial Park. Pontypridd community had a population of 29,781 according to census figures gathered in 2001. while Pontypridd Town Ward itself was recorded as having a population of 2,919 also as of 2001.
The town lies alongside the dual carriageway north-south A470, between Cardiff and Merthyr Tydfil. The A4054, running north and south of the town, was the former main road, and, like the A470, follows the Taff Valley. South of the town is the A473, for Llantrisant and Pencoed. To the west is the A4058, which follows the River Rhondda to Porth and the Rhondda Valley beyond.
The name Pontypridd is from "Pont-y-ty-pridd" the Welsh for "bridge by the earthen house", a reference to a succession of wooden bridges that formerly spanned the River Taff at this point.
Ynysangharad War Memorial Park was opened by Field Marshal Viscount Allenby on August 6, 1923. It features a bandstand, pitch-and-putt golf course, a paddling pool, tennis courts, lawn bowls greens, a football pitch, a cricket pitch, and memorials to the war dead of Pontypridd and to the composers of the Welsh national anthem. It has also hosted festivals and music concerts, including the annual Pontys Big Weekend festival.
Pontypridd is home to Pontypridd Rugby Football Club, one of Wales most notable rugby union clubs, with a successful junior rugby and Age-grade sections that frequently contributes players to the national team. Formed in 1876, Pontypridd RFC play in the Principality Premiership, SWALEC Cup and the British and Irish Cup. Pontypridd RFC play their home games at Sardis Road, with their junior section playing at Taff Vale Park and Pontypridd High School Fields, Cilfynydd.
Pontypridd Town A.F.C. is a Welsh football club which has achieved some success in the Welsh football league.
Speedway racing was staged at Taff Vale Park in the towns Broadway area in 1929/1930.
Pontypridd Bowls Club play in the top division in the Cynon Valley, Mid Glamorgan and the Cardiff League having been promoted in all 3 divisions following the 2009 season. They play their home games at Ynysanghard Park.
Pontypridd Wikipedia
(,)http://www.coflein.gov.uk/images/l/DI2009_0428/(,)http://www.ponty.net/imagebank/5604134///Pontypridd%2520Rugby%2520Club,%25201897-98.jpg(,)http://farm3.static.flickr.com/2357/1934897875_4b58f5619c_o.jpg(,)http://maps.francisfrith.com/ordnance-survey/historic-map-of-pontypridd_hosm35057_large.jpg(,)http://photos.francisfrith.com/frith/pontypridd-old-bridge-1899_43618_large.jpg(,)http://upload.wikimedia.org/wikipedia/commons/2/22/The_Old_Bridge_and_Victoria_Bridge,_Pontypridd.jpg(,)http://www.workhouses.org.uk/Pontypridd/PontypriddLwynpia6.jpg
(,)http://www.mountain-mist.co.uk/images/mountainmist%25206.6.11%2520017.jpg%3Fwidth%3D575(,)http://www.soltysbrewster.com/images/projects/historic/7A%2520-%2520Ynysangharad%2520Park.jpg(,)https://www.rhonddacynontafhousing.co.uk/uploads/area_images/Pontypridd_1291974876.JPG(,)https://images.folksy.com/aXRlbXMvNTY5MTc0LzIwMTIxMDE3LzE3NDI1NDc5Njc2NQ-Q-Q-N/main(,)http://www.alanshepp.com/media/studio/Industrial-Landscape-Pontypridd.jpg(,)http://www.thevandallist.com/wp-content/uploads/2014/02/project-landscape-hyde-and-hyde-architects-6.jpg(,)http://mybuilder-uploads.s3.amazonaws.com/2_thumb/407239_3a932fe7d5.jpg(,)http://thevandallist.com/wp-content/uploads/2014/02/project-landscape-hyde-and-hyde-architects-5.jpg(,)http://acerecology.co.uk/wp-content/uploads/2012/02/bat-survey-treforest-pontypridd.jpg(,)http://www.thevandallist.com/wp-content/uploads/2014/02/project-landscape-hyde-and-hyde-architects-7.jpg(,)http://mybuilder-uploads.s3.amazonaws.com/2_thumb/407236_6486ccf20a.jpg(,)http://www.cardiffbuildingservices.co.uk/assets/uploads/2014/12/paving-crop.jpg(,)http://www.sharpbuilders.co.uk/image/66456285.png(,)http://www.soltysbrewster.com/images/projects/historic/7D%2520-%2520Ynysangharad%2520Park.jpg(,)http://www.mountain-mist.co.uk/images/oakdale%2520peter%2520001.jpg%3Fwidth%3D465(,)http://www.mountain-mist.co.uk/images/2.JPG%3Fwidth%3D465
(,)http://media-cdn.tripadvisor.com/media/photo-s/04/46/43/c4/blueberry-hotel.jpg(,)http://media-cdn.tripadvisor.com/media/photo-s/04/2f/2f/74/lewi-s-thai-cafe.jpg(,)http://media-cdn.tripadvisor.com/media/photo-s/02/d7/c0/2f/grills-steakhouse.jpg(,)http://media-cdn.tripadvisor.com/media/photo-s/04/2d/0f/75/lewi-s-thai-cafe.jpg(,)http://www.thevalleys.co.uk/imageGen.ashx%3Fimage%3D/media/48979/bunchofGrapes.jpg%26width%3D580%26compression%3D80(,)http://i2.walesonline.co.uk/incoming/article7436894.ece/ALTERNATES/s1023/Stallholder3-Dean-Morgan.jpg(,)http://www.trattoriarestaurant.com/images/header_rest.jpg(,)http://media-cdn.tripadvisor.com/media/photo-s/03/db/2e/0e/the-bollywood-masala.jpg
(,)http://i4.walesonline.co.uk/news/health/article8960197.ece/ALTERNATES/s615/Ken-Skates.jpg(,)http://tourism.rctcbc.gov.uk/images/imagegalleries/pontypridd/round-houses,-pontypridd.jpg(,)http://i3.walesonline.co.uk/incoming/article6440337.ece/ALTERNATES/s615/Muni-Arts.jpg(,)http://4.bp.blogspot.com/-C8aTDB_HBo4/UHbWiAs9nBI/AAAAAAAAABI/Uc3pSad28ZQ/s1600/Old%2BPontypridd.jpg(,)http://cache4.asset-cache.net/gc/3362407-25th-june-1937-a-group-of-old-age-pensioners-gettyimages.jpg%3Fv%3D1%26c%3DIWSAsset%26k%3D2%26d%3DiaHILd%252FUPrU5bUEQOEKWhMgAgP2WHl0kfX5yQ0PTnNzCbCCwIyewoPuY6FvONb9i(,)http://i4.walesonline.co.uk/incoming/article4923117.ece/ALTERNATES/s615/morning-star.jpg(,)http://www.rctcbc.gov.uk/Images/PromotionalImages/English/LeisureLibrariesCulture/Pontypridd-Museum.jpg(,)http://www.treharrisdistrict.co.uk/wp-content/uploads/2014/02/treharris-SA.jpg(,)http://i2.walesonline.co.uk/incoming/article7283376.ece/ALTERNATES/s615/ymcapic.jpg(,)http://treharrisdistrict.co.uk/wp-content/uploads/2014/02/qw15.jpg(,)https://www.thestage.co.uk/wp-content/uploads/2014/05/Pontypridd-muni-arts-centre-1.jpg