Preceded by

Scott Morrison




Prime Minister

Tony Abbott




Prime Minister

Tony Abbott




Name

Peter Dutton




Preceded by

Tanya Plibersek




Spouse

Kirilly Dutton (m. 2003)




Succeeded by

Sussan Ley







Prime Minister

Tony Abbott Malcolm Turnbull




Role

Member of the Australian House of Representatives




Office

Minister for Immigration and Border Protection since 2014




Education

Queensland University of Technology




Parents

Ailsa Leitch, Bruce Dutton




Children

Tom Dutton, Rebecca Dutton, Harry Dutton




Similar People

Scott Morrison, Tony Abbott, Malcolm Turnbull, Eric Abetz, Andrew Bolt




Profiles




Facebook

Twitter
Minister for immigration and border protection peter dutton visits sunshine coast
Peter Craig Dutton (born 18 November 1970), Australian politician, has been a Liberal member of the Australian House of Representatives representing the Division of Dickson, Queensland since the November 2001 federal election when he defeated high-profile sitting Labor member Cheryl Kernot. Dutton was the Minister for Health and the Minister for Sport from 18 September 2013 and Minister for Immigration and Border Protection from 21 December 2014 in the Abbott Government. Dutton retained his portfolio in the Turnbull Government. On 18 July 2017, he was named Minister for Home Affairs, a newly created portfolio giving him oversight of ASIO, the AFP and Border Force. He previously served as the Minister for Workforce Participation and Minister for Revenue and Assistant Treasurer in the Howard Government. Dutton has been touted as a future Liberal leader.
Contents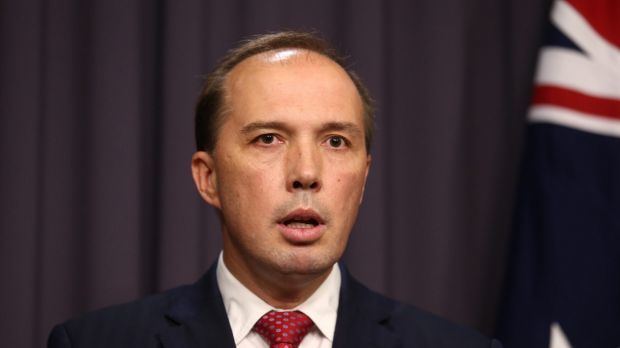 Early years and background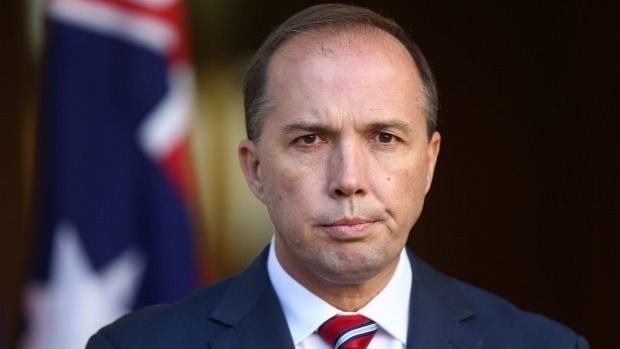 Dutton was born in the northern Brisbane suburb of Boondall, the eldest of five children, with one brother and three sisters. His mother Ailsa Leitch worked in childcare, and his father Bruce Dutton was a builder. Dutton finished high school at the Anglican St Paul's School, Bald Hills.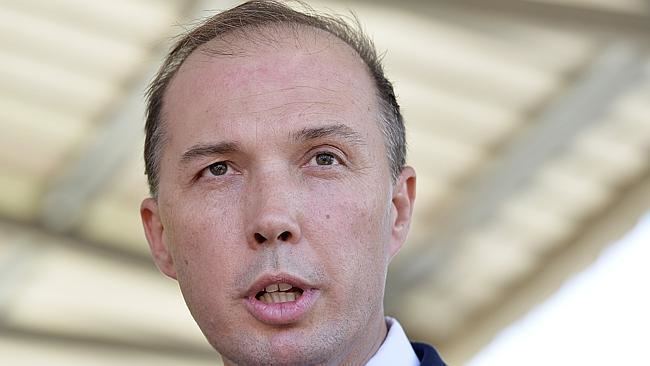 When Dutton was 18 years old he joined the Young Liberals (Australia) (1988), became the Policy Vice-Chair of the Bayside Young Liberals the following year (1989). In 1989 he ran unsuccessfully as the Liberal candidate against Labor MP Tom Burns in the eastern Brisbane state seat of Lytton. In 1990 Dutton became Chair of the Bayside Young Liberals.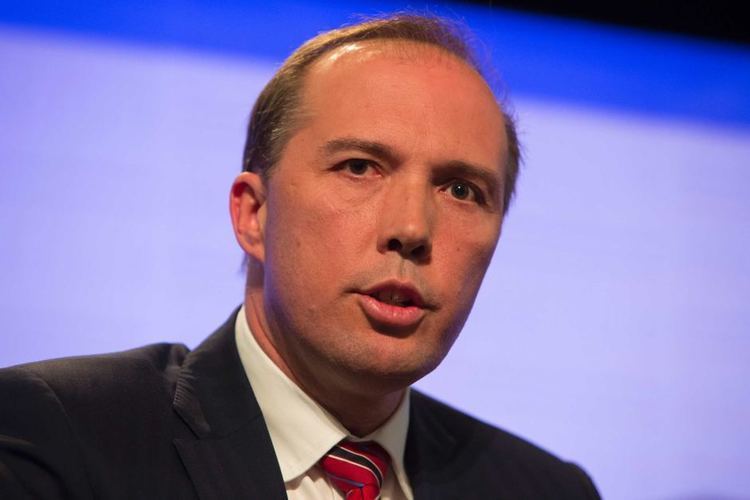 Dutton graduated the Queensland Police Academy in 1990. He worked as a Queensland Police officer for nine years, working in the Drug Squad in suburbs such as Red Hill, Brisbane, in the early 1990s. He has also worked in the Sex Offender's Squad and the National Crime Authority.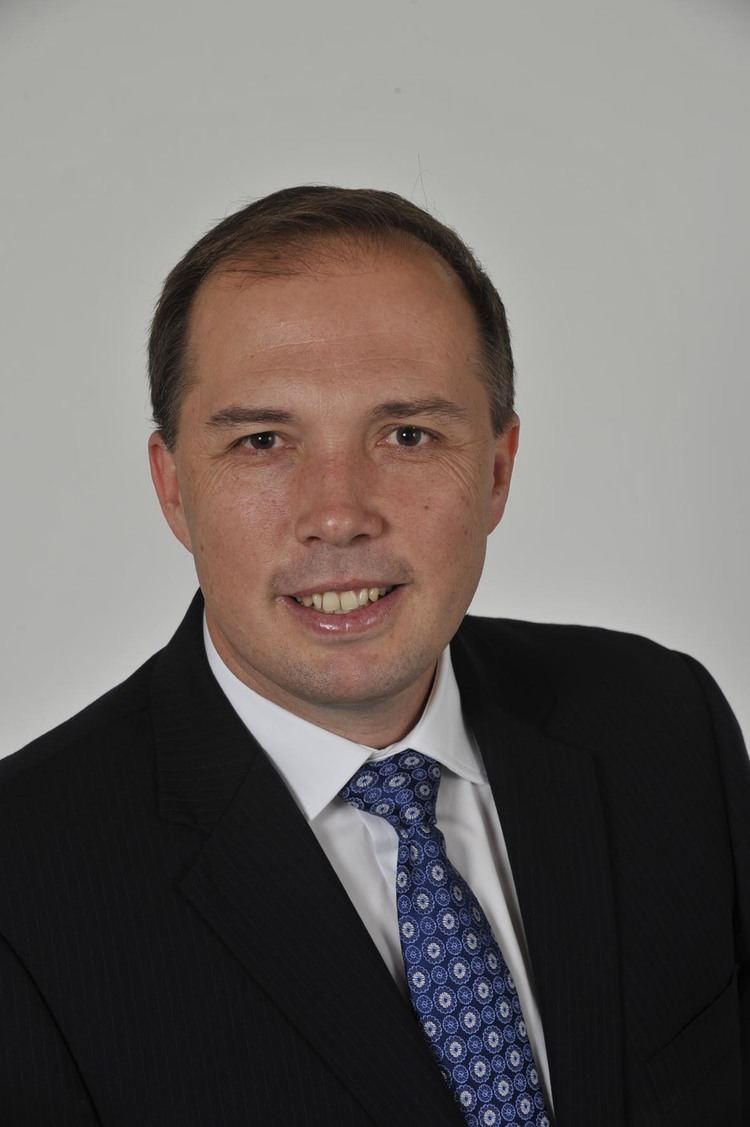 As a second job, he worked with his father in a building business.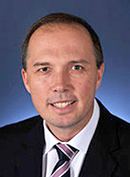 On leaving the police in 1999 he became a businessman and completed a Bachelor of Business at the Queensland University of Technology.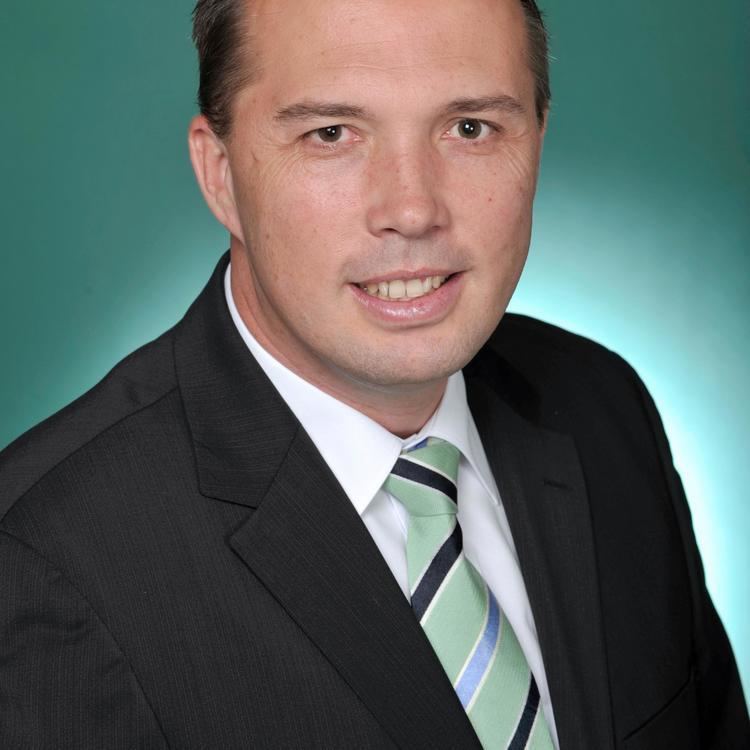 Dutton and his father founded the business Dutton Holdings, which was registered in 2000. Dutton Holdings operated under six different Trading and Business Names. Dutton Holdings bought, renovated, and converted buildings into childcare centres, and in 2002 sold three childcare centres to the now defunct ABC Learning. ABC Learning continued to pay rent to Dutton Holdings for a commercial lease until at least 2007. Dutton Holdings continues to trade under the name Dutton Building & Development.
Dutton married his first wife when he was 22 years of age; however, the marriage ended after a few months. His eldest child was born in 2002. In 2003 Dutton married his second wife, Kirilly, and they have two sons.
Early political career: 2001-2013 in Government and opposition
Dutton was elected to the Division of Dickson at the 2001 election, defeating Labor's Cheryl Kernot.
After the 2004 federal election Dutton was appointed to the ministry. He was Minister for Workforce Participation from 2004 to 2006. In January 2006 he was appointed Assistant Treasurer and Minister for Revenue. Dutton successfully retained Dickson in the 2007 federal election.
2007 appointment as Shadow Minister for Finance, Competition Policy and Deregulation
Following the 2007 election, Dutton was promoted by Brendan Nelson to the Shadow Cabinet as Shadow Minister for Finance, Competition Policy and Deregulation.
2008, stolen generation apology boycott
In 2008, Dutton chose not to be present in the chamber during the apology to the Stolen Generations. Dutton defied his leader Brendan Nelson and abstained from joining in the bipartisanly supported apology. He said that "I regarded it as something which was not going to deliver tangible outcomes to kids who are being raped and tortured in communities in the 21st century." Later, in a 2014 interview with the Sydney Morning Herald, Dutton said he regretted boycotting the apology: "I underestimated the symbolic and cultural significance of it."
September 2008, appointment as Shadow Minister for Health and Ageing
Dutton was appointed as Shadow Minister for Health and Ageing by Malcolm Turnbull in September 2008, a position he retained when Tony Abbott became Opposition Leader.
June 2010, release of mental health policy
In June 2010, Dutton released the Coalition's mental health policy, The Coalition's Real Action Plan for Better Mental Health. It was described by leading mental health experts as "a game changer" and "the most significant announcement by any political party in relation to a targeted, evidence-based investment in mental health".
2010 election
Dutton contested and won Dickson at the 2010 federal election, achieving a swing of 5.45% to easily overcome a 2009 redistribution. This resulted in a two-party-preferred vote of 54.69% as of 23 August 2010.
2013 pharmaceutical benefits scheme
In the lead up to the 2013 election, Dutton announced a range of Coalition policies, including to restore integrity and independence to the Pharmaceutical Benefits Advisory Committee; increase the threshold of Cabinet consideration for the listing of medicines on the Pharmaceutical Benefits Scheme (PBS) - allowing the Health Minister to list drugs costing less than $20 million a year over the first four years; expedite the roll-out of biennial bowel cancer screening for people aged 50 to 74 years; provide funding certainty and streamline administrative processes for medical research; provide $35 million for research into Type 1 diabetes through the Juvenile Diabetes Research Foundation Clinical Trial Network; provide $40 million for additional medical internships in private hospitals and non-traditional settings; and provide investment into general practice by doubling the Practice Incentive Payment for teaching and 175 grants to support capital expansion of existing rural and regional general practices.
Dutton's election commitments were strongly endorsed by key health stakeholders. The Cancer Council said that "Mr Dutton's promise to finalise the bowel cancer screening program by 2020 would save an additional 35,000 lives over the next 40 years."
The Australian Medical Association said "the Coalition has delivered a strong package of practical, affordable health policies that would strengthen general practice."
Medicines Australia "welcomed the Coalition's commitment to restore transparency, predictability and confidence to the process by which medicines are listed on the Pharmaceutical Benefits Scheme".
Minister for Health (2013–2014)
Dutton retained his seat at the 2013 election. He was appointed to the Ministry by former Prime Minister Tony Abbott, and served as Minister for Health and Minister for Sport.
As Health Minister, Dutton announced the world-leading $20 billion Medical Research Future Fund. As announced, the capital and any ongoing capital gains of the Medical Research Future Fund will be preserved in perpetuity.
Under Minister Dutton, projected funding in the health portfolio increased in the 2014-15 Budget to $66.9 billion, an increase of 7.5 percent from $62.2 billion in 2012-13, the final full year of the Labor Government. Projected expenditure on Medicare increased over 9.5 percent from $18.5 billion in 2012-13 under Labor to a projected $20.32 billion in 2014-15 under Dutton. Funding for public hospital services increased by nearly 14 percent under Dutton in the 2014-15 Budget to a projected $15.12 billion compared to $13.28 billion in the last full year of the Labor Government in 2012-13.
In a 2015 poll by Australian Doctor magazine, Dutton was voted the worst health minister in the last 35 years.
2014
On 23 December 2014, Dutton was sworn in as the Minister for Immigration and Border Protection after a cabinet reshuffle. The Migration Act 1958 gives the minister the power to impose a character test on people requesting visas to enter Australia.
2015
In September 2015, Dutton cancelled the visa of anti-abortion activist Troy Newman, over remarks in his 2000 book Their Blood Cries Out.
2015, immigration policy
On 5 June 2015, Dutton denied claims made by Greens Senator Sarah Hanson-Young that she was spied on during a visit to Nauru. At the same time he called into question her credibility saying "she's written to me on some issues which are completely fanciful when you have a look at the facts and she's got a track record of making these things up." He also claimed that "What Sarah Hanson-Young is about is publicity. She loves the camera and she loves to see her own name in the paper. That's the start and finish of Sarah Hanson-Young." Hanson-Young responded that "Peter Dutton can attack and insult me as much as he likes, but nothing will change the fact that my work has revealed systemic child abuse and the rape of young women on Nauru under his watch." The spying claims were later confirmed by the Immigration Department and Wilson Security who carried out the spying operation.
September 2015, rising seas joke
On 11 September 2015, Dutton was overheard on an open microphone, prior to a community meeting on Syrian refugees, joking about the plight of Pacific Island nations facing rising seas from climate change. Dutton initially refused to apologise, saying that it was a private conversation, but later apologised. The foreign minister of the Marshall Islands at the time, Tony deBrum, responded by writing that "insensitivity knows no bounds in the big polluting island down [south]" and that the "Next time waves are battering my home [and] my grandkids are scared, I'll ask Peter Dutton to come over, and we'll see if he is still laughing,"
2016, illiterate immigrants comment
Before the 2016 federal election Dutton said of refugees that "many ... won't be numerate or literate in their own language let alone English", but that "These people would be taking Australian jobs". Turnbull defended Dutton by stating that he is an "outstanding Immigration Minister".
2016 election
Against a statewide swing against the government of 2.9%, Dutton's margin fell from 6.7% to 1.6%, leaving him with a margin of less than 3,000 votes.
2016, "mad fucking witch" email
In 2016, News Corp Sunday political editor Samantha Maiden wrote a column critical of Jamie Briggs and Dutton drafted a text message to Briggs describing Maiden as a "mad fucking witch" but inadvertently sent it to Maiden. Maiden accepted an apology from Dutton.
2016, Lebanese immigration a mistake assertion
In November 2016, Dutton said that it was a mistake of the Malcolm Fraser administration to have brought out Lebanese Muslim immigrants. Foreign Minister Julie Bishop said Dutton was making a specific point about those charged with terrorism offences. "He made it quite clear that he respects and appreciates the contribution that the Lebanese community make in Australia."
2017, same-sex marriage
In March 2017, 31 CEOs signed a letter to Prime Minister Malcolm Turnbull calling for a free vote in the Australian Parliament on same-sex marriage. In response to this letter, on 16 March 2017, Dutton said that the CEOs "shouldn't shove their views down our throats" and that CEOs who were "doing the wrong thing" should "be publicly shamed". Dutton repeated his criticism at a speech to the LNP State Council in Queensland on 18 March.
Dutton's comments were heavily criticised as an attempt to censor expressions of support for same-sex marriage, with some commenters also accusing him of hypocrisy given his support for changing Section 18C of the Racial Discrimination Act. Former New South Wales Premier Kristina Keneally said that according to Dutton, "Free speech is great and should be expanded, unless it's an Australian corporate CEO speaking about same-sex marriage. Then they need to shut up." Liberal MPs and ministers Julie Bishop and Simon Birmingham also expressed disagreement with Dutton's comments.
On 9 May 2017, a 67 year-old man pushed a pie into the face Qantas CEO Alan Joyce while Joyce was speaking at a function in Perth. The next day, the assailant confirmed that the attack was to protest Joyce's support for same-sex marriage. Dutton had singled out Joyce in his criticism of pro-same-sex marriage CEOs, leading some LGBTI advocates to hold him partially responsible for the attack. Dutton condemned the attack on Twitter.
2017, immigration policy
On the 15 April 2017 shots were fired by the Papua New Guinea defence force into the Manus Island Detention Centre. Dutton responded that "There was difficulty, as I understand it, in the community. There was an alleged incident where three asylum seekers were alleged to be leading a local five year old boy back toward the facility and there was a lot of angst around that, if you like, within the local PNG community." "I think there was concern about why the boy was being led or for what purpose he was being led away back into the regional processing centre. So I think it's fair to say that the mood had elevated quite quickly. I think some of the local residents were quite angry about this particular incident and another alleged sexual assault."
However, the regional police commander on Manus Island said that a young boy, who was 10, not five had gone to the centre two weeks earlier to ask for food. He said that "It's a total separate incident altogether" The Greens senator Nick McKim said that Dutton had been caught telling an outrageous lie. "This has disturbing echoes of the Children Overboard affair lies."
May 2017
In a period of less than a week, the community advocacy organisation GetUp! raised just under $200,000 for a campaign to unseat Dutton at the next election. Dutton responded by stating that "If GetUp want a fight, they'll get one".
Lytton: 1989 failed attempt
In 1989 Dutton unsuccessfully ran in the Queensland state election against the popular Labor MP Tom Burns in the east Brisbane seat of Lytton.
Dickson: 2001 - 2009 seat held
In 2001 Dutton was elected to the Federal Division of Dickson with 9,533 more votes than Labor's incumbent candidate Cheryl Kernot, and he held the seat with a strong margin for successive elections. However, in the 2007 election, there was a large swing against Dutton and he retained the seat with just 217 votes more than Labor's Fiona McNamara.
McPherson: 2009 failed pre-selection attempt
As the 2010 election approached, it looked like Dutton would lose to the Labor candidate due to a redistribution of division boundaries that had erased his majority and made Dickson notionally Labor. To safeguard himself, Dutton sought pre-selection for the merged Liberal National Party in the safe Liberal seat of McPherson on the Gold Coast (despite not living in or near McPherson). Some constituents complained, "The abandoning of a seat by a sitting MP halfway through a parliamentary term to contest pre-selection in a seat over 100 kilometres to the south is not looked upon favourably."
Dutton lost the McPherson pre-selection to Karen Andrews, reportedly due to misgivings from former Nationals in the area. He then and asked the LNP to "deliver him a seat for which he doesn't have to fight other preselection candidates." Liberal MP Alex Somlyay (the chief Opposition whip of the time) said that Dutton's expectation of an uncontested preselection was "unusual." When the state executive didn't provide Dutton an unchallenged preselection, Dutton reluctantly returned to campaign for the seat of Dickson.
Dickson: 2010 - 2017 seat held
In the 2010 election, Dutton won the seat of Dickson with a large margin of 8,353 votes more than Labor candidate Fiona McNamara, and in 2013 Dutton retained the seat of Dickson with 11,530 more votes than Labor candidate Michael Gilliver. However, Dutton's winning margin narrowed in the 2016 election; he retained the seat of Dickson with 2,911 votes more than Labor candidate Linda Lavarch (only a 1.6% margin).
In 2017 the Liberal National Party requested that the Australian Electoral Commission redistribute the boundaries of the Dickson electorate in a manner which would benefit Dutton in the upcoming 2018 election. The proposed boundary change would add more conservative constituents to Dickson, however, this would remove them from the neighbouring marginal divisions of Longman and Petrie. While it would make it easier for Dutton to win his seat of Dickson, it would make it harder for his neighbouring Liberals to win their own divisions.
Political views
Dutton is seen as being a champion of the right-wing, conservative faction of the Liberals.
Dutton opposes same-sex marriage. In March 2017 it was reported in The Sydney Morning Herald that Dutton "said privately it was inevitable that same-sex marriage would become law in Australia so it would be better for the Coalition, rather than Labor, to control the process". Dutton's actions publicly have been in opposition to same-sex advocates and "the forcefulness of Mr Dutton's attack on corporate chief executives last week - in which he told them to 'stick to their knitting' - has aroused suspicion among some colleagues who believed he was committed to achieving a breakthrough on [same-sex marriage]". The following month The Daily Telegraph reported that Dutton was asked by a lesbian for clarification on his position, and he "told her he had been clear that he was against same-sex marriage". In his political career, Dutton has voted "very strongly against same sex marriage".
Dutton, who owns six properties with his wife, including a shopping centre in Townsville, opposes any changes to negative gearing that currently offer tax breaks to property investors, stating that changing it would harm the economy.
Dutton is opposed to an Australian republic.
References
Peter Dutton Wikipedia
(Text) CC BY-SA