India




Govind Ballabh Pant Engineering College




Hindi




Uttarakhand




Pauri Garhwal



Pauri is a town and a municipal board in Pauri Garhwal district in the Indian state of Uttarakhand.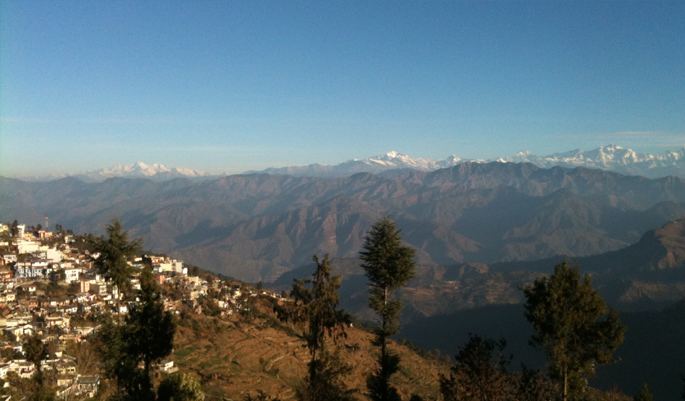 Pauri is located at 30.15°N 78.78°E? / 30.15; 78.78. It is located 1,814 metres (5,951 feet) above sea level. Pauri provides a panoramic view of the snow covered Himalayan peaks of Nanda Devi and Trisul, Gangotri Group, Thalaiya-Sagar, Nilkantha, Bandar Poonch, Swargarohini, Kedarnath, Kharcha Kund, Satopanth, Chaukhamba, Ghoriparvat, Haathi Parvat, Sumeru, etc. The errand across Kandoliya-Tekka stretch along evergreen deodar trees is worth walking. The town is visited by tourists, researchers and students from across the world. The place is paradise for trekkers, paragliding enthusiasts and nature lovers.
Pauri Wikipedia
(,)http://www.tourmyindia.com/blog/wp-content/uploads/2014/04/Pauri.jpg(,)https://c1.staticflickr.com/9/8519/8571111494_9c8d212f93_b.jpg(,)http://farm7.static.flickr.com/6233/6276044994_11ce75b337_m.jpg(,)https://c1.staticflickr.com/9/8378/8517000011_05cf3df9f5_b.jpg(,)https://c1.staticflickr.com/9/8371/8349191409_0039590aba.jpg
(,)http://hangouts.co.in/wp-content/uploads/2015/03/Haridwar-Restaurants-800x424.jpg(,)http://www.99uttarakhand.in/images/uttarkashi.png(,)http://images2.mygola.com/8ca42dbf7bb6b5eca7b20274d08a4783_1394375094_m.jpg(,)http://www.haridwarhotelguide.com/images/popular-eating-out-haridwar.jpg(,)http://media.newindianexpress.com/YOGI-ADITYANATH.jpg/2015/03/02/article2694314.ece/alternates/w620/YOGI-ADITYANATH.jpg(,)http://www.agefotostock.com/previewimage/bajaage/4f73ae66281b51e82287286485ff0523/ibr-2309376.jpg(,)https://s-media-cache-ak0.pinimg.com/736x/07/ac/71/07ac7165dbc623a5f304e7ba7920e46b.jpg(,)http://i.ytimg.com/vi/X057JjntZYo/hqdefault.jpg