Pakshe (Malayalam: പക്ഷേ; English: But) is a 1994 Malayalam romantic drama film written by Cheriyan Kalpakavadi and directed by Mohan. It stars Mohanlal and Shobhana in the lead roles. Though a usually repeated story in Malayalam films, the director is successful in saying the story in the most heart-touchable way. The film was critically acclaimed and was a box-office success. Mohan is a critically acclaimed director in Malayalam film and has directed many classic movies such as Isabella, Edavela, Angane Oru Avadhikkalathu etc.
Contents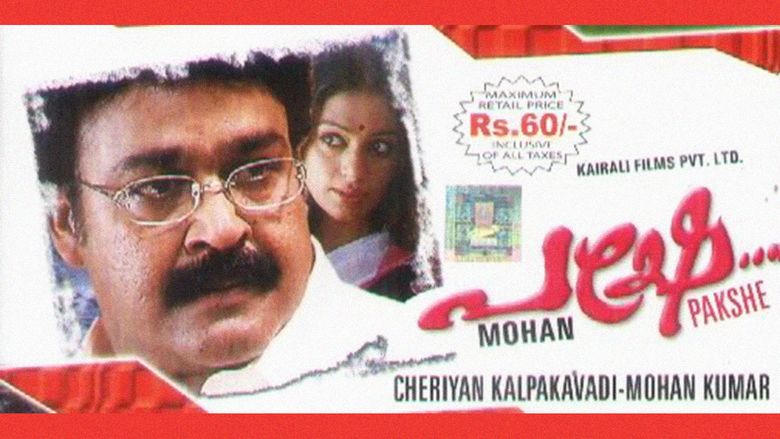 Plot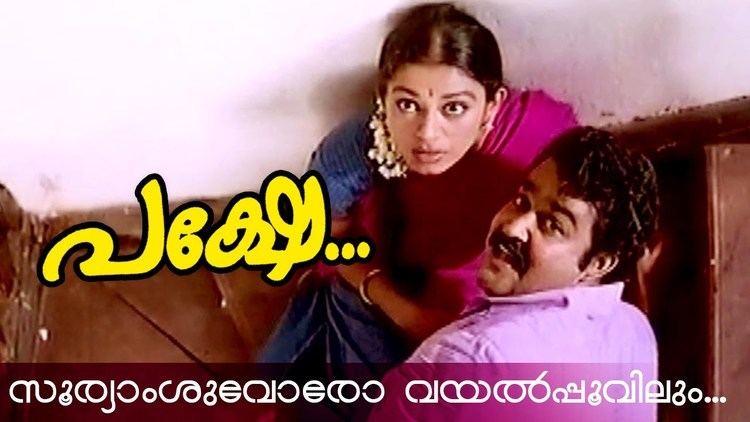 Pakshe circles around the tragic and sacrificial life of Balachandra Menon (Mohanlal), an IAS officer. Balan was brought up in a poor family whose properties were sold out by his father (Karamana) to fund legal cases. Balan was in love with Nandini (Shobhana). She was an aspirant writer and belonged to a rich family. However, their relationship was accepted by both their families and their marriage was fixed. Unniyettan (Venu Nagavally) was a teacher of Balan who motivated him to become a civil servant. With prayers from Nandini, Balan successfully passed the written exam of IAS.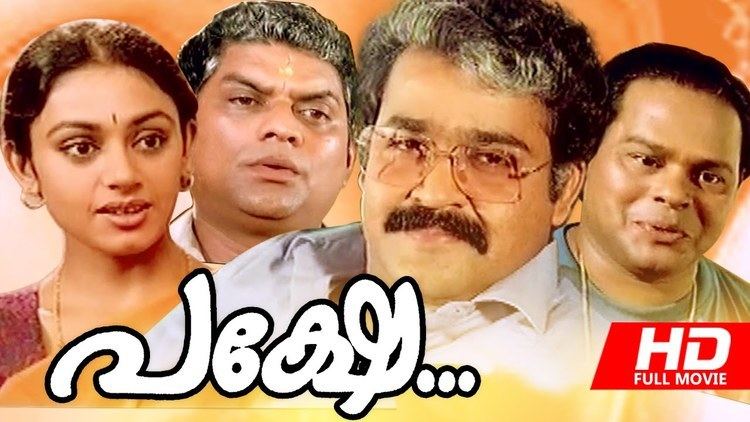 On a very unfortunate day, Balan's father committed suicide following his failure in the years long case, for which he had sold out all his family properties and had created huge debts. Balan had to repay these debts created by his father.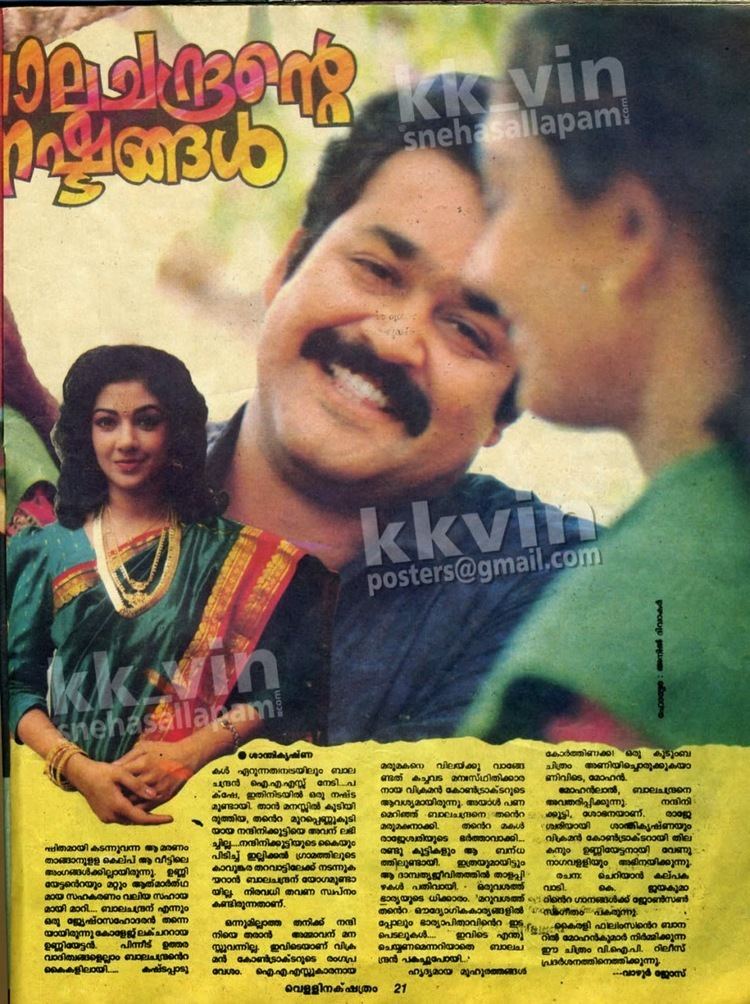 Balan, who had passed the written exam, also passed the interview successfully. Private money lenders abused and harassed Balan for not repaying their loans and Balan happened to fight with them. Following the incidents, Nandini's family withdrew from the marriage with Balan and she was house arrested. When the money lenders were about to legally acquire his house, there came a helping hand, Vikraman Contractor (Thilakan) who offered Balan the money but only if he was willing to marry his daughter. Balan went to Nandini and she insisted that he marry that girl and rescue his family. In a terrific scene of departure, they decided to split up calling it a "sacrifice that they only can do" for their families.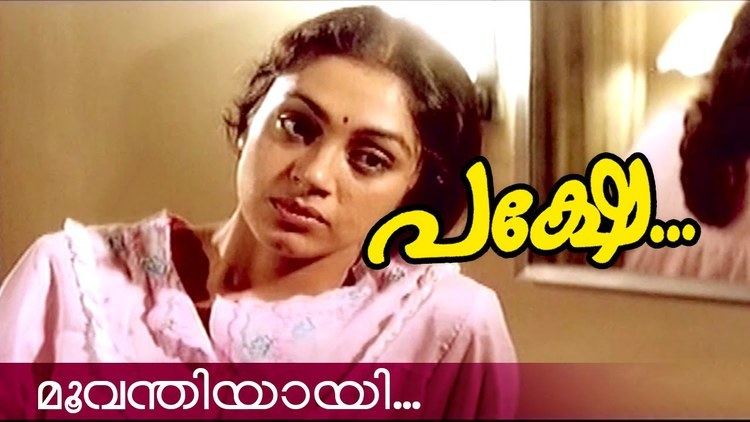 Balan repaid his debts after his marriage to Rajeswari aka Raji (Shanthi Krishna), who was an arrogant woman and from whom Balan always faced miseries. Vikraman used the bureaucratic status of Balan to satisfy his and his friends' unscrupulous needs. Once when Balan refused to obey Vikraman, he was abused by him and was criticized as a corrupt officer. Following the harassment, Balan decided to move from his wife house but Raji refused to accompany him. Balan, who felt insulted, left alone from that house.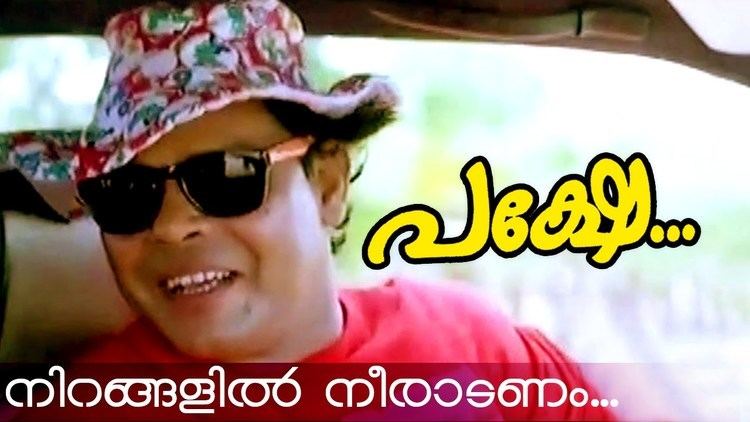 He took a long leave and set out to a beach resort for a few days of relaxation. There he found an amusing middle aged man named Eenashu (Innocent) who always tried to keep himself young and spiritful through liquor and women. His company made Balan forget his miseries and to start a new life.
On a usual evening, Balan was shocked to see his childhood lover Nandini after long decades in his neighboring cottage. She was still alone and had become an internationally acclaimed writer. Though they were lovers once, they found it difficult to talk freely at first. Gradually they began to share their life stories with each other. On the beautiful beach side, they both shared wonderful evenings through which they were able to revive the old couples- Balettan and Nandinikkutty. Balan who had changed a lot through Eenashu's company could easily erase the face of Raji from his mind.
After long eves and mornings of romance, Balan and Nandini decided to live together thereafter. But still fate was haunting them. On the day they planned to leave, Balan had an unexpected visitor, his wife Rajeswari and children. She realized her mistakes and begged him to forgive her. Balan felt stunned to hear this and he was confused about what to do; however, he decided to accept his wife and children. He went to Nandini, who was all set to leave with him. Once again, after several years, they had to experience the pain of separation. The film ends when Balan set to go back to his new married life and Nandini beginning a new era of memories with Balan.
The director is successful in introducing the eternal love story in a heart-touching way. The film is also blessed by the great onscreen chemistry between Mohanlal and Shobhana. Both, along with Shanthi Krishna, have done an exemplary performance. Johnson have given some good songs for this film.
Cast
Mohanlal as Balachandra Menon aka Balan
Shobhana as Nandini Menon ( Voice dubbed by bhagyalakshmi)
Shanthi Krishna as Rajeswari
Innocent as Eenashu
Thilakan as Vikraman Contractor
Soman as Shivadasa Menon IAS
Jagathy Sreekumar as assistant of Vikraman
Karamana Janardanan Nair as Balan's father
Sukumari as Balan's mother
Mamukkoya as Nanappan
Ganesh Kumar as Ravi
Venu Nagavally as Unniyettan
Kozhikode Narayanan Nair as Nandini's father
Soundtrack
The film had successful soundtrack composed by Johnson with lyrics penned by K. Jayakumar.
Ishtamanu pakshe malayalam full movie
References
Pakshe Wikipedia
(Text) CC BY-SA
Pakshe IMDb
Pakshe themoviedb.org