Pajama Party is a 1964 Beach Party film starring Tommy Kirk and Annette Funicello. This is the fourth in a series of seven beach films produced by American International Pictures. The other films in this series are Beach Party (1963), Muscle Beach Party (1964), Bikini Beach (1964), Beach Blanket Bingo (1965), How to Stuff a Wild Bikini (1965), and The Ghost in the Invisible Bikini (1966).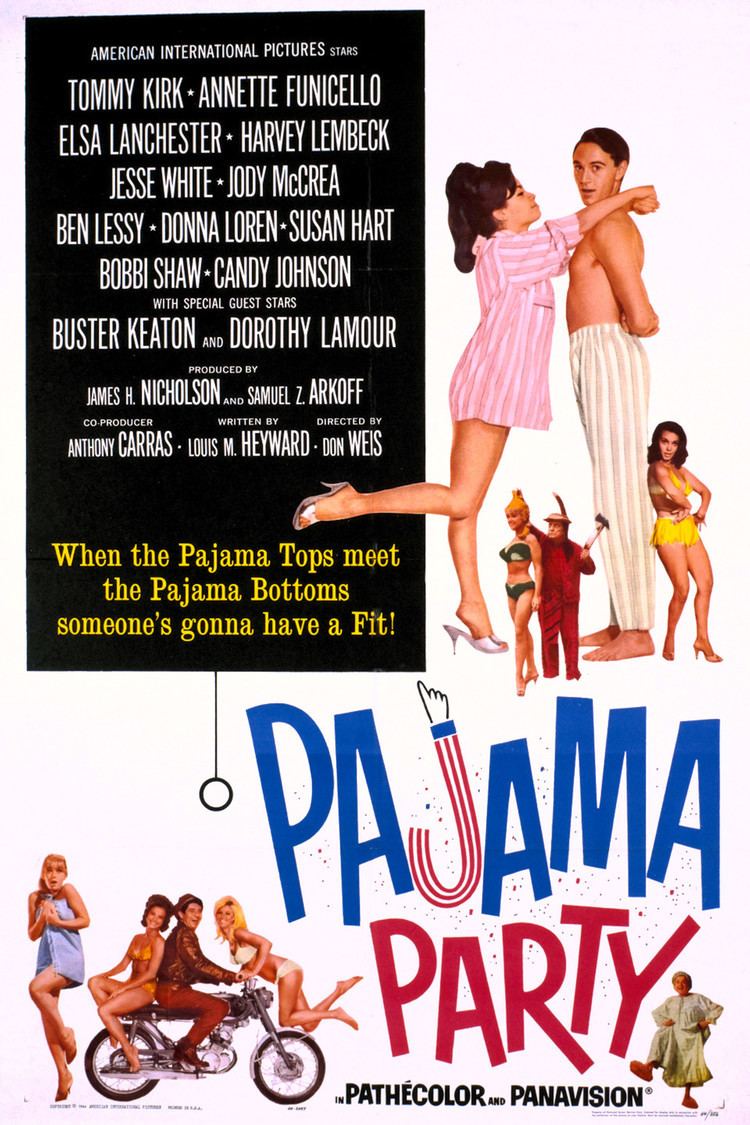 This fourth entry has not always been considered a follow-up to the three films that preceded it. Several sources have noted, however, that while it is not a proper sequel, it is indeed a part of what is now termed AIP's 'Beach Party series.' Moreover, AIP marketed it as a sequel in its trailer, stating "The Bikini Beach Party Gang is Warming Up! – For the 'Party' that Takes Off – Where others Poop Out!" and "All the 'Beach Party' Fun … in Pajamas!"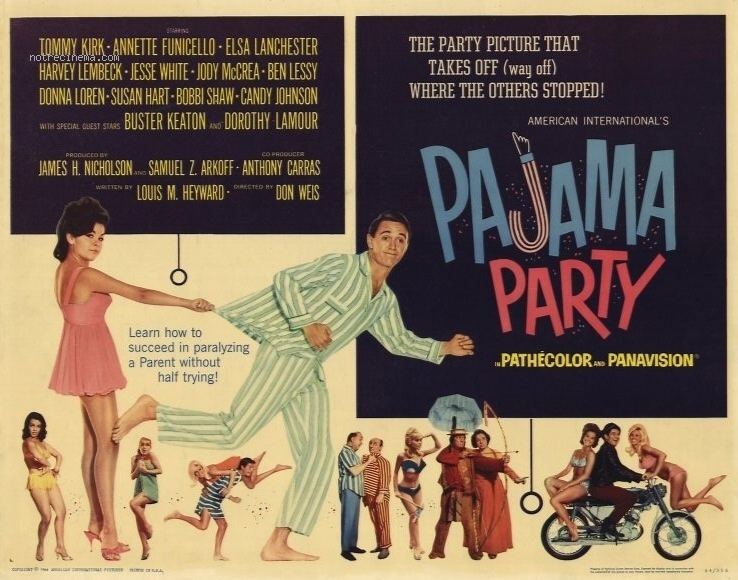 Additional links that tie this film to the others are the return of Eric von Zipper and his Rat Pack (who previously appeared in Beach Party and Bikini Beach) and the return of Candy Johnson as Candy for the fourth time in as many films.
Regulars Frankie Avalon, Don Rickles, Annette Funicello, Jody McCrea and Donna Loren all appear (albeit with character name changes – not the first time this happens in the series, nor the last); Susan Hart makes the first of three appearances in the AIP brand of the genre; Buster Keaton makes the first of four appearances, and Bobbi Shaw makes the first appearance of five. In addition, several background players in this film (Patti Chandler, Mary Hughes, Johnny Fain, Mike Nader, Salli Sachse, Luree Holmes, Ronnie Dayton, Ed Garner, Ray Atkinson, Linda Benson, and Laura Nicholson) also appear in three or more films in the AIP brand of the genre.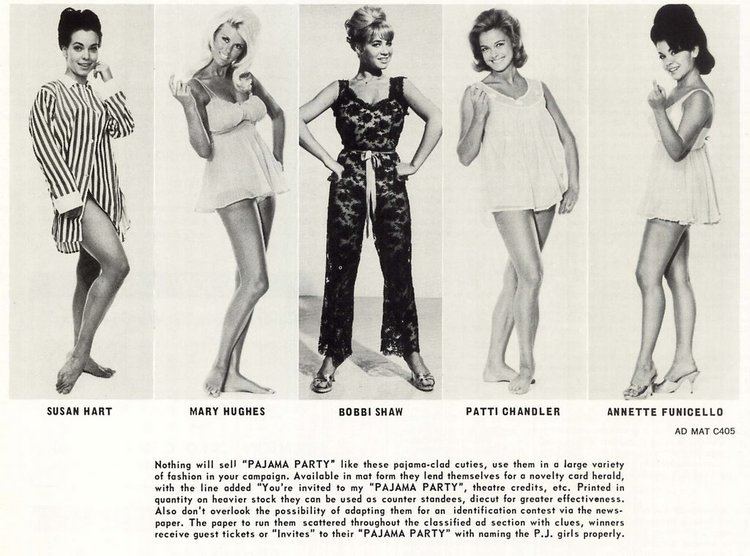 The film is not to be confused with the 1963 novel Pajama Party about lesbian activities among college girls, which was banned on the grounds of obscenity.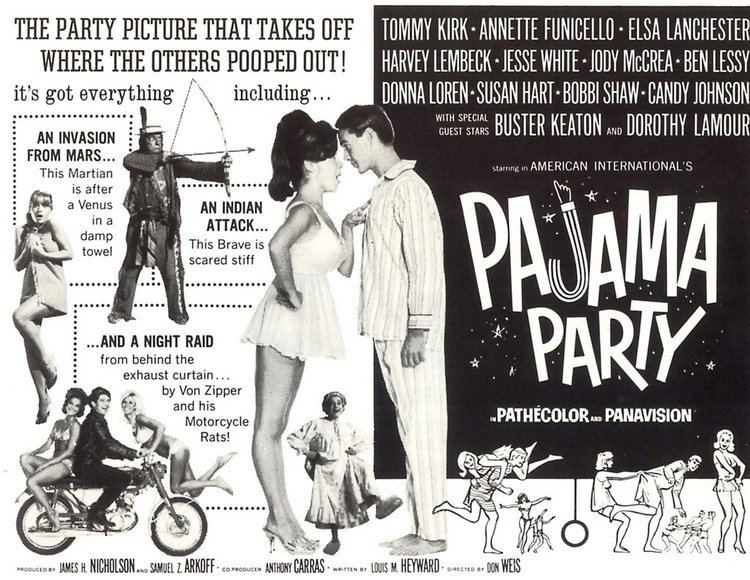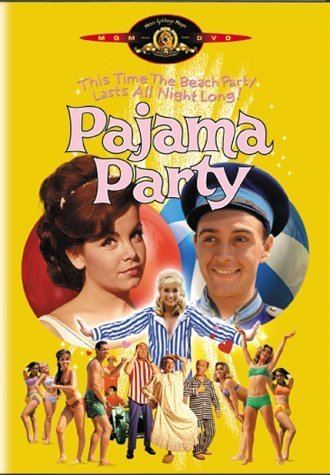 Teen aged Martian intelligence officer 006, named Gogo (Tommy Kirk), is sent to Earth wearing an usher's uniform to prepare the way for a Martian invasion. The first earthling he meets, Aunt Wendy (Elsa Lanchester), is an eccentric widow who runs a dress shop. She has Gogo, now calling himself George, get dressed in a swimsuit and sends him to the beach. There he meets her nephew, Big Lunk (Jody McCrea), who enjoys volleyball but has little interest in romance, which is frustrating for his girlfriend Connie (Annette Funicello).
Meanwhile, Aunt Wendy's shady neighbor, J. Sinister Hulk (Jesse White), and his gang (with Buster Keaton as Chief Rotten Eagle and Bobbi Shaw as the Swedish Helga) concoct a scheme to separate Aunt Wendy from her cash. Meanwhile, Eric von Zipper (Harvey Lembeck) and his motorcycle gang, the Rat Pack want to get revenge against the beach teenagers. George and Connie fall for each other, while Big Lunk is attracted to Helga, and for the fourth time as in many films, a giant fight breaks out at the end.
Guy Hemric and Jerry Styner wrote all the songs heard in the film, and several melodies were picked up and used for the film's score by composer Les Baxter. The music supervisor was Al Simms.
Annette Funicello performs "It's That Kind of Day", with the cast and also sings "Stuffed Animal" as well as the title track.
Funicello and Tommy Kirk sing "There Has to Be a Reason"; Dorothy Lamour sings "Where Did I Go Wrong"; Donna Loren sings "Among the Young."
The Los Angeles-based band The Nooney Rickett 4 (who appeared in Columbia's beach party film, Winter A Go-Go the following year) play backup for "Among the Young", and are shown playing backup for "Pajama Party." The band also performs an instrumental version of "Among the Young" in the film - entitled "Beach Ball" - and are shown performing an instrumental of "It's That Kind of Day."
The Los Angeles Times said "AIP's stock company puts on a frantic, funny show. Individual performances are standard for this type of picture."
The popularity of the film saw Buster Keaton appear in a number of AIP movies before his death.
Don Weis, Heyward and Kirk collaborated on another AIP beach party film which was actually a pajama party movie, The Ghost in the Invisible Bikini.
A sequence in the 1996 film That Thing You Do! makes an overt reference to the Nooney Rickett 4's saxophone-heavy Beach Ball scene in Pajama Party, as well as to the beach party genre in general. The band in the film, The Wonders, mime a live performance of an instrumental song during the filming of a beach party film titled Weekend at Party Pier. The film is referred to as a "Rick & Anita film" (the AIP films are often called "Frankie & Annette films"), and includes a Deadhead/Bonehead character called "Goofball." The four-man Wonders band - including the guitarist now playing a saxophone - are seen playing a song on an elevated wooden stage surrounded by a wildly dancing crowd in various bathing suit attire, as in Pajama Party. Although in That Thing You Do! the Wonders are being forced by the studio to pretend they are a band called "Cap'n Geech and the Shrimp Shack Shooters," in reality all acts performing in the AIP beach party films appeared as themselves.