Genre

Comedy, Musical, Romance




Film series

Beach Party film series




Writer

Lou Rusoff




Language

English






Director

William Asher




Initial DVD release

September 5, 2000




Duration




Country

United States






Release date

July 14, 1963 (1963-07-14) (Premiere ) August 7, 1963 (1963-08-07) (U.S.)




Cast

Robert Cummings

(Prof. Robert 'Bob' Orwell Sutwell),

Dorothy Malone

(Marianne),

Frankie Avalon

(Frankie),

Annette Funicello

(Dee Dee),

Harvey Lembeck

(Eric Von Zipper),

Dick Dale

(Himself)


Similar movies

Teen Beach 2

,

Gidget

,

Bikini Beach

,

Muscle Beach Party

,

Beach Blanket Bingo

,

Back to the Beach



Psycho beach party trailer
Dolores (Annette Funicello) and Frankie (Frankie Avalon), attractive young surfers in Southern California, are just out for a good time. Their relaxed lifestyle fascinates Professor Sutwell (Bob Cummings), an anthropologist who decides to study the social lives of teens. A series of beach-themed films would follow the blueprint set by this one, which hinges on romantic rivalries, rugged motorcyclists, an attempted crime and plenty of handsome people.
Contents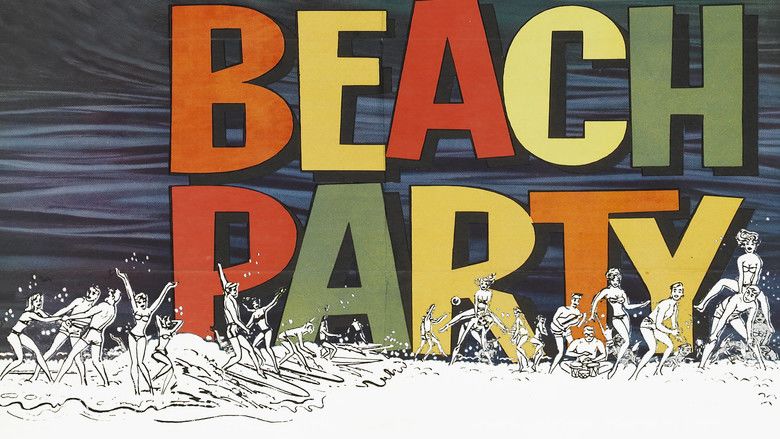 Beach Party (1963) was the first of several beach party films from American International Pictures (AIP) aimed at a teen audience. This film is often credited with creating the beach party film genre.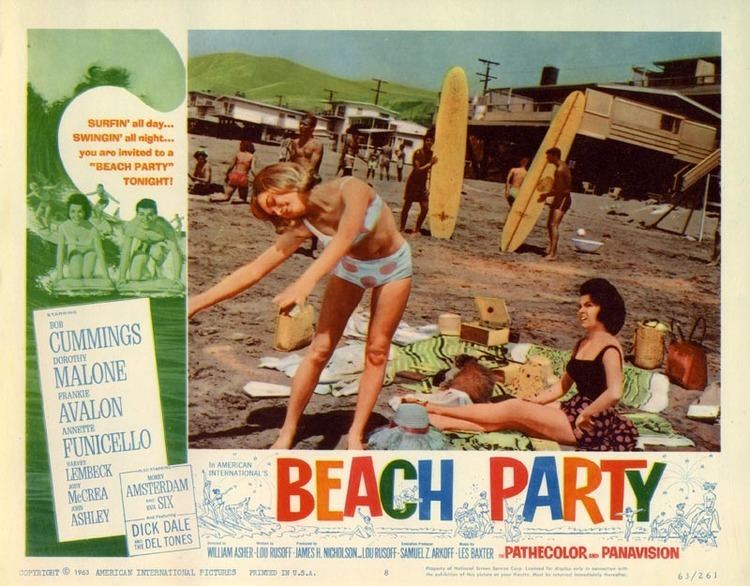 Anthropology Professor Robert Orwell Sutwell and his secretary Marianne are studying the sex habits of teenagers. The surfing teens led by Frankie and Dee Dee don't have much sex but they sing, battle the motorcycle rats and mice led by Eric Von Zipper and dance to Dick Dale and the Del Tones.
Plot
An anthropologist, Professor Robert Orville Sutwell is secretly studying the "wild mating habits" of Southern California teenagers who hang out at the beach and use strange surfing jargon. After he temporarily paralyzes Eric Von Zipper, the leader of the local outlaw motorcycle club, who was making unwanted advances on Dolores, she develops a crush on the Professor. Her surfing boyfriend Frankie becomes jealous and begins flirting with Ava, a Hungarian waitress. Meanwhile, Sutwells assistant Marianne further develops her crush on the Professor. Von Zipper and his gang plot to bring down Sutwell, only to be thwarted in the end by the surfing teenagers.
Development
In the summer of 1962 Samuel Arkoff and Jim Nicholson were watching films in Italy with a view to purchasing some for release in the US. They saw one about a middle-aged man who falls in love with a young woman who spends all her time at a beach resort. They did not like the movie but were attracted by the setting, and commissioned Lou Rusoff to write a film set at the beach. The film was announced in July 1962. It was part of AIPs policy of "mass entertainment on a frankly escapist level."
Rusoffs script was apparently more in line with AIPs traditional fare of children getting in trouble with their parents. It was shown to William Asher who agreed to make the movie if it became more of a musical comedy about teenagers having a good time and not getting in trouble. Arkoff and Nicholson agreed so Asher rewrote the script with Robert Dillon. He was asked not to take credit by Samuel Arkoff who told them that Lou Rusoff was dying of brain cancer. Asher agreed and Rusoff has sole credit; he died in June 1963.
Annette Funicello was always first choice for the female lead, although Asher says they were worried because she was under contract to Walt Disney:
We had thirty pages of material. Disney had to approve it. Not having all the material, he was concerned about Annettes image. I told him that there wouldnt be anything that would offend, that it wasnt that type of a picture. They were a little wary because it was AIP.
Arkoff says that AIP tried to get Fabian Forte to play opposite her but he was under contract to 20th Century Fox so Frankie Avalon was cast instead. In July 1962 it was announced Avalon would play the lead with Funicello "probably" appearing alongside him.
John Ashley had made a number of movies for American International and was cast to play Avalons best friend.
Music
The music in Beach Party was written specifically for the film and featured a score that picked up several cues from the songs used – a common move for most musicals, but a rarity for a B-grade studio teen film filled with pop songs – even today. Les Baxter composed this score, as well as most of the films that followed, including Sergeant Deadhead, Dr. Goldfoot and the Bikini Machine and Fireball 500.
Gary Usher and Roger Christian wrote three songs that appear in the film: the title track, performed by Avalon and Funicello; and "Swingin and a-Surfin" and "Secret Surfing Spot", both performed by Dick Dale and the Del Tones.
Bob Marcucci and Russ Faith wrote "Dont Stop Now", performed by Avalon.
Guy Hemric and Jerry Styner wrote two songs for Funicello featured in the film: "Treat Him Nicely", which Funicello performs while harmonizing with herself; and "Promise Me Anything (But Give Me Love)" performed off-screen and presented as source music.
Songs
"Beach Party Tonight" – Frankie Avalon and Annette Funicello
"Secret Surfin Spot" – Dick Dale
"Swingin and Surfin" – Dick Dale
"Dont Stop Now" – Frankie Avalon
"Treat Him Nicely" – Annette Funicello
"Promise Me Anything (But Give Me Love)" – Annette Funicello
Reception
Beach Party was the highest grossing film AIP had made to that date, earning more its opening weekend than any of its competition.
The Golden Laurel, which had no ceremony but published its award results in the trade magazine Motion Picture Exhibitor from 1958 to 1971, gave this film The Golden Laurel for Sleeper of the Year in 1964.
Cultural impact
With this film, AIP created a new subgenre – the beach party film. Several other studios attempted to imitate the AIP Beach Party formula, but never with equal success. Films of the genre include: Surf Party, Ride the Wild Surf, and For Those Who Think Young (all from 1964), A Swingin Summer and Beach Ball (both 1965), Catalina Caper and Its a Bikini World (from 1967).
The 1996 film That Thing You Do! features a parody of 1960s beach movies. In the film, the fictional singing group called The Wonders star as "Capn Geech and The Shrimpshack Shooters." The movie within the movie is titled Weekend at Party Pier and features characters similar to Frankie Avalon and Annette Funicello.
William Asher later said that "the key to these pictures is lots of flesh but no sex. Its all good clean fun. No hearts are broken and virginity prevails."
Films in the series
Many of the same cast – and much of the same crew – were involved in the AIP films that followed. Sometimes character names changed (like in Pajama Party, Ski Party and Sergeant Deadhead), and not all were beach-based (Ski Party in the mountains, Ghost in the Invisible Bikini in a haunted house), but the basic elements and tone remained the same:
Beach Party (1963)
Muscle Beach Party (1964)
Bikini Beach (1964)
Pajama Party (1964)
Beach Blanket Bingo (1965)
Ski Party (1965)
How to Stuff a Wild Bikini (1965)
Sergeant Deadhead (1965)*
Dr. Goldfoot and the Bikini Machine (1965)
The Ghost in the Invisible Bikini (1966)*
Fireball 500 (1966)
Thunder Alley (1967)*
* Avalon appeared in every film except The Ghost in the Invisible Bikini, and Thunder Alley. Funicello appeared in every film except Sergeant Deadhead and The Ghost in the Invisible Bikini.
At one stage there was talk of a Beach Party TV series but this did not happen.
References
Beach Party Wikipedia
(Text) CC BY-SA
Beach Party IMDb
Beach Party Rotten Tomatoes
Beach Party themoviedb.org