Country

France




Region

Poitou-Charentes





Area

60,486




Mayor

Jerome Baloge






Map of Niort
Niort ([njɔʁ]; Latin: Novioritum) is a commune in the Deux-Sèvres department in western France.
Contents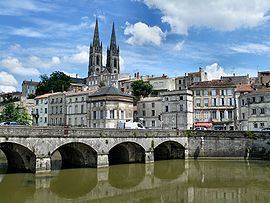 The population of Niort is 60,486 and more than 137,000 people live in the urban area. Near Niort at Maisonnay there is one of the tallest radio masts in France (height: 330 metres).
Niort gala de boxe 28 avril 2012
Geography
The town is located on the Sèvre Niortaise River and is a centre of angelica cultivation in France.
Transport
Niort has a railway station on the TGV route between Paris and La Rochelle, Gare de Niort. Direct TGV to Paris Montparnasse station takes 2 hours and 15 minutes. Niort is a road and motorway junction, connected to Paris and Bordeaux by the A10 motorway, with Nantes by the A83, and with La Rochelle by the N11.
Economy
Niort is the French capital of mutual insurance and bank companies, with the headquarters of MAAF, MAIF, MACIF, SMACL and regional branches of national mutual companies such as Groupama, Banque Populaire. Niort is a main financial centre of France (fourth ranked after Paris, Lyon and Lille). Chemistry and aeronautics are the main industries.
Niort is a major administrative and commercial centre.
Sports
The football team is Chamois Niortais, which plays in the Ligue 2, the second-highest league in French football. Rugby team Stade Niortais celebrated its 100th anniversary in 2009. The Dragons baseball team plays in the Regional League.
Personalities
Niort is the birthplace of the following:
Achille-Félix Montaubry (1826–98), tenor associated with opéra comique and operetta
Gaston Chérau (1872–1937), writer, a member of the Académie Goncourt
Aurélien Capoue, footballer
Étienne Capoue, footballer
Françoise d'Aubigné, marquise de Maintenon (1635–1719), second wife of Louis XIV
Henri-Georges Clouzot (1904–1977), film director
Paul Collomp (1885–1943), French hellenist and papyrologist
Julien N'Da, footballer
Louis-Marcelin, marquis de Fontanes (1757–1821), poet and politician
Mamadou Camara, footballer
Mickaël Brunet, footballer
Jacques Antoine Marie de Liniers et Brémond (Santiago Antonio María de Liniers y Bremond) (1753–1810), Spanish Viceroy in the Río de la Plata
Jean Sauvaget (1901–1950), historian and orientalist
Twin towns — Sister cities
Niort is twinned with:
Atakpamé, Togo, since 1958
Coburg, Bavaria, Germany, since 1974
Wellingborough, Northamptonshire, England, United Kingdom, since 1977
Springe, Lower Saxony, Germany, since 1979
Tomelloso, Ciudad Real, Castilla-La Mancha, Spain, since 1981
Gijón, Asturias, Spain, since 1982
Biała Podlaska, Lublin Voivodeship, Poland, since 1995
References
Niort Wikipedia
(Text) CC BY-SA