Like the novel, the picture follows the exploits of Myron Breckinridge, a gay man who has a sex change and becomes Myra Breckinridge. She goes to Hollywood to turn it inside out.
The picture was controversial for its sexual explicitness (including acts like pegging), but unlike the novel, Myra Breckinridge received little to no critical praise and has been cited as one of the worst films ever made.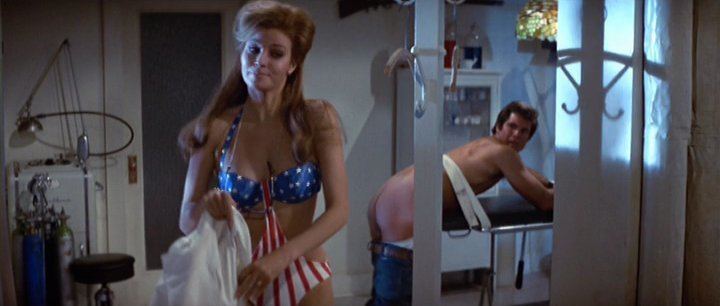 Myron Breckinridge (Rex Reed) flies to Europe to get a sex-change operation and is transformed into the beautiful Myra (Raquel Welch). Myra travels to Hollywood, meets up with her rich Uncle Buck (John Huston) and, claiming to be Myron's widow, demands money. Instead, Buck gives Myra a job in his acting school. While there, Myra meets aspiring actor Rusty (Roger Herren) and his girlfriend, Mary Ann (Farrah Fawcett). With Myra as a catalyst, the trio begin to expand their sexual horizons.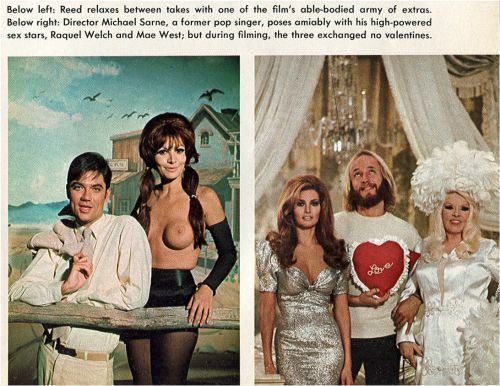 Raquel Welch as Myra Breckinridge
Rex Reed as Myron Breckenridge
John Huston as Buck Loner
Mae West as Leticia Van Allen
Farrah Fawcett as Mary Ann Pringle
Roger C. Carmel as Dr. Randolph Spencer Montag
Roger Herren as Rusty Godowski
George Furth as Charlie Flager, Jr.
Calvin Lockhart as Irving Amadeus
Jim Backus as Doctor
John Carradine as Surgeon
Andy Devine as Coyote Bill
Grady Sutton as Kid Barlow
Robert Lieb as Charlie Flager, Sr.
Skip Ward as Chance
Kathleen Freeman as Bobby Dean Loner
B.S. Pully as Tex
Buck Kartalian as Jeff
Monte Landis as Vince
Tom Selleck as Stud
Toni Basil as Cigarette Girl
Dan Hedaya as Hospital Ward Patient
William Hopper as Judge Frederic D. Cannon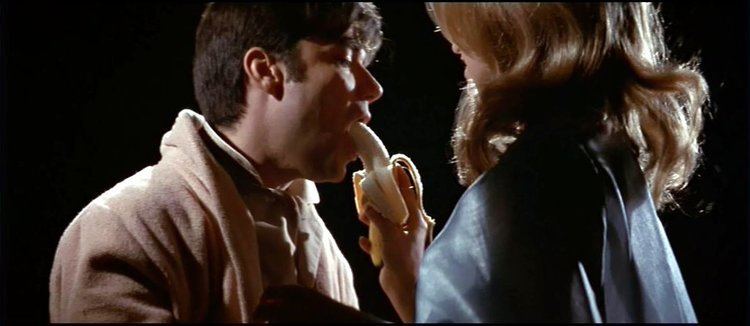 Film rights were sold for a reported $750,000 including a percentage of the profits and a fee covering Gore Vidal writing the screenplay.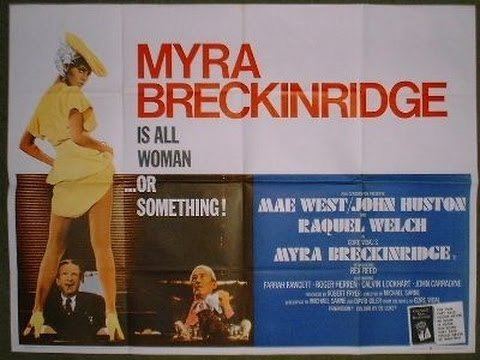 Vidal wrote a draft, but the job was ultimately assigned to David Giler, who wrote a draft in three weeks. Vidal told Giler how much he liked the draft.
Michael Sarne had just made Joanna. 20th Century Fox's head of production, Dick Zanuck, said "he came to me when we had two lousy scripts and said he knew how to do it. He had some good ideas." Zanuck introduced Sarne to the film's producer, Robert Fyer, who was so impressed that the studio hired Sarne to write a script. The final draft of the script would be the tenth.
The original director was Bud Yorkin. Producer Jim Cresson said "we thought he would play it too safe" and the studio ended up giving the job of directing to Sarne.
There were months of speculation over who would play the title role. Raquel Welch was cast in July 1969.
The next major casting was Mae West, accepting her first film role since 1943. (She claimed to have turned down Pal Joey and The Art of Love.) West was introduced to producer Robert Fryer via George Cukor. "It's a return, not a comeback," said West. "I've never been away, just busy." The producers allowed her to rewrite her dialogue and sing some songs. She was paid $350,000. She was also responsible for getting a then-unknown Tom Selleck cast as one of her studs in the film. Farrah Fawcett was also an unknown when she was cast in this movie.
Filming was laden with controversy due to Michael Sarne being granted complete control over the project. Sarne quickly went over budget due to his unorthodox techniques, which included spending up to seven hours at a time by himself, "thinking", leaving the cast to wait around on set for him to return so that filming could commence. Additionally, Sarne spent several days filming tables of food for a dream sequence which, in addition to being non-essential to the plot, appears in the film for only a few seconds.
According to many accounts, Sarne encouraged bickering among cast members. After the failure of this film, he was never asked by an American studio to direct another film. Upon learning that Sarne was now working at a pizza restaurant, Gore Vidal is said to have commented that this was proof of God's existence.
There were also reports of conflicts between Raquel Welch and Mae West, who came out of a 27-year retirement to play Leticia Van Allen.
Furthermore, some 1940s- and 1950s-era film actors who appeared in Myra Breckinridge were upset that footage from their old films was inserted into the movie to punctuate some of the gags and the film's climactic rape sequence. After the film was previewed in San Francisco, the White House demanded that footage from the 1937 film Heidi, featuring Shirley Temple, be removed due to Temple's role as a United States ambassador. Loretta Young also successfully sued to have footage of herself removed from the film. Commenting on this, Rex Reed, who co-starred and was then a columnist, said "This was a film where the lawsuits really flew".
"I've never seen so many personality conflicts on one picture," said Richard Zanuck. "Fyer has quit three times. I don't think there's anyone on this movie who hasn't been fired or quit three times. Including me."
"I feel sorry for Bob," said Zanuck. "Raquel is always nervous during a film. Rex isn't exactly easy. And Sarne is rough. Much tougher than he looks."
"Fryer is a really nice man," said Sarne. "We just disagree on everything."
"He tells everybody on this picture we're diametrically opposed, which we are," said Fryer. "I want to do a comedy. He wants to do a fantasy. He's trying to superimpose 1964 Fellini - not Fellini, mind you, but 1964 Fellini - on a subject matter which is way out to begin with."
"I don't understand it," said Giler. "Bobby Kennedy and Jack Kennedy, they were assassinated. But no one touches Sarne. Sarne's script for Myra should be hermetically sealed."
Myra Breckinridge was one of two films with an X rating to be released by 20th Century Fox in 1970 (the other being Beyond the Valley of the Dolls). In 1978 the studio submitted a cut version running 91 minutes to the MPAA, and the film was re-classified with an R rating. Both versions are available on the DVD, though the uncut print is now considered unrated.
Upon its release, the film drew fiercely negative reviews and was a box office flop. Time magazine stated "Myra Breckinridge is about as funny as a child molester. It is an insult to intelligence, an affront to sensibility and an abomination to the eye" and called it "so tasteless, it represents some sort of nadir in the history of American cinema". Herb Kelly wrote in the Miami News: "I now nominate Myra Breckinridge as the worst movie ever made... nothing can touch it for tastelessness and boredom". Variety magazine wrote that the film "plunges straight downhill under the weight of artless direction". The film is also cited in the book The Fifty Worst Films of All Time. Gore Vidal disowned the film, calling it "an awful joke". Film historian Leonard Maltin gave the film a BOMB (his lowest possible score). In his movie guide he states the film "tastelessly exploits many old Hollywood favorites through film clips". He also calls the film "as bad as any movie ever made".
In a 2012 interview with Mark Peikert, Welch said of the movie, "The only good thing about that was the clothes."
Due to the film's adult themes, it has rarely been shown on television, though in recent years, the film has aired on Fox Movie Channel. In 2004, Myra Breckinridge was released on DVD with minor changes: to make the film's ending (that Myra never had her sex change) clearer, the ending sequence was changed to a black-and-white format. Since its release, it has developed a cult following.