Covid-19
Left Wing




Murray Murdoch




1925




Left




Ice hockey player




1938




New York Rangers




1.78 m




University of Manitoba





81 kg






May 19, 1904 Lucknow, ON, CAN (

1904-05-19

)


May 17, 2001, Georgetown, South Carolina, United States
John Murray Murdoch (May 19, 1904 – May 17, 2001) was a Canadian professional ice hockey player and coach.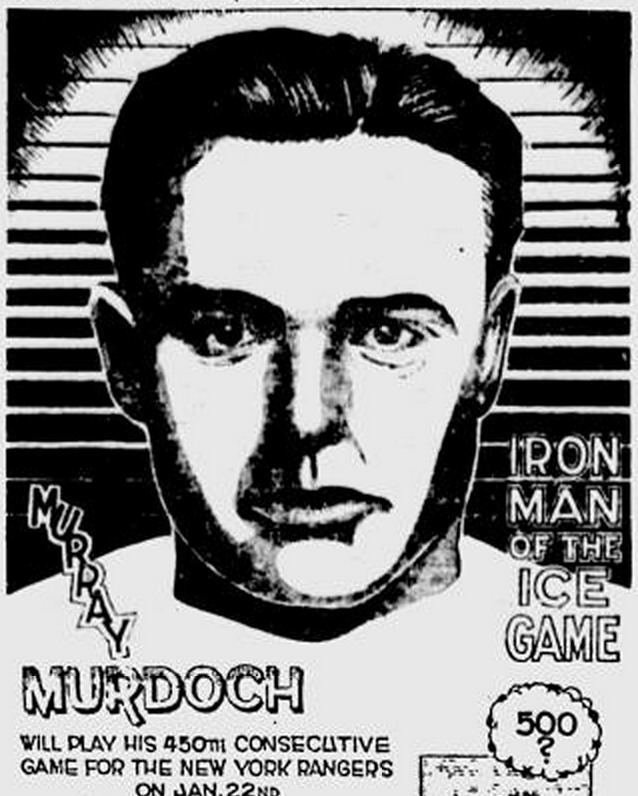 Murdoch was born in Lucknow, Ontario and raised in Edgerton, Alberta. His parents were Walter Dryden Murdoch (b. 1875) and Jennie Bell "Jane" Murray (b. 1878). He received a Bachelor's degree in mathematics from the University of Manitoba where he played hockey from 1921 to 1924. He played left wing for the New York Rangers in 508 games with 84 goals and 108 assists from the Rangers' first season in the 1926–27 NHL season until the 1936–37 NHL season. From 1938 to 1965, he was the sixth head coach of Yale University hockey team. In 1974, he was awarded the Lester Patrick Trophy for his contribution to hockey in the United States.
Memorial Cup Championship (1923)
Stanley Cup Championships (1928 & 1933)
Lester Patrick Trophy Winner (1974)
Hobey Baker Legends of College Hockey Award (1987)
"Honoured Member" of the Manitoba Hockey Hall of Fame
Ranked No. 39 on the all-time list of New York Rangers in the book 100 Ranger Greats (John Wiley & Sons, 2009).
John Murray Murdoch has several relationships with NHL players:
Dave Dryden and Ken Dryden are his first cousins twice removed. J. Murray Murdoch's parents were Jane Murray and Walter Murdoch (b 1875). Walter's half sister Maggie Murdoch (1855-1926) married Andrew Dryden (1849-1922). Their great grandsons are Dave and Ken Dryden.
Mark Messier and Paul Messier are related by marriage through Murray Murdoch's wife, Marie Heinrich. Marie was the daughter of George Heinrich and Ina Dea (d 1936). Ina's brother John Dea (d 1943 in World War II) married Alice Dodd Stiles (1911-1999). Their grandsons are the Messier brothers.
Billy Dea is also related by marriage. Ina Dea and John Dea's brother Howard Dea is Billy Dea's father, and also played professional hockey. Another one of Dea's siblings, Christine, married Murray Murdoch's uncle (his father, Walter's brother), Lovell Steele Murdoch (1881-1963) - their children being Murray Murdoch's cousins.
Former Ranger Don Murdoch is a distant cousin of Murray.
Murray Murdoch Wikipedia