Parody song mr india 1987 hd bluray music videos
Mr. India is a 1987 Indian Hindi science fiction superhero film directed by Shekhar Kapur. It stars Anil Kapoor, Sridevi and Amrish Puri in the lead roles
Contents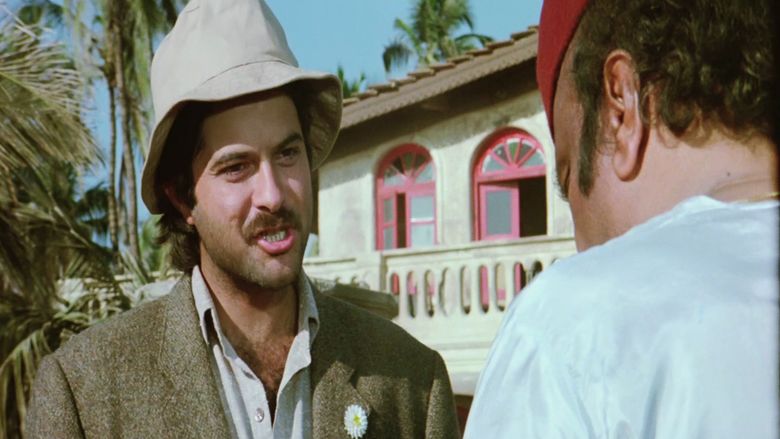 The film was the highest grossing Indian film of 1987, and remains a cult classic in India. The film was known for several of its lines and songs, including Sridevi's Miss Hawa Hawaii performance, and Amrish Puri's quote "Mogambo khush hua" (Mogambo is pleased), which is one of the most famous quotes of Bollywood and became synonymous with Puri. The Mogambo character is also considered to be one of the best villains in Bollywood history. Laxmikant-Pyarelal's music performed well too, especially the song Hawa Hawaii which is very popular till today. The film has often been featured in different lists of top Bollywood films. Indiatimes Movies ranks the movie amongst the Top 25 Must See Bollywood Films. This was the last film that the writing duo Salim-Javed wrote together. They had split up earlier in 1982, but came back for one last film.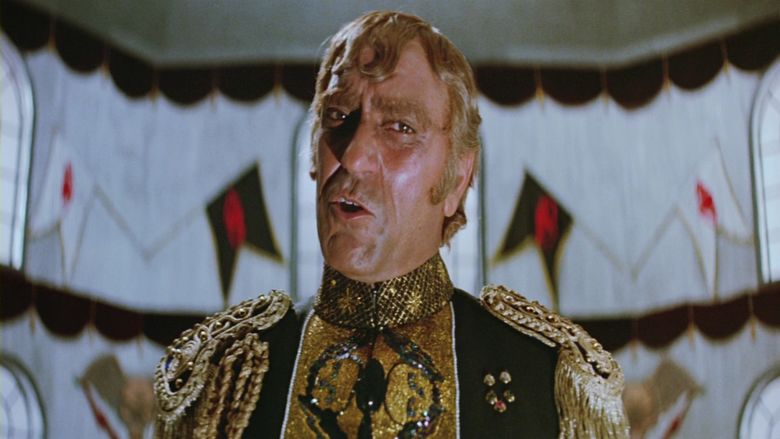 On the centenary of Indian Cinema, Mr. India has been declared one of the 100 Greatest Indian Films of All Time. Interestingly Rajesh Khanna and Amitabh Bachchan were offered the lead role, but they turned it down as they couldn't relate with the invisible hero.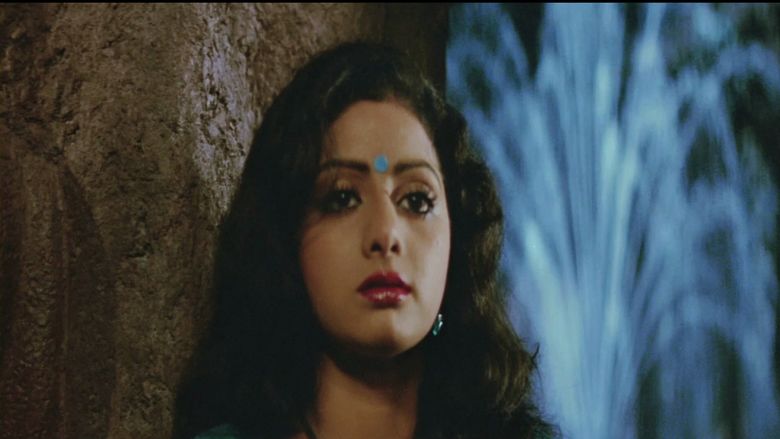 Plot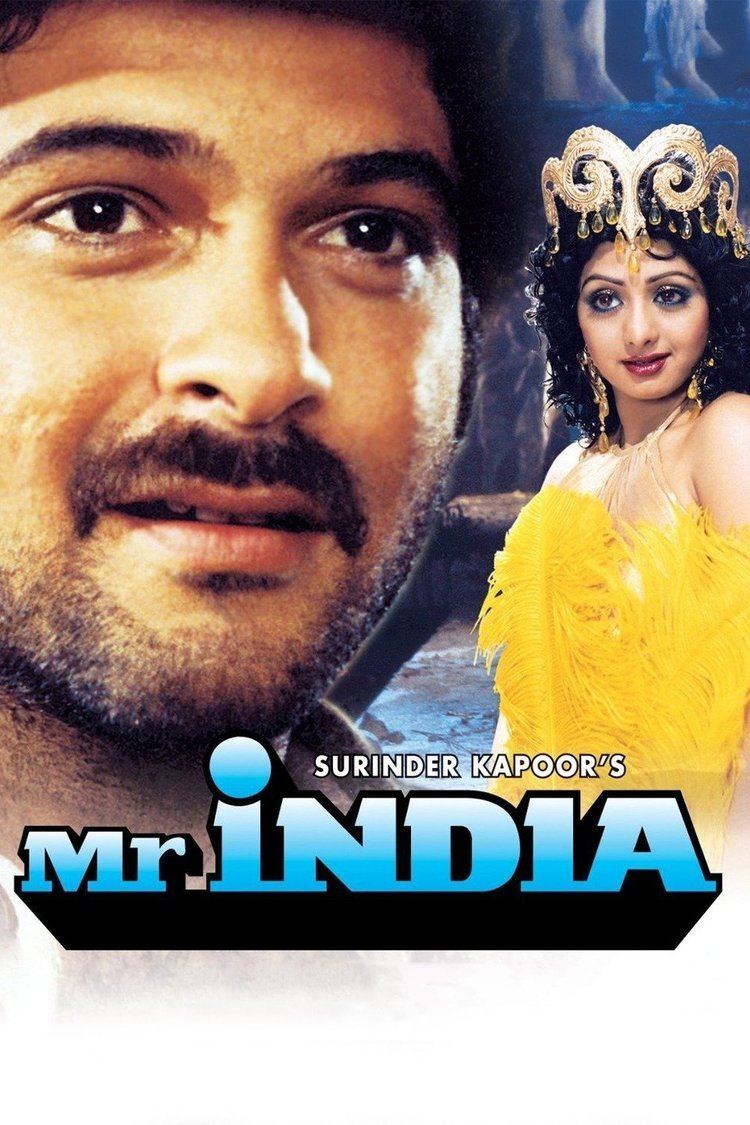 Mogambo (Amrish Puri) is a brilliant yet insane General whose goal is to conquer India. From his island, he monitors the evil-doings perpetrated by his henchmen. All of his subordinates know the formal salute "Hail Mogambo!", emphasising his complete authority over his minions.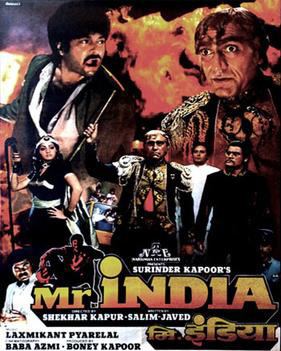 Arun Verma (Anil Kapoor) is an orphan and a street-walking violinist who rents a large, old house. There, he houses a dozen or so orphaned children and takes care of them with the help of his cook and caretaker Calendar (Satish Kaushik). Arun is poor, owes debts to the local food merchant Roopchand (Harish Patel), and is overdue to pay the landlord Maniklal (Yunus Parvez). In spite of these problems, Arun tries to look on the bright side of every situation. As time goes by, Calendar reminds Arun that the cost of running the home continues to rise. Arun decides to rent out the room on the first floor. When he goes to the local newspaper to run an advertisement for the room, he meets Seema Sahni (Sridevi) and makes her his tenant. They get off to a rocky start but Seema eventually becomes friends with everyone.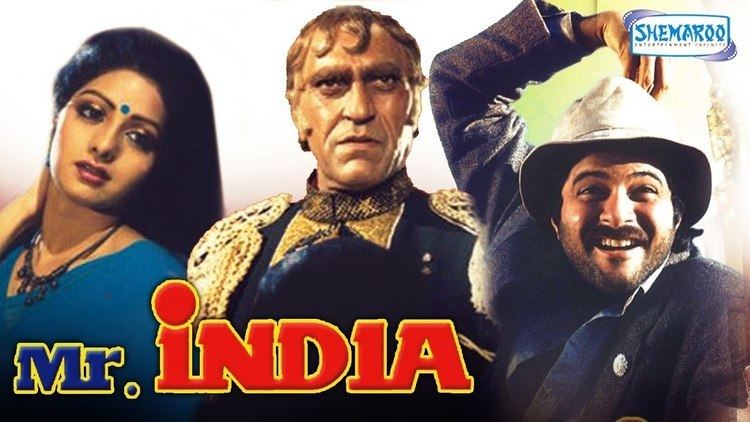 One day, Arun receives a mysterious letter from a family friend, Dr. Sinha (Ashok Kumar), who reveals that Arun's late father had created a device that would make its user invisible. With the directions in the letter, Arun, accompanied by his ward Jugal, enters his father's laboratory and finds the device. The device is in the shape of a gold watch worn on the wrist. When it is activated, it makes the wearer invisible to the naked eye. This invisibility is pervasive except for one flaw: when red light is focused on the wearer, he becomes visible. Arun and Jugal decide to keep the device a secret between them. Seema goes to a lavish party hosted by Daaga (Sharat Saxena) and Teja (Ajit Vachani), where she performs a song under the guise of a Hawaiian dancer. She is nearly killed by the criminals after her disguise is spoiled, but Arun invisibly rescues her, styling himself "Mr. India". Thereafter, Seema falls in love with her rescuer, though not attracted to his civilian alter ego.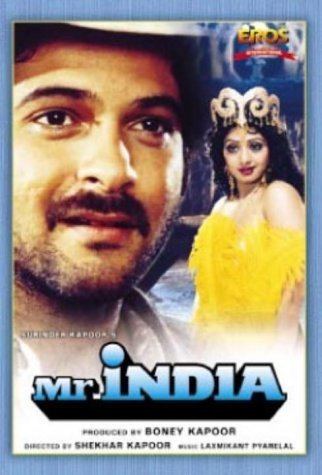 Mr. India later defeats Mogambo's men in several encounters, foiling their criminal plans. Mogambo's computer-aided intelligence teams reveal that Mr. India's specific actions against the gambling den bring benefit to Arun Verma. Mogambo has bombs disguised as toys, planted in places where children can find them. One of the bombs kills Arun's youngest and dearest charge, Tina, driving Arun to immense grief. Arun, Seema, Calendar, and the surviving children are brought before Mogambo. Mogambo tortures them so that they reveal Mr. India's true identity and the location of the invisibility device. Arun eventually admits to this when Mogambo threatens to drop two children into a pit of acid; but because Arun has dropped the device, he cannot become invisible to prove himself. Frustrated, Mogambo has them sent into the dungeons.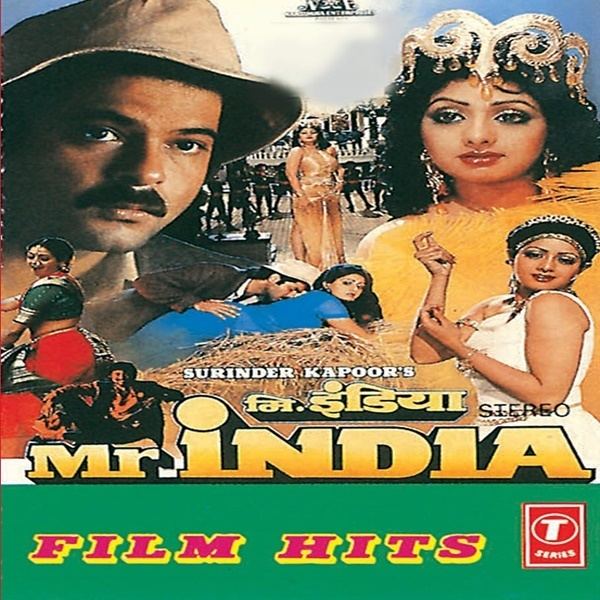 However, they are all able to escape. Mogambo activates four ICBMs, which are poised to destroy all of India. Arun confronts him, and the two fight. When Arun has overcome Mogambo, he deactivates the launch which culminates in the missiles detonating on the launch-pad. Arun, Seema, Calendar, and the children escape, while Mogambo's fortress is destroyed. Mogambo dies inside the big fireball caused by the explosion of the missiles on the launch pad.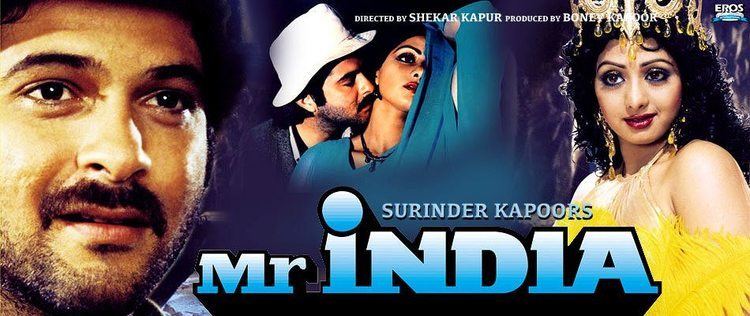 Arun's dual identity remains a secret to most people, while he returns to his former life.
Cast
Anil Kapoor as Arun Verma/ Mr. India
Sridevi as Seema Sahni
Amrish Puri as Mogambo
Satish Kaushik as Calender
Annu Kapoor as Mr. Gaitonde, the Newspaper Editor
Sharat Saxena as Daaga
Ajit Vachani as Teja
Ashok Kumar as Professor Sinha
Anjan Srivastav as Baburam
Bob Christo as Mr. Wolcott
Harish Patel as Roopchand
Sumesh Acharya
Karan Nath as orphan
Ahmed Khan as orphan
Aftab Shivdasani as orphan
Huzaan Khodaiji as Tina
Soundtrack
The parody songs included the songs Pyaar mein sauda nahin - Bobby, Chaahunga main tujhe saanjh savere - Dosti, Saavn ka mahina pavan kare shor - Milan, Ek pyaar ka nagma hai - Shor, Tere mere beech mein kaisa hai yeh bandhan purana - Ek Duje Ke Liye, Dhafli waale dhafli baja - Sargam, Mera naam hai Chameli - Raja Aur Runk, Khilona jaan kar tum to - Khilona, Jhootha hai tera vaada, vaada tera vaada - Dushman and Om shanti om - Karz.
Reception
Described by Rediff as "one of the most iconic films of its time", it became one of the highest grossing hits of the year and also found a place in Hindustan Times list of 'Top 10 Patriotic Films of Hindi Cinema'. While the trade famously joked that the film should have been named Miss. India, Rediff also stated that "Sri was a complete show-stealer in the film". Sridevi's iconic imitation of Charlie Chaplin in the film was described by Times of India as "the most hilarious act she has ever done". Rediff also featured Sridevi in its list of 'Super Six Comic Heroines' stating that "her mobile face expressions could give Jim Carrey sleepless nights" and that "her biggest plus point is her ability to be completely uninhibited in front of the camera". The famous 'Hawa Hawai' dance, cited by Times of India as "one of the unforgettable numbers of Sridevi", also became a popular nickname for the actress. Besides comedy, Sridevi gave Hindi Cinema one of its sexiest rain songs in the film's chart-buster 'Kaate nahin kat te' where Filmfare described Sridevi as "truly a goddess in a blue sari". while iDiva described the song as "unparalleled in Hindi Cinema". Rediff also featured the song in its list of 'Top 25 Sari Moments' praising Sridevi's "ability to look erotic even when she's covered from head to toe". Kaate Nahi Kat Te song was chosen by NDTV as the most famous rain song in Bollywood Box Office India states that with the success of Mr. India, Sridevi "continued her domination" over her contemporaries Jaya Prada and Meenakshi Sheshadri.
Awards
The movie could not be awarded that year since no award ceremony took place in the years 1987 and 1988. However, in 2013, Sridevi, the lead actress of the film, was given the Filmfare Special Award for her performances in Mr. India as well as Nagina (1986).
Sequel
In February 2012, it was announced that producer Boney Kapoor is planning a sequel to Mr. India. In March 2012, reports gave out that the film will be titled Mr. India 2 and features Anil Kapoor and Sridevi reprising their roles from the original film. Boney Kapoor also announced that Salman Khan and Arjun Kapoor had also joined the cast in negative roles.Scripting is going on.Sridevi and Anil Kapoor will reprise their roles and movie may be directed by Rakeyesh Om Prakash Mehra. Mr. India 2 is to be shot in 3D. Filming has not yet begun, and as of March 2013, is in the scripting stage.
Popular culture
The movie is referenced in the 2010 movie Tees Maar Khan.
The movie is a recurring reference in the ongoing Indian soap Madhubala - Ek Ishq Ek Junoon, which airs on Colors channel. Since the soap is partly a tribute to 100 years of cinema and Bollywood, there are various references to Bollywood films and influences. Mr India, in particular, is a great favourite with the protagonists, Superstar Rishabh Kundra (a.k.a. RK) and his wife Madhubala, and is used recurrently to depict the bond between them.
Remakes
The film was also remade in Tamil as En Rathathin Rathame, starring K. Bhagyaraj. in Kannada as Jai Karnataka, starring Ambareesh.
References
Mr. India (1987 film) Wikipedia
(Text) CC BY-SA
Mr. India (1987 film) IMDb
Mr. India (1987 film) Rotten Tomatoes
Mr. India (1987 film) themoviedb.org