8.6

/

10

Alchetron

8.6

Rate This




Country

India






Duration




Language

Tamil





Director

Singeetam Srinivasa Rao


Release date

17 October 1990




Writer

Crazy Mohan (dialogue), Rajasri (dialogue), Singeetham Srinivasa Rao



Similar

Mr Madras, Chinna Vathiyar, Vietnam Colony (1994 film)
Tamil movies michael madana kama rajan tamil full movie new releases
Michael Madhana Kama Rajan is a 1990 Tamil comedy film directed by Singeetam Srinivasa Rao and written by Kamal Haasan, with Crazy Mohan penning the dialogues.
Contents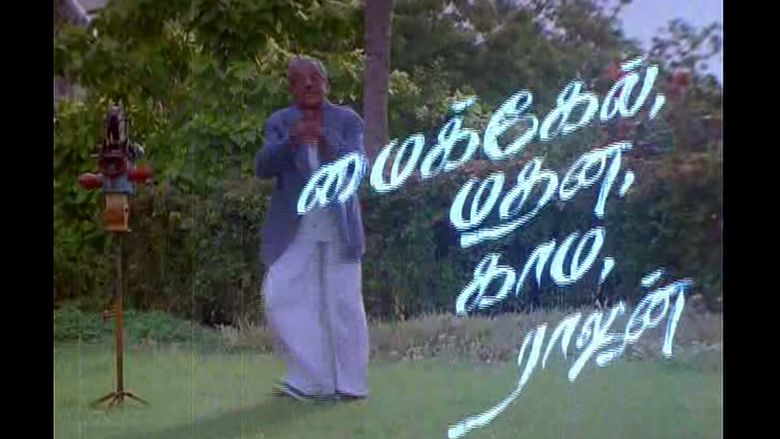 The film also feature large ensemble cast alongside Kamal Haasan, Urvashi, Rupini, Kushboo played the female leads, while Manorama, Delhi Ganesh, Nassar, Venniradai Moorthy, SN Lakshmi, Jayabharathi, R. N. Jayagopal, Nagesh, Praveen Kumar and Santhana Bharathi playing other significant role. The film was a blockbuster and completed 175-day run at the box office.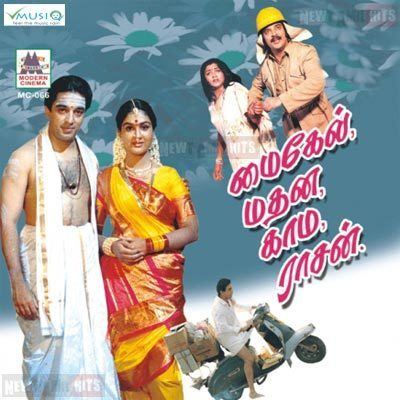 The film tells a story of quadruplets, Michael, Madhanagopal, Kameshwaran, and Raju, all played by Kamal Haasan. Kamal distinguished each of those characters with his body language and language lingo. Michael has a husky voice and an aggressive demeanor, Madan has a British accent with a sophisticated upper-class personality, Kameshwaran speaks Palakkad Tamil and has a naive, childish personality while Raju speaks Madras Tamil and has an outgoing, cheerful personality; all in keeping with their diverse upbringing as per the plot. The film's climax scene is said to be inspired from the Charlie Chaplin movie, The Gold Rush. The film was dubbed in Telugu as Michael Madana Kama Raju.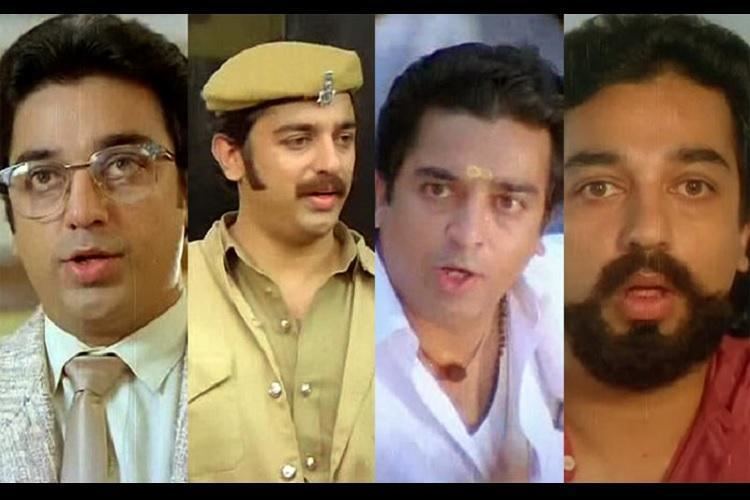 Michael madana kama rajan tamil full movie kamal haasan
Plot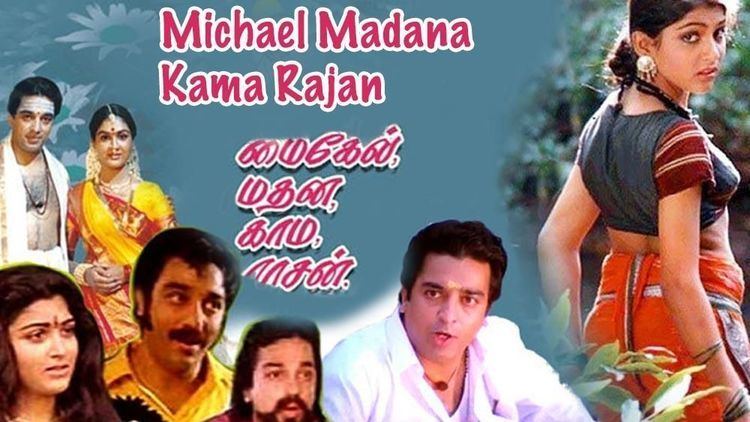 Venugopal, a wealthy industrialist, marries a woman named Sushila and they have quadruplets. His brother Nandagopal tries to have her and the newborns killed by hired goons. However, the leader of the goons has no desire to kill the babies, so he adopts one (Michael), leaves one in an orphanage (Raju), one in a temple (Kameshwaran) who is picked by Palakkad Mani Iyer, a Brahmin, and one (Madhan) in a car that belongs to Venugopal.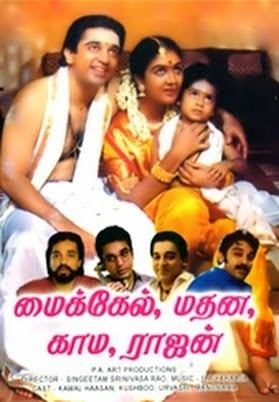 30 years later, Madhan is now a London-educated businessman. Venugopal has raised Madhan as his adopted son, not knowing he is in fact his biological son. Venugopal is killed by Nandagopal and his nephew, Ramu for his inheritance, but unknown to them, the will has already named Madhan as the beneficiary. Madhan returns to Bangalore from England to take over his father's company. He confronts Avinashi, his father's assistant, over his embezzlement, while reluctantly promising to forgive him if Avinashi accepted culpability.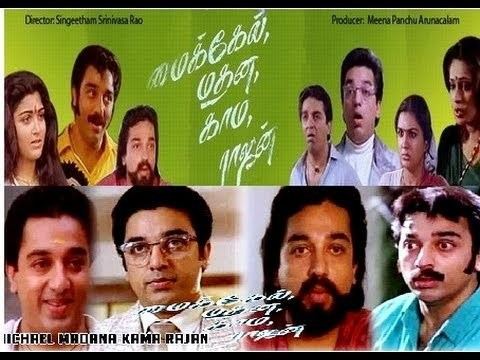 Meanwhile, in Chennai, Michael, like his foster father, has become a petty criminal, and while escaping with his foster father from the police, accidentally causes a fire in an art gallery where artist Shalini's paintings are being displayed for exhibition. This brings in the firefighter, Raju, who saves Shalini and her paintings, leading to romance. Raju is also in debt to a money-lender over a failed stage play. While evading him, Kameshwaran is introduced as being a cook for weddings and special events. He meets a woman named Thirupurasundari and her kleptomaniac grandmother. Eventually Kameshwaran marries Thirupurasundari.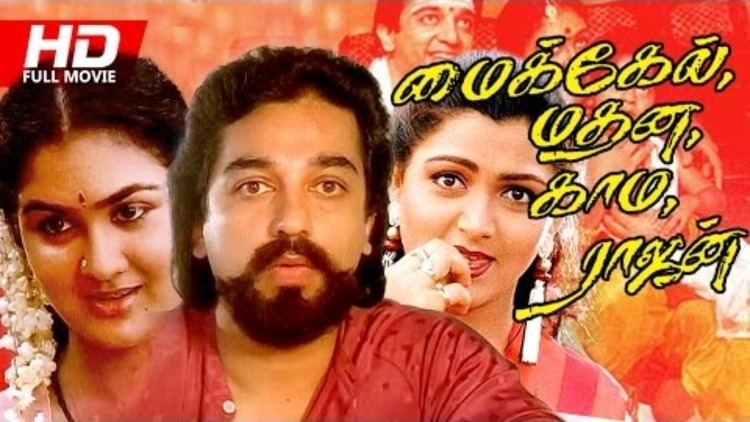 Someone contacts Madhan over phone to tell him that his father's death was no accident, but that it was planned, and gives him an address in Chennai and a time to meet. After some distractions involving a woman named Chakkubai and her mother Gangubai, Madhan meets the caller, Sushila, who, unknown to him, is his biological mother. While escaping from goons sent by Ramu in a car, Madhan meets Raju, and hires him to impersonate him in Bangalore while Madhan investigates in Chennai. Meanwhile, Ramu and Nandagopal have hired Michael to kill Madhan. Michael sabotages Madhan's car, not realising it is Raju and not Madhan. The brakes fail on the highway, but Raju brings the car to a safe stop. Sushila meets with him thinking he is Madhan, but he redirects her to the real Madhan in Chennai. Raju, Shalini and her father arrive at Madhan's house in Bangalore. Raju confiscates Avinashi's money not knowing the deal Madhan made with Avinashi.
Meanwhile, Michael has found the real Madhan in Chennai. Madhan and Chakkubai have fallen in love and Madhan presents her with a ring; unknown to them, they are being spied on by Michael and his foster father. Michael follows Madhan, Chakkubai, Gangubai and Sushila to Sushila's home where it is revealed that Madhan's father is alive but dazed from the assassination attempt. Michael and his foster father arrive at the scene. Sushila recognizes the father as the person who had taken her quadruplets and realizes that Michael and Madhan are both her biological sons. Michael and his father knock all of them unconscious and kidnap Madhan and the others to a mountain cabin near Bangalore.
Avinashi chances upon Kameshwaran on his wedding day, and hires him to impersonate Madhan to retrieve the money that Raju confiscated. Back in Madhan's house in Bangalore, Raju and Shalini plan to meet without her father knowing. Avinashi drugs Raju's soup but the soup is drunk by Madhan's bodyguard Bheem. Raju and Shalini meet and profess their love for one another. Michael and his father arrive at Madhan's house to loot it. Michael sees Raju, mistakes him for Madhan and thinks that Madhan has escaped from the cabin. He knocks Raju unconscious. Avinashi sees the unconscious Raju, assumes it was the effect of his drugged soup, and brings Kameshwaran into the house to retrieve his money. Kameshwaran is mistaken for Raju by Shalini who then tries to get intimate with him. Thirupu and her grandmother drag Kameshwaran away from her. Shalini then witnesses Kameshwaran hugging Thirupu. This enrages her as she thinks that Raju is two-timing her. To add to the hilarity, Chakkubai and Gangubai also arrive at the house in search of Madhan. Chakkubai mistakes Kameshwaran for Madhan and introduces herself to everyone as Madhan's fiancée, much to Avinashi's dismay, as his plan of using Kameshwaran to access Madhan's money keeps getting comically disrupted first by Raju's then by Madhan's girlfriend. Shalini takes a hunting rifle and holds everyone at gunpoint. Avinashi and the rest try to tell her that Kameshwaran is not Madhan/Raju but she does not believe them. Meanwhile, the real Madhan has escaped the cabin with his parents and comes to the house. In the midst of all this confusion, Michael steals Madhan's wealth and escapes to the cabin. The rest of the crew follows them back to the cabin in multiple cars.
Ramu and Nandagopal are already present in the cabin and hold everyone at gunpoint as they arrive one by one. All the brothers finally are in the same room at the same time and Sushila tells them that they are her quadruplets. The presence of all the people in the small cabin causes it to tilt over the cliff edge. The bad men are knocked out and the four brothers work together to safely get everyone out of the cabin. Everyone is happy as they are finally together.
Cast
Kamal Haasan as Michael (petty criminal), Madhanagopal (businessman), Kameshwaran (wedding and special events cook) and Subramaniam Raju (firefighter).
R. N. Krishna Prasad as Venugopal, a rich businessman and father of the quadruplets who abandons them.
Jayabharathi as Sushila, wife of Venugopal.
R. N. Jayagopal as Nandagopal, Venugopal's brother.
Nassar as Jayagopal's son and Venugopal's nephew, Ramgopal.
Urvashi as Thiripurasundari . Thiripurasundari marries Kameshwaran.
Rupini as ChakkuBai, dancer, and stage artist. She plays Madhan's romantic interest.
Kushboo as Shalini Shivaraman. Shalini is a painter who falls in love with Raju.
Manorama as GangaBai, ChakkuBai's mother
Delhi Ganesh as Palakkad Mani Iyer, a cook, Kameshwaran's foster father
Venniradai Moorthy as Shivaraman. Shalini's father.
S. N. Lakshmi as Thiripurasundari's grandmother
Nagesh as Avinashi, Madhan's manager
Praveen Kumar as Bheem, Madhan's bodyguard
Santhana Bharathi as Michael's foster father
Singeetham Srinivasa Rao as travelling singer
Crazy Mohan as shop owner
Typist Gopu
Usilai Mani
Ponnambalam as Assassin 1
Crazy Venkatesh as Assassin 2
RS Sivaji
Mayilsamy
Director Bala as car driver
Production
Kamal Haasan played four distinct characters who are quadruplets: the criminal Michael, the businessman Madhan, the cook Kameshwaran and the firefighter Raju. For portraying Michael, Haasan grew his hair long and sported a French beard; for Madhan, he wore glasses and was clean shaven; for Kameshwaran (also clean shaven), he brushed his hair back and applied a vibhuti tilaka on his forehead; for Raju, he kept his moustache thick and hair short. Praveen Kumar was cast as Madhan's bodyguard Bheem. The climax sequence, featuring a "cliff-hanging-house", was based on a scene from the American film The Gold Rush (1925).
Soundtrack
The soundtrack consist of five memorable songs composed by Ilayaraja. The song "Sundari Neeyum" was sung by Kamal Haasan, and was filmed entirely in slow-motion. For this song, Kamal wanted a song like "Margazhi Thingal", a verse from Thiruppaavai. K. J. Yesudas was supposed to sing the song but due to his busy schedule Ilaiyaraaja insisted Kamal sing the song. "Rum Bum Bum" is yet another fast melody and is a huge hit in college setting till date.
Telugu Track list
The film was dubbed into Telugu with same title. Ilayaraja composed the music with Rajashri penning all the lyrics.
Reception
IndiaGlitz said, "The Mother of all comedy flicks is what this movie is. Featuring a large ensemble cast, this picture portrays Kamal in four contrasting roles separated by birth and reunion in later part of their life. If you want to go down laughing on 21st December, then this is the movie you should be watching." Singer Mahathi said, "I have always loved the 'Crazy' Mohan and Kamal Hassan combination. Especially in Michael Madana Kamarajan where Kamal brings out so much from every character, playing it so differently from the other."
References
Michael Madana Kama Rajan Wikipedia
(Text) CC BY-SA
Michael Madana Kama Rajan IMDb
Michael Madana Kama Rajan themoviedb.org