Spouse

Becky Dantonio (m. 1990)

Role

American football player







Born

March 9, 1956 (age 59) El Paso, Texas (

1956-03-09

)

Team

Michigan State Spartans football

Siblings

Frank Dantonio, John Dantonio, Mike Dantonio

Children

Lauren Dantonio, Kristen Dantonio

Parents

Maryan Dantonio, Justin Dantonio

Similar People

Connor Cook, Tom Izzo, Jim Harbaugh, Urban Meyer, Nick Saban




Profiles



Cfb playoff 2015 16 nick saban and mark dantonio news conference
Mark Justin Dantonio (born March 9, 1956) is an American football coach and former player. He is the current head football coach at Michigan State University, a position he has held since the 2007 season, presiding over one of the most successful eras in the program's history. He's led the Michigan State Spartans to three Big Ten Conference championships, and seven victories over archrival Michigan in eight years. In 2013, he coached Michigan State to its first 13-win season and the program's fifth trip to the Rose Bowl, where they defeated Stanford and finished the season ranked No. 3 in the nation. At the time, this was only the second instance a Big Ten team had reached the 13-win mark, the other being Ohio State's national championship season in 2002, where Dantonio was the defensive coordinator. The 2013 season also marked the first time a Big Ten team won nine conference games by double digits in each contest. In 2015, Dantonio became the first head coach in Big Ten history to achieve at least 11 wins in five of six seasons. On December 6, 2015, it was revealed that Dantonio's Spartans qualified for the College Football Playoff for the first time in the program's history. The Spartans were the No. 3 seed in the Playoff and faced Alabama in the 2015 Cotton Bowl, but lost 38–0.
Contents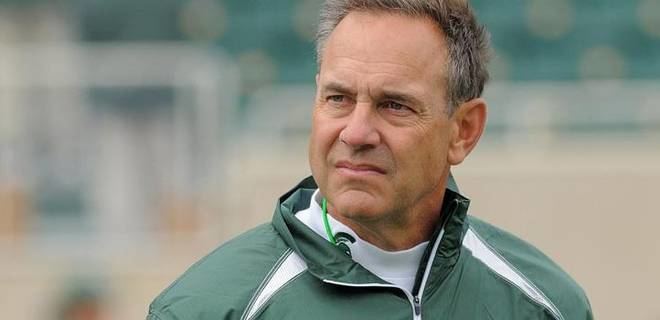 In 2006, Dantonio was hired as the Spartans head coach, returning to the school where he had previously served six years as an assistant coach under Nick Saban and Bobby Williams. Known as a defensive-minded coach, Dantonio has compiled an 91–42 record at Michigan State, giving him a .684 winning percentage, the highest of any Michigan State football coach since that of Clarence Munn, who coached the Spartans from 1947 to 1953. During his tenure, the Spartans have won the school's first bowl game since 2001 in the 2012 Outback Bowl and the school's first Rose Bowl since 1988 in 2014. Dantonio's Spartans hold active school record with four consecutive bowl wins. On October 8, 2011, Dantonio signed a contract extension that made him a "Spartan for life." In 2014, he earned the second highest salary among college football coaches, due largely to a retention bonus.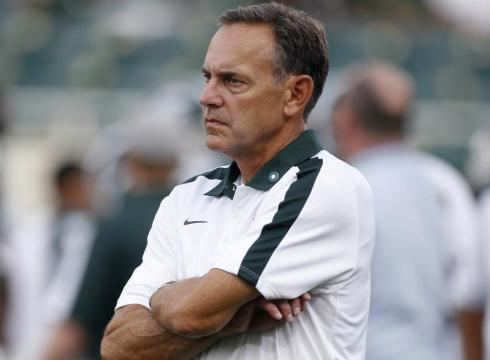 Mark dantonio connor cook jack allen shilique calhoun and darien harris discuss playing alabama
Early life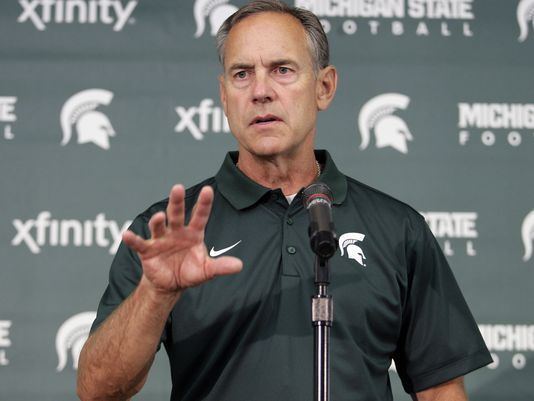 Dantonio was born in El Paso, Texas, to Justin and Maryan. Mark is of Italian descent. Dantonio's Grandfather Frank D'antonio moved from Montenerodomo, Italy, to the United States - losing the apostrophe at Ellis Island – in 1912. Mark was the second of four boys. When Mark was one, the family moved to Zanesville, Ohio, where Justin became the vice principal and basketball coach at Zanesville High School. Mark was an all-state safety at Zanesville.
College career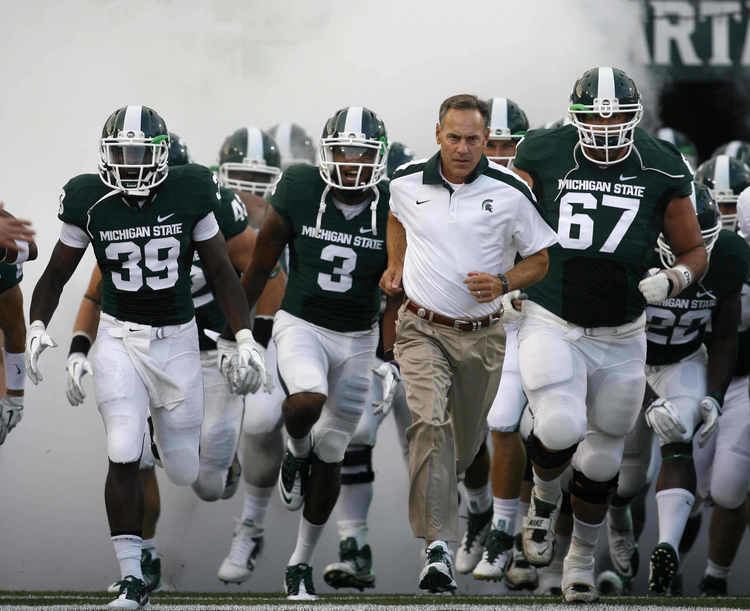 Dantonio attended the University of South Carolina and earned three letters as a defensive back for Coach Jim Carlen for the Gamecocks 1976-78. He earned a bachelor's degree in education from South Carolina in 1979. Dantonio later earned a master's degree in education from Ohio University in 1980.
Early coaching career
Dantonio began his coaching career at Ohio University, where he was a graduate assistant. In 1981, he made his first stop in the Big Ten Conference when he moved on to Purdue University as a graduate assistant. He spent two years, in 1983 and 1984, as a graduate assistant at Ohio State University under head coach Earle Bruce. In 1986, he began a five-year stint on Jim Tressel's staff at Youngstown State University as a defensive secondary coach. In 1990, Dantonio led the Penguins' defense to an 11–0 record and a #2 ranking nationally. Glen Mason hired Dantonio in 1991 to be the defensive secondary coach for the Kansas Jayhawks. When Nick Saban was hired at Michigan State in 1995, he hired Dantonio to join his staff in East Lansing where he remained even after Saban left for LSU. After Bobby Williams was named head coach in 1999 following Saban's departure, Dantonio was promoted to associate head coach where he remained through the 2000 season.
At Ohio State in 2001, Dantonio reunited with his former Youngstown State boss and good friend Jim Tressel when he opted out of East Lansing to serve as defensive coordinator at Ohio State University for three seasons. His defense became known as one of the stingiest in the country. During the Buckeyes' 2002 National Championship season, Ohio State ranked second nationally in scoring defense and third in rushing defense. For his efforts, Dantonio was named a 2002 finalist for the Broyles Award, given annually to the nation's top college football assistant coach. In the 2003 season, his defense ranked number one in the country in rushing defense and ninth in total defense, which led the Buckeyes to an 11–2 record and #4 national ranking. Six Buckeye defenders were named first team All-Big Ten during Dantonio's tenure. Thirteen were drafted into the NFL, including two first round picks in Chris Gamble and Will Smith.
Cincinnati
Dantonio was named head coach at Cincinnati on December 23, 2003. He became the first head coach in 23 years to lead the school to a winning season in his first season at UC. The Bearcats' 7–5 record included a 5–3 record in Conference USA, which was good enough for a second-place finish. The Bearcats finished the season on a winning note with a 32–14 win over Marshall in the PlainsCapital Fort Worth Bowl. During Dantonio's time at UC, he led the Bearcats to a bowl game victory and directed the team's transition into the Big East Conference. As head coach, Dantonio had 15 players earn all-conference honors and 25 received conference academic recognition.
Michigan State
Mark Dantonio became the 24th head coach at Michigan State on November 27, 2006. Upon his arrival, Dantonio planned to return the Spartans to a more traditional philosophy on offense and defense, eliminating the spread offense and the "bandit" linebacker/safety position used under previous head coach John L. Smith.
2007 season
Dantonio began his Michigan State career well at Spartan Stadium when on April 21, 2007, Michigan State drew over 25,000 fans to watch the team's spring scrimmage game. The white team, led by sophomore quarterback Connor Dixon, defeated junior quarterback Brian Hoyer and the green team by a score of 21–8. During the game, Dantonio was seen behind the line of scrimmage watching and coaching the action.
Dantonio won his first game at Michigan State on September 1, 2007, when the Spartans defeated the UAB Blazers, 55–18. His first season at Michigan State was the school's most successful since 2003. Dantonio's Spartans went 7–5, losing all five games by seven points or fewer, and were bowl eligible for the first time in four years. However, the Spartans lost to Boston College in the Champs Sports Bowl in Orlando on December 28.
2008 season
Dantonio's second season at MSU began with a loss at Cal, after which the Spartans came home and won six straight games against Eastern Michigan, Florida Atlantic, Notre Dame, Indiana, Iowa, and Northwestern. The victories propelled Michigan State into the top 25. Following a lopsided 45–7 loss to the Ohio State Buckeyes, the Spartans beat Michigan, 35–21, in Ann Arbor for the first time since 1990. Michigan State won its final two home games against Wisconsin and Purdue before losing to Penn State in Happy Valley. A win against Penn State would have resulted in Michigan State splitting the Big Ten Conference title with Ohio State. The nine regular season wins were Michigan State's most since 1999. Michigan State finished third in the conference and was invited to play Georgia in the Capital One Bowl. Michigan State lost the game, 24–12, finishing the season 9–4.
2009 season
Dantonio's third season, 2009, was disappointing in performance and off-the-field issues. The team lost five games (Central Michigan, at Notre Dame, Iowa, at Minnesota, Texas Tech) in which they held the lead in the fourth quarter, leading to a disappointing 6–6 record. Off the field, at the beginning of the season, Dantonio received criticism for immediately reinstating a player, Glenn Winston, who had served four months in jail for assault. A few months later in the season, 13 players (and former players) were reportedly part of an assault at Rather Hall on campus, leading to charges being filed against nine MSU football players.
2010 season
On September 19, 2010, just hours after a stunning fake field goal touchdown pass gave MSU a 34–31 overtime victory over Notre Dame, Dantonio checked himself into a hospital after noticing chest pains. He later suffered a heart attack. He had a stent implanted in a blocked artery near his heart. His doctor stated that the damage was minimal and that Dantonio was expected to make a full recovery. Offensive coordinator Don Treadwell became acting head coach while Dantonio recovered.
On September 30, after Dantonio had stated that he would be coaching the next game from the press box and just two days before Michigan State played Wisconsin, Dantonio was admitted back into the hospital as a blood clot was found in his leg. Dantonio had to watch the game from his hospital room. He was reportedly released from Sparrow Hospital around noon on October 4, 2010. On October 9, Dantonio coached his first game since his heart attack against rival Michigan. Michigan State won the game, 34–17, in Ann Arbor.
The Spartans under Dantonio continued to win and on November 20 reached 10–1 on the season, winning all home games for the first time during his tenure. It was just the third time in school history that Michigan State had won 10 or more games in a season, the other two seasons being those of 1965 and 1999. On November 27, 2010, Dantonio's Spartans defeated Penn State 28–22 in Happy Valley to finish the season 11–1 and clinch a share of the Big Ten Championship for the first time since 1990. On December 5, 2010, MSU announced that the Spartans were selected to play in the Capital One Bowl on January 1, 2011, against Alabama (ranked 15th in the BCS standings). The Spartans lost to the Crimson Tide 49–7 and finished 11–2.
2011 season
In 2011, Michigan State had another successful year. The Spartans beat the Ohio State Buckeyes on the road for the first time since 1998, defeated arch-rival Michigan, and upset #6 Wisconsin on a last-second Hail Mary pass from Kirk Cousins to Keith Nichol. The Spartans finished 10–2 (7–1 in Big Ten play), earning the Legends Division championship and a place in the inaugural Big Ten Championship Game. After coming up just short in a rematch with Wisconsin, MSU was selected to play in the Outback Bowl against the Georgia Bulldogs. Dantonio led his team to a triple-overtime victory, his first bowl win at MSU. The Spartans reached the 11-win mark for the second straight season, finishing 11–3.
2012 season
In 2012, Dantonio led the Spartans to a 7–6 record and a Buffalo Wild Wings Bowl win against Texas Christian University. The season started with promise, when preseason #13 Michigan State beat #24 Boise State; but two games later, the #10 Spartans lost to No. 20 Notre Dame, and went on to suffer four home losses in Big Ten play. The defense finished ninth in FBS points allowed, giving up just 16.3 points per game, but the offense struggled to score in several games. MSU lost a 12–10 decision to Michigan, despite the defense keeping the Wolverines out of the end zone the entire game. In May 2013, four months after the end of the 2012 season, Dantonio filmed himself at the Rose Bowl, predicting a successful 2013.
2013 season
In 2013, Dantonio's team finished 11–1 in the regular season, including notable victories over Michigan (29–6) and Nebraska (41–28) to secure the third and final Legends Division title. On December 7, 2013, Michigan State, ranked #10 at the time of the game, defeated second-ranked Ohio State 34–24 in the Big Ten Championship Game in Indianapolis. The win snapped Ohio State's 24-game winning streak and sent Michigan State to its first Rose Bowl since the 1987–88 season. Michigan State was ranked #4 in the final BCS standings, its highest rank since the BCS's inception. The Spartans defeated the fifth-ranked Stanford Cardinal 24–20 in the 100th Rose Bowl Game on January 1, 2014. Dantonio was named Big Ten Football Coach of the Year.
2014 season
In 2014, the Spartans finished the regular season 10–2, finishing second in the East division with a 7–1 record and ranked #8 in the nation. After losing to third-ranked Oregon in the season's second game, the Spartans reeled off nine wins in their next 10 games. The Spartans earned a bid to the Goodyear Cotton Bowl Classic, part of the New Year's Six bowls, and rallied from 20 points down in the fourth quarter to defeat fifth-ranked Baylor 42–41 to finish the season with an overall record of 11–2. The two losses came against Oregon and Ohio State, the teams that would play in the 2015 College Football Playoff National Championship. After the Cotton Bowl game, Dantonio said "It's a feeling of belief in each other, and that's what we have. We don't give up on each other. Consequently, they don't give up in the game. We just keep playing hard. And that's what we've been able to accomplish."
2015 season
In 2015, the Spartans beat Ohio State, Oregon, Penn State and Michigan to finish the regular season with an 11–1 record, winning the East division with a 7–1 record. Michigan State went on to beat an undefeated Iowa team in the Big Ten Championship Game, and ended the season ranked #3 in the nation. The #3 ranking earned the Spartans a spot in the NCAA College Football Playoff and the right to play #2 ranked Alabama on New Year's Eve for a spot in the Championship game. They lost to eventual National Champion Alabama in the semi-final game, 38–0.
2016 season
In 2016, the Spartans had their worst season under Dantonio, going 1–8 in Big Ten play and finishing the season at 3–9, the program's worst overall record in more than 30 years.
Personal life
Mark Dantonio married his wife, Becky, in 1990. The couple have two daughters, Kristen and Lauren. He is a devout Roman Catholic.
Notable quotes
"I find a lot of the things they do amusing. They need to check themselves sometimes. Let's just remember, pride comes before the fall. ... They want to mock us, I'm telling them, it's not over. They want to print that crap all over their locker room, it's not over and it'll never be over here. It's just starting. ... I'm very proud of our football team, and I'm very proud of the way our football team handled themselves after the game as well. You don't have to disrespect people. If they want to make a mockery of it, so be it. Their time will come." (Quoted two days after losing his first match-up as a head coach against Michigan, 28-24, on Nov. 3, 2007; also following a remark from Michigan running back Mike Hart, who referred to MSU as Michigan's "little brother".)
"I'll tell you how you sum up the moment. You're going to be able to come back here and see Michigan State up there winning on that plaque outside this Rose Bowl 50 years from now with your grandchildren. That's what you're going to be able to do." (Quoted after winning the 2014 Rose Bowl Game).
"You will be the ones." (Referring to his 2013 players who 'will be the ones' to take Michigan State to the Rose Bowl for the first time since 1988.)
"We came here with an idea that we were going to have to weather the storm or be the storm." (After a 37-21 victory over Iowa, the Spartans' first win at Kinnick Stadium since 1989.)
"We're laying in the weeds. We've beat Michigan the last four years. So where's the threat?"
"We're not selling hope here. We're selling results." (Referring to a question about the 2015 recruiting class.)
Coaching tree
Played under:
Jim Carlen, South Carolina
Coached under:
Jim Young, Purdue (1981)
Earle Bruce, Ohio State (1983–1984)
Jim Dennison, Akron (1985)
Jim Tressel, Youngstown State (1986–1990) and Ohio State (2001–2003)
Glen Mason, Kansas (1991–1994)
Nick Saban, Michigan State (1995–1999)
Bobby Williams, Michigan State (2000)
Former assistants who became NCAA Division I FBS head coaches:
Dan Enos, Central Michigan (2010–2014)
Pat Narduzzi, Pittsburgh (2015–present)
Don Treadwell, Miami (OH) (2011–2013)
References
Mark Dantonio Wikipedia
(Text) CC BY-SA