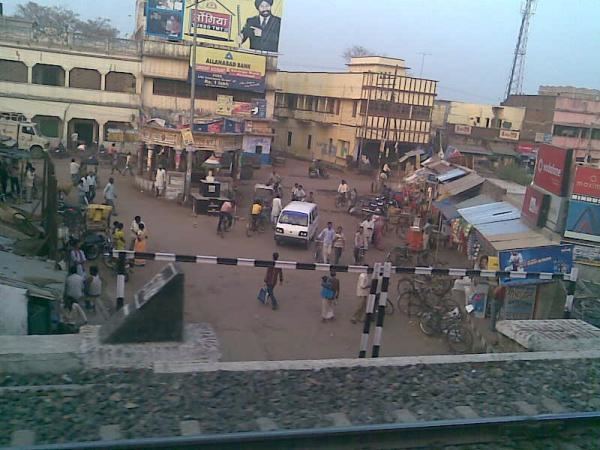 Madhupur is at 24.25°N 86.65°E / 24.25; 86.65. It has an average elevation of 228 metres (748 ft). Madhupur is surrounded by two monsoon rivers, Pathro Nadi and Jayanti Nadi. They feed the Ajay, which is a tributary of the Ganges, meeting it at Katwa in West Bengal.
From 1910 to 1970, a virtual Who's Who of Calcutta visited this little town during the summer, Durga Pooja and Christmas vacations. Deb Narayan Kundu, GS/O Bijoy Narayan Kundu of Itachuna, Hooghly, Bengal built 32 holiday bungalows for the use of "changers" from Calcutta. The "changers" from Calcutta rarely got to use them, as most of them were taken on long leases mainly by retired people. Most eminent citizens of Bengal built their own places. Gangaprasad House built by Sir Ashutosh Mookerjee (Banglar Bagh!) was a veritable palace.
Capt Debendra Chandra Mazumdar from Netrokona, Mymensingh, Bangladesh, was a famous physician who lived here from 1945 till his death in the late 1960s. The much-admired Uma Prasad Mookerjee, third son of Sir Ashutosh, spent a quarter of his time here and did much of his writing here.
Another eminent personality was Nitya Gopal Roy (of Hooghly), Retd DM from Bengal. He had been a sub-tenant of Capt D C Mazumdar at No. 15 Kundu Bungalow.
Ashwini Kumar Chattoraj was the government-appointed municipal administrator during the mid-60s. Dr Pande (Father of Shanti) was the BDO vet around that time. After their transfers the town gradually slipped into poor decay. This is sad for a town whose municipality, covering Lal Garh, Khalasi Mahalla, Bahanno Bigha, Pathar Chapti, Meena Bazar, Shekhpura, Barbad, Kushma and Kundu Bungalow, was inaugurated by a young lawyer from South Africa, Mohandas Karamchand Gandhi in 1910.
Some respectability has been now brought back by the La Opala factory and the well-known school Madhusthali Vidyapeeth. With the upcoming extension up to Koderma of the 150-year-old Madhupur-Giridih railway branch line some growth can be expected. Famous philosopher Surendranath Dasgupta's son Prof. Subhachari Dasgupta, professor of communications from the National Institute of Bank Management, developed the resource center of People's Institute for Development and Training, 12km from Madhupur at Jagadishpur Rly stn on Madhupur Giridihi railway line as a salubrious center having worked for sustainable transformation of the economy of the region through alternative livelihood systems and handicrafts in the region. Dr. Aparna Dasgupta, his wife, dedicated her life to the empowerment of women in the region. They developed the school Anandalaya Public School to educate rural children with value based education along the lines of Gurudev Rabindranath Tagore and Mahatma Gandhi.
The rather big Kali temple at Pathrol is nearby, to the southeast.
On the western side of the town there is temple of Sri Sridharnath Saraswati at Debalaya,temple of Kapil Muni at Kapil Math and Ramkrishna Vivekananda Mission in 52 Bigha.
Apart from the above temples, there is Panch Mandir(5 Temples at the same place).Devotees gather in large number in this temple to offer payers specially on Tuesday dedicated to Hanuman Ji.
As of 2001 India census, Madhupur had a population of 47,349. Males constitute 53% of the population and females 47%.
Madhupur has an average literacy rate of 63%, higher than the national average of 59.5%: male literacy is 71%, and female literacy is 54%. In Madhupur, 16% of the population is under 6 years of age.
Madhupur is surrounded by much natural beauty. Rivers, scrub forest, hills somewhat away add a very pleasant scenery. The town has some good educational institutions like Anandalaya Public School, Shalom School, Madhusthali Vidyapeeth,International Delhi Public School, Carmel School and st Joseph school Madhupur, Saraswati Shishu Mandir, MLG High School, Edward George High School now Shyama Prasad Mukharjee High School and the only play school in Madhupur for kids, Madhur Bachpan Academy, Pathar Chapti. There is a college by the name of Madhupur College (SKM University).
Madhupur has been a good quality dairy hub for many decades. More than 60% of the milk goes to the nearby towns like Giridih, Deoghar, Jamtara, Chittaranjan and Asansol. There is also an abattoir in Khalasi Mohalla.
The quality of the dairy products led to a very well-known Bengali confectionery — Burdwan Mishtanna Bhandar — which had a branch in Giridih. It was started by a Bengali gentleman who had four sons (Bishwanath, Bishwambhar, Bishweshwar and Bishwajit) helping him manage this shop and a Bata Shoe agency.
Madhupur Junction is connected by road and rail to metropolitan areas of India. Delhi-Kolkata Main Line via Mugalsarai-Patna route. Giridih district headquarters is connected to the Indian Railway network through the Madhupur-Giridih Local train on the Madhupur Giridih Rail Line. It is well connected by road from Giridih and Deoghar.
Reasonable hotel accommodation has become available, too. For naming a few are Raj Hotel (located near Station) and Kumar International (located on the Madhupur Sarath Road on the outskirts of Madhupur).
There are a few good guest houses on the western side of the town in 52 Bigha (Around 2 km from Madhupur Station).
Every year famous Kali Puja is celebrated in Patherchapti, whose Presidents are Ram Pal,Laxmi Verma,Subhash Prasad Verma and Sanjay. Its a heritage festival for this Mohalla. In past some famous name are also related with this famous puja as an orgainzer like Mangal Kumar Thakur, Subhash Das, Mantu Das, Surjit Pal (Laltu da), Surya Kant Pal. This puja have been organised near Payri Dhaam.
Falls under Godda Constituency and Madhupur itself is a legislative assembly area (seat) The current MLA ( Raj Paliwal) is also a minister in the state govt.