Full Name

Margherita Evans

Born

July 1, 1909 (

1909-07-01

)

New York City, New York, U.S.

Movies

Dinner at Eight, The Greeks Had a Word for, The Mayor of Hell, Pennies from Heaven, Stand Up and Cheer!




Similar People
Movie Legends - Madge Evans (Reprise)
Madge Evans (July 1, 1909 – April 26, 1981) was an American stage and film actress. She began her career as a child performer and model.
Contents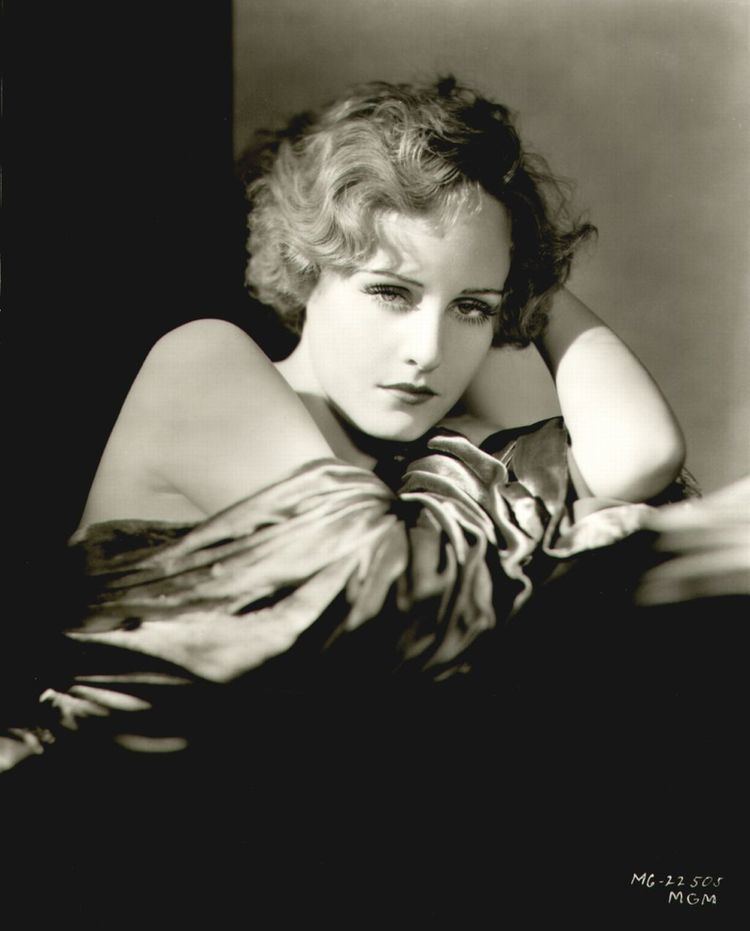 Movie legends madge evans
Child model and stage actress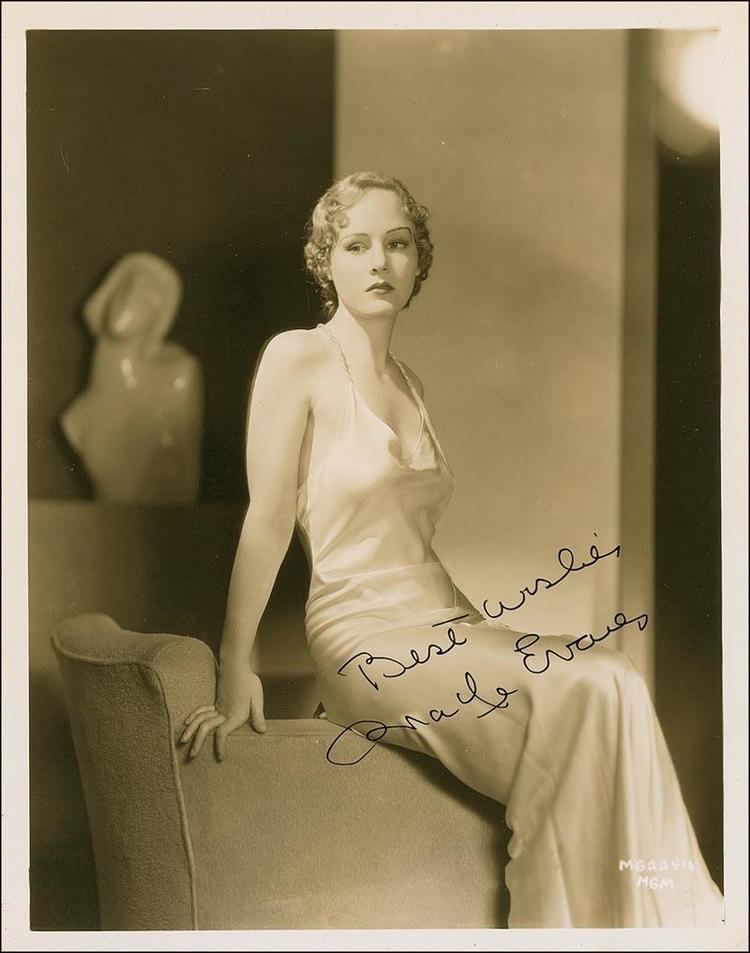 Born in Manhattan as Margherita Evans, Madge Evans was featured in print ads as the 'Fairy Soap girl' as an infant. She made her professional debut at the age of six months, posing for artist's models. As a youth, her playmates included Robert Warwick, Holbrook Blinn, and Henry Hull. When she was four years old, Evans was featured in a series of child plays produced by William A. Brady. She worked at the old Long Island, New York movie studio. Her success was immediate, so much so that her mother loaned her daughter's name to a hat company. Evans posed in a mother and child tableau with Anita Stewart, then 16, for an Anheuser-Busch Brewing Company calendar, and as the little mountain girl in Heidi of the Alps.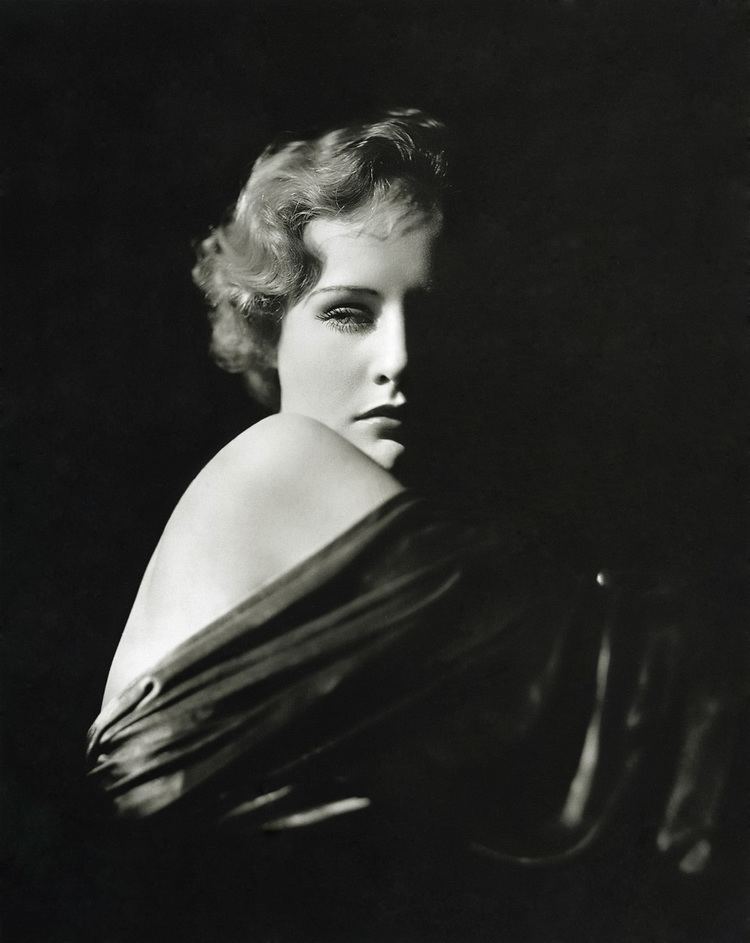 At the age of eight in 1917, Evans appeared in the Broadway production of Peter Ibbetson with John Barrymore, Constance Collier and Laura Hope Crews. At 17, she returned to the stage and appeared as the ingenue (stock character) in Daisy Mayme. Some of her best work in plays came in productions of Dread, The Marquis, and The Conquering Male. Her last appearance was in Philip Goes Forth produced by George Kelley. Evans' mother took her to England and Europe when she was 15.
Film career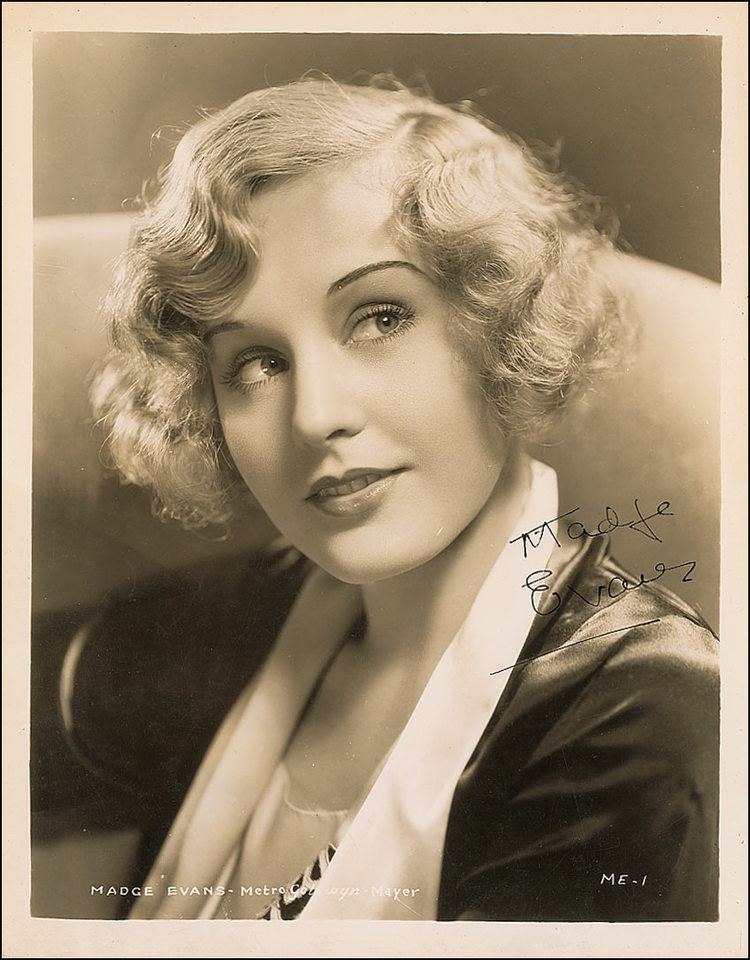 As a child film actress, Evans had quite a prolific career appearing in dozens of films, including with Marguerite Clark in The Seven Sisters (1915), a film with a large female ensemble that had been played on stage with Clark's rival Mary Pickford and Laurette Taylor in the cast. She was featured with Robert Warwick in Alias Jimmy Valentine (1915), a still extant film that has seen release on home video/DVD. At 14, she was the star of J. Stuart Blackton's rural melodrama On the Banks of the Wabash (1923). She co-starred with Richard Barthelmess in Classmates (1924).
She was working on stage when she signed with Metro Goldwyn Mayer in 1927. As with theater, she continued to play ingenue parts, often as the fiancé of the leading man. She played the love interest to both Al Jolson and Henry Morgan in the 1933 film Hallelujah, I'm a Bum.
Working for MGM in the 1930s, she appeared in Dinner at Eight (1933), Broadway to Hollywood (1933), Hell Below (1933), and David Copperfield (1935). In 1933, she starred with James Cagney in a melodrama entitled The Mayor of Hell, playing a pretty nurse who solicits the aid of a tough politician, played by Cagney. Other notable movies in which she appeared are Beauty for Sale (1933), Grand Canary (1934), What Every Woman Knows (1934), and Pennies From Heaven (1936).
In 1960, for Evans' contribution to the motion picture industry, she was honored with a star on the Hollywood Walk of Fame located at 1752 Vine Street.
Marriage
In York Village, Maine, on July 25, 1939, she married playwright Sidney Kingsley, best known for his plays Dead End and Detective Story which were later turned into popular films. The couple owned a 250-acre (1,000,000 m2) estate in Oakland, New Jersey. Following her marriage to Kingsley, Evans left Hollywood and moved to the New Jersey home.
Radio and television
Later, she worked in radio and television in New York City. Evans performed on the Philco Television Playhouse (1949–1950), Studio One (1954), Matinee Theater (1955), and The Alcoa Hour (1956).
Madge Evans died at her home in Oakland, New Jersey from cancer in 1981, aged 71.
Articles
Los Angeles Times, Marriages In Hollywood Exceed Divorces In 1939, January 2, 1940, Page A1.
Los Angeles Times, Child Film Star, Ingenue Madge Evans Dies at 71, April 27, 1981, Page A1.
Oakland, California Tribune, Two Wise Young Maidens, January 10, 1937, Page 80.
San Mateo Times, A Defence of Youth, January 18, 1936, Page 15.
Syracuse Herald, Madge Evans, Joan Marsh, and Jackie Coogan head Sextet Surviving, Sunday Morning, July 19, 1931, Section 3, Page 11.
Zanesville, Ohio Signal, Madge Evans Has Role With James Cagney, July 16, 1933, Page 12.
Filmography
Actress
1958
The Investigator (TV Series)
- Episode #1.6 (1958)
1956
The Alcoa Hour (TV Series)
as
Agnes Spencer
- The Girl in Chapter One (1956) - Agnes Spencer
1955
Matinee Theatre (TV Series)
- Coming of Age (1955)
1954
Studio One (TV Series)
as
Ann
- The Magic Monday (1954) - Ann
- Fear Is No Stranger (1954)
1954
Justice (TV Series)
- The Desperate One (1954)
1953
The Motorola Television Hour (TV Series)
- At Ease (1953)
1953
Medallion Theatre (TV Series)
- The Trouble Train (1953)
1953
Armstrong Circle Theatre (TV Series)
as
Mrs. Douglass
- Judgment (1953) - Mrs. Douglass
1953
Lux Video Theatre (TV Series)
as
Sylvia
- This Is Jimmy Merrill (1953) - Sylvia
1952
Mrs. Thanksgiving (TV Movie)
1951
Cameo Theatre (TV Series)
- Deception (1951)
1951
Pulitzer Prize Playhouse (TV Series)
- Alison's House (1951)
1949
The Philco Television Playhouse (TV Series)
as
Elinor Dashwood / Elizabeth Bennet
- Sense and Sensibility (1950) - Elinor Dashwood
- Pride and Prejudice (1949) - Elizabeth Bennet
1938
Army Girl
as
Julie Armstrong
1938
Sinners in Paradise
as
Anne Wesson
1937
The Thirteenth Chair
as
Nell O'Neill
1937
Espionage
as
Patricia Booth
1936
Pennies from Heaven
as
Susan Sprague
1936
Piccadilly Jim
as
Ann Chester
1936
Moonlight Murder
as
Toni Adams
1936
Exclusive Story
as
Ann Devlin
1935
Transatlantic Tunnel
as
Ruth McAllan
1935
Men Without Names
as
Helen Sherwood
1935
Calm Yourself
as
Rosalind Rockwell
1935
Age of Indiscretion
as
Maxine Bennett
1935
David Copperfield
as
Agnes
1934
Helldorado
as
Glenda Wynant
1934
What Every Woman Knows
as
Lady Sybil Tenterden
1934
Death on the Diamond
as
Frances Clark
1934
Grand Canary
as
Lady Mary Fielding
1934
Stand Up and Cheer!
as
Mary Adams
1934
The Show-Off
as
Amy Fisher Piper
1934
Fugitive Lovers
as
Letty Morris
1933
Day of Reckoning
as
Dorothy Day
1933
Beauty for Sale
as
Letty Lawson
1933
Broadway to Hollywood
as
Anne Ainsley
1933
Dinner at Eight
as
Paula Jordan
1933
The Mayor of Hell
as
Dorothy
1933
The Nuisance
as
Dorothy Mason
1933
Made on Broadway
as
Claire Bidwell
1933
Hell Below
as
Joan Standish
1933
Hallelujah I'm a Bum
as
June Marcher
1932
Fast Life
as
Shirley Jameson
1932
Are You Listening?
as
Laura O'Neil
1932
The Greeks Had a Word for Them
as
Polaire Quinn
1932
Lovers Courageous
as
Mary Blayne
1931
Heartbreak
as
Countess Vima Walden
1931
Guilty Hands
as
Barbara 'Babs' Grant
1931
Sporting Blood
as
Miss 'Missy' Ruby
1930
The Bard of Broadway (Short)
as
Finishing School Student
1930
Many Happy Returns (Short)
as
Daughter
1924
Classmates
as
Sylvia, Her Niece
1923
On the Banks of the Wabash
as
Lisbeth
1921
The Little Match Girl (Short)
1921
Neighbor Nelly (Short)
1919
Three Green Eyes
as
Child
1919
The Love Defender
as
Dolly Meredith
1918
The Love Net
as
Patty Barnes
1918
The Power and the Glory
as
Deanie Consadine
1918
Heredity
as
Nedda Trevor as a Child
1918
Neighbors
as
Clarissa Leigh
1918
The Golden Wall
as
Madge Lathrop
1918
Stolen Orders
as
Ruth Le Page - as a child
1918
Vengeance
as
Young Nan as a Girl
1918
True Blue
as
Ruth as a Child
1918
Wanted: A Mother
as
Eileen Homer
1918
The Gates of Gladness
as
Beth Leeds
1917
The Little Patriot
as
Undetermined Role
1917
Adventures of Carol
as
Carol Montgomery
1917
The Corner Grocer
as
Mary Brian, age 8
1917
The Little Duchess
as
Geraldine Carmichael
1917
Beloved Adventuress
as
Francin - Age 7
1917
The Web of Desire
as
Marjorie
1916
The New South
as
Georgia Gwynne, as a girl
1916
The Revolt
as
Nannie Stevens
1916
Husband and Wife
as
Bessie
1916
Sudden Riches
as
Little Emily
1915
The Little Church Around the Corner
as
The Child
1915
Zaza
as
Child (uncredited)
1915
The Master Hand
as
Jean as a Child
1915
The Seven Sisters
as
Clara
1915
From the Valley of the Missing
as
Child (uncredited)
1915
Alias Jimmy Valentine
as
Child Locked in Vault (uncredited)
1914
The Sign of the Cross
as
Little Christian Girl in Arena (uncredited)
Soundtrack
1935
Age of Indiscretion (performer: "Silent Night, Holy Night" (1818), "The First Noël" - uncredited)
1933
Day of Reckoning (performer: "Drink to Me Only with Thine Eyes" - uncredited)
1933
Broadway to Hollywood (performer: "The Honeysuckle and the Bee" (1901), "Poor Little G-String" (1930) - uncredited)
Self
1978
The Film Society of Lincoln Center Tribute to George Cukor (TV Special)
as
Self
1952
Masquerade Party (TV Series)
as
Self
- Episode dated 28 July 1952 (1952) - Self
1951
Your Show of Shows (TV Series)
as
Self - Guest Performer
- Episode #3.17 (1951) - Self - Guest Performer
1951
The Kate Smith Evening Hour (TV Series)
as
Self
- Episode #1.4 (1951) - Self
1949
We, the People (TV Series)
as
Self - Actress / Singer
- Marie Wilson, Burgess Meredith, Madge Evans, Josephine Hull, Sidney Kingsley, Brock Pemberton, Connie Mack, Rabbi Theodore Lewis (1949) - Self - Actress / Singer
1936
Screen Snapshots Series 16, No. 1 (Documentary short)
as
Self
1915
The Man Who Found Himself
as
Self - Cameo Appearance (uncredited)
Archive Footage
2015
Hey Moe, Hey Dad! (TV Series documentary)
as
Various characters
- A Stooge Is Born (2015) - Various characters (uncredited)
1975
Brother Can You Spare a Dime (Documentary)
1969
Hollywood: The Selznick Years (TV Movie documentary)
as
Actress 'Dinner at Eight' (uncredited)
References
Madge Evans Wikipedia
(Text) CC BY-SA