First awarded

2002




Ceremony date

29 July 2016




Presented by

Lux




Official website

www.luxstyle.pk




Country

Pakistan


Last awarded

2016







Awarded for

Excellence in media achievements




Network

PTV and Private Channels of Pakistan


Winners

Alee Hassan, Alee Hassan, Best Emerging Talent, Best Emerging Talent, Fouzia Aman, Fouzia Aman, Model of the Year (Female), Model of the Year (Female), Hasnain Lehri, Hasnain Lehri, Model of the Year (Male), Model of the Year (Male), Diyar-e-Dil, Diyar-e-Dil, Best TV Play, Best TV Play, Anjum ShahzadRang Laaga, Anjum Shahzad, Best TV Director, Best TV Director, Khalil-ur-Rehman QamarSadqay Tumhare, Khalil-ur-Rehman Qamar, Best TV Writer, Best TV Writer, Generation, Generation, Achievement in Fashion Design - Pret, Achievement in Fashion Design - Pret, Salman NooraniMariam, Salman Noorani, Best Music Video Director, Best Music Video Director, Faraz Manan, Faraz Manan, Achievement in Fashion Design - Lawn, Achievement in Fashion Design - Lawn, Shamaeel Ansari, Shamaeel Ansari, Achievement in Fashion Design - Luxury Pret, Achievement in Fashion Design - Luxury Pret, Mahira KhanBin Roye, Mahira Khan, Best Actress (Film), Best Actress (Film), RockstarAli Zafar, Rockstar, Song of the Year, Song of the Year, MoorAzad Film Company - Mandviwalla Entertainment, Moor, Best Film, Best Film, Begum Gul Bakaoli SarfaroshNoori, Begum Gul Bakaoli Sarfarosh, Best Album, Best Album, Abdullah Harris, Abdullah Harris, Best Fashion Photographer, Best Fashion Photographer, Nabila, Nabila, Best Hair & Makeup Artist, Best Hair & Makeup Artist, Momin DurraniDiyar e Dil, Momin Durrani, Best Original Soundtrack, Best Original Soundtrack, Zebunnisa BangashDiyar e Dil, Zebunnisa Bangash, Best Original Soundtrack, Best Original Soundtrack, Rahat Fateh Ali KhanTeray Bina Jeena, Rahat Fateh Ali Khan, Best Singer (Male) - Film, Best Singer (Male) - Film, Abida ParveenMaula Maula, Abida Parveen, Best Singer (Female) - Film, Best Singer (Female) - Film, Sadaf Kanwal, Sadaf Kanwal, Best Emerging Talent, Best Emerging Talent, Amna Ilyas, Amna Ilyas, Model of the Year (Female), Model of the Year (Female), Shahzad Noor, Shahzad Noor, Model of the Year (Male), Model of the Year (Male), Hamza AbbasiPyarey Afzal, Hamza Abbasi, Satellite Best TV Actor, Satellite Best TV Actor, Pyarey Afzal, Pyarey Afzal, Best TV Play, Best TV Play, Nadeem BaigPyarey Afzal, Nadeem Baig, Best TV Director, Best TV Director, Khalil-ur-Rehman QamarPyarey Afzal, Khalil-ur-Rehman Qamar, Best TV Writer, Best TV Writer, Sana Safinaz, Sana Safinaz, Achievement in Fashion Design - Pret, Achievement in Fashion Design - Pret, Sana Safinaz, Sana Safinaz, Achievement in Fashion Design - Lawn, Achievement in Fashion Design - Lawn, Sana Safinaz, Sana Safinaz, Achievement in Fashion Design - Luxury Pret, Achievement in Fashion Design - Luxury Pret, Saleha ArefDukhtar, Saleha Aref, Best Actress (Film), Best Actress (Film), RoiyaanFarhan Saeed, Roiyaan, Song of the Year, Song of the Year, Na Maloom Afraad, Na Maloom Afraad, Best Film, Best Film, DareecheZoe Viccaji, Dareeche, Best Album, Best Album, NFK Photography, NFK Photography, Best Fashion Photographer, Best Fashion Photographer, Ayeza KhanPyarey Afzal, Ayeza Khan, Satellite Best TV Actress, Satellite Best TV Actress, Nabila, Nabila, Best Hair & Makeup Artist, Best Hair & Makeup Artist, Fizza Ali MeerzaBilli, Fizza Ali Meerza, Best Original Soundtrack, Best Original Soundtrack, Nabeel QureshiBilli, Nabeel Qureshi, Best Original Soundtrack, Best Original Soundtrack, Javed SheikhNa Maloom Afraad, Javed Sheikh, Best Actor (Film), Best Actor (Film), Amna Babar, Amna Babar, Best Emerging Talent, Best Emerging Talent, Shehryar Mirza, Shehryar Mirza, Best Emerging Talent, Best Emerging Talent, Cybil Chowdhry, Cybil Chowdhry, Model of the Year (Female), Model of the Year (Female), Mehwish HayatKami Reh Gai, Mehwish Hayat, Best TV Actress (Terrestrial), Best TV Actress (Terrestrial), Yamina PeerzadaRoshni Andhera Roshni, Yamina Peerzada, Best TV Actress (Terrestrial), Best TV Actress (Terrestrial), Abbas Jafri, Abbas Jafri, Model of the Year (Male), Model of the Year (Male), Fawad KhanZindagi Gulzar Hai, Fawad Khan, Satellite Best TV Actor, Satellite Best TV Actor, Haseeb HassanNanhi, Haseeb Hassan, Best TV Director, Best TV Director, Amna MuftiUllu Baraye Farokht Nahi, Amna Mufti, Best TV Writer, Best TV Writer, Iman Ahmed, Iman Ahmed, Achievement in Fashion Design - Pret, Achievement in Fashion Design - Pret, Yasir JaswalBolay, Yasir Jaswal, Best Music Video Director, Best Music Video Director, Sania Maskatiya, Sania Maskatiya, Achievement in Fashion Design - Lawn, Achievement in Fashion Design - Lawn, Sania Maskatiya, Sania Maskatiya, Achievement in Fashion Design - Luxury Pret, Achievement in Fashion Design - Luxury Pret, Aamina SheikhSeedlings, Aamina Sheikh, Best Actress (Film), Best Actress (Film), MalaalRahat Fateh Ali Khan, Malaal, Song of the Year, Song of the Year, Zinda BhaagMazhar Zaidi, Zinda Bhaag, Best Film, Best Film, Yaran Di Toli Rizwan Ali Jaffri, Yaran Di Toli, Best Album, Best Album, Noman IjazDil Awaiz - Kami Reh Gai, Noman Ijaz, Best TV Actor (Terrestrial), Best TV Actor (Terrestrial), Rizwan-ul-Haq, Rizwan-ul-Haq, Best Fashion Photographer, Best Fashion Photographer, Miraj Ud DinMar Jaen Hum Toh Kya, Miraj Ud Din, Best TV Serial (Terrestrial), Best TV Serial (Terrestrial), Ahmed Siddiq, Ahmed Siddiq, Best Emerging Talent, Best Emerging Talent, Saima Azhar, Saima Azhar, Best Emerging Talent, Best Emerging Talent, Mehreen Syed, Mehreen Syed, Model of the Year (Female), Model of the Year (Female), Mahnoor BalochTalafi, Mahnoor Baloch, Best TV Actress (Terrestrial), Best TV Actress (Terrestrial), Shahzad Noor, Shahzad Noor, Model of the Year (Male), Model of the Year (Male), Fawad KhanHumsafar, Fawad Khan, Satellite Best TV Actor, Satellite Best TV Actor, Sarmad KhoosatHumsafar, Sarmad Khoosat, Best TV Director, Best TV Director, Khalil-ur-Rehman QamarManjali, Khalil-ur-Rehman Qamar, Best TV Writer, Best TV Writer, Iman Ahmed, Iman Ahmed, Achievement in Fashion Design - Pret, Achievement in Fashion Design - Pret, Farhad HumayunAnkahi, Farhad Humayun, Best Music Video Director, Best Music Video Director, Sana Safinaz, Sana Safinaz, Achievement in Fashion Design - Lawn, Achievement in Fashion Design - Lawn, Iman Ahmed, Iman Ahmed, Achievement in Fashion Design - Luxury Pret, Achievement in Fashion Design - Luxury Pret, KhamoshiAyesha Omar, Khamoshi, Best Album, Best Album, Noman IjazQeemat, Noman Ijaz, Best TV Actor (Terrestrial), Best TV Actor (Terrestrial), Guddu, Guddu, Best Fashion Photographer, Best Fashion Photographer, Shani, Shani, Best Fashion Photographer, Best Fashion Photographer, Yameen MalikPaayal, Yameen Malik, Best TV Serial (Terrestrial), Best TV Serial (Terrestrial), Mahira KhanHumsafar, Mahira Khan, Satellite Best TV Actress, Satellite Best TV Actress, Khaadi, Khaadi, Best High Street Brand, Best High Street Brand, Nabila, Nabila, Best Hair & Makeup Artist, Best Hair & Makeup Artist, Zaheer Abbas, Zaheer Abbas, Best Emerging Talent, Best Emerging Talent, Bumbu Sauce, Bumbu Sauce, Best Emerging Talent, Best Emerging Talent, Rabia Butt, Rabia Butt, Model of the Year (Female), Model of the Year (Female), Sanam BalochSehra Teri Pyas, Sanam Baloch, Best TV Actress (Terrestrial), Best TV Actress (Terrestrial), Abbas Jafri, Abbas Jafri, Model of the Year (Male), Model of the Year (Male), Faysal QureshiRoag, Faysal Qureshi, Satellite Best TV Actor, Satellite Best TV Actor, Sarmad KhoosatPani Jaisa Piyar, Sarmad Khoosat, Best TV Director, Best TV Director, Samira FazalMera Naseeb, Samira Fazal, Best TV Writer, Best TV Writer, Kamiar Rokni, Kamiar Rokni, Achievement in Fashion Design - Pret, Achievement in Fashion Design - Pret, Adnan MalikMera Bicharaa Yaar, Adnan Malik, Best Music Video Director, Best Music Video Director, Sana Safinaz, Sana Safinaz, Achievement in Fashion Design - Lawn, Achievement in Fashion Design - Lawn, Sania Maskatiya, Sania Maskatiya, Achievement in Fashion Design - Luxury Pret, Achievement in Fashion Design - Luxury Pret, Humaima MalikBol, Humaima Malik, Best Actress (Film), Best Actress (Film), Wo Humsafar Tha (From "Humsafar")Qurat-ul-Ain Balouch, Wo Humsafar Tha (From "Humsafar"), Song of the Year, Song of the Year, BolShoaib Mansoor, Bol, Best Film, Best Film, JhoomAli Zafar, Jhoom, Best Album, Best Album, Noman IjazAao Kahani Buntay Hain, Noman Ijaz, Best TV Actor (Terrestrial), Best TV Actor (Terrestrial), Rizwan-ul-Haq, Rizwan-ul-Haq, Best Fashion Photographer, Best Fashion Photographer, Rafique WarraichTera Pyar Nahi Bhoolay, Rafique Warraich, Best TV Serial (Terrestrial), Best TV Serial (Terrestrial), Savera NadeemQaid-e-Tanhai, Savera Nadeem, Satellite Best TV Actress, Satellite Best TV Actress
Mahira khan humayun saeed mohsin abbas performance 15th lux style awards 2016
The Lux Style Awards is the largest award ceremony held annually in Pakistan since 2002. The awards celebrate "style" in the Pakistani entertainment industry. Around 30 awards are given annually. The ceremony is the oldest and the most prominent film event dedicated to Pakistani television, fashion and film industry in Pakistan. The awards are voted on by both the public and a committee of experts.
Contents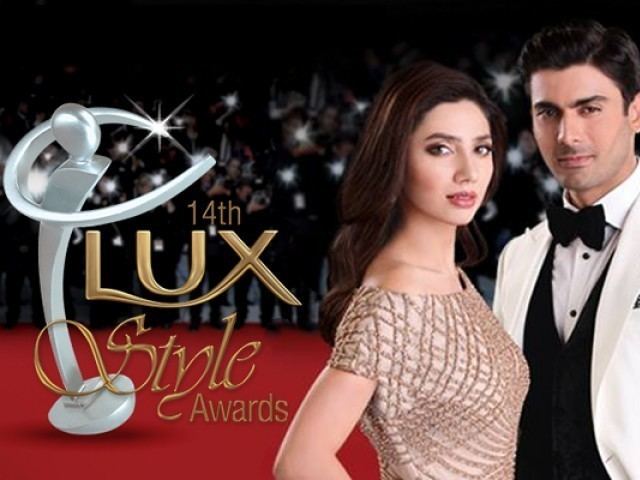 As one of the nation's premier award show events, the Lux Style Awards have been dubbed "Pakistan's Oscars" and described as "the awards ceremony in Pakistan".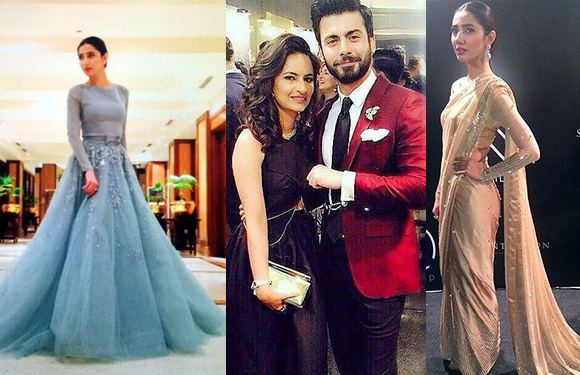 History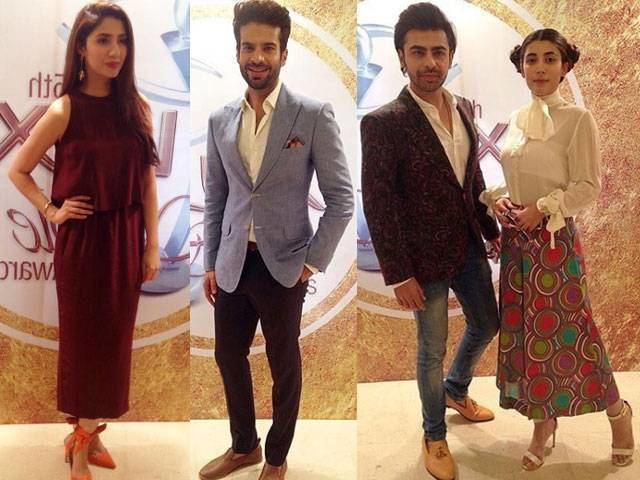 The first awards were presented in 2002 at the Expo Centre in Karachi, Pakistan. Since 2002 the event has expanded from a one-night event to a three-day celebration, hosting various events and activities relating to the Pakistan film industry.
Ceremonies
The following is a listing of all Lux Style Awards ceremonies since 2002.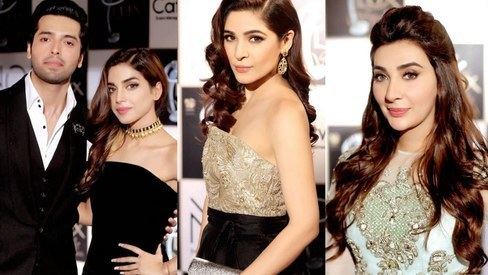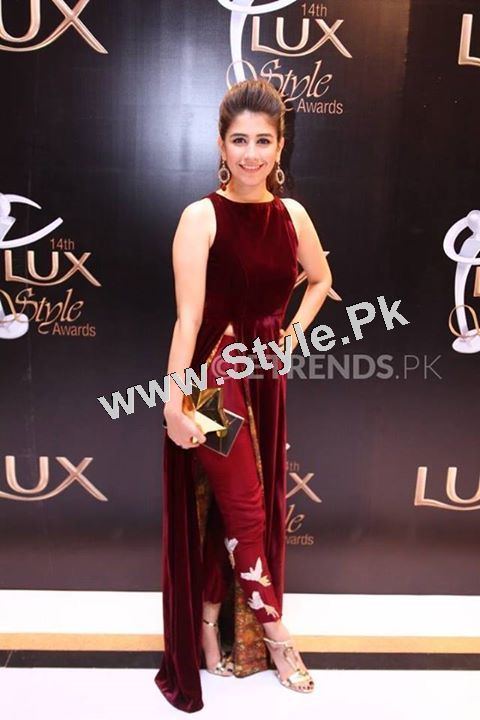 References
Lux Style Awards Wikipedia
(Text) CC BY-SA