Lucky lady 1975 alternate ending
Lucky Lady is a 1975 American comedy-drama film directed by Stanley Donen and starring Gene Hackman, Liza Minnelli, and Burt Reynolds, with Robby Benson. Its story takes place during Prohibition in the United States in the year 1930.
Contents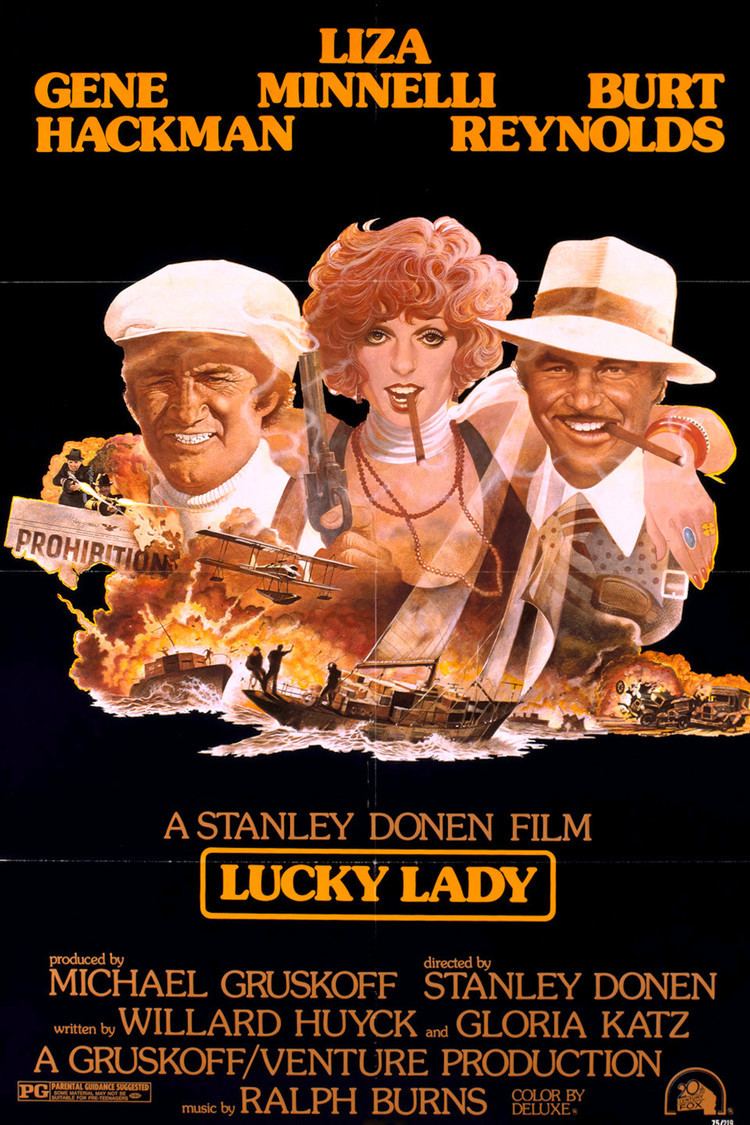 Gene Hackman initially did not want to do the film, but 20th Century Fox kept offering him more and more money. Finally, Fox offered him $1.25 million, and according to talent agent Sue Mengers, "it was almost obscene for him not to do the film."
On February 1, 2011 Shout! Factory released the film on DVD for the first time.
Plot
During the Prohibition era, a young widow, Claire, gets involved in liquor smuggling and romance with two men, Walker and Kibby, off the San Diego coast. Organized crime controls bootlegging back east and wants to do the same here, so a hit man named McTeague is sent to deal with these amateur crooks, as is the Coast Guard, leading to various battles at sea.
Cast
Liza Minnelli as Claire
Burt Reynolds as Walker
Gene Hackman as Kibby
Robby Benson as Billy
John Hillerman as McTeague
Geoffrey Lewis as Coast Guard Captain Moseley
Michael Hordern as Capt. Rockwell
Anthony Holland as Mr. Tully
John McLiam as Rass Huggins
Val Avery as Dolph
Louis Guss as Bernie
William Bassett as Charley
Production
The script was sold for $450,000. The writers wanted Steven Spielberg to direct and he was interested but had made a commitment to do Jaws.
Donen originally wanted Paul Newman and Warren Beatty for the lead male roles with production scheduled to begin in October 1974. Later, in November 1974, Reynolds was signed along with George Segal, who later dropped out of the project and was quickly replaced with Hackman. Filming began in Mexico in February 1975 and finished in July of that year.
The artist Lilly Fenichel served as the film's art director.
Release
The film earned rentals of $12.1 million in North America.
Additional information
This film was also released under the following titles:
Abenteurer auf der Lucky Lady - West Germany
Belali sevgili - Turkey
I tyheri kyria - Greece (transliterated ISO-LATIN-1 title)
In 3 sul Lucky Lady - Italy
Los aventureros de Lucky Lady - Spain
Oh, vilket sjöslag! - Sweden
Os aventureiros de Lucky Lady - Brazil (TV title)
Tre smarte smuglere på 'Lucky Lady

'

- Denmark
Uma Mulher dos Diabos - Portugal (imdb display title)
Una dama con suerte - Venezuela
Viskiseikkailu Lucky Ladyllä - Finland
Soundtrack
"Empty Bed Blues" - Written by J.C. Johnson, Performed by Bessie Smith
"Ain't Misbehavin'" - Music by Fats Waller and Harry Brooks, Lyrics by Andy Razaf, Performed by Burt Reynolds
"A Hot Time in the Old Town" - Music by Theo. A. Metz, Lyrics by Joe Hayden, Performed by Bessie Smith
" (Get) While the Getting is Good" - Written by John Kander and Fred Ebb, Performed by Liza Minnelli
"Lucky Lady Montage" - Written by John Kander and Fred Ebb, Performed by Liza Minnelli
"Lucky Lady (reprise)" - Written by John Kander and Fred Ebb, Performed by Liza Minnelli
References
Lucky Lady Wikipedia
(Text) CC BY-SA
Lucky Lady IMDb
Lucky Lady Roger Ebert
Lucky Lady Rotten Tomatoes
Lucky Lady themoviedb.org