India




Marathi




Maharashtra




Buldana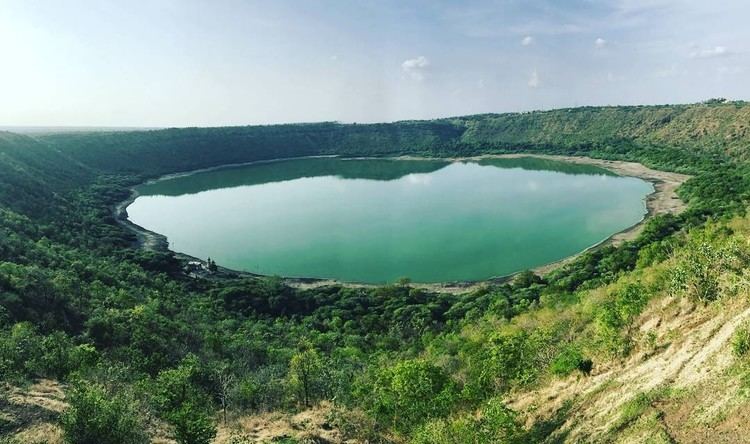 Lonar is a town and a municipal council in Buldhana district of the division of Buldhana of the region of Vidarbha in the Indian state of Maharashtra. It is a taluka of the district of Buldhana and is located near Mehkar. It is an important place in Buldhana district and is famous for Lonar crater and Lonar Lake, which is located at 19°58?N 76°30?E.
Lonar is situated around 550 km from Mumbai, around 160 km from Aurangabad and around 140 km southeast of the famous Ajanta Caves, about 4½ hours drive via Buldhana. Though it is in proximity to many tourist spots, it is not visited by many tourists.
Lonar is located at 19°59?06?N 76°31?23?E. It has an average elevation of 563 metres (1847 feet). Lonar Lake is a saltwater lake at Lonar in Buldana district, Maharashtra, India, which was created by a meteor hitting the Earth during the Pleistocene Epoch.[1] The impact crater thereby formed is the only hypervelocity meteoritic impact crater on basalt rock.[2][3] A lake that evolved in the resulting basaltic rock formation, is both saline and alkaline in nature. Geologists, ecologists, archaeologists, naturalists and astronomers have reported several studies on the various aspects of this crater lake ecosystem.[4] Lonar Lake has a mean diameter of 1.2 kilometres (3,900 ft) and is about 137 metres (449 ft) below the crater rim. The meteor crater rim is about 1.8 kilometres (5,900 ft) in diameter. The circular depression bears a saline water lake in its central portion.[5] The craters age is usually estimated to be 52,000 ± 6,000 years (Pleistocene),[6] although a study published in 2010 gives an age of 656,000 ± 81,000 years.[7]
Lonar Wikipedia
(,)http://home.hiwaay.net/~krcool/Astro/moon/moonpic/lunarscape_ap17_1.gif(,)http://profilephotocovers.com/covers/landscapes/lunar_landscape.jpg(,)http://dharmatown.org/wp-content/uploads/2013/11/craters.sized_.jpg(,)https://topwebtoday.files.wordpress.com/2010/05/selene-earthrise-825x563.jpg(,)http://www.coasttocoastam.com/cimages/var/ezwebin_site/storage/images/coast-to-coast/repository/photos/lunar-landscape/720264-1-eng-US/Lunar-Landscape_photo_medium.jpg(,)https://lpod.wikispaces.com/file/view/LPOD-Apr16-09.jpg/67995189/LPOD-Apr16-09.jpg(,)http://41.media.tumblr.com/tumblr_m6cgt3WXgN1qz5k14o1_1280.jpg(,)http://media2.s-nbcnews.com/j/MSNBC/Components/Photo/_new/100322-space-lunar-landscape.grid-6x2.jpg(,)http://4.bp.blogspot.com/_G9m39nvV4uQ/TRQpiotXxDI/AAAAAAAAA8E/-3fA3MIZH5Q/s1600/moon%25252520lunar%25252520landscape%25252520surface.jpg(,)http://i.ytimg.com/vi/OaQPvBBvZ5M/maxresdefault.jpg
(,)http://images1.laweekly.com/imager/chinese-feast-from-guilin/u/745xauto/5390120/1556334_571320009617141_2120710016_o.jpg(,)http://cfile23.uf.tistory.com/image/142966344F1E57FC3189BA(,)http://bohemiantraveler.com/wp-content/uploads/2013/02/Juno-cooking-for-Lunar-New-Year.jpg(,)http://www.soompi.com/wp-content/uploads/2013/02/Seollal-Food.jpg(,)http://www.freeinternetwallpapers.com/wp-content/uploads/2015/02/8460628772_8e98116d2f_z.jpg(,)http://www.socapricious.com/content/uploads/2012/01/2_lunar_new_year_food_vn.jpg(,)http://www.rwsentosablog.com/wp-content/uploads/2013/01/CNY-banner.jpg(,)http://www.seriouseats.com/images/2014/01/20140123-serious-entertaining-chinese-new-year-primary.jpg(,)http://photos1.blogger.com/blogger/1439/1073/1600/ChinatownLunarNewYearPrep_012706_18.jpg(,)http://3.bp.blogspot.com/-OimNaQNECYU/TyVngVtEGxI/AAAAAAAAAc8/xVUlNTw16U4/s1600/169.jpg(,)http://english.gov.taipei/site/tcg/public/MMO/TCGENG/ch69_p30_01.jpg(,)http://www.rwsentosablog.com/wp-content/uploads/2012/12/Pineapple-Birds-Nest-small1.jpg(,)http://thediningtable.sg/wp-content/uploads/2013/01/Goodwood-Park-Hotel-Lunar-New-Year-Feasting.jpg(,)http://nwasianweekly.com/wp-content/uploads/2013/32_06/lam1.JPG(,)http://4.bp.blogspot.com/-RGJ318Tl9K0/US7kHdYJjCI/AAAAAAAAVBE/xfqiCO-kW8M/s1600/CNY.jpg