Monarch

Abdul Halim




Preceded by

Abdul Hadi Awang


Children

Lim Guan Eng


Party

Democratic Action Party




Role

Politician




Prime Minister

Najib Razak




Name

Lim Siang








Monarch

SirajuddinMizan Zainal Abidin




Books

Time Bombs in Malaysia: Problems of Nation-building in Malaysia


Grandchildren

Marcus Lim Whay Khai, Clint Lim Whay Chau, Ethan Lim Whay Zen, Rachel Lim Shay Wan




Similar People

Lim Guan Eng, Anwar Ibrahim, Mahathir Mohamad, Najib Razak, Tony Pua



Preceded by

Wan Azizah Wan Ismail


Prime Minister

Abdullah Ahmad Badawi



Born

20 February 1941 (age 79), Batu Pahat, Malaysia
Lim kit siang under the macc act that is corruption najib must go to jail

Lim Kit Siang (born 20 February 1941; Chinese: 林吉祥; pinyin: Lín Jíxiáng; Pe̍h-ōe-jī: Lîm Kit-siâng) is a Malaysian politician and party leader. He is prominent leader of the Democratic Action Party (DAP), the largest multiracial opposition party in Malaysia. He is the father of current Chief Minister in the State of Penang, Lim Guan Eng.
Contents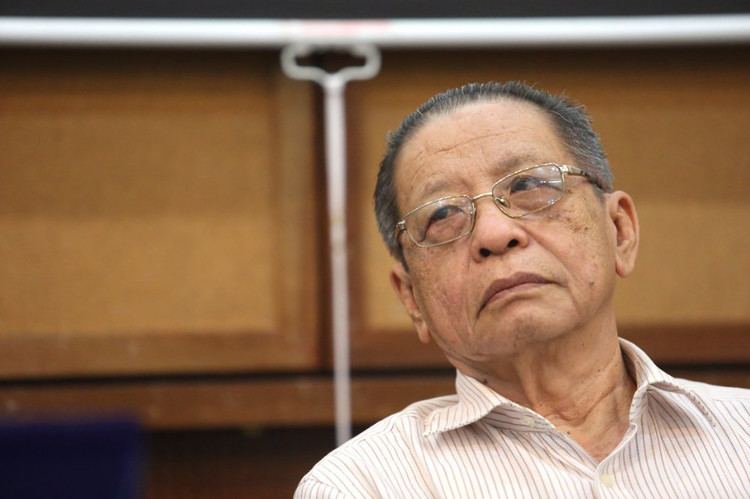 Lim kit siang when macc is attacked it is our responsibility to defend the institution
Personal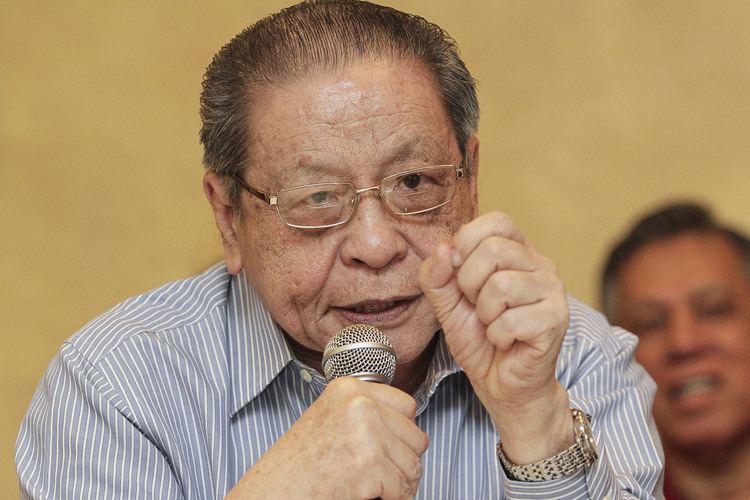 Lim was educated from Lincoln's Inn in 1977. He is married with four children. Since 1978, he has authored 34 books. His son Lim Guan Eng is the current Chief Minister of Penang.
Ancestry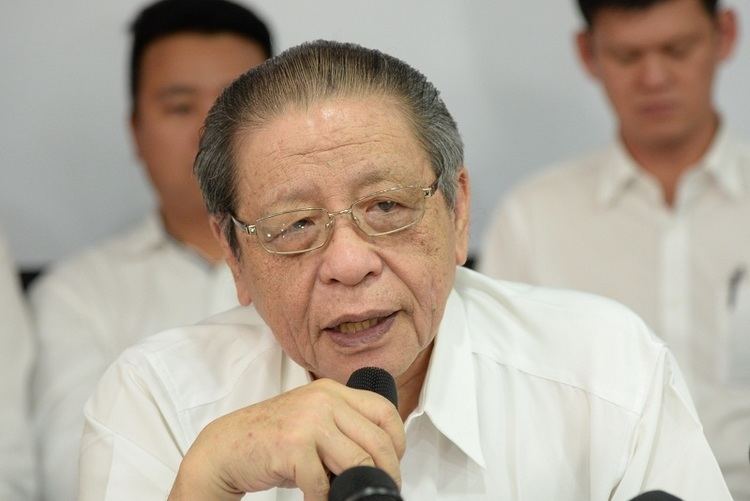 Lim Kit Siang together with his son Lim Guan Eng first visited his ancestral home in China in Nov 2008 (reported in Chinapress). His ancestral village is located in Zhangzhou, Fujian province which makes him a Minnan native. He met his brother-in-law during the visit.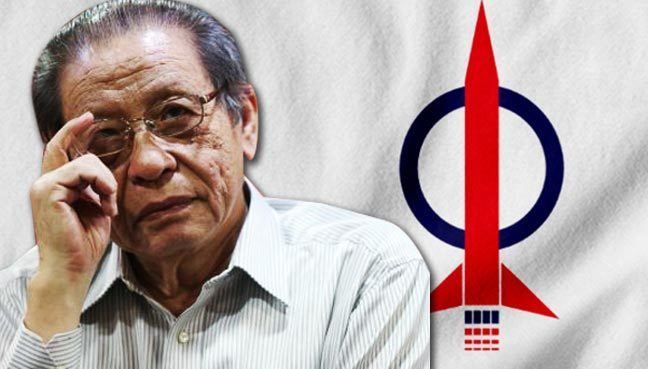 His birthplace was questioned by Pertubuhan Minda Sosial Prihatin (PMSP) president Ramesh Rao, who noticed Lim's Wikipedia page stated that he arrived in Malaya in 1957. Lim was infuriated when asked by the press, where he told the reporters to do their own research before asking him such question, adding that he felt sorry for the journalist. .
Member of Parliament
Lim first emerged as a politician when he was National Organising Secretary of the DAP from 1966 to 1969. At the same time he was also entrusted to edit the party's newspaper, the Rocket. The course of the political landscape changed when he was promoted to Secretary-General in 1969 after being acting Secretary-General for a short period during a turbulent period in the country's history. He considers himself a democratic socialist and is also a supporter of social democracy.
Lim was first elected as an MP for the Bandar Melaka seat in 1969. His election was initially held to be void, however, because the law prohibited an election agent who had previously failed to discharge his duties from standing for election in the future. The Prime Minister of Malaysia, Tun Abdul Razak, moved a motion in Parliament to prevent Lim from serving as an MP, granting him instead a period of time to request a royal pardon from the Yang di-Pertuan Agong (King). After receiving the royal pardon, Lim was allowed to retain his seat.
Apart from 1999 to 2004, during which time he lost his seat due to the Chinese disenchantment with DAP entering into a political pact with the Islamist PAS for the General Elections, Lim represented various constituencies in five states:
Bandar Melaka (1969–1974)
Kota Melaka (1974–1978)
Petaling, Selangor (1978–1982)
Kota Melaka (1982–1986)
Tanjong, Penang (1986–1999)
Ipoh Timor, Perak (2004–2013)
Gelang Patah, Johor (since 2013)
He also served as a state assemblyman in Melaka and Penang during the following periods: Kubu, Melaka (1974–1982); Kampong Kolam, Penang (1986–1990); and Padang Kota, Penang (1990–1995).
He led the party in the capacity of Secretary-General until 1999 when he was elected party chairman, succeeding Chen Man Hin. In 2004, he refused re-appointment as the chairman and Karpal Singh was elected to replace him. Lim was then elected to an advisory role as the leader of a newly created body called the "Policy and Strategic Planning Commission". His son, Lim Guan Eng, is currently the Secretary-General of the party and the Chief Minister of Penang.
After winning a parliamentary seat from Ipoh Timor during the 2004 general election, which also saw his party clinching the most seats of any opposition party, Lim became the Parliamentary Opposition Leader. In recent years the opposition have been campaigning for freer and fairer elections within Malaysia. On 10 November 2007, a mass rally, called the BERSIH Peaceful People's Gathering, took place in the Dataran Merdeka Kuala Lumpur at 3pm to demand for clean and fair elections. The gathering was organised by BERSIH, a coalition comprising political parties and civil society groups, and drew supporters from all over the country.
In the March 2008 general election, he was re-elected as the Member of Parliament for Ipoh Timor with a majority of 21,942 votes.
Lim contested and won in Gelang Patah against Barisan Nasional's heavyweight and former Menteri Besar of Johor Datuk Abdul Ghani in the 2013 general election. He called this election the "dirtiest ever GE in Malaysian history" and has called for a "clean" election.
Detention without trial
In 1969 Kit Siang was detained under the Internal Security Act for 18 months. Ten years later, in 1979, he was convicted of five charges under Official Secrets Act for exposing an inappropriate arms deal between the government and a Swiss company.
Lim was one of the people arrested during "Operation Lalang" in 1987. He spent 17 months in prison under the Internal Security Act, which allows for two years of detention without trial at the pleasure of the Home Minister. The two-year sentence may, in practice, be extended indefinitely without any avenues for due process or appeal.
Controversy
Lim is a controversial figure for his strongly held views about Malaysian politics; some, such as Malay Malaysian writer Bakri Musa, have labelled him and fellow DAP leader Karpal Singh as racial provocateurs.
In 2008, after winning 12th general election, Lim Kit Siang issued an instruction for all DAP representatives to stay away from the swearing-in ceremony for Perak Menteri Besar, claiming that there was no DAP CEC mandate for PAS Menteri Besar in Perak. This caused the Perak MB swearing-in ceremony to be cancelled and only took place after Lim Kit Siang apologised and retracted his instruction.
Samy Vellu and the MAIKA Telekom shares hijacking scandal
In 1992, Lim Kit Siang was suspended from Parliament for eight months for calling on the then Prime Minister Mahathir Mohamad to present a White Paper in Parliament on the outcome of ACA re-opening of investigations into the MIC President and the Minister for Energy, Posts and Telecommunications, Datuk Seri S. Samy Vellu and the MAIKA Telekom shares hijacking Scandal.
References
Lim Kit Siang Wikipedia
(Text) CC BY-SA