Constituency

Permatang Pauh


Succeeded by

Position abolished




Name

Anwar Ibrahim





Role

Malaysian Politician


Spouse

Wan Azizah Wan Ismail







Prime Minister

Abdullah Ahmad BadawiNajib Razak




Children

Nurul Izzah Anwar, Nurul Ilham Anwar, Nurul Nuha Anwar, Nurul Iman Anwar, Ehsan Anwar, Nurul Hana Anwar


Political party

United Malays National Organisation, People's Justice Party


Books

The Asian Renaissance




Education

Malay College Kuala Kangsar, University of Malaya


Similar People

Mahathir Mohamad, Najib Razak, Wan Azizah Wan Ismail, Nurul Izzah Anwar, Azmin Ali


Profiles




Twitter




Preceded by

Wan Azizah Wan Ismail



Obama warns on chilling effect of prosecution of anwar ibrahim
Datuk Seri Anwar Ibrahim (born 10 August 1947) is a Malaysian politician who was Leader of the Opposition between 2008 and 2015. He is a founder and leading figure of the People's Justice Party (Parti Keadilan Rakyat).
Contents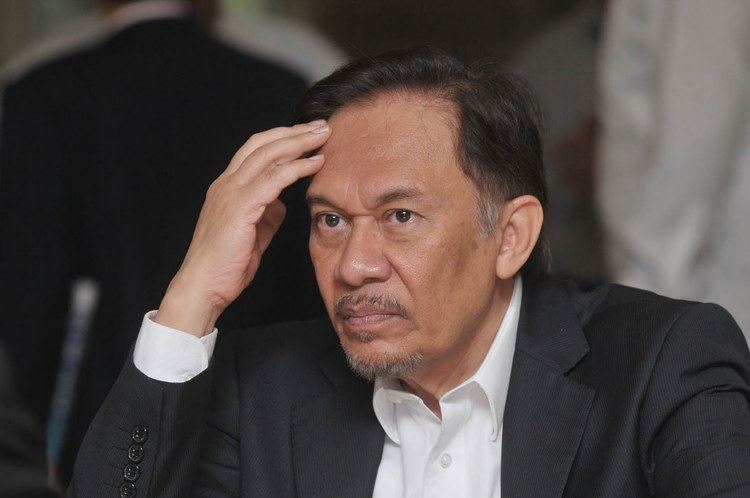 Anwar served as the Deputy Prime Minister of Malaysia from 1993 to 1998 and Finance Minister from 1991 to 1998 when he was a member of UMNO, the major party in the ruling Barisan Nasional coalition. However, he was removed from his post by Prime Minister Mahathir Mohamad and jailed in April 1999. His prosecution has been criticised by human rights groups and several foreign governments, including the US, UK and Australia. Following his release in 2004, Anwar became the leading figure in the opposition and helped coalesce the opposition parties into the Pakatan Rakyat, which contested the 2008 and 2013 general elections.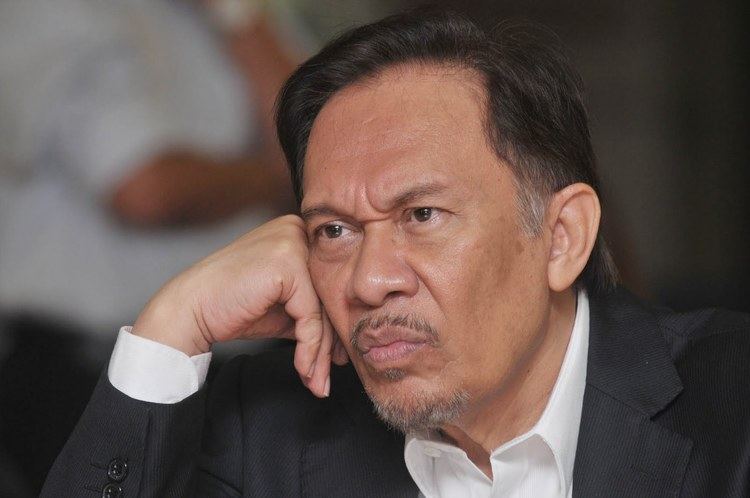 Anwar is currently serving a five-year prison sentence, commencing in 2015, after a second sodomy conviction was upheld.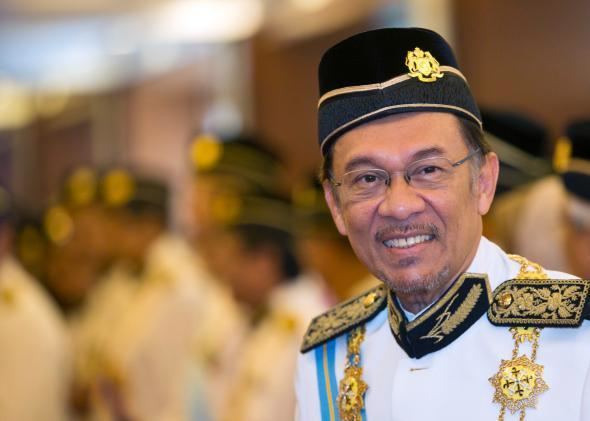 Malaysia kuala lumpur anwar ibrahim rally ends in violence
Early years (1968–1982)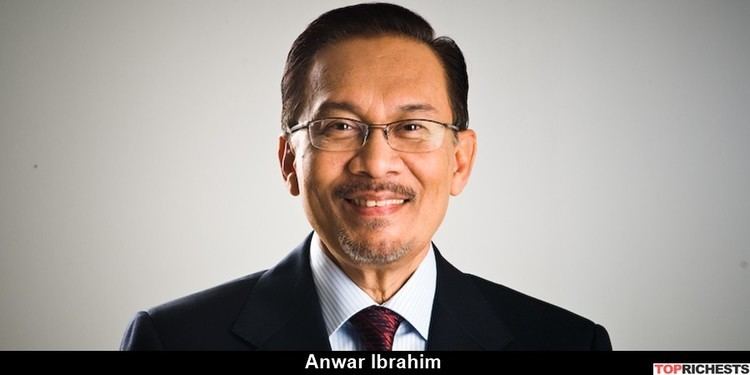 From 1968 to 1971, as a student, Anwar was the president of National Union Of Malaysian Muslim Students. Around the same time, he was also the president of University of Malaya Malay Language Society (Malay: Persatuan Bahasa Melayu Universiti Malaya (PBMUM)). In 1971, he was a member of the pro tem committee of Angkatan Belia Islam Malaysia (ABIM) or Muslim Youth Movement of Malaysia which he co-founded. At the same time, he was elected as the 2nd President of the Malaysian Youth Council or Majlis Belia Malaysia (MBM). In 1974, Anwar was arrested during student protests against rural poverty and hunger. This came as a report surfaced stating that a family died from starvation in a village in Baling, in the state of Kedah, which was later demonstrated to be false. However the rubber tappers in Baling were experiencing severe hardship as the price of rubber dropped in 1974. He was imprisoned under the Internal Security Act, which allows for detention without trial, and spent 20 months in the Kamunting Detention Centre. From 1975 till 1982 he served as a representative for Asia Pacific of World Assembly of Muslim Youth (WAMY). Anwar Ibrahim is also the proud co-founder of International Institute of Islamic Thought (IIIT) in USA (founded 1981). Anwar has been one of 4 acting directors, board member of IIIT and a trustee. He was also a chancellor of International Islamic University Kuala Lumpur between 1983 and 1988. In 2011, he participated in the 2011 U.S.-Islamic World Forum (held in the US for the first time) with a large number of individuals tied to the Muslim Brotherhood.
Governmental career (1982–1998)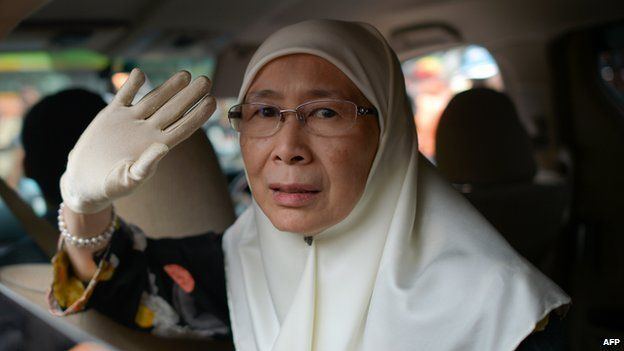 In 1982, Anwar, who was the founding leader and second president of a youth Islamic organisation called Angkatan Belia Islam Malaysia (ABIM), shocked his liberal supporters by joining the United Malays National Organisation (UMNO), led by Mahathir bin Mohamad, who had become prime minister in 1981. He moved up the political ranks quickly: his first ministerial office was that of Minister of Culture, Youth and Sports in 1983; after that, he headed the agriculture ministry in 1984 before becoming Minister of Education in 1986. By then, speculation was rife about Anwar's ascent to the Deputy Prime Minister's position as it was a commonly-occurring phenomenon in Malaysia for the Education Minister to assume the position of Deputy PM in the near future.
During his tenure as Education Minister, Anwar introduced numerous policies in the national school curriculum. One of his major changes was to rename the national language from Bahasa Malaysia to Bahasa Melayu. Non-Malays criticised this move as it would cause the younger generation to be detached from the national language, since they would attribute it to being something that belongs to the Malays and not to Malaysians. As the minister of education, Anwar was elected as the 25th President of UNESCO's General Conference. In 1988, Anwar Ibrahim became the second President of International Islamic University of Malaysia.
In 1991, Anwar was appointed Minister of Finance. During his tenure as Finance Minister his impact was immediate; Malaysia enjoyed unprecedented prosperity and economic growth. Shortly after becoming Finance Minister, Euromoney named him as a top four finance minister and in 1996 Asiamoney named him Finance Minister of the Year. In the midst of Asian Financial Crises of 1997, Anwar was hailed for guiding Malaysia through the period of instability. He backed free market principles and highlighted the issue of the proximity of business and politics in Malaysia. He advocated greater accountability, refused to offer government bail-outs and instituted widespread spending cuts. As a deputy prime minister and finance minister, in March 1998, Anwar Ibrahim was selected as the Chairman of the Development Committee of World Bank and International Monetary Fund from March 1998 until September 1998.
In 1993, he became Mahathir's Deputy Prime Minister after winning the Deputy Presidency of UMNO against Ghafar Baba planned to succeed Mahathir as prime minister, and frequently alluded in public to his "son-father" relationship with Mahathir; in early 1997, Mahathir appointed Anwar to be acting Prime Minister while he took a two-month holiday.
Towards the end of the 1990s, however, the relationship with Mahathir had begun to deteriorate, triggered by their conflicting views on governance. In Mahathir's absence, Anwar had independently taken radical steps, which were in direct conflict with Mahathir's policies, to change the country's governing mechanisms. Issues such as how Malaysia would respond to a financial crisis were often at the forefront of this conflict.
Anwar's frontal attack against what he described as the widespread culture of nepotism and cronyism within UMNO (and the ruling coalition as a whole) angered Mahathir, as did his attempts to dismantle the protectionist policies that Mahathir had set up. "Cronyism" was identified by Anwar as a major cause of corruption and misappropriation of funds in the country.
Financial crisis, fall from power and first conviction
During the 1997 Asian financial crisis Anwar, as finance minister, supported the International Monetary Fund (IMF) plan. He also instituted an austerity package that cut government spending by 18%, cut ministerial salaries and deferred major projects. "Mega projects", despite being a cornerstone of Mahathir's development strategy, were greatly curtailed.
Although many Malaysian companies faced bankruptcy, Anwar declared: "There is no question of any bailout. The banks will be allowed to protect themselves and the government will not interfere." Anwar advocated a free-market approach to the crisis, including foreign investment and trade liberalisation. Mahathir blamed currency speculators like George Soros for the crisis, and supported currency controls and tighter regulation of foreign investment.
In 1998 Newsweek magazine named Anwar the "Asian of the Year". However, in that year, matters between Anwar and Mahathir came to a head around the time of the quadrennial UMNO General Assembly. The Youth wing of UMNO, headed by Anwar's associate Ahmad Zahid Hamidi, gave notice that it would initiate a debate on "cronyism and nepotism". At the General Assembly, a book, 50 Dalil Kenapa Anwar Tidak Boleh Jadi PM ("50 Reasons Why Anwar Cannot Become Prime Minister") was circulated containing graphic allegations of homosexuality, as well as accusations of corruption against Anwar. The book was written by Khalid Jafri, an ex-editor of the government-controlled newspaper Utusan Malaysia and former editor-in-chief of a failed magazine, Harian National. Anwar obtained a court injunction to prevent further distribution of the book and filed a lawsuit against the author for defamation. Police charged the author of the book with malicious publishing of false news. The police were instructed to investigate the veracity of the claims.
In what the Sydney Morning Herald termed a "blatantly political fix-up", Anwar was arrested on 20 September 1998. He was subsequently charged with corruption for allegedly interfering with police investigations into allegations of sexual misconduct made against him. While he was in police custody in 1998, Anwar was beaten by the then Inspector General of Police, Rahim Noor. Rahim was subsequently found guilty of assault and jailed for two months in 2000. He made a public apology to Anwar and paid undisclosed damages. In April 1999, following a trial, Anwar was sentenced to six years' imprisonment. Two months later, he was sentenced to nine years' imprisonment, which he was ordered to serve after he completed his six-year sentence for the sodomy case.
His trial and conviction were widely discredited by the international community. Amnesty International stated that the trial proceedings "exposed a pattern of political manipulation of key state institutions including the police, public prosecutor's office and the judiciary" and declared Anwar a prisoner of conscience, stating that he had been arrested in order to silence him as a political opponent. Many world leaders, including US Vice-President Al Gore, called for his release from prison.
His conviction was overturned by the Malaysian Supreme Court and Anwar was finally released from solitary confinement on 2 September 2004.
Reformasi movement and formation of party
Shortly after Anwar was dismissed as deputy prime minister by the then prime minister Mahathir Mohamad, Anwar and his supporters initiated the Reformasi movement. It consisted of several mass demonstrations and rallies against the long-standing Barisan Nasional coalition government. At the 1998 APEC Summit in Kuala Lumpur, the Vice-President of the United States, Al Gore, gave a speech supporting Anwar and the Reformasi movement in front of the Prime Minister of Malaysia and other Asia-Pacific premiers.
Reformasi led to the formation of a new multiracially-based party named Parti Keadilan Nasional (National Justice Party). In 1999, a general election was held. The new Parti Keadilan Nasional, Parti Islam Se-Malaysia, and Democratic Action Party formed a Barisan Alternatif (Alternative Front), in a combined initiative to replace the standing Barisan Nasional (BN) coalition government. In August 2003, Parti Keadilan Nasional merged with Parti Rakyat Malaysia (Malaysian's People Party) to form Parti Keadilan Rakyat (PKR) or People's Justice Party headed by Wan Azizah as president. PKR made huge gains in the 2008 general election, winning 31 seats and becoming the largest opposition party in parliament. On April 2008, PKR, PAS and DAP formed a new alliance named Pakatan Rakyat.
Years in prison and subsequent release
In 1999, Anwar brought suit against Prime Minister Mahathir for defamation for allegedly uttering accusations of immoral acts and calling Anwar a homosexual at a news conference in Malaysia.
The sodomy verdict was partially overturned in 2004, resulting in Anwar's release from prison as he had already served his sentence for the corruption offence. The author of the book died in 2005 of complications from diabetes but before the High Court found that he had committed libel and awarded Anwar millions of ringgit in compensation. The Federal Court on 8 March 2010 ruled that the 1998 dismissal of Anwar from his Cabinet posts by Mahathir was constitutional and valid, meaning Anwar had failed in his bid to challenge his sacking.
Although the point was by now moot, an appeal on the corruption charges was heard on 6 September 2004. Under Malaysian law a person is banned from political activities for five years after the end of his sentence. Success in this appeal would have allowed him to return to politics immediately. On 7 September, the court agreed to hear Anwar's appeal. However, on 15 September, the Court of Appeal ruled unanimously that its previous decision to uphold a High Court ruling that found Anwar guilty was in order, relegating Anwar to the sidelines of Malaysian politics until 14 April 2008. The only way for Anwar to be freed from this stricture would have been for him to receive a pardon from the Yang di-Pertuan Agong.
Teaching and non-profit work
After his release from prison, Anwar held teaching positions at St Antony's College, Oxford, where he was a visiting fellow and senior associate member, at Johns Hopkins University's School of Advanced International Studies in Washington DC as a Distinguished Senior Visiting Fellow, and in 2005–2006 as a visiting professor at the Prince Alwaleed Center for Muslim–Christian Understanding in the School of Foreign Service at Georgetown University. In March 2006 he was appointed as Honorary President of the London-based organisation AccountAbility (Institute of Social and Ethical AccountAbility).
In July 2006, Anwar was elected Chair of the Washington-based Foundation For the Future. In this capacity, he signed 1 October 2006 letter to Robin Cleveland of the World Bank, requesting the transfer of Shaha Riza from the US Department of State to the Foundation for the Future. This transaction led to Paul Wolfowitz's resignation as president of the organisation. He was one of the signatories of A Common Word Between Us and You in 2007, an open letter by Islamic scholars to Christian leaders, calling for peace and understanding.
Return to politics
In November 2006, Anwar announced he planned to run for Parliament in 2008, after his disqualification expired. Anwar was critical of government policies after his release from prison, most notably the controversial New Economic Policy (NEP), which provided affirmative action for the Bumiputras. The policy set a number of quotas, such as for units of housing and initial public offerings, that must be met.
Before he became re-entitled to run for Parliament in 2008, he acted as an "advisor" of Parti Keadilan Rakyat, the party of which his wife Dr. Wan Azizah is president. He was in the forefront in organising a November 2007 mass rally, called the 2007 Bersih Rally, which took place in the Dataran Merdeka Kuala Lumpur to demand clean and fair elections. The gathering was organised by BERSIH, a coalition comprising political parties and civil society groups, and drew supporters from all over the country.
The 2008 election date, however, was set for 8 March 2008, sparking criticisms that Barisan Nasional called for early elections in a bid to deny Anwar's plans for a return to Parliament. In response, Anwar's wife, Wan Azizah Wan Ismail, declared that she would step down should she retain her Permatang Pauh parliamentary seat to force a by-election in which Anwar himself would contest.
When asked about the possibility of Anwar becoming the next Prime Minister, former leader Tun Dr. Mahathir reacted by saying, "He would make a good Prime Minister of Israel".
On 14 April 2008, Anwar celebrated his official return to the political stage, as his ban from public office expired a decade after he was fired as Deputy Prime Minister. The opposition seized a third of parliamentary seats and five states in the worst ever showing for the Barisan Nasional coalition that has ruled for half a century, with Anwar at the helm. A gathering of more than 40,000 supporters greeted Anwar in a rally welcoming his return to politics. Police interrupted Anwar after he had addressed the rally for nearly two hours and called for him to stop the gathering since there was no legal permission for the rally.
On 29 April 2008, after 10 years of absence, he returned to the Parliament, albeit upon invitation as a spouse guest of Wan Azizah Wan Ismail, People's Justice Party and the first female opposition leader in Malaysian Parliament's history.
Permatang Pauh by-election
Anwar Ibrahim was victorious in the Permatang Pauh by-election held on 26 August 2008. Muhammad Muhammad Taib, information chief of the UMNO, stated: "Yes of course we have lost . . . we were the underdogs going into this race." Final results announced by the Election Commission revealed that Anwar Ibrahim won 31,195 of the estimated 47,000 votes cast in the district, while Arif Shah Omar Shah received 15,524 votes and a third candidate had 92 votes.
On 28 August 2008, Anwar, dressed in a dark blue traditional Malay outfit and black "songkok" hat, took the oath at the main chamber of Parliament house in Kuala Lumpur, as MP for Permatang Pauh at 10.03 am before Speaker Tan Sri Pandikar Amin Mulia. He formally declared Anwar the leader of the 3-party opposition alliance. With his daughter Nurul Izzah Anwar, also a parliamentarian, Anwar announced: "I'm glad to be back after a decade. The prime minister has lost the mandate of the country and the nation." At that time Anwar needed 30 government lawmakers to defect to the Opposition to form the next government.
Career as opposition leader (2008–2014)
On 26 August 2008, Anwar won re-election in the Permatang Pauh by-election and returned to Parliament as leader of the Malaysian opposition. He has stated the need for liberalisation, including an independent judiciary and free media, to combat the endemic corruption that he considers pushes Malaysia close to failed state status.
Petition against Najib Razak
Anwar continued to attack Najib on his first day as prime minister, stating he found inconsistencies in the latter's decision to release 13 Internal Security Act (ISA) detainees. He said as long as the ISA existed, Barisan Nasional could still detain citizens at will. In September 2011 Prime Minister Najib Razak acted to abolish the ISA and three other laws. Some members of the opposition did not view this in a positive way.
Attempts to form a majority coalition
Anwar has missed several deadlines he personally set for the transfer of power: the most recent was Tuesday, 16 September 2008. Anwar said he would need more time, and the recalibration of his message has not gone unnoticed: Deputy Prime Minister Najib Razak chose that day to initiate a broadband internet program Anwar opposes, saying that he had not doubted that the government would still be in office on 16 September. Prime Minister Abdullah Badawi too pointed out that Anwar had missed his own deadline, and dismissed his claim to have secured the defection of 30 MPs.
By 25 September, Anwar had still not amassed enough votes, creating doubts for Malaysians about whether he was really ready to take power, particularly in light of his failure to meet his own 16 September deadline for the transition of power. In the interim, UMNO had its own party meeting to broker Prime Minister Abdullah Ahmad Badawi's step down from power in June 2009, a year earlier than previously promised
On 24 October 2008, Anwar admitted problems with his stalled bid to topple the UMNO's majority, saying that Pakatan Rakyat is running out of options to create a majority. His "credibility among ordinary Malaysians has been somewhat dented after Sept 16 and the new promise of forming the Government has not generated the sort of anticipation or excitement as before." Media within the country have taken an increasingly hostile view towards Anwar's protestations and failed threats to assemble a majority government.
On 30 March 2010, Anwar Ibrahim alleged in the Dewan Rakyat the 1Malaysia was mirrored after "One Israel" concept and designed by Mindteams Sdn Bhd, a branch in Malaysia of APCO Worldwide, an international public relations company engaged by the Malaysian government that also created the One Israel concept in 1999 for then Israeli Prime Minister Ehud Barak. The Barisan Nasional government has claimed it was false and its lawmakers have tabled a motion to censure Anwar for misleading the Parliament over his 1Malaysia-One Israel allegations which was passed by the Parliament on 22 April 2010.
2008 allegations of sodomy
In July 2008, he was arrested over allegations he sodomised one of his male aides, but was acquitted of the charge in January 2012. The presiding judge ruled that DNA evidence used in the case had been compromised. However, on 7 March 2014 the appeal court over-ruled the high Court reinstating the conviction. The decision came as Anwar was preparing to contest a by-election on 23 March 2014 which he was expected to win. The conviction prevented him from standing. Human Rights Watch was critical of the decision, saying it was politically motivated.
On 29 June 2008, online news portal Malaysiakini reported that an aide of Anwar Ibrahim, Saiful Bukhari Azlan, had lodged a police report claiming that he had been sodomised by Anwar. Anwar said that the possibility of a prison sentence as a result of the allegations could be seen as an attempt to remove him from the leadership of the opposition following his growing support and by-election victories. He also reaffirmed his innocence and cited evidence in the form of medical reports. Anwar was found not guilty on 9 January 2012 by The High Court. The presiding judge Justice Mohamad Zabidin Mohd Diah found that the DNA evidence submitted by the prosecution was unreliable. Eleven days later, the prosecution filed an appeal against the acquittal.
Two years later, The Court of Appeal overturned the acquittal. Datuk Balia Yusof Wahi, Datuk Aziah Ali and Datuk Mohd Zawawi Salleh unanimously decided that the High Court failed to "critically evaluate" the evidence submitted by government chemist Dr Seah Lay Hong. As part of his overturned acquittal on 4 March 2014, Anwar was sentenced to five years in jail. Human Rights Watch and the International Commission of Jurists have accused the Malaysian Government of meddling in this particular judicial matter and said the verdict was politically motivated. On 10 February 2015, the Federal Court of Malaysia upheld the decision of the Court of Appeal and affirmed the five-year prison sentence. He was sent immediately to Sungai Buloh Prison, Selangor, to serve the sentence.
Jews, Israel, APCO Worldwide, and 1Malaysia
Anwar has made numerous remarks about a supposed conspiracy among the Malaysian government, APCO (a public relations firm retained by the Malaysian government), Israel, and the United States. Anwar has condemned the Malaysian government for seeking advice from APCO. He claims that the firm is linked to the "murder of Muslims in Palestine." He further claims to have given proof to a disciplinary committee of the Malaysian parliament, investigating his comments, that APCO is a front for the Israeli government. On another occasion, Anwar, speaking from the parliament, claimed that the firm was controlled by Jews and working on behalf of the American government to influence Malaysian foreign policy. He further implied that changes in Malaysian foreign policy could only be explained if Jews were manipulating Malaysia for the United States.
On 22 April 2010 Anwar was censured by Malaysia's parliament for remarks he made during a press conference in parliament on 30 March 2010. During the press conference, Anwar claimed to have documents linking 1Malaysia, One Israel, and the public relations firm APCO but refused to allow access to the documents when challenged. The Malaysian government and APCO have both strongly denied Anwar's allegations. The censure motion passed by the House of Representatives referred Anwar's case to the Rights and Privileges Committee which will recommend a punishment for approval by the full chamber. Such punishment could include being banned from parliament. However Anwar retaliated against the Malaysian government attacks by producing two documents to support his claims of links between APCO and 1Malaysia.
In a press conference at the London School of Economics, Anwar made comments about Zionists and "nasty Jews". In the press conference he also stated that, "There are good Jews, there are bad Jews, there are good Muslims and bad Muslims."
In May 2010, B'nai B'rith International, a prominent Jewish human rights organisation, condemned Anwar in a letter to the United States Senate Committee on Foreign Relations, claiming that Anwar was a "purveyor of anti-Jewish hatred" and asked the American government to suspend all contact with Anwar.
2012 Israeli-Palestinian Security comments
In an interview with the Wall Street Journal, Anwar Ibrahim stated, "I think our policy should be clear—protect the security [of Israel] but you must be as firm in protecting the legitimate interests of the Palestinians."
This comment sparked an array of criticism from Malaysia's ruling party, UMNO. UMNO Member of Parliament Khairy Jamaluddin stated that Anwar's comments "show a blanket support for anything Israel does" and that "The issue of Palestine is a top foreign policy priority for my party, it would be an issue during the election year or otherwise… timing doesn't matter.".
Former Prime Minister Mahathir Mohammad said he was not surprised by Anwar's comments, and stated with regard to Ibrahim's relationship with the Jewish community, "You can't be friendly with them and against them".
The opposition party PAS stated that it would respond to Anwar's comments on 12 February 2012.
Later, Anwar clarified his stand; he said that the remarks were consistent with the two-state solution adopted by the United Nations that is accepted by the Arab world, as well as Malaysia and Hamas, the Palestinian government.
"I am issuing a stern warning to anyone trying to twist my statement just so that they can say that I have betrayed the aspirations of the Palestinian people", he said, continuing with stating that his party's stance "is to defend the rights of whoever it is that has been victimized".
Views on gay marriage and homosexuality
In an interview with The Wall Street Journal, Anwar stated that while he opposes gay marriage and upholds the sanctity of marriage between men and women, laws on sodomy in Malaysia must be changed as they are "archaic".
In an interview with British Broadcasting Corporation, Anwar reaffirmed his belief that marriage should remain between men and women. Clarifying his comments to The Wall Street Journal, Anwar maintained that he does not advocate legalising homosexuality or making gay marriage permissible — only that the laws should be amended to ensure private affairs are not penalised. "It is not my business to attack people or arrest people based on their sexual orientation," he said. "Morality is in the public sphere, not beyond that."
13th general election
On the 13th general election, Anwar Ibrahim as the Leader of the Opposition led his Pakatan Rakyat coalition which comprises the three parties (DAP, PAS, PKR) to contest in the election. On 25 February 2013, Pakatan Rakyat launched their manifesto titled The People's Manifesto: Pakatan the hope of the people to capture the attention of 13 million voters, pledging to reduce their financial burden, among other promises. Anwar said that he would step down from politics if his team did not win the election. During an interview with Australian media he stated that "I will try my best. I am confident we will win. But if not, I will step down."
Pakatan Rakyat did not achieve the regime change target in the election despite obtaining 50.9% of popular vote compared to the 47.4% gained by BN. This is due to heavy malapportionment of the electoral districts. Pakatan Rakyat also gained 7 more parliamentary seats compared to the 12th general election.
Anwar did not concede defeat, alleging widespread electoral fraud. Al Jazeera also reported that Anwar Ibrahim came close to winning the election on 5 May 2013; however, he has refused to admit defeat and therefore also has not stepped down. In an interview for ABC News (Australia), Jim Middleton (the interviewer) suggested that Anwar Ibrahim is going to be the Lee Kuan Yew of the Malaysian opposition. Anwar answered that he was not at that stage yet.
On 7 May 2013, Anwar Ibrahim vowed to lead a "fierce movement" to reform the country's electoral system and challenge the results of an election he lost. On 8 May 2013, about 120,000 people wearing black gathered at Petaling Jaya Stadium, Kelana Jaya, Selangor, to attend a rally organised by Anwar to protest against the election results and demand a free and fair election. Since then, the #Black505 movement continued for another 2 months with touring all over the country. A successful fund raising #Black505 dinner was held in Thean Hou Temple hall on 22 June 2013, hosted by Wangsa Maju MP Datuk Dr Tan Kee Kwong on behalf of PKR. Anwar Ibrahim immediately launched petition of over 30 disputed parliamentary seats in July 2013, but the cases were thrown off election court for technical reasons.
Kajang Move
On 27 January 2014, the member of the Selangor State Legislative Assembly for Kajang, Lee Chin Cheh, resigned. This triggered a by-election. A day later, Anwar Ibrahim was announced as Pakatan Rakyat candidate for the by election. Anwar's candidacy was originally to propel him to become Selangor's Menteri Besar. Later, this move was known as the "Kajang Move".
This move, however, did not materialize as he was sentenced to five years' prison after Malaysia's Court of Appeal overturned his sodomy acquittal, causing Anwar to lose his qualification to be the state assembly candidate. On 9 March 2014, PKR announced party president Dr Wan Azizah Wan Ismail as its new candidate for the Kajang by-election. Anwar's Datuk Seri title was stripped by the Sultan of Selangor for "repeated questioning of the integrity" of the state's ruler during the subsequent crisis that saw the Sultan refuse to appoint Wan Azizah as Menteri Besar. Anwar was able to continue using the "Datuk Seri" title because it had also been conferred on him by several other Malaysian states.
Other political positions
According to former law Minister Zaid Ibrahim, Anwar is an Islamist who "helped Islamicise the whole government system" and played a major role in the Islamicisation of the education system when he was Education Minister in the 1980s.
Personal life
Anwar was born in Cherok Tok Kun, a village in Bukit Mertajam, Penang. His father, Ibrahim Abdul Rahman started his career as a hospital porter, later to join politics as the UMNO Member of Parliament for Seberang Perai Central between 1959 and 1969 and also as the Parliamentary Secretary in the Ministry of Health from 1964 to 1969 until his defeat in the 1969 General Election by a candidate from Gerakan. His mother, Che Yan Hussein, was a housewife active in UMNO grassroots politics in Penang. He undertook his secondary education at the Malay College Kuala Kangsar. He was educated at the University of Malaya, where he read Malay Studies, and worked on his Masters in Literature through National University of Malaysia while in prison from 1974–75.
He is married to Wan Azizah Wan Ismail and they have four daughters and a son. His eldest daughter, Nurul Izzah Anwar, is also a member of Parliament for Lembah Pantai.
References
Anwar Ibrahim Wikipedia
(Text) CC BY-SA