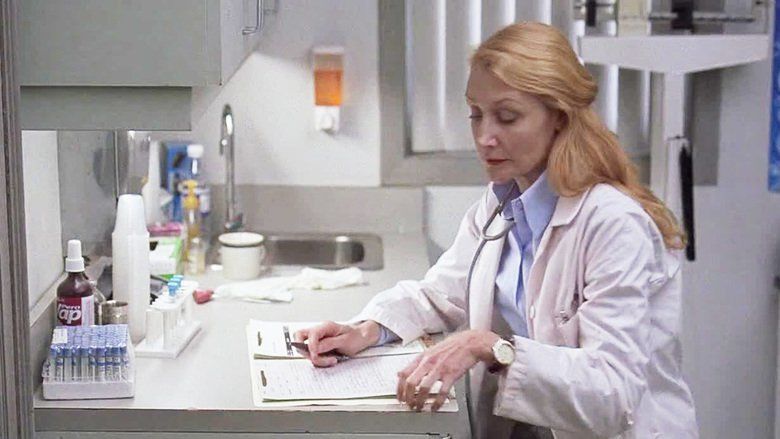 Lars Lindstrom lives a secluded life in a small Wisconsin town. It is gradually revealed that his mother died when he was born, causing his grief-stricken father to be a distant parent to Lars and his older brother, Gus. Gus left town as soon as he could support himself, returning only to inherit his half of the household when the father died.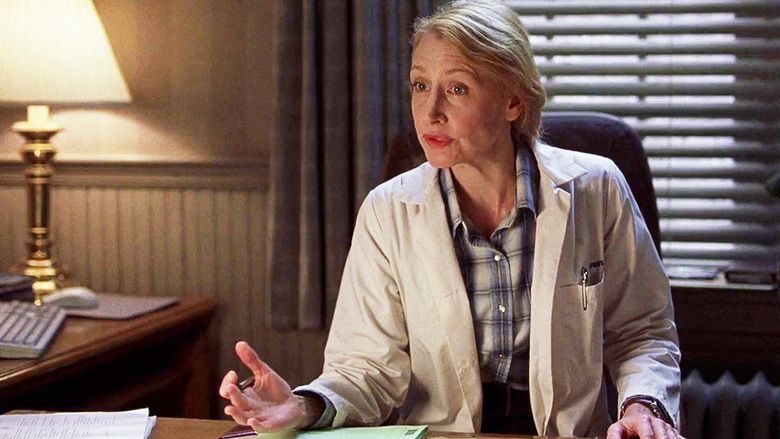 The inheritance has been divided between the brothers: Lars lives in the converted garage; Gus and his pregnant wife Karin live in the house proper. Karin's attempts to invite Lars into the house for a family meal are usually unsuccessful; when he does come, conversation is difficult and he doesn't stay long. He avoids social contact, finding it difficult to interact with his family, co-workers, or members of his church. A co-worker, Margo, is interested in him, but he avoids anything more than brief encounters.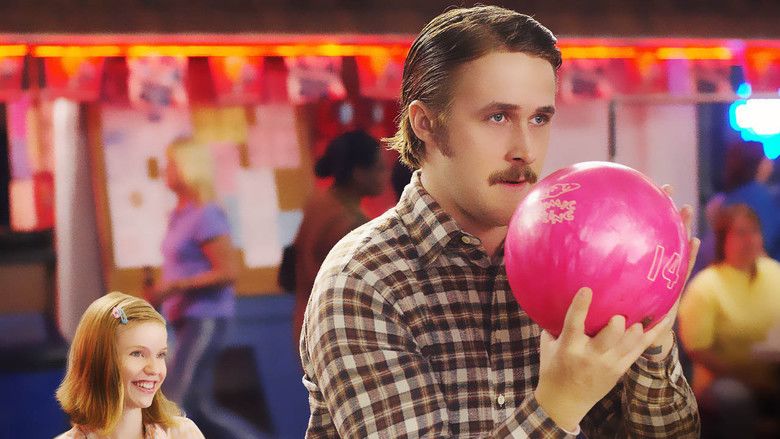 One day a large package arrives; that evening Lars tells Gus and Karin that he has a visitor whom he met via the Internet, a wheelchair-mobile missionary of Brazilian and Danish descent named Bianca. They discover that Bianca is a lifelike doll which Lars apparently ordered from an adult website. Concerned about his mental health, they convince Lars to take Bianca for a checkup to the family doctor, Dagmar, who is also a psychologist. Dagmar diagnoses Bianca with low blood pressure and advises Lars to bring her in for weekly treatments. Her aim is to have regular contact with Lars, hoping to get to the root of his behavior. She explains to Gus and Karin that his delusion is a manifestation of an underlying problem that needs to be addressed. She urges them to assist with his therapy by treating Bianca as a real person.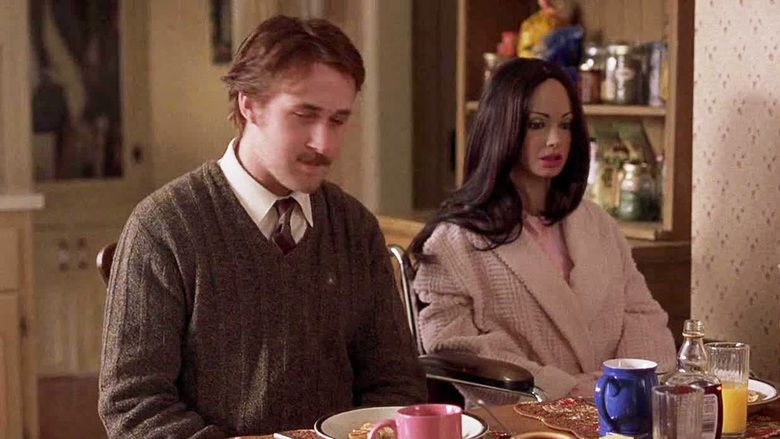 Lars begins to introduce Bianca as his girlfriend to the townspeople. Due to their concern for Lars, everyone treats Bianca as a real person. Lars soon finds himself interacting more with people. During this time, Margo has begun to date another co-worker, which silently bothers Lars.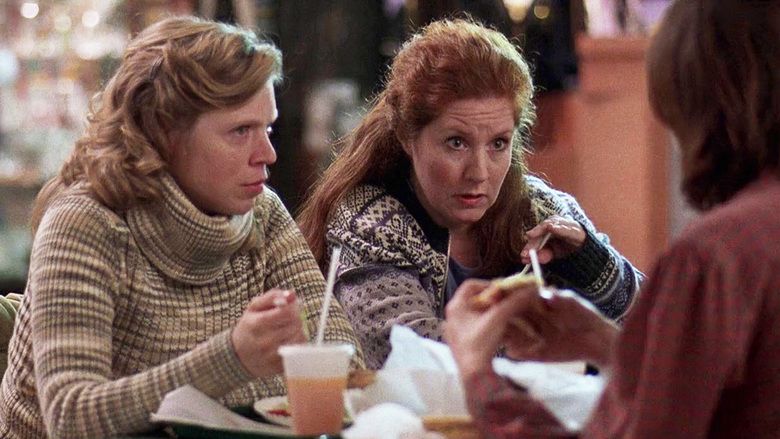 Lars asks his brother when he knew he had become a man and what being a man means. Gus says when he began doing the right things for the right reasons, even when it hurts. Gus gives several examples, including their father keeping them, and taking care of them, even though he didn't know how. Gus says that he never should have left Lars alone with their father, and he apologizes for being selfish. Their conversation seems to reach Lars and his dependence on Bianca immediately seems to shift.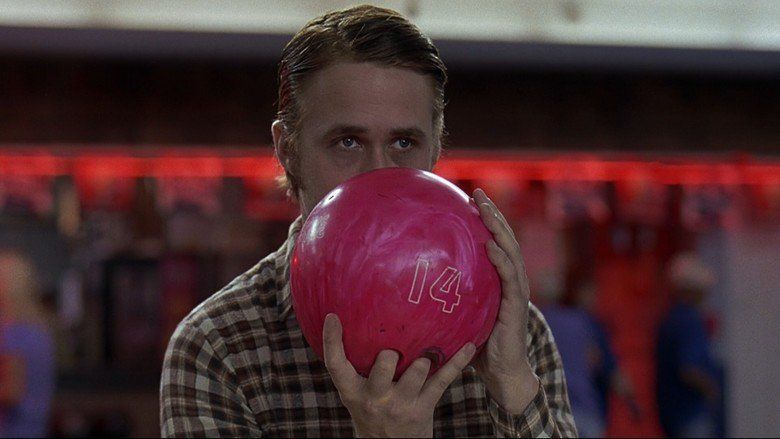 When a co-worker with whom Margo has been playing pranks goes a bit too far, Lars comforts her. During the ensuing conversation, Margo reveals she has broken up with her boyfriend. She invites Lars to go bowling, which he initially declines before reconsidering. The two spend a pleasant evening together along with some other townsfolk. Lars is quick to remind Margo he could never cheat on Bianca. Although obviously disappointed, Margo replies that the thought never crossed her mind. As they part, Lars takes his glove off to shake Margo's hand – a significant advance in his ability to interact with others; he earlier explained to the doctor that others' touch felt like "burning".
One morning soon after, Lars announces that Bianca is unresponsive, and an ambulance rushes her to the hospital. Once there, he tells his family that her prognosis is not good and that Bianca would like to be brought home. The news spreads through town, and everyone whose life has been touched by Bianca sends flowers or sits with Lars at the Lindstrom home. Gus and Karin ask Dagmar why this is happening, and she reveals that it indicates a significant shift for Lars. They suggest that Lars and Bianca join them for a visit to the lake. While the couple is hiking, Lars gives Bianca a very sad farewell kiss. As Gus and Karin make their way back from the hike, they discover despondent Lars in the lake with a 'dying' Bianca.
Bianca is given a full-fledged funeral that is well-attended by the townspeople. After Bianca is buried in the local cemetery, Lars and Margo linger at the grave site. When Margo states that she should catch up with everyone else, Lars asks her to take a walk with him instead, to which she happily agrees.
In The Real Story of Lars and the Real Girl, a special feature on the DVD release of the film, screenwriter Nancy Oliver reveals the inspiration for her script was an actual website, RealDoll.com, which is featured prominently in the film. While researching "weird websites" for an article, Oliver found RealDoll.com. She wrote the script in 2002.
The film, set in the American state of Wisconsin, was filmed with a US$12 million budget on location in Alton, Elora, King Township, Toronto, Uxbridge, and Whitevale, all located in the Canadian province of Ontario. Film credits include Rosalie MacKintosh as "Bianca wrangler" and Karly Bowen as "assistant Bianca wrangler."
The film premièred at the Toronto International Film Festival in September 2007 before going into limited release in the U.S. on October 12, 2007. It initially opened on seven screens in New York City, New York; and Los Angeles, California, and earned $90,418 on its opening weekend. It later expanded to 321 theaters and remained in release for 147 days, earning $5,972,884 domestically and $5,320,639 in foreign markets for a worldwide box-office total of $11,293,663.
The film was featured at the Austin Film Festival, the Heartland Film Festival, the Torino Film Festival, the Glasgow Film Festival, and the Las Palmas de Gran Canaria International Film Festival.
Lars and the Real Girl received overwhelming positive reviews from critics, with Gosling's performance being universally acclaimed. On the review aggregator Rotten Tomatoes, 81% of critics gave the film positive reviews, based on 134 reviews with the consensus stating "Lars and the Real Girl could've so easily been a one-joke movie. But the talented cast, a great script, and direction never condescend to its character or the audience." On Metacritic, the film has an average score of 70 out of 100, based on 32 reviews.
Roger Ebert of the Chicago Sun-Times observed, "The film wisely never goes for even one moment that could be interpreted as smutty or mocking. There are so many ways [it] could have gone wrong that one of the film's fascinations is how adroitly it sidesteps them. Its weapon is absolute sincerity. It has a kind of purity to it."
Mick LaSalle of the San Francisco Chronicle called the film "a gentle comedy, offbeat but never cute, never lewd and never going for shortcut laughs that might diminish character."
Manohla Dargis of The New York Times said, "American self-nostalgia is a dependable racket, and if the filmmakers had pushed into the realm of nervous truth, had given Lars and the town folk sustained shadows, not just cute tics and teary moments, it might have worked. Instead the film is palatable audience bait of average accomplishment that superficially recalls the plain style of Alexander Payne, but without any of the lacerating edges or moral ambiguity."
Kenneth Turan of the Los Angeles Times described it as "the sweetest, most innocent, most completely enjoyable film around," "a film whose daring and delicate blend of apparent irreconcilables will sweep you off your feet if you're not careful. The creators of this film were fiercely determined not to go so much as a millimeter over the line into sentiment, tawdriness or mockery. It's the rare film that is the best possible version of itself, but Lars fits that bill."
Lou Lumenick of the New York Post awarded the film three out of four stars, calling it "an offbeat comedy that plays as if Preston Sturges came back to life and collaborated with the Coen Brothers on an updated version of the Jimmy Stewart film Harvey (1950). He added the script "eschews cheap laughs for character-driven humanist comedy, and is sensitively directed by Craig Gillespie."
Alissa Simon of Variety stated, "Craig Gillespie's sweetly off-kilter film plays like a Coen brothers riff on Garrison Keillor's Lake Wobegon tales, defying its lurid premise with a gentle comic drama grounded in reality ... what's fresh and charming is the way the characters surrounding the protagonist also grow as they help him through his crisis."
The film has received favorable reviews from Christian faith-based media, and has been recommended as an instructional tool and a means for opening a dialogue on tolerance.