Birth Place

Purnea, Bihar, India




Name

Kirtivardhan Jha




Parents

Bhagwat Jha Azad




Batting style

Right-hand




Spouse

Poonam (m. 1986)




Role

Batsman




Bowling style

Right-arm offbreak




Children

Surya Azad








Full Name

Kirtivardhan Bhagwat Jha Azad




Born

(

1959-01-02

) 2 January 1959 (age 56)


Relations

Bhagwat Jha Azad (Father)




Education

Modern School

National team

India



Former indian cricketer kirti azad speak exclusively to newsx
Kirtivardhan Bhagwat Jha Azad pronunciation (born 2 January 1959, Purnea, Bihar) is a former Indian cricketer and politician who played in 7 Tests and 25 ODIs from 1980 to 1986.
Contents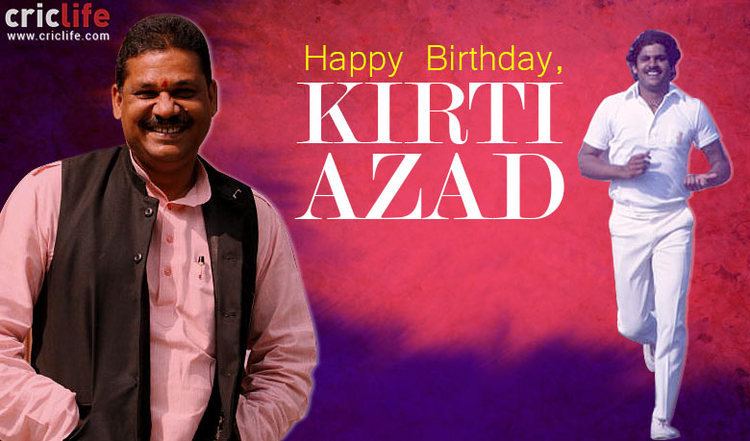 Azad is the son of former Chief Minister of Bihar Bhagwat Jha Azad. He was an aggressive right-hand batsman and a quickish offspinner. A surprise choice for the tour of Australia and New Zealand in 1980-81, he made his Test debut at Wellington. The highlight of his career was being part of the Indian team that won the 1983 Cricket World Cup.
He is currently serving his third term in the Lok Sabha. He won the 2014 Lok Sabha Elections from Darbhanga, Bihar.
Kirti Azad suspended from BJP party for targeting Arun Jaitley
Domestic career
He attended Modern School in Delhi where he was part of the school cricket team. Azad, a nonconformist in many ways, was a stalwart allrounder for Delhi for years and in 95 Ranji Trophy matches he scored 4867 runs (47.72) and took 162 wickets (28.91). His highest score was 215 against Himachal Pradesh in 1985-86.
International career
He was a surprise choice for the tour of Australia and New Zealand in 1980-81, he made his Test debut at Wellington. He then played three Tests without much success against England in 1981-82 and was then ignored till he was picked for the World Cup in 1983. Azad had his day in the sun when he played a leading part in India winning the semi-final against England, when he helped bottle up the middle order with his fastish off-breaks and earned a bonus while bowling the dangerous Ian Botham.
Azad also played a memorable innings against Pakistan in 1983 at New Delhi, in an exhibition day/night match. Pakistan batted first and made 197 runs for 3 wickets in 50 overs with Azad taking all 3 wickets. In India's reply, Kirti scored a rapid 71 not-out and steered India to a one-wicket victory. He hit seven sixes, including three consecutive sixes off Pakistani medium pacer Jalaluddin. But he met with no success in three Tests against Pakistan and West Indies and was discarded.
Politics
Later he followed his father Bhagwat Jha Azad, former Chief Minister of Bihar, into politics and was elected to Parliament on a Bharatiya Janata Party ticket from Darbhanga, Bihar. He is currently serving his third term in the Lok Sabha. He was previously an MLA from Delhi's Gole Market constituency. He won the 2014 Lok Sabha Elections from Darbhanga. On 23 December 2015 he got suspended from Bharatiya Janata Party for openly targeting Union finance minister Arun Jaitley over alleged irregularities and corruption in Delhi's cricket body Delhi and District Cricket Association.
Personal life
Azad is married to Poonam and has two sons. His elder son Suryavardhan has played for Delhi Under-17s, Under-19s and Under-22s, while his younger son Somyavardhan has played for Delhi Under-15s and Delhi Under-17s.
His wife Poonam joined AAP Party on Nov 13, 2016, which she then quit on Apr 11, 2017 to join the Indian National Congress.
World Cup winner, outspoken politician
Kirti Azad, was a part of India's first World Cup winning batch, back in 1983. An attacking batsman and a steady off-spinner, Azad was thrust into the biggest stage before he was perhaps ready for the challenge. A big name in domestic cricket, he led Delhi to two Ranji Trophy finals in the late 1980s. He later became a successful yet controversial politician.
Born January 2, 1959, Kirtivardhan Bhagwat Jha 'Kirti' Azad, was a part of India's first World Cup winning batch, back in 1983. An attacking batsman and a steady off-spinner, Azad was thrust into the biggest stage before he was perhaps ready for the challenge. A big name in domestic cricket, he led Delhi to two Ranji Trophy finals in the late 1980s. He later became a successful yet controversial politician. Abhishek Mukherjee looks back at a career of highs and lows.
Old Trafford, June 22, 1983. India had done well in the World Cup so far, defeating West Indies and Australia on their way to the semi-final. England, on the other hand, had topped Group A, and were playing at home. Graeme Fowler and Chris Tavare had got England to a slow but secure start.
The big guns — David Gower, Allan Lamb, and Mike Gatting — were to follow, but Ian Botham was probably the most destructive of them all. Kapil Dev used his slowest bowlers, Mohinder Amarnath and Kirti Azad, to strangle them. They bowled slow and straight, not trying to experiment too much, and sticking to the tasks allotted to them.
The stranglehold was claustrophobic: soon Gower edged one off Amarnath to Syed Kirmani; Lamb hung around before he tried to sweep one from Azad, and Yashpal Sharma's direct hit at the non-striker's end found him short; and Amarnath jagged one back to uproot Gatting's leg-stump.
It was all up to Botham to help take England past the 250-mark. To his credit, Kapil kept Amarnath and Azad going. Azad bowled straight, somewhat predictably, and Botham reverse-swept (not a very common shot in 1983) for two.
Azad responded by bowling straight. The ball pitched short of a length kept a tad low. The great man made room, but the ball turned, and kept following him. Cramped for space, Botham had a go, but the ball hit leg-stump, pegging it back.
160 for 6, the scoreboard read. England slumped to 213. Between them, Azad (12-1-28-1) and Amarnath (12-1-27-2) had 3 for 55 from 24 overs. The match was sealed before Kapil returned for the final overs. India won comfortably.
Azad scored a duck in the final at Lord's three days later, pulling Andy Roberts straight to Joel Garner at square-leg. He later bowled 3 overs for 7 runs as Amarnath ran through the tail; and Kirti Azad, at 24, became a part of Indian cricket history.
Azad's other spectacular performance came against Pakistan, later that year, in a contest played to raise money for the Prime Minister's Relief Fund. Pakistan scored 197 for 3 in 50 overs at Jawaharlal Nehru Stadium, Delhi, in what could have been the first ODI under lights on Indian soil. All three wickets went to Azad.
Despite the absence of Imran Khan and Abdul Qadir, the Pakistan bowlers hit back. As India were reduced to 80 for 6 and then 101 for 7, the locals started leaving. Then two local heroes — Azad and Madan Lal — decided to intervene.
Sunil Gavaskar wrote about Azad's brilliance in Runs 'n'Ruins, dedicating an entire chapter (Kirti's Bright Night) to the chase.Azad played out of his skin that day, opening his entire repertoire of strokes; Madan supported him well, and the pair added 86 before Zaheer Abbas, of all people, broke the stand.
Zaheer removed Ravi Shastri as well, but Balwinder Sandhu hung around, giving Azad the support he needed. The one-wicket win was sealed in the final over, Azad remaining unbeaten on 71 with 6 fours and 4 sixes.
Unfortunately, the match was not given ODI status in retrospect, and was registered as a 'festival tie'; the teams went by the names India XI and Pakistanis; and Azad never got his only international fifty.
In a nutshell
With his aggressive strokeplay and containing off-breaks, Azad could have dominated the shorter format of cricket, had he been born a few years after. He was probably drafted into international cricket too early. He got his starts in each of his first 6 Test innings, all at 22, only to squander it away: all these innings ranged between 14 and 24.
Azad's 7-Test career amounted to 135 runs at 11.25 and 3 wickets at 124.33. In ODIs he did slightly better, with 269 runs at 14.15 and 7 wickets at 39 from 25 matches. In domestic cricket, however, he was a stalwart for Delhi.
In a career spanning 17 seasons, Azad played 142 matches, scoring 6,634 runs at 39.48 and taking 234 wickets at 30.72. In Ranji Trophy alone his tally reads 4,869 runs at 46.81 and 162 wickets at 29.03. It was always going to be a case of what-could-have-been.
Early days
A freedom fighter, Bhagwat Jha Azad was a part of a Quit India Movement, and was shot in the leg. He was elected to six of the first eight Lok Sabhas, and became Bihar's 18th Chief Minister in 1988.He was enthusiastic about cricket as well as badminton and golf. Kirti was born to Bhagwat and Indira, in Purnea.
Kirti graduated in history from St Stephen's College. He shone as a school-cricketer, slamming a hundred in the CK Nayudu Trophy, followed by 145 against South Zone Schools in Cooch Behar Trophy semi-final 1976-77.
At a mere 17, Azad played against MCC for Indian Universities and Under-22s. It was no mean feat, for the side was led by Dilip Vengsarkar, and boasted of Roger Binny and Yograj Singh, all of whom would play alongside Azad at international level. Unfortunately he failed, scoring 4 and 3.
Trivia: The side also had Punjab leg-spinner Ashwini Minna, who later became Editor of Punjab Kesari. Like Azad, he was also elected MP for BJP in 2014. He goes by the name Ashwini Kumar Chopra.
He got selected for Delhi that season, but remained on the fringes for the next two seasons. The early days of his career coincided with the phase Mihir Bose called The Rise of North in A History of Indian Cricket. Delhi reached the Ranji final for the first time in 1976-77, Azad's debut season. Two seasons later they lifted the title, and did an encore in the following year. They were runners-up in the next edition, and won again in the one that followed.
Suddenly, there was a third force in the country to challenge Bombay and Karnataka. In 16 seasons Delhi reached the final 12 times, of which they won 6. It was all started by Bishan Bedi, who helped form the nucleus; Mohinder and Madan kept the flag going before Azad and Ajay Sharma took over.
Azad played a stellar role in 1979-80 during Delhi's second successful campaign with 497 at 49.70 and 14 wickets at 20.14. He saved his best for the final, where Delhi played Bombay at Kotla. Azad started with bludgeoning a strong attack for 102, but Delhi folded, getting bowled out for 547 after being 451 for 4.
The total may sound emphatic, but Ranji Trophy run-fests often involved massive totals where matches were decided on first-innings leads. Bombay reached 153 for 1 before Bedi, Rakesh Shukla, and Azad struck with 3 wickets apiece. Bombay collapsed to 245.
Bedi batted again, but this time Shastri restricted Delhi to 177, Azad contributing with 33. Gavaskar gave the charge, scoring 93 before he fell to — Azad. Bombay were bowled out for 239, losing by 240 runs. Azad had 3 for 55 and 3 for 64 to go with his 135 runs. He also scored 94 in Delhi's Irani Cup triumph, and was selected for the twin tours of Australia and New Zealand.
The biggest stage
Azad impressed in the tour matches in Australia (59 against South Australia, 3 for 53 and 2 for 60 against Victoria, and 103* against Victoria Country) and New Zealand (127* — nobody else went past 40 — and 3 for 70 against Central Districts, and 6 for 50 against Otago). He also got his Test cap, against New Zealand at Wellington.
India lost the Test by 62 runs. Azad did not do too poorly, holding for with a 67-ball 20 and a 43-ball 16; the numbers are not good, but India folded for 223 and 190 in the match, and Azad had to adapt to an uncharacteristic defensive role.
He also played 6 ODIs on the twin tours, doing nothing of note barring a 29-ball 29 to take India to 162 at WACA. It turned out to be a crucial innings, for Australia lost by a mere 5 runs.
India drew the series in Australia but lost both the Tests and ODIs in New Zealand. They did not reach the final of the Benson & Hedges World Series Cup final (remembered usually for Trevor Chappell's underarm ball). On their return home, the Indians played Fiji, where Azad scored another hundred.
An excellent domestic season, backed by impressive tours of Australia and New Zealand, Azad was named an Indian Cricket Cricketer of the Year.
He was selected for three Tests (Bombay, Bangalore, and Delhi) in the yawnathon of a series against England in 1980-81. Azad scored 14, 17, 24, and 16 the four times he batted. In the first Test he also had his maiden Test wicket — of Geoff Boycott, no less — before Boycott and Chris Tavare put Wankhede to sleep with their three-and-a-half-hour stand of 92.
He was not considered for India's 1982 tour, but was selected for India's World Cup squad — probably because of his stint with Lowerhouse (757 runs at 47.31, 37 wickets at 19.62).
His international career faded out thereafter. He played 3 Tests the following winter, failing miserably (though he got Gordon Greenidge at Kotla). To be fair, he got a raw deal at Motera, where India, for some bizarre reason went into the side with four specialist batsmen including a debutant. The rest consisted of all-rounders — this, on a pitch that deteriorated. India collapsed in both innings (they were 63 for 9 at one stage in the second), lost by plenty, and Azad never played another Test.
He played ODIs till the Austral-Asia Cup of 1986, the Javed-Miandad-last-ball-six match being his last. He had a good outing against New Zealand on a tricky pitch, where India, chasing 133, were reduced to 25 for 4. The onus fell on Azad and Shastri, and later, debutant Chandrakant Pandit, to pull India over the line.
Back to domestic cricket
Azad continued to play as a Lowerhouse professional till 1985. With 2,457 runs at 42.36 and 170 wickets at 17.07 across tournaments and seasons, he made it worth the investment.
Back home in 1985-86, he helped Delhi lift the Trophy again. With 834 runs (at 92.66), Azad was the proverbial mile ahead of Raman Lamba (691), the next name on the list. He also claimed 21 wickets at 21.71.
As before, he kept his best for the last. In the semi-final against Rajasthan, Azad scored 47 and 118, and took 4 for 59 and 4 for 50. In the final against Haryana he had 107 and 3 for 90. He was a mere 27, but Shastri had already clinched the all-rounder's slot. With Mohinder, Vengsarkar, and Mohammad Azharuddin occupying the middle-order and Shastri and Kapil to follow, Azad's chances seemed bleak.
He led Delhi to the final in 1986-87, where Delhi lost by virtue of a 24-run first-innings lead to Hyderabad. During this phase, even when Mohinder was away on national duty, Delhi had an outstanding middle-order in Azad, Ajay Sharma, Bhaskar Pillai (also known as KP Bhaskar), and Bantoo Singh.
Three seasons later Azad led Delhi to the final again, only to be beaten by Bengal, this time on 'quotient'. During this phase Azad scored 1,606 runs in three seasons at a phenomenal 73. His bowling was past his prime, but he still snared 39 wickets at 38. Thereafter his career faded out, and he called it quits before he turned 33 — to take strides in another field.
Family, politics, and more
Kirti and Poonam Azad have two sons, both of whom followed their father's footsteps. Suryavardhan, the elder, played for Delhi Under-17s, Under-19s, and Under-22s, while Somyavardhan played for Under-15s and Under-17s. Despite an age difference of 18 months, they never played competitive cricket together.
In 1993, even before he played his last Ranji Trophy match, Azad became an MLA. He defeated Brij Mohan Sharma, his Indian National Congress (INC) rival from Gole Market Constituency, Delhi, by 3,803 votes.
In 1998 INC replaced Sharma with Sheila Dixit, and Azad lost by 5,667 votes.His wife Poonam competed from the same constituency five years later, but things went worse: Dixit won by 12,935 votes.
In 1999 he was elected to the 13th Lok Sabha, and was re-elected to the 15th, in 2009. He became a member of the Standing Committee on Health and Family Welfare. He also made sporadic appearances on Doordarshan as commentator.
He also became a member of Delhi and District Cricket Association (DDCA), and was particularly vocal when an ODI between India and Sri Lanka, on December 27, 2009, had to be called off after 23.3 overs because the pitch had "extremely variable bounce" and was "too dangerous for further play."
Azad earned reputation for his outspokenness. When controversies regarding IPL surfaced, he went on a hunger-strike outside Kotla, demanding IPL be discontinued. This was in May 2012 (the tournament was still being played), a year before the spot-fixing scandal broke out. ALSO READ — Kirti Azad: Buying time to delay decisions is not how you run a sports body
In May 2014 he won the Lok Sabha election for BJP from Darbhanga. In December 2015, he made headlines when he accused Arun Jaitley (his own party member)of corruption (DDCA Chief for 15 years, till 2013) in a press conference despite being advised at least twice against the decision by BJP Chief Amit Shah.
Azad also referred to a video (by WikiLeaks) that showed DDCA had issued contracts to agencies with fake addresses; the bills showed DDCA hired laptops for INR 16,000 a day, printers for INR 3,000 a day, INR 5,000 for Puja kithali, and more. ALSO READ: DDCA to file defamation case against Arvind Kejriwal, Kirti Azad
Azad mentioned: "I just want to expose corruption…This is not personal or against one person." He found support on social media as well as from his former captain Bedi.Delhi Chief Minister Arvind Kejriwal also intervened, appointing a two-member investigation committee.
Meanwhile, Jaitley, who threatened to file a defamation case, found support in several former Delhi cricketers, including Virat Kohli, Virender Sehwag, Gautam Gambhir, Ishant Sharma, Shikhar Dhawan, and Mithun Manhas.
He was later suspended by BJP. As per an NDTV release, parts of the notice read: "You have breached party discipline and conducted anti-party activities. Inside and outside Parliament you conducted yourself in a manner that amounts to indiscipline and anti-party activities. You made several statements to carry out a false propaganda."
Azad later made it clear that his stance was against DDCA corruption, and not a personal assault on Jaitley. However, he demanded a CBI probe on the matter, claiming he has evidence on DDCA corruption.
Views on IPL
Following a 2012 sting operation on players of Indian Premier League (IPL), Azad came out in opposition of the tournament and demanded that it be banned. Speaking about the Indian T20 team, he reportedly alleged that the players played for self rather than the country. He further said that he felt agitated and ashamed to be associated with the BCCI in the wake of the IPL controversy.
References
Kirti Azad Wikipedia
(Text) CC BY-SA