Killeen is a city in Bell County, Texas, United States. According to the 2010 United States Census, the citys population was 127,921, making it the 21st most populous city in Texas. It is the "principal city" of the Killeen–Temple–Fort Hood Metropolitan Statistical Area.
Killeen is directly adjacent to the main cantonment of Fort Hood, and as such its economy heavily depends on the post and the soldiers (and their families) stationed there.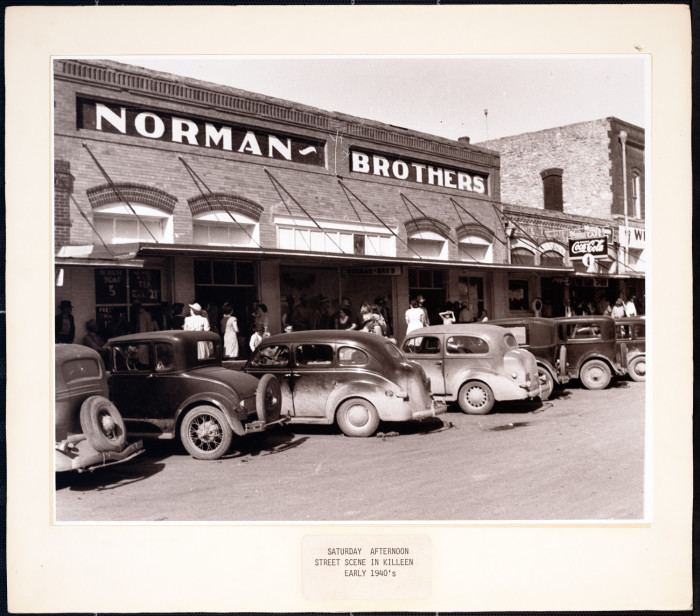 In 1881, the Gulf, Colorado and Santa Fe Railway extended its tracks through central Texas, buying 360 acres (1.5 km2) a few miles southwest of a small farming community known as Palo Alto, which had existed since about 1872. The railroad platted a 70-block town on its land and named it after Frank P. Killeen, the assistant general manager of the railroad. By the next year the town included a railroad depot, a saloon, several stores, and a school. Many of the residents of the surrounding smaller communities in the area moved to Killeen, and by 1884 the town had grown to include about 350 people, served by five general stores, two gristmills, two cotton gins, two saloons, a lumberyard, a blacksmith shop, and a hotel. Killeen expanded as it became an important shipping point for cotton, wool, and grain in western Bell and eastern Coryell counties. About 780 people lived in Killeen by 1900. Around 1905, local politicians and businessmen convinced the Texas legislature to build bridges over Cowhouse Creek and other streams, doubling Killeens trade area. A public water system began operation in 1914 and its population had increased to 1,300 residents.
Until the 1940s Killeen remained a relatively small and isolated farm trade center, but this changed drastically after 1942, when Camp Hood (re-commissioned as Fort Hood in 1950) was created as a military training post to meet the demands of the Second World War. Laborers, construction workers, contractors, soldiers, and their families moved into the area by the thousands, and Killeen became a military boomtown. The opening of Camp Hood also radically altered the nature of the local economy, since the sprawling new military post covered almost half of Killeens farming trade area. The loss of more than 300 farms and ranches led to the demise of Killeens cotton gins and other farm-related businesses. New businesses were started to provide services for the military camp. Killeen suffered a recession when Camp Hood was all but abandoned after the end of the Second World War, but when Fort Hood was established as a permanent army post in 1950, the city boomed again. Its population increased from about 1,300 in 1949 to 7,045 in 1950, and between 1950 and 1951 about 100 new commercial buildings were constructed in Killeen.
By 1955, Killeen had an estimated 21,076 residents and 224 businesses. Troop cutbacks and transfers in the mid-1950s led to another recession in Killeen which lasted until 1959, when various divisions were returned to Fort Hood. (Elvis Presley lived in Killeen for a time during his stint in the army.) The town continued to grow through the 1960s, especially after the Vietnam War led to increased activity at Fort Hood. By 1970 Killeen had developed into a city of 35,507 inhabitants and had added a municipal airport, a new municipal library, and a junior college (Central Texas College). By 1980, when the census counted 49,307 people in Killeen, it was the largest city in Bell County. By 1990 its population had increased to 63,535, and 265,301 people lived in the Killeen/Temple metropolitan area. In addition to shaping local economic development after 1950, the military presence at Fort Hood also changed the citys racial, religious, and ethnic composition. No blacks lived in the city in 1950, for example, but by the early 1950s the town had added Marlboro Heights, an all-black subdivision, and in 1956 the city school board voted to integrate the local high school. The citys first resident Catholic priest was assigned to the St. Josephs parish in 1954, and around the same time, new Presbyterian and Episcopal churches were built. By the 1980s the city had a heterogeneous population including whites, blacks, Mexican Americans, Koreans, and a number of other foreign nationals.
The year 1991 was a roller coaster year for Killeen. After the Iraqi invasion of Kuwait in the late summer of 1990, the city prepared for war, sending thousands of troops from the Second Armored Division and the First Cavalry Division to the Middle East. On October 16, 1991, George Hennard murdered 23 people and then committed suicide in the Lubys in Killeen (see Lubys shooting). In December 1991, one of Killeens high school football teams, the Killeen Kangaroos, won the 5-A Division I state football championship by defeating Sugar Land Dulles 14–10 in the Astrodome.
By 2000, the census listed Killeens population as 86,911, and by 2010 it was over 127,000, making it one of the fastest-growing areas in the nation. A large number of military personnel from Killeen have served in the wars in Iraq and Afghanistan. As of April 2008, over 400 of its soldiers had died in the two wars.
On November 5, 2009, only a few miles from the site of the Lubys tragedy, a gunman opened fire on people at the Fort Hood military base with a handgun, killing 13 and wounding 32. The gunman, Nidal Malik Hasan, sustained four gunshot wounds after a brief shootout with a civilian police officer, causing paralysis from the waist down, before he was arrested and sentenced to death (see 2009 Fort Hood shooting). In 2011, Killeen got media attention from a new television series called Surprise Homecoming, hosted by Billy Ray Cyrus, about military families that have loved ones returning home from overseas. On April 2, 2014, a second shooting spree occurred at several locations at Fort Hood. Four people were killed, including the gunman, Ivan Lopez, who committed suicide, while sixteen additional people were injured (see 2014 Fort Hood shooting).
According to the citys 2008 Comprehensive Annual Financial Report, the top employers in the city are:
(,)http://texashistory.unt.edu/ark:/67531/metapth12937/m1/1/med_res/(,)http://www.rootsweb.ancestry.com/~txfalls/pic/picChilton_early1900s_EdNunnDrugStore_12302005.jpg(,)http://www3.historictexas.net/sites/default/files/images/2014/010614/TXtemple-trollyestreet-w.preview.jpg(,)http://www3.historictexas.net/sites/default/files/images/2014/010614/TXtemple-square-w.preview.jpg(,)http://assets.blog.hemmings.com/wp-content/uploads//2013/08/killeenTX1960s_1000.jpg(,)http://texasbrazostrail.com/public/upload/images/cities/bra-city-belton-historic.JPG(,)http://www3.historictexas.net/sites/default/files/images/2014/010614/TXtemple-hs3w.preview.jpg(,)http://www3.historictexas.net/sites/default/files/images/2014/010614/TXbelton-hs1908-5-800.preview.jpg
(,)http://image.slidesharecdn.com/lawncarekilleentx-sprinklermancovelandscape-130621031136-phpapp02/95/lawn-care-killeen-tx-sprinklerman-cove-landscape-1-638.jpg%3Fcb%3D1371802364(,)http://www.globalsynturf.com/images/art/560_1192_Killeen%2520TX-1.jpg(,)https://fbcdn-sphotos-b-a.akamaihd.net/hphotos-ak-frc3/t31.0-8/c0.410.851.315/p851x315/882642_769454489736867_1276433552_o.jpg(,)http://image.slidesharecdn.com/lawncarekilleentx-sprinklermancovelandscape-130621031136-phpapp02/95/lawn-care-killeen-tx-sprinklerman-cove-landscape-7-638.jpg%3Fcb%3D1371802364(,)http://www.killeenlandscapecompany.com/images/11343_16.jpg(,)http://www.killeenlandscapecompany.com/images/11344_16.jpg(,)http://www.killeenlandscapecompany.com/images/11346_16.jpg(,)http://qtiny.com/wp-content/uploads/2013/11/must-see-beautiful-garden-landscaping-ideas.jpg(,)http://www.lawncarekilleentx.com/wp-content/uploads/service3.png(,)http://www.killeenlandscapecompany.com/images/11345_16.jpg
(,)http://www.thai-thai-restaurant.com/images/common/banner.jpg(,)http://www.cuisineofphilippines.com/cs/Satellite%3Fblobcol%3Durlheaderimage%26blobheader%3Dimage%252Fjpeg%26blobheadername1%3DContent-Disposition%26blobheadervalue1%3Dinline%253B%2Bfilename%253Dcuisineofphilippines_siteheader.jpg%26blobkey%3Did%26blobtable%3DFoundationSite%26blobwhere%3D1309866020095%26ssbinary%3Dtrue%26moddate%3D2011-10-19%252007:59:32(,)http://www.killeen.com/wp-content/uploads/2013/07/5648546622_55b7707afe_z.jpg(,)http://www.bambuasiancuisine.com/images/salad2.jpg(,)http://foodwallpaper.info/wp-content/uploads/2014/08/traditional-thai-food.jpg(,)http://media-cdn.tripadvisor.com/media/photo-s/04/be/d7/3c/asian-buffet-killeen.jpg(,)http://media-cdn.tripadvisor.com/media/photo-s/02/74/95/3b/filename-216489-20839415585491.jpg
(,)http://usarmy.vo.llnwd.net/e2/c/images/2015/02/26/383207/size0.jpg(,)https://s-media-cache-ak0.pinimg.com/736x/ce/19/55/ce1955e6b99cce99cfc866d4105f02e2.jpg(,)http://www.visitkilleen.com/wp-content/uploads/2012/08/killeen_bbq.jpg(,)http://api.ning.com/files/sNnLmLOXYI3hMrK9EwtgfYZoKOy5bz68E-piUAaS9ZqL661fTVHIOSqEypLxcduwj6WyHwzeJ4PT3zrcDJUvfR7WtgGKWA0Q/DSC03801.JPG%3Fwidth%3D737%26height%3D552(,)http://www.prfdance.org/pics/Octavitas2012_IMG_8741.JPG(,)http://thedaytripper.com/wp-content/uploads/2012/09/killeen1.jpg(,)http://brownstempapts.com/wp-content/uploads/2012/10/family_mealtime.jpg(,)http://i.ytimg.com/vi/hhJl8Ya0gbw/maxresdefault.jpg(,)https://fbexternal-a.akamaihd.net/safe_image.php%3Fd%3DAQDyazzh-aSe-2u9%26w%3D470%26h%3D246%26url%3Dhttp%253A%252F%252Fmediad.publicbroadcasting.net%252Fp%252Fkstx%252Ffiles%252Fstyles%252Fmedium%252Fpublic%252F201501%252F_DSC0122.JPG%26cfs%3D1%26upscale%3D1%26sx%3D0%26sy%3D0%26sw%3D800%26sh%3D419(,)http://www.theragblog.com/wp-content/uploads/blogger/_HyyDHyAwI6k/Sa8NWwwIrpI/AAAAAAAAEzc/0MR8zc_vL-E/s1600/und%252Bthe%252Bhood%252Bopen%252B2%252Bcarlos.jpg