Years active

1990–present




Website

kidrock.com




Genres

Rockcountryhip hop




Role

Singer · kidrock.com




Children

1




Origin

Detroit, Michigan


Name

Kid Rock




Full name

Robert James Ritchie






Full Name

Robert James Ritchie




Born

January 17, 1971 (age 44) (

1971-01-17

) Romeo, Michigan, U.S.


Occupation(s)

Singersongwriterrappermulti-instrumentalistactor




Spouse

Pamela Anderson (m. 2006–2007)


Albums

Devil Without a Cause, Rock n Roll Jesus, Cocky, Live Trucker, The History of Rock



Similar

Tommy Lee, Pamela Anderson, Sheryl Crow




Profiles




Twitter

YouTube

Facebook

Myspace
Kid rock picture ft sheryl crow official video
Robert James Ritchie (born January 17, 1971), known by his stage name Kid Rock, is an American singer, rapper, songwriter, multi-instrumentalist, producer, and actor. His 1998 studio album Devil Without a Cause sold 13 million copies worldwide. He is a five-time Grammy Award nominee and has sold 25 million albums in the U.S. according to Nielsen SoundScan. The RIAA certified him selling 23.5 million albums. He was Soundscan's number one selling male solo musician of the 2000s, selling 17.6 million albums; he was 17th overall for the decade.
Contents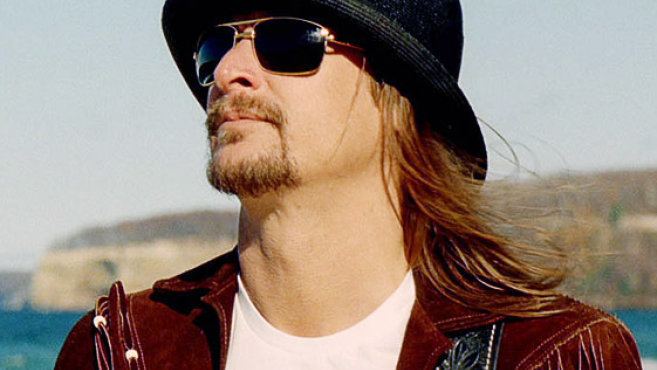 Rock performed rap and hip hop with five releases between 1990 and 1997, including a reissue and an EP. After signing a recording contract with Atlantic Records in 1998, he gained commercial success in the rap rock genre behind the singles "Bawitdaba", "Cowboy" and "Only God Knows Why" (the latter foreshadowing his move into country rock). After the success of Devil Without a Cause in 2000, he released The History of Rock, a compilation of remixed and remastered versions of songs from previous albums as well as the hit rock single, "American Bad Ass".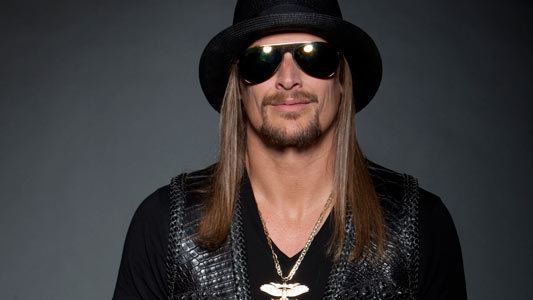 Rock's follow-up records became more rock-, country-, and blues-oriented, starting with 2001's Cocky. His collaboration with Sheryl Crow on the song "Picture" was his first country hit and biggest pop hit in the US to date charting at No. 4 on the Hot 100. After 2003's Kid Rock and 2006's Live Trucker sales declined from the previous releases, he then released Rock n Roll Jesus in 2007. The album featured the song "All Summer Long", which charted at No. 1 in eight countries across Europe and Australia. In 2010, he released Born Free, which featured an eponymous song that became the political campaign theme of Mitt Romney, the Republican nominee for President of the United States in the 2012 election.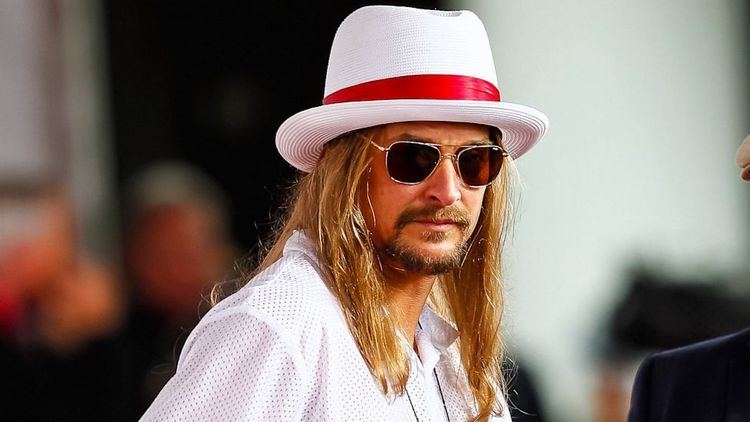 Rock released Rebel Soul on November 19, 2012 behind the rock hit "Let's Ride". The album was certified gold in April 2013. Kid Rock released "First Kiss" on February 24, 2015 behind the hit title track.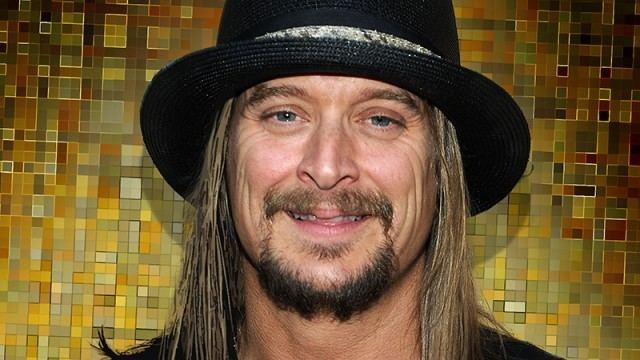 Kid rock american bad ass official video
Early life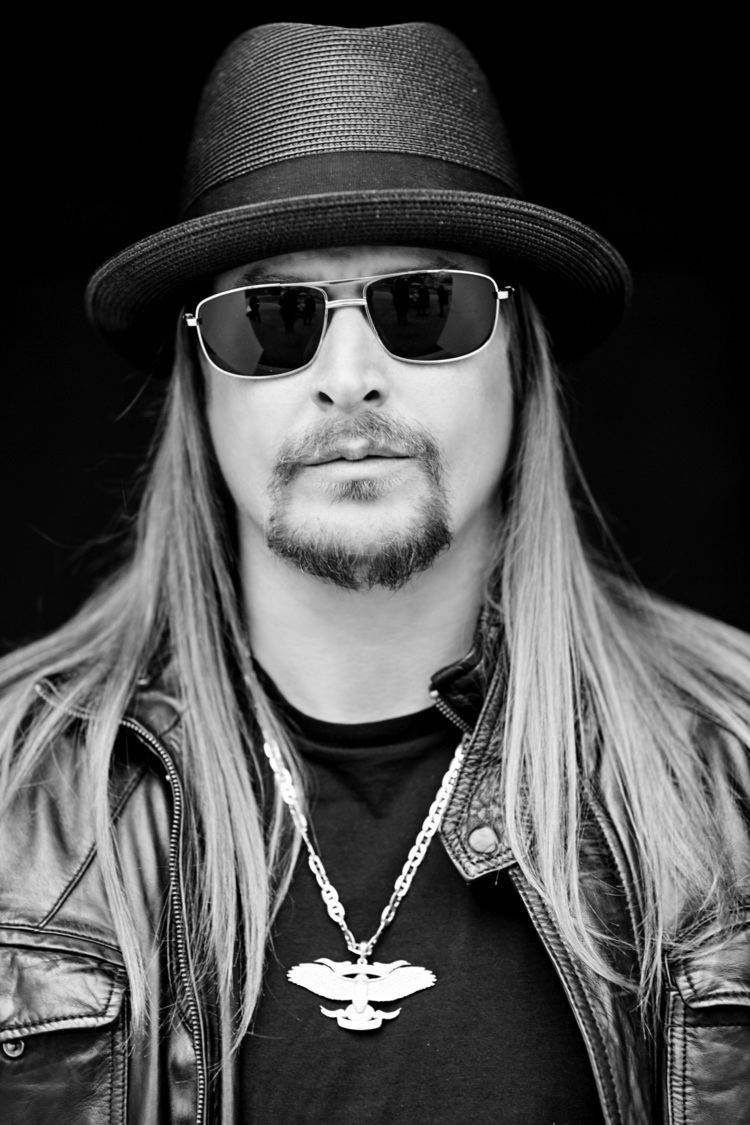 Robert James "Bob" Ritchie was born on January 17, 1971 in Romeo, Michigan to William "Bill" Ritchie, a car dealer who owned several local dealerships, and Susan Ritchie. He attended Romeo High School. His family also owned a six-acre orchard and Robert regularly helped pick apples and cared for the family's horses. He has three siblings: the two elder are brother William "Billy" Ritchie and sister Carol Ritchie; his younger sister, Jill Ritchie, is an actress. Ritchie found small-town life dull and became interested in rap music, learning how to breakdance and participating in talent shows in the Detroit area. At age eleven, he joined a breakdance crew called the Furious Funkers and taught himself to work a cheap belt-driven turntable. In high school, Ritchie djayed at parties for beer. He eventually joined Bo Wisdom of Groove Time Productions in Mt. Clemens, Michigan to perform basement parties for $30 a night. He chose his stage name while performing at these venues; club goers dubbed him "Kid Rock" after they had enjoyed watching "that white kid rock."
Ritchie eventually ran away to Mt. Clemens at 15 and stayed with his friend Chris Pouncy. He was forced by a local drug gang known as the "Best Friends" to sell drugs out of a car wash at which he worked. In an attempt to keep the kids out of trouble, a man in the neighborhood organized a rap group, composed of its founder The Blackman, Champtown, KDC, Chris "Doc Roun-Cee" Pouncy, and Bob. They were known as "The Beast Crew". While performing, Rock befriended producer D-Nice of the legendary hip-hop group Boogie Down Productions. When Rock opened for BDP one night, D-Nice invited an A&R representative from Jive Records to see him perform. This meeting led to a demo deal that developed into a full record contract.
Against his parents' wishes, Rock signed the deal at age 17. Despite his record deal, he had a falling out with The Beast Crew when he signed over fellow member Champtown, though the two have since renewed their friendship. His vocals were left on the tracks of their debut underground album Chapter 1: He Don't Want Us No More, against Rock's wishes. He later became part of the Straight From The Underground Tour alongside several major rap artists, including Ice Cube, Too Short, D-Nice, Mac Dre, and Yo-Yo.
1990–1997: The hip-hop era
On December 30, 1990, Kid Rock released his debut album Grits Sandwiches for Breakfast. As noted by Insane Clown Posse member Violent J, this album made Kid Rock one of the two biggest rap stars in Detroit in 1990, along with local independent rapper Esham. Though Jive Records did not push the album, it gained infamy when radio station WSUC-FM (90.5) of Cortland, New York was fined $23,700 by the FCC – then the largest fine against a radio station – for playing the song "Yo Da-Lin In the Valley". The album sold an estimated 100,000 copies. Kid Rock's career had begun to decline towards the end of 1990 and Jive Records released Kid Rock from his contract in 1991. Once back in Detroit, he became friends with Uncle Kracker after battling his brother in a freestyle rapping competition. Afterward, Uncle Kracker became Kid Rock's DJ. At the time Uncle Kracker had no clue how to work the turntables.
In late 1991, Kid Rock was picked up by an independent record label called Continuum Records, which held Pink Floyd at one time. Though Insane Clown Posse's Violent J disliked Kid Rock's rapping style, he paid Kid Rock to appear on Insane Clown Posse's first album, Carnival of Carnage in 1992, in an attempt to get the album noticed. Kid Rock showed up to record the song "Is That You?" intoxicated, but re-recorded his vocals and record scratching the following day. In March 1993, Continuum released his second album The Polyfuze Method. Kid Rock had taught himself how to play several instruments including guitar, drums, keyboards, and organ. As a result, the album, which sold approximately 15,000 copies, featured a more rap rock-oriented sound. The album heavily sampled psychedelic blues from Led Zeppelin (Prodigal Son, My Oedipus Complex), Pink Floyd (The Cramper) and The Doors (U Don't Know Me), Black Sabbath (Pancake Breakfast ) and The Smiths (Back From The Dead) amongst others.The album saw some local college radio success at Central Michigan University with the tracks "Back From The Dead" and "Balls In Your Mouth". He wanted "Prodigal Son" as the lead single, but Continuum refused and released "U Don't Know Me" as the first single. It failed to chart, and the music video received little airplay on major music video channels. Kid Rock re-released "Back From The Dead" as a single to mainstream radio and produced the music video himself, but it also failed as a single.
He released an EP called Fire It Up in December 1993 that featured the song "I Am the Bullgod", which would not be a hit until six years later. The vocals on this version were more raw. The singles "Prodigal Son" and "My Oedipus Complex" were released, but failed to find a niche. Continuum did not see a future with Kid Rock after this, and released him from his contract in 1994. He began side work with a local Detroit rap metal group Harm's Way in 1994 producing, scratching and playing drums on two of their independent releases. He also produced Thornetta Davis's gospel album Sunday Morning Coming Down at the same time.
His on-again-off-again relationship with Kelly South resulted in a son, Robert James Ritchie Jr. Hard-pressed for cash and with a kid on the way, Kid Rock released monthly demo tapes dubbed "The Bootleg Series" which featured demos of him and other up-and-coming rappers and garage rock bands in the Detroit area. He discovered the rap-blues-funk hybrid band Howling Diablos at a club called Alvin's in Detroit one night and became heavily influenced by the lead singer Martin "Tino'Gross. He began attending there concerts every weekend. He liked the aspect of a live band and a rapper. Kid Rock eventually befriended the band and would jam with them. Club owners didn't like him however with his long dreaded hair,foul raps and turntables. Kid Rock decided to form a back up band, Twisted Brown Trucker. There were several members that were in and out because the gigs weren't pulling in money.He later recruited Joseph "Joe C." Calleja, whom he met at a 1994 concert in Roseville, Michigan, as part of the group. In 1995, Rock took a job as a janitor at Whiterooms Studios to pay studio fees in the secondary room called the B Room. It was a grunge,hard rock studio.But producer Andrew Nerha eventually asked for his assistance with loops and programming while working on Robert Bradley's Blackwater Suprise album because of Bob's knowledge of hip hop. In return Kid Rock asked for live guitars and drums on his album he was working on Early Mornin' Stoned Pimp, which he released on his own label, Top Dog Records. He would ask Robert Bradley's piano player to drop in to record some piano parts, it ended up being Jimmie Bones who eventually joined his live band.The album was released on February 12, 1996.A loan from his father aided the release. The album was heavily influenced by the Howling Diablos and they were featured on the title track and "Detroit Thang". The album was a local success and sold 6,000 copies out of the trunk of Kid Rock's car after monthly concerts that he built up with a larger street team working for him.This led to him re-releasing The Polyfuze Method as the Polyfuze Method Revisted in 1997, adding "I Am The Bullgod" and "Rollin On The Island" from Fire It Up and a demo called "Rain Check". He also released a home video with various live performances called Unsung And Underrated in 1997,only 250 copies were distributed.
Lava/Atlantic Records A&R man Andy Karp starting following Kid Rock's career after seeing him in Cleveland in December 1996 and again in Detroit on March 1997. They were the only label to show up at his showcase show at the State Theatre in Detroit. Hours prior Jason Krause had just joined the band but the show went without a clitch. They meet at a club after the concert at 2 am to talk about a deal. Following a two song demo tape containing "Somebody's Gotta Feel This" and "I Got One For Ya" that featured Robert Bradley and Jimmie Bones, Jason Flom supported Karp in signing Kid Rock for $100,000. After being signed, Kid Rock would be arrested in a bar fight celebrating his signing. It was there he wrote "Only God Knows Why". When recording sessions began, Atlantic wanted more of a rock sound and did not initially like "Cowboy", "Devil Without A Cause" and "Only God Knows Why." They asked Rock to take out the "I'm going platinum" line on the title track's chorus, but he refused. With "Only God Knows Why" they didn't want a slow ballad at all, Kid Rock fought to have the song on the album. While the conflict slowed down production, Devil Without a Cause was completed on schedule with Rock mostly playing all the instruments himself. He was mainly aided by local musicians Kenny Tudrick and Bobby East.
1997–2002: The rap/rock era
In 1997, Kid Rock added drummer/vocalist Stefanie Eulinberg to his band, which consisted of Kenny Olson, Jason Krause, Jimmie Bones, Uncle Kracker, Misty Love, Shirley Hayden, and Joe C. In early 1998, Kid Rock was featured on The Tonight Show With Jay Leno's segment "Jay Walking". He said he was an up-and-coming artist and was gonna be a big star. On August 18, 1998, Atlantic released Devil Without a Cause behind the single "Welcome 2 The Party" and Kid Rock went on the Vans Warped Tour to support the album. Kid Rock released a low budget music video of the song.Sales of "Welcome 2 The Party" and Devil were slow, though the 1998 Warped Tour in Northampton, Massachusetts stimulated regional interest in Massachusetts and New England. This led to substantial airplay of the single "I Am The Bullgod" during the summer and fall of 1998 on Massachusetts rock staples WZLX and WAAF. In the summer of 1998, while DJing at a club, he met and became friends with MTV host Carson Daly. Daly made him his DJ on the MTV Beachouse and the Kid Rock was a judge on Say What Karoke and commentator for a WCW event on MTV. Then he talked Daly into getting him a performance on MTV and on December 28, 1998, he performed on MTV Fashionably Loud in Miami, Florida, creating a buzz from his performance, even upstaging Jay-Z. In May, his sales began taking off with the third single "Bawitdaba" and by April 1999, Devil Without a Cause had achieved a gold disc. The following month, Devil, as he predicted, went platinum. The song was pushed into mainstream pop culture has it was used for the trailer for the movie the Gladiator starring Russell Crowe. It was also heard in the movies " Any Given Sunday" and "Ready To Rumble" as well has the TV shows "Nash Bridges" and "The Simpson's".Even Bette Midler did a show tunes version on her short lived TV comedy show "Bette" in 1999. ECW wrestler Kid Kash used the song has his entrance song and because of his resemblance to Kid Rock he dressed like him.
In June 1999 Kid Rock's first major tour was Limptropolis, where he opened for Limp Bizkit with Staind. He solidified his fame with a Woodstock 1999 performance and on July 24 of that year, he was double platinum. The following month he released the single "Cowboy", a mix of southern rock, country, and rap, was an even bigger hit, making the Top 40 and number 34 and Hot 100 an number 82. It became the theme song of WCW's Jeff Jarrett remixed has "The Chosen One". He performed the song on The Tonight Show With Jay Leno. The song was also featured in the movies "Shangai Noon","Coyote Ugly","Ready To Rumble","Matchstick Man" and "Serving Sara". Kid Rock in September 1999 at the MTV Video Music Award's reunited Run DMC and Aerosmith doing a medley of "King Of Rock", "Rock Box","Bawitdaba" and "Walk This Way".It remains the highest rated segment in MTV History. Rock's next single, the slow back porch blues ballad "Only God Knows Why", was the biggest hit off the album, charting at No. 19 on the Billboard Hot 100. It was the first song to use Auto-Tune. The album was released two months before Cher's autotuned song "Believe" came out. "Cowboy" technically used autotune on its robotic intro.By the time the final single, "Wasting Time", was released, the album had sold 7 million copies. Devil Without A Cause was certified 11 times platinum by the RIAA on April 17, 2003. According to soundscan actual sales are 9.51 million as of 2015.
Rock was nominated as Best New Artist at the 2000 Grammy Awards, but lost to Christina Aguilera. He was nominated for "Bawitdaba" for Best Hard Rock Performance, but lost to Metallica's "Whiskey in the Jar".
After reacquiring the rights to his early material in 2000, Rock released The History of Rock, a collection of remixed and re-recorded songs from The Polyfuze Method and Early Mornin Stoned Pimp. "American Bad Ass", one of two new tracks, was released as a single, which sampled the Metallica track "Sad But True". It was used in the WWF (now WWE) as the Undertaker's theme song for his new "biker from hell" gimmick. The second new song "Fuck That" was released on the Any Given Sunday movie soundtrack. The song replaced "Bawitdaba" and became Kid Kash's theme song in 2000. His unreleased 1994 song "Abortion" off the album received high praise by the anti-abortion group Rock For Life (a division of the American Life League).
On May 27, Kid Rock appeared on Saturday Night Live, performing "American Bad Ass" and an acoustic version of "Only God Knows Why", arranged by country singer David Allan Coe, that featured Phish's Trey Anastasio. Kid Rock joined Phish later in the year in Las Vegas, Nevada, for a set of cover songs. He also performed "American Bad Ass" on the Tonight Show with Jay Leno with Metallica members Kirk Hamet and Lars Ulrich. Kid Rock also helped Uncle Kracker promote his single "Yeah Yeah Yeah" on MTV Rock N Roll Bowl and the Billboard Awards. In June he performed on USA Farmclub the set included "Yeah Yeah Yeah" along with "American Bad Ass" and "3 Sheets To The Wind." Canadian music show Much Music aired a full length concert on June 20, 2000.
From June 30 to August 22, 2000, Kid Rock joined the Summer Sanitarium Tour with Metallica, Korn, Powerman 5000, and System of a Down. Kid Rock filled in for James Hetfield of Metallica, singing vocals on the songs "Enter Sandman", "Sad But True", and "Nothing Else Matters". He also ran the turntables for "Fuel" for three shows after Hetfield injured his spine riding a jet ski on Lake Lanier the day before the July 7 Atlanta concert. MTV would air MTV All Access Summer Saniturm Tour: Baltimore in July and Kid Rock would go on "The History Of Rock Tour" from August to September of that year.
On November 16, 2000, Joseph "Joe C" Calleja died in his sleep from Coeliac disease complications in Taylor, Michigan. Joe C's final song was "Cool Daddy Cool" for the Osmosis Jones soundtrack. The band made a cameo in the movie as the band playing in the club scene. Kid Rock was referred to as "Kidney Rock" to go along with the cartoon aspect of being a cell in the body of the main character, Frank, played by Bill Murray.
The 2001 American Bad Ass Tour, in which David Allan Coe performed as an opening act for Kid Rock, was the subject of criticism from journalist Neil Strauss, who alleged that Coe's songs were racist. In early 2001, Rock inducted Aerosmith into the Rock and Roll Hall of Fame and performed "Sweet Emotion" at the induction ceremony. The same year, Rock landed his first acting role in the David Spade comedy Joe Dirt."American Bad Ass" was nominated for Best Hard Rock Performance at the 2001 Grammy Awards, losing out to Rage Against The Machine's "Guerrilla Radio". The History of Rock would go on to be certified double platinum and has sold over 4 million worldwide.
In November, Kid Rock released Cocky, which was marketed as the official follow-up to Devil Without a Cause. With the era of rap metal at its last years of popularity, Kid Rock included several southern rock and country ballads on the album. The first single, "Forever" was his standard brash rap rock sound.He promoted the song on TRL and The Late Show With David Letterman. Leading the album to debut at No 7 with 222,000 albums sold. The song reached number 18 on mainstream rock and number 21 on modern rock The song "Lonely Road of Faith" was the album's second single.The song gave way to two TV special's " CMT Crossroads with a Hank Williams Jr.and MTV's For The Troops Special.The episode for Crossroads drew a record 2.1 million viewers to CMT. The song was also used in a video package by the then WWF and used on the shows MTV Real World and WB's Smallville. The song peaked at number 15 on the mainstream rock tracks. The album's third single You Never Met a Motherfucker Quite Like Me wasn't promoted and only charted at number 32 on the rock charts. The album at this point had sold just under 2 million copies.
Then Kid Rock decided to release "Picture". He debuted the song live on Farm Aid 15 with Allison Moorer. However, Rock then had problems with the release of "Picture", a country-influenced duet with Sheryl Crow because his label felt it was wrong for his image and they were not keen to spend more money promoting a flagging album. When his label finally agreed to release it, Sheryl Crow's label refused to give permission. Rock, meanwhile, made a radio version with Allison Moorer, which was gaining airplay. Crow's label eventually caved and their version was finally released. When "Picture" was released, it introduced Kid Rock to a wider audience and was ultimately the most successful single on the album. The song would chart at number 4 on the Billboard Hot 100 and number 17 on country radio. The song remains his most successful pop song in the U.S. to date. The album went on to be certified 5x platinum by the RIAA. According to soundscan as of 2015 say it as sold 5.47 million albums.
Kid Rock covered ZZ Top's "Legs" for WWE Diva Stacy Keibler's theme song on the 2002 album WWF Forceable Entry. He also helped Nickleback cover Elton John's Saturday Nights Alright For Fighting which also featured Pantera's Dimebag Darrell. It was his last guitar solo recording before being gunned down at a night club by an over obsessed fan.
At the end of 2002, Uncle Kracker left the band to pursue a solo career, and Detroit underground rapper Paradime replaced him. Kid Rock made his second movie, Biker Boyz, with Laurence Fishburne. He performed a tribute medley with Chuck D and Grandmaster Flash after Run DMC member Jam Master Jay was shot to death on VH-1 Big in 02. "Bawitdaba" was featured in the pilot episode of "The Shield"in 2002.
2003–2009: Southern rock revivalist era
In 2003, Kid Rock returned with an eponymous album, almost stripping away the accustomed rap metal sound he had created, opting for Southern rock and several country ballads in the wake of the success of "Picture". The album's lead single was a cover of Bad Company's "Feel Like Makin' Love". A media blitz accompanied the single with live performances at the American Music Awards,Tonight Show and Big In 03 Awards. The album promotion week was capped off by the VH-1 special called A Kid Rock Christmas, which aired on December 14, 2003. This led to a number 8 chart debut The following single was "Cold And Empty", it was used in a 2004 episode of the WB's Smallville and peaked at number 20 on the hot ac charts. Jackson, Mississippi was the album's next single peaking at number 14 on the mainstream rock charts. Next up,"I Am" would chart at number 28 on the mainstream rock charts. The album's final single "Single Father" penned by David Allan Coe became his second country hit peaking at number 50 on the hot country tracks. The album only went platinum.
Kid Rock was involved in the halftime show controversy at Super Bowl XXXVIII in Houston, Texas on February 1, 2004. He was criticized by the Veterans of Foreign Wars for desecrating the American flag, by wearing one slit in the middle as a poncho.
The following month, Kid inducted Bob Seger into the Rock and Roll Hall of Fame. In September 2005, Kid Rock filled in for Johnny Van Zant, the lead singer of Lynyrd Skynyrd, on the band's hit "Sweet Home Alabama" at the Hurricane Katrina benefit concert.
He performed "Erotica", the theme song for Spike TV's Stripperella, as well as lending his voice to a few episodes. "Forever" was used in the 2004 movie "Torque".
On February 28, 2006, Kid Rock released his first live album, Live Trucker, comprising songs from his homestead performances in Clarkston in 2000 and 2004 as well as Detroit's Cobo Hall on March 26, 2004. The album contained the last two performances of Joe C. on "Devil Without a Cause" and "Early Mornin' Stoned Pimp" in addition to Rock performing a duet with country star Sheryl Crow on "Picture".
He brought Bob Seger back from semi-retirement during his pre-Super Bowl concerts on February 2 and 3, 2006 in Detroit. The two performed a version of Seger's "Rock 'n' Roll Never Forgets" on both nights. Kid Rock would appear on Bob Seger's album Face the Promise and on a Vince Gill cover of "Real Mean Bottle", a tribute to country legend Merle Haggard. He would make a cameo in the movie Larry the Cable Guy: Health Inspector and appeared in an episode of CSI: New York in 2006. He inducted Lynyrd Skynyrd into the 2006 Rock 'n' Roll Hall of Fame and performed "Sweet Home Alabama" with them.
Rock n Roll Jesus was released on October 9, 2007, becoming Kid Rock's first album to go number 1, selling 172,000 copies in its first week. He made the cover of Rolling Stone magazine for the second time, and appeared for the first time on Larry King Live to discuss the new album.
The album's lead single "So Hott" became his best charting rock song of his career,peaking at number 2 on the mainstream rock charts and number 13 on the modern rock charts. The song was used by ESPN and CBS for college football and basketball. The song also appeared on the show "Californication" and was performed on the 1st annual Spike TV Video Game Awards. The second single "Amen", was also successful peaking at number 11 on maistream rock andno 27 on modern rock.The song showed a more serious side to Kid Rock. However it was the album's third single, "All Summer Long",that took off and became a global hit. It utilized a mash up of Lynyrd Skynyrd's "Sweet Home Alabama" and Warren Zevon's "Werewolves of London". "All Summer Long" would chart at No. 23 on the Billboard Hot 100 because it wasn't aided by iTunes downloads. Kid Rock and Lynyrd Skynyrd would make joint live performances of "All Summer Long" and "Sweet Home Alabama" on both CBS Fashion Rocks and Good Morning America. They would then go on two summer tours together: "Rock N Rebel's I" and "Rock N Rebel's II". Lil Wayne became the first hip hop act ever to perform at the CMA Awards when he played guitar on "All Summer Long". The week before, the two performed together on the same song with Lil Wayne doing a freestyle mid song and the 2009 VMA's. "Rock n Roll Jesus" returned to the Top 10 for 17 straight weeks. "Roll On", "Rock N Roll Jesus", and "Blue Jeans And A Rosary", the albums remaining singles, were all minor hits.
In 2008, Kid Rock recorded and made a music video for the song "Warrior" for a National Guard advertising campaign.
Kid Rock performed on VH1's Storytellers on November 27, 2008, giving an insight to how he wrote some of his hit songs. On April 5, 2009, he performed a 5-song medley at WrestleMania XXV. The performance didn't go over well with the wrestling community as they complained the performance took time away from one more match on the card.
He was nominated for Best Rock Album and Best Male Pop/Rock Performance for "All Summer Long" at the 2009 Grammys, though he lost to Coldplay's Viva La Vida for the former award and to John Mayer's "Say" for the latter. He performed a medley of "Amen", "All Summer Long" and "Rock N Roll Jesus" at the show. He received his first country award, winning for Best Wide Open Country Video for "All Summer Long" at the 2009 CMT Awards. Kid Rock performed at Comerica Park July 17 and 18 of 2009.
On July 3, 2009, "Rock N Roll Jesus" was certified triple platinum by the RIAA. According to soundscan the album has sold 3.493 million albums as of 2013 and it has sold 5 million worldwide.
2009–present: The Heartland rock era
In April 2010, Kid Rock started a spring cruise dubbed "The Chillin The Most Cruise". He followed this up by hosting the CMT Awards in June, performing "Cowboy", "Bawitdaba", and "Good Ol Boys" with Hank Williams Jr, Trace Adkins, Martina McBride, Kellie Pickler, Randy Houser, Zac Brown and Jamey Johnson. "American Bad Ass" was used for TV promos for the movie G.I. Joe: The Rise of Cobra in the summer of 2009. "I Am The Bullgod" was also featured in the Madden 2010 soundtrack during same time frame. Kid Rock then signed a licensing deal with a new video game called, Power Gig: Rise of The Sixth String. The game used "All Summer Long","Rock N Roll Jesus" and "Son Of Detroit".
Kid Rock released Born Free on November 16, 2010 and it debuted at No. 5, selling 189,000 copies in its first week. The album was produced by Rick Rubin and featured David Hidalgo and Matt Sweeney on guitar as well as Chad Smith on drums and Benmont Tench on keyboard. The album was his first album without a parental advisory sticker on it. The album's title track was released as its first single, peaking at number 14 on the mainstream rock charts and number 31 on the active rock charts. It also charted at number 52 on country and number 39 on the adult pop charts. It was the theme song to the 2010 MLB playoffs on TBS as well as WWE's Tribute To The Troops Special. He performed the song at the Detroit Lions Thanksgiving halftime show. The album reached gold status on December 15, 2010. The follow-up single was "God Bless Saturday", which peaked at number 37 on the mainstream rock charts. It is the secondary theme song for College Gameday on ESPN. The third single was "Collide", which featured Sheryl Crow and Bob Seger. Rock and Crow then went on a joint tour together after the song peaked at number 26 on the adult pop chart and number 51 on the country charts. The next single, a cover of Jason Boland's "Telephone Romeo" re-written as "Purple Sky", failed to chart. In November 2011, Kid Rock released "Care", a protest song about current politics in D.C. that had multiple versions released for the single. The album version featured Martina McBride and T.I. and the international single featuring Mary J. Blige. The music video was shot with Pistol Annie's Angeleena Pressley. The single peaked at number 26 on the Adult Contemporary charts and number 58 on the country chart.
He released the EP Racing Father Time in the Detroit area along with the album. It included remixes of "Slow My Roll" and "Lonely Road Of Faith", along with "The Midwest Fall" and "Forty". Born Free went platinum in July 2011. He returned to host the CMT Awards for a 2nd year doing a spoof on "Bawitdaba" with Wynonna Judd.
On January 15, 2011, Kid Rock celebrated his 40th birthday with a performance at Ford Field in Detroit. The marathon concert featured Uncle Kracker, Peter Wolfe, Reverend Run, Sheryl Crow, Cindy Crawford, Jimmie Johnson, and Anita Baker. He also returned to Comerica Park on August 12 and 13. In December, he went on a 12-city club tour and donated the proceeds to various charities in each city to support his single, "Care". Kid Rock became the first musician to play in a recorded concert for television at Elvis Presley's Graceland on November 28, 2011 when PBS taped an episode for their album Live from the Artists Den. He performed "Born Free" at a Michigan Rally for Republican presidential candidate Mitt Romney in February. On May 12, 2012, he performed a benefit concert with the Detroit Orchestra, raising $1 million.
On December 7, 2011, Kid Rock joined Metallica on-stage at The Fillmore San Francisco during day two of the 30 Years of Metallica celebration to perform Seger's "Turn the Page". On April 14, 2012, he joined Travis McCoy, Black Thought, ?uestlove, and The Roots in performing a medley of Beastie Boys songs at the 2012 Rock N Roll Hall Of Fame ceremony.
Kid Rock recorded "In Detroit" as part of the NFL's promotion with Pepsi called "Pepsi Anthems" in August 2012. It was recorded as the theme song for the Detroit Lions. "American Bad Ass" was used for TV promotional spot for the 2012 movie Battleship.
Kid Rock released the album Rebel Soul on November 19, 2012, with "Let's Ride" as its lead single. The song peaked at number 16 on the mainstream rock tracks and just outside the Hot 100 at number 105. This was his first mainstream album available for download from iTunes. A explicit promotional video for "Cucci Galore" was released to YouTube prior to the release of "Rebel Soul". A video for Happy New Year's came out in late December. It featured a cameo by super model Cindy Crawford. It gained minor attention from CMT and VH-1 and failed to chart. The title track was then released to rock radio but failed to chart as well. He made a remix of Redneck Paradise with Hank Williams Jr and the music video aired on CMT in June 2013, making the Top 20 countdown. Country radio format refused to play the song because of its long run time.
The media press for this album included NASCAR's Race For The Chase, NASCAR at Homestead, Good Morning America, NFL Halftime Show, CBS This Morning and WWE Tribute for The Troops. This led to a No 5 debut selling roughly 146,000 copies. The album would go gold in April 2013. CMT aired Kid Rock live from Sturgis on August 22, 2013. "Cowboy" was used to promote Wrestlemania 29 in San Antonio,Texas.
After years of a stalemate with Apple, Kid Rock released his catalog to ITunes in January 2013. The only pre-fame album still available is "Grits Sandwiches For Breakfast" however. His classics " All Summer Long", "Cowboy", " Bawitdaba", " Picture", "Only God Knows Why" and " American Bad Ass" all re-enterd the charts based on digital downloads. His albums "Devil Without A Cause", "Rock N Roll Jesus" and "Cocky" all re-charted in the same vein on the Billboard 200. Meaning with 2012's "Rebel Soul" he had 4 albums in the Billboard 200 at one time with 8 singles charted as well.
Kid Rock announced his $20 Best Night Ever Summer Tour for 2013. Kid Rock took a paycut to allow all seats to be available at $20. When he heard that Ticketmaster was including a service charge, he struck a deal with Wal-Mart to keep it at $20. The concerts included free parking, free food from Jimmy John's, free coffee, $4 beer and all mercandise under $20. The tour name is named after an impromptu song he wrote after performing with Bob Seger on his winter Rebel Soul Tour in early 2013. The tour featured ZZ Top, Uncle Kracker, Marshall Tucker Band, Jamey Johnson and Kool And The Gang.
In 2014 Let's Ride was used in the movie "Intro The Storm". In the same year "Cucci Galore" was in the pilot episode of HBO's Silicon Valley featuring a cameo of Kid Rock performing the song. In the fall of 2014 Chevrolet began using "Born Free" to promote their sales in commercials.
Kid Rock released First Kiss on February 24, 2015, his first album for Warner Bros. Records after a long association with its sister label Atlantic. The lead single, the title track, peaked at number 66 on the Hot 100,no 16 on mainstream rock and no 27 on the hot ac chart. The album featured the Texas rock band Band of Heathens assisting long time band Twisted Brown Trucker. Kid Rock performed "Jesus and Bocephus" on The Tonight Show Starring Jimmy Fallon in December 2014. He filled in for U2 and an injured Bono. Political site Rare debuted "Ain't Enough Whiskey" two weeks prior to the album release. Kid Rock's promotional tour included performing "First Kiss" at the Daytona 500 and on The Tonight Show. He also performed "Johnny Cash" and gave an interview on the Today Show. This led to a number 2 debut with sales of 146,000. A music video was released for Johnny Cash to IHeart Radio on December 9th,2015.
"American Bad Ass" was used for third movie trailer, this time for the 2015 movie "The Gunman" starring Sean Penn. " Bawitdaba" was used in the 2015 films "The Wedding Ringer" and " Rock The Kabash".
Musical style and influences
Kid Rock's musical style ranges from Midwest hip hop and heavy metal to country rock to rap rock and nu metal. His influences include Warren Zevon, Jim Croce, Hank Williams, Jr., Hank Williams, Johnny Cash, David Allan Coe, Bob Seger, Run-DMC, Beastie Boys, Whodini, Too Short, Eric B. & Rakim and Lynyrd Skynyrd.
Kid Rock has influenced such artists and groups as Eminem, Lil Wayne, Yelawolf, Machine Gun Kelly, Uncle Kracker, Paradime, Ty Stone, Jocaine and 75 North, Big & Rich, Gretchen Wilson, Jason Aldean, Florida Georgia Line, Brantley Gilbert, Eric Church, Zac Brown Band, Colt Ford, Rehab, The Sheepdogs, Aaron Lewis and Band Of Heathens. His son released his debut EP Wanted Dead Or Alive under the stage name "Bandit". He has since gone by Robert Ritchie instead of Bandit. Several established country artist have also borrowed his country rap style including Toby Keith ("Trailerhood", "Red Solo Cup", "What About Me"), Trace Adkins ("Brown Chicken, Brown Cow") and Blake Shelton ("Hillbilly Bone")He has appeared in music videos for Eminem, Limp Bizkit,Hank Williams Jr, Tim McGraw, Gretchen Wilson, Zac Brown Band, Yelawolf, Buckcherry and Uncle Kracker. He was also spoofed in Puddle Of Mudd's music video for "Psycho".
Twisted Brown Trucker
Twisted Brown Trucker is Kid Rock's band, formed in 1994 in Sterling Heights, Michigan. The original lineup included Kenny Olson on lead guitar, Uncle Kracker on turntables, Andy Gould and George Metropolous on guitar, Paul Anthony on bass and Bob Ebeling on drums. The band first recorded together on the 1994 demo of "Dark & Gray" on his Bootleg Series Tapes, they would make three more appearances on the tapes in "Watch Me Come", "Only a Dog" and "Box #10". Trucker became both Rock's studio and live band in 1997.
Studio musicians for Grits Sandwiches For Breakfast included David Bright, Patrica Halligan, Roz Davis and Doug E Fresh. Musicians for The Polyfuze Method and Fire It Up included Chris Peters, Bob Ebuling, Bill Grant, Mike Henry, Peg Leg Sam, Jon Slow, Dono Zoyes. For Early Mornin Stoned Pimp they included Andrew Nehra, Mike Nehra, Ed Harsch and Eric Hochenmeyer. "Devil Without A Cause" features bassist Matt O'Brien who also appears on Cocky.As well has Kenny Tudrick and Bobby East. Self Titled featured Kenny Wayne Shepphard, Alto Reed, Rayse Biggs, Johnny Evans,Bobby East,Tim Akers and Larry Nozero. Sheryl Crow, Billy Gibbons and Hank Williams Jr the latter three lent backing vocals. Rock N Roll Jesus included Vinnie Dombroske,Dan Dugmore, The Frisk Jubilee Singers, Mike Daly,Jeff Fowlkes and Paul Franklin. Golfer John Daly provided background vocals on "Half Your Age"
Born Free consisted of an all star band the only member of TBT on the album was Marlon Young. The band featured Blake Mills,David Hildago and Matt Sweeny on guitar, Justin Meldal Johnson on bass, Chad Smith on drums, Benmont Tench on keys and organ, Smokey Hormel on guitar, Kim Johnson on harmonica, Greg Fieldelman on piano and guitar, Lenny Castro on percussion with Trace Adkins providing background vocals. Blake Mills,Keith Gattis, Audley Freed .Tim Akers and Micheal Young were studio musician on Rebel Soul
On 2015's "First Kiss" studio musicians include the rock band "Band Of Heathens" and Dan Huff.
Kenny Olson went on to perform with several other bands, and has appeared on other studio recordings such as the song "I Love You More Than You'll Ever Know" from the Les Paul tribute album Les Paul & Friends, as well as a version of "Little Wing" with Chaka Khan on the Jimi Hendrix tribute album Power of Soul: A Tribute to Jimi Hendrix.
Tudrick is currently with the band Detroit Cobras, who he was with before touring on Kid Rock's 'Live' Trucker tour.
Percussionist Larry Fratangelo won a Detroit Music Award in 2009 for Outstanding Urban/Funk Musician.
Members
Jimmie "Bones" Trombly – keyboards, piano, organ, harmonica, backing vocals (1996–)
Marlon Young – lead & rhythm guitar (1996–1997, 2007–)
Jason Krause – rhythm & lead guitar (1997–)
Stefanie Eulinberg – drums, percussion, backing vocals (1998–)
Paradime – turntables, programming, keyboards (2002–)
Aaron Julison – bass guitar, backing vocals (2003–)
David McMurray- saxophone (2007–)
Larry Frantangelo – percussion, gong (2007–)
Shannon Curfman – backing vocals & guitar (2010–)
Jessica Cowan-Wagner – backing vocals (2007–)
Hershel C Boone – backing vocals (2010–)
Former members
Marriage to Pamela Anderson
In 2001, Kid Rock began a relationship after meeting actress Pamela Anderson at VH1 tribute to Aretha Franklin. In April 2002, they were reportedly engaged, but called it off. They later got married in a surprise wedding on July 2006 in Saint-Tropez after it was reported Anderson was pregnant. On November 10, 2006, it was announced that Anderson had miscarried while in Vancouver shooting a new film, Blonde and Blonder. Seventeen days later, on November 27, 2006, Anderson filed for divorce in Los Angeles County Superior Court, citing irreconcilable differences. The divorce was allegedly over disagreement of Rock's Detroit residence and Anderson's Los Angeles residence. It has been suggested that his no-show at the Download Festival 2008 was due to depression over the divorce.
Rock later claimed, however, that the divorce was due to Anderson openly criticizing his mother and sister in front of his son from a previous relationship, Robert Jr., to which Rock took offense. Other news reports suggested, however, that Kid Rock's outrage during a screening of Borat, in which Anderson cameos, was the divorce motive. Rock has actively raised Robert Jr., born in 1993, as a single father, and continues to live with him in Michigan. On July 6, 2011, Kid Rock appeared on CNN's Piers Morgan Tonight show where he said he has no regrets about anything he has done in the past.
Legal troubles
From March 1991 and September 1997, has charges stemming from alcohol-related arrests in Michigan.
In February 2005, charged with assault on DJ Jay Campos in 'Christies Cabaret' strip club. Rock pleaded no contest and was sued for $575,000 by Campos.
Charged with assault on Motley Crue drummer Tommy Lee at MTV's 2007 Video Music Awards, he pled guilty.
In October 2007, Kid Rock was involved in a brawl at a Waffle House in Atlanta, Georgia and charged with simple battery. He pleaded nolo contendere ("no contest") to one count, was fined $1,000, required to perform 80 hours of community service and complete a six-hour course on anger management.
Sex tape
Kid Rock and Scott Stapp, singer of the band Creed, appear in a sex tape from 1999 in which the two are seen partying and receiving oral sex. California pornography company Red Light District planned to release the tape in 2006, but both Rock and Stapp filed with the California courts to sue Red Light District and stop the tape's distribution.
Politics
Kid Rock is widely known for his affiliation with the United States Republican Party, but identifies as a libertarian. In 2011, Kid Rock agreed to allow Mitt Romney's presidential campaign to officially make use of his music in campaign events, using his song "Born Free". Kid Rock later endorsed Mitt Romney's candidacy and performed on Romney's behalf at campaign events. By May 2012, Kid Rock was still the first of a handful of high-profile musicians to endorse Mitt Romney, including Ted Nugent and Lee Greenwood. Kid Rock performed alongside Lynyrd Skynyrd and Trace Adkins at the 2012 Republican National Convention in Tampa, Florida. He introduced Romney's running mate, Paul Ryan, at a rally in Michigan in October 2012; Ryan went onstage to "Bawitdaba".
In 2013, Kid Rock criticized Republican lawmakers in New York for passing laws which made it difficult for him to keep concert ticket prices low, stating "That's one of the times I'm fking embarrassed to be a Republican".
Kid Rock has met President Barack Obama, as well as former Presidents George H.W. Bush, Bill Clinton, and George W. Bush. In 2012, he and actor Sean Penn starred in the YouTube video "Americans", in which they both poked fun at their political activism.
In 2015, he publicly endorsed author and neurosurgeon Ben Carson for the Republican nomination for President of the United States in the 2016 election.
Kid Rock has also included social and political commentary in his songs, beginning with 2000's "Abortion," which, originally written in 1994, describes that he is suicidally depressed after the abortion of his unborn child. Other political or social concerned songs include "Black Chick, White Guy", "I Am," "Amen," "Born Free," "Care," "God Bless Saturday," "Times Like These," "The Midwest Fall," "Let's Ride,","3 Catt Boogie" and "Ain't Enough Whiskey".
After a white man gunned down nine black church members in Charleston, SC the confederate flag came under attack. The shooter draped himself in the rebel flag before the shooting. In July 2015, Al Sharpton's NAN Chapter of Detroit stated that Kid Rock should stop using and denounce the flag. Kid Rock responded to Fox News in an email to Megyn Kelly. She read his response out loud which said "Please tell the people that are protesting me, that they can kiss my ass". The NAN threatened to boycott Chevrolet unless they dropped their sponsorship of Rock's 2015 Cheap Date tour. They eventually refused and stated that the only flag on his tour that was used was the American flag.
Reserve Police Service
Kid Rock is a deputy reservist in the police force of Oakley, Michigan.
Activism
Kid Rock has been involved with many charitable organizations, including Operation Homefront; he has frequently partnered with Jim Beam to make large donations to the organization. He is close friends with Tony Stewart, with whom he has worked on charity events. Kid Rock has performed for American service men and women in countries such as Iraq, Afghanistan, Kuwait and Kosovo, as well as in the United Kingdom at RAF bases such as RAF Lakenheath.
Scalpers
Kid Rock has taken measures against ticket scalpers at his shows that have included: performing more frequently to lower ticket prices; changing the pricing structure; requiring the display of an ID and credit card to prove ticket's ownership for platinum seats; and the first two rows of seats are not for sale—they are given out to fans. Instead of getting paid for the show, he is getting a percentage of the sales at concession stands and ticket sales.
Discography
1993: The Polyfuze Method
1996: Early Mornin' Stoned Pimp
1998: Devil Without a Cause
2001: Cocky
2003: Kid Rock
2007: Rock n Roll Jesus
2010: Born Free
2012: Rebel Soul
2015: First Kiss
Tours
1989–90: Straight From the Underground Tour (opened for Ice Cube, Too $hort, D Nice and Yo-Yo)
1994–95: The Bootleg Series Tour
1996–97: Pimp Of The Nation Tour
1998: Lollapalooza Tour
1998: Vans Warped Tour
1998–99: White Thrash on Dope Tour (with Monster Magnet and Hed PE)
1999: Destroy Your Liver Tour
1999: Limptropolis Tour (opening for Limp Bizkit with Staind)
1999: European Tour (with Blink-182)
1999: Between the Legs Tour (with Powerman 5000, Professional Murder Music)
1999–2000: Millennium Tour (opening for Metallica with Sevendust and Creed)
2000: Summer Sanitarium Tour (opening for Metallica with Korn, System of a Down, Powerman 5000)
2000: The History of Rock Tour (with Dope)
2001: The American Bad Ass Tour (with Buckcherry, Fuel and David Allan Coe)
2002: The Cocky Tour (with Lit, Tenacious D and Saliva)
2002: Girls of Summer Tour (opening for Aerosmith with Run-D.M.C.)
2004: Rock n Roll Pain Train Tour (with Puddle of Mudd, Gov't Mule, Jerry Cantrell)
2005: Lazy Muthafuga Tour (only 6 concert dates)
2006: 'Live' Trucker Tour (with Ty Stone, Peter Frampton (opened in Auburn Hills, Michigan) and Whitestarr)
2007–2008: Rock n Roll Revival Tour (with Reverend Run, Dicky Betts, Duane Betts, Peter Wolf, Lynyrd Skynyrd, in a revue style)
2008: Rock n Roll Revival Tour: European Tour
2008: Rock n Rebels Tour (with Lynyrd Skynyrd and Backdoor Slam)
2008: European Tour (with Finger Eleven)
2008: All Summer Long Tour (4 nights at Pine Knob with Uncle Kracker & Rev Run)
2009: Rock n Rebels Tour II (with Lynyrd Skynyrd, Cross Canadian Ragweed, Jonathan Tyler and the Northern Lights, Black Stone Cherry, Alice in Chains, Cypress Hill, Robert Randolph and the Family Band)
2010: The Circle Tour (opening for Bon Jovi)
2011: Born Free Tour Pt. 1 (with Ty Stone, Randy Houser, Jamey Johnson)
2011: Born Free Tour: Canadian Leg
2011: Born Free Tour Pt. 2 (with Sheryl Crow)
2011: Care Tour (with Jamey Johnson)
2013: Rebel Soul Tour (with Bob Seger, Buckcherry and Hellbound Glory)
2013: $20 Best Night Ever Tour ( with ZZ Top, Uncle Kracker, Kool And The Gang)
2013: Australian Tour ( opening for Bon Jovi )
2014: Rock on the Range (with Guns N' Roses, Slayer, Avenged Sevenfold, Lacuna Coil, Seether, Chevelle, etc.)
2015: Cheap Date Tour ( with Foreigner)
Cruises
Annual Chillin' the Most Cruise. http://www.kidrockcruise.com/
Filmography
1999–2008: The Howard Stern Show (8 episodes)
2000: Saturday Night Live (musical guest)
2000: The Simpsons (episode: "Kill the Alligator and Run")
2000: WWF Raw is War (musical guest)
2001: Joe Dirt
2001: All Access: Front Row, Backstage. Live! (IMAX) (musical performer)
2001: Osmosis Jones (voice)
2001: Kid Rock: Lonely Road of Faith (TV special)
2002: King of the Hill (episode: "The Fat and the Furious")
2003: Punk'd (premiere episode)
2003: Biker Boyz
2003: Stripperella (2 episodes; voice)
2003: CMT Outlaws (TV special)
2005: CSI: NY (episode: "All Access")
2005: Larry the Cable Guy: Health Inspector
2005: Motorcycle Mania III (documentary)
2005: Coors Light Mountain Jam (TV special)
2002: Stacked (episode: "Nobody Says I Love You")
2009: WrestleMania XXV (TV special)
2010: Top Gear (U.S. TV series) (episode: "Halo vs. Velociraptor")
2011, 2013: Diners, Drive-Ins and Dives (2 episodes)
2012, 2014: Live from the Artists Den (2 episodes)
Awards and honors
Grammy Awards
2000: Best New Artist – nominated
2000: Best Hard Rock Performance for "Bawitdaba" – nominated
2001: Best Hard Rock Performance for "American Bad Ass" – nominated
2009: Best Rock Album for Rock n Roll Jesus – nominated
2009: Best Male Pop Vocal Performance for "All Summer Long" – nominated
American Music Awards
2000: Favorite Alternative Artist – nominated
2000: Favorite Pop/Rock New Artist – nominated
2001: Favorite Male Pop/Rock Artist (Won)
2003: Favorite Male Pop/Rock Artist (Won)
2003: Favorite Pop/Rock Album: Cocky – nominated
2008: Favorite Male Pop/Rock Artist – nominated
Billboard Music Awards
1999: Best New Artist (Won)
1999: Best Hard Rock Performance for "Bawitdaba" (Won)
1999: Best New Hard Rock Artist (Won)
MTV Video Music Awards
2000: Best Male Video: "Bawitdaba" – nominated
2000: Best New Artist: "Bawitdaba" – nominated
2001: Best Male Video: "Cowboy" – nominated
2001: Best Rock Video: "Cowboy" – nominated
Teen Choice Awards
2003: Choice Love Song: "Picture" – nominated
2003: Choice Hookup Song: "Picture" – nominated
Detroit Music Awards
1999:
Outstanding National Album for Devil Without a Cause (Won)
Outstanding National Single for "I Am the Bullgod" (Won)
Outstanding National Hip Hop Writer/Producer (Won)
2000:
Outstanding National Single for "American Bad Ass" (Won)
Outstanding National Duet for "Higher" with Robert Bradley (Won)
Outstanding National Spokesperson (Won)
2008
Outstanding National Album for Rock n Roll Jesus (Won)
2009:
Outstanding National Single for All Summer Long (Won)
BMI Songwriting Award
2002: "Picture" (Won)
2009: Wide Open Country Video of the Year for "All Summer Long" (Won)
2008: Worlds Best Male Pop Artist (Won)
2008: Worlds Best Pop/Rock Artist (Won)
2009: Best Rock Song for "All Summer Long" (Won)
Kid's Choice Awards
2009: Favorite Male Singer – nominated
Echo Awards (Germany)
2009: Hit Of The Year for "All Summer Long" (Won)
Other ventures and honors
Kid Rock has his own clothing line, Made in Detroit, which he purchased from its creator, Detroit designer Robert Stanzler, in 2003. Stanzler, a longtime friend of Kid Rock, is mentioned by name in Rock's song "Early Mornin' Stoned Pimp".
Wayne State University named a scholarship after Kid Rock for musicians. Kid Rock is using his clothing line to fund it.
He was Grand Marshal of the Krewe of Endymion Mardi Gras parade in New Orleans on February 21, 2009 and was accompanied by The Chee-Weez, a local area cover band.
He released his own beer, Bad Ass Beer, on July 17, 2009.
Kid Rock gave proceeds of a concert to the families affected by the bombing of the USS Cole in 2000. He has made numerous trips with the USO to play concerts for soldiers overseas in Iraq, Afghanistan, and Kuwait. He also made his album Born Free available for free download for military members.
He appeared briefly in an NFL documentary about Hall of Fame running back Barry Sanders.
Songs
All Summer Long
Only God Knows Why
Born Free
Picture
Bawitdaba [Explicit]
First Kiss
Cowboy
American Bad Ass
Blue Jeans and a Rosary
Redneck Paradise
So Hott
Lonely Road of Faith
Devil Without A Cause
Midnight Train to Memphis
Rock 'n' Roll Jesus
Collide
Purple Sky
Amen
You Never Met a Motherf**ker Quite Like Me
I Am the Bullgod
God Bless Saturday
Let's Ride
Black Chick - White Guy
Cocky
Jesus and Bocephus
Yo-Da-Lin in the Valley
Rebel Soul
Lowlife
Roll On
Cold and Empty
Fuck Off
Jackson - Mississippi

References
Kid Rock Wikipedia
(Text) CC BY-SA