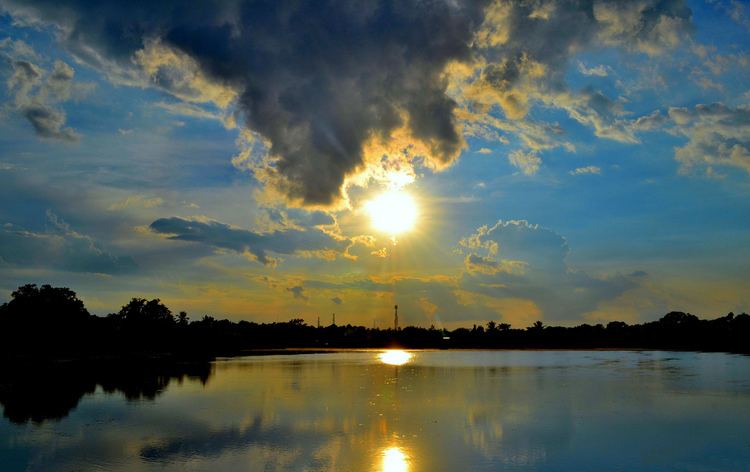 From early historical period, geographically, this area had been full of swamps, natural riverine lake, low land, water bodies sparse village-settlements surrounded by deep jungle infested with wild animals of all kinds. Barring a few pockets, the area was considered unfit for human habitation.
However, around this area, there were several dozen villages more or less prosperous, such as Mallickerbaag, Kanchanpalli or Kanchrapara, Bhabanipur, Ghoshpara Chandua and Kampa. This area was opened to development in 1862, when the Sealdaha Kusthia Broad Gauge Railway Line, and the 1863 construction of a 132000 m² locomotive workshop and railway station on the northernmost tip of Bizpur Mouza, were completed by the Eastern Bengal State Railway. In 1914 a carriage and wagon shop were added. Subsequently, a planned Railway Township was laid and built to the East & South West of the Workshops with a wide range of infrastructure - roads, drains, bridges, street lights, internal Railway lines, parks, Institutes, Administrative Buildings, Technical School, Hospital, Co-operative shopping stores, Bazaar, playgrounds for football, Tennis, golf, theatres attached to each institute (Hindmarsh, Institute, Bell Institute, Spalding Institute), Officers' Club etc. The resulting population increase caused the construction of huts and pucca buildings, necessitating laying out Municipal infrastructure beyond the Railway area.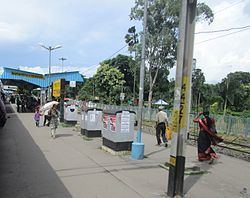 The city thus created was named Kanchrapara, since the Railway Station at Bijpur was named after the then village Kanchanpalli or Kanchrapara, prosperous economically and culturally, being the seat of many stalwarts of Baishnab literature and early Bengali literature, as well as famous Vaidyas.
Kanchrapara is located at 22.56°N 88.26°E / 22.56; 88.26. It has an average elevation of 10 metres (32 feet).
As of 2011 Indian census, the total population in the town is 122181, with 61770 males and 60411 Females. Kanchrapara has an average literacy rate of 90.8%, higher than the national average of 74.04%: male literacy is 94.51%, and female literacy is 87.02%. The population includes 8532 persons under 6 years of age.
Kanchrapara Railway Workshop was established in 1863. It served the defence department for repairs to aircraft and manufacture of armoured cars and grenade shells during World War II. The second 5-year plan brought about drastic changes with diesel and electric traction. Electrification on the Railway system in the eastern region necessitated major repair and overhaul facilities for Electric Loco, EMU Rolling Stock from early 60's. Kanchrapara was selected to play the key role in these spheres. In 1962 a decision was taken for remodelling Kanchrapara Workshop in order to make it a base workshop for electric locos, electrical multiple unit stocks of Eastern and South Eastern Railways.
In the recent years, several developments have been made to the economy of this city. Many well known brands like, Sreeniketan, Peter england, Pantaloons, Bombay Dyeing, Pepe Jeans, London Bridge, Express Bazaar, Style bazaar, Aditya Birla More, Mio Amore, have opened their showrooms in Kanchrapara. Several jewellery brands, like Senco Gold And Diamonds, P. C. Chandra Jewellers, Anjali Jewellers, etc. have also opened their showrooms here.
Wooden furniture-making and timber harvesting are the major economic factors at Kanchrapara.
Airfield: Kanchrapara Airfield (For special military purpose).
Railway: Kanchrapara Railway Station. EMU Trains, UP towards Krishnanagar City, Shantipur, Ranaghat, Chakdaha, Gede & Kalyani Simanta, DOWN towards Naihati, Barrackpore, Dumdum, Sealdah, Budge Budge, Princep Ghat & Majherhat. Lalgola Passenger & MEMU.
Roads & Highway: Kalyani Expressway, Kabiguru Rabindra Path, Kanchrapara Jaguli Road connects to NH 34. State Busses running across the town consist of route no. 85 to Barrackpore, 88 to Barasat, route no. 22 to Haringhata & Nagarukhra, route no. 27 to Jagulia via Kalyani.
85 Barrackpore Court - Shyamnagar - Naihati - Kanchrapara
88 Barasat - Amdanga - Jaguli - Kanchrapara
22 Kanchrapara - Haringhata - Nagarukhra - Nimtala
27 Kanchrapara - Kalyani Simanta
E48 Kanchrapara - Jagulia - Barasat - New Town - Salt Lake Karunamoyee
Kanchrapara contains several educational facilities. There is a college named Kanchrapara College under University of Kalyani,Kendriya Vidyalaya No.1 Kanchrapara and Kendriya Vidyalaya No.2 Kanchrapara are also present in the locality which are under the Ministry of Human Resource Development, Government of India. Other well known educational institutes are Kanchrapara Harnett English Medium School (C.B.S.E), Kanchrapara Harnett High School for Boys, Kanchrapara Indian Girls' High School, Kanchrapara Sharada Devi Uchcha Baalika Vidyalaya, Jonepur High School for Boys, Jonepur Girls School, Kanchrapara High School(W.B.B.S.E.), Kanchrapara Albatross School, Kanchrapara Shree Mandhari High School(H.S) (Hindi Medium), Kanchrapara Janta High School(H.S)(Hindi Medium), Kanchrapara Ram Prasad High School(H.S)(Hindi Medium), Kanchrapara Shree Mandhari primary School (Hindi Medium) and Lal Bahadur shastri primary School(Hindi medium).
North 24 Parganas district has been identified as one of the areas where ground water is affected by arsenic contamination.
Krishna-Raya Temple, dedicated to Lord Krishna, is a point of attraction.