Naihati is located at 22.9°N 88.42°E / 22.9; 88.42. It has an average elevation of 15 metres (49 feet).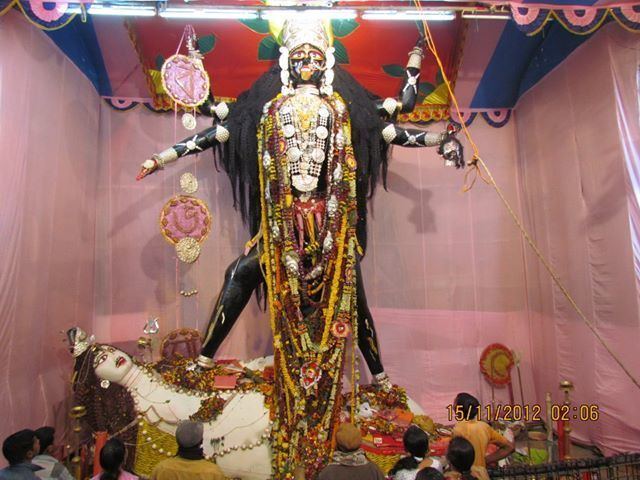 Being situated in the tropics, the climate of Naihati is primarily hot and humid summers and cool and dry winters. The rain bearing clouds from the Bay of Bengal brings torrential rain in the monsoon. In the summer temperature goes as high as 40 degree Celsius and in the winter it may reach 8 degree Celsius.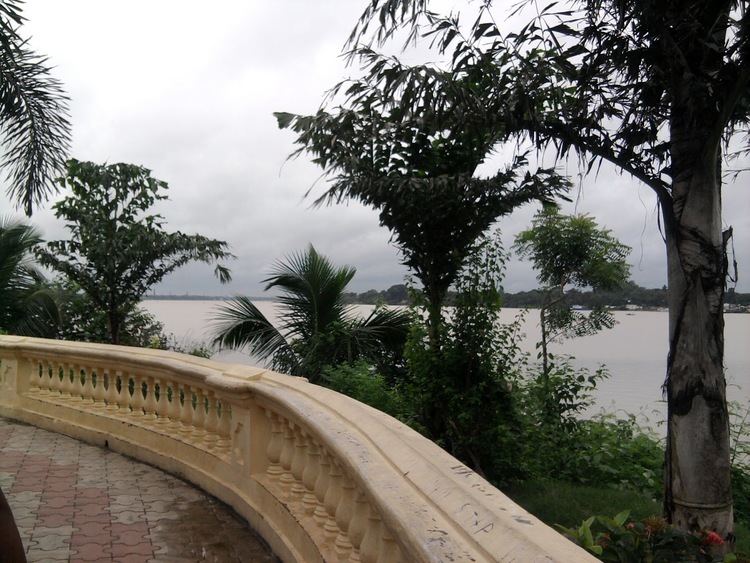 As of 2011 India census, Naihati had a population of 221,762. Males constitute 50.87% of the population and females 49.13%. Naihati has an average literacy rate of 89.79%, higher than the national average of 75.06%: male literacy is 93.16%, and female literacy is 86.31%. In Naihati, 7.8% of the population is under 6 years of age and population density 18,641/km2, rank 50th city in the World.
The Jute Mills drew in a large labour force from the neighbouring states of Bihar and Odisha, as well as eastern Uttar Pradesh, quite often forming an overwhelming majority of the population in the area, living in shanty towns and bustees dotting the mill area.
With the partition of India there was a massive influx of refugees from East Pakistan into Kolkata and its peripheral areas. Of over a million refugees who entered West Bengal in 1950 alone settled mostly in squatter colonies between Naihati and Sonarpur on the east bank of the Hooghly and between Mogra and Uluberia on the west bank.
Naihati Railway Station is 38 km from Sealdah on the Sealdah-Ranaghat Line and 16 km from Barrackpore. It is part of the Kolkata Suburban Railway system. It is connected to Bandel on the Howrah-Bardhaman main line. The journey takes about 20 minutes. Naihati is also connected to Chuchura by ferry. The road transport is chiefly via the well known 85 route (name of the bus route) which operates between Barrackpore and Kanchrapara. There are also some other bus routes like Naihati to Habra, Naihati to Barasat(87A/DN5), Naihati to Technopolish. A new state and also Private Bus has started from Naihati to Digha, from Kanthal Para Railway Bridge.
In 1857, the Eastern Bengal Railway (EBR) was formed to lay the tracks along the east bank of the Hooghly River to Kushtia and then across the river to Dhaka. The Jubilee Bridge linking Bandel and Naihati was opened on 21 February 1887, so that up country freight traffic could run through to Kolkata port. A new bridge is being built up beside the existing Jubilee bridge by Indian Railways. The bridge is already started functioning and it has two tracks, one for UP and another for down route trains. Due to the introduction of this new route one can travel between Naihati and Bandel within 15 minutes.
CTC Bus
D2 - Habra — Naihati [Frequent] via Ashoknagar, Chowrangi, Awalsiddhi, Saheb Colony, Mamudpur [First Car - 5.00AM & Last Car - 7.30AM]
D7 Naihati – Bongaon
Privately operated
73-Naihati - Habra
85-Barrackpore Court – Kanchrapara
87A-Barasat – Naihati
DN Series
DN5-Barasat - Naihati
JM series
JM8 Naihati – Salt Lake Technopolis
Vidyadhar Bhattacharya, a Bengali Brahmin who designed the city of Jaipur hailed from Naihati. Noted historian and linguist Haraprasad Shastri, a descendant of Vidyadhar, was also born here nearly a century and half later. Bankim Chandra Chatterjee, 'Sahitya samrat' one of the greatest Bengali novelist of all time, was also born in Naihati. He was a prolific author of novels, and authored Vande Mataram, which had great impact on the Indian revolutionaries and later became the national song of India.
It is also the birthplace of Bengali singers Shyamal Mitra and Mrinal Kanti Ghosh and modern Bengali story writer and novelist Samaresh Bose. It is also the birthplace of Kanai Bairagi. Rupa Ghosh, a famous Vaishnab Padavali singer, is settled here. One of the notable reformers of Bengal, Keshab Chandra Sen was born in the Garifa area of Naihati. Sukanta Bhattacharyya, the famous poet was born at Naihati at his mother's house (mamar bari).This place is also famous for Sri Surya Dev Shastri, a professor of Hindi literature.
Dr Rabindra Nath Bhattacharyya , an eminent chest specialist, residing at Garifa, Naihati.
There is a famous college named Rishi Bankim Chandra College (R.B.C College, established in 1947) which was affiliated to the University of Calcutta and is now affiliated to the West Bengal State University(Barasat). There are many Bengali medium schools as well as English medium schools in Naihati. Prominent Bengali medium schools include Naihati Narendra Vidyaniketan, Naihati Mahendra High School, Naihati Katyayani Girls' High School, Naihati Adarsha Vidyaniketan, Nahati Prafulla Sen's Girls High School, Bijaynagar High School (Boys' High), Hindi medium school Gauripur Hindi High school, Vidya Vikash High School, Sarswati Balika Vidyalay. St. Luke's Day School is the only English medium co-ed ICSE/ISC school in Naihati, affiliated to Indian School Certificate Examinations, New Delhi.
Naihati has a large number of cultural and social organizations. Bankim Bhavan Gaveshana Kendra was founded by Prof. Satyajit Chaudhury in the year 1999 at the ancestral house of Bankim Chandra Chattopadhya and the center is maintained by the Dept. of Higher Education, Govt. of West Bengal. Amra Kajan Club is famous for its annual blood donation camp and the Mini Mime Mime Club is famous for Drama & Mime Play. National Park Unnayini Sangsad is an old and reputed non political organization run mainly by the residents of National Park area of Naihati. It looks after the social welfare of the area as well as promotes the cultural practice.Naihati has a legacy of science club movement. The early science club movement was started here by Lekhar Chestai, NISC etc.
The central health facility is called Naihati State General Hospital. It is supplemented by a number of private clinics and nursing homes, run by highly qualified medical practitioners.
Naihati, Battala area is also notable for fish farming, rearing of sweet water fish seeds of various genus like Rohu, Katla, Koi, Magur, Pabda, Silver Carp, Common Carp and many more. It was started under a training programme by Central Inland Fisheries Research Institute (CIFRI), now known as Central Institute of Freshwater Aquaculture (CIFA), located at Kalyani. It is an initiative of the Indian Government, handled by Indian Council of Agricultural Research (ICAR).
This initiative by the then Indian government, and numerous renowned scientists and under their supervision, it was possible to bring a control over the production and preservation of various breeds of sweet water fishes.
The season starts from end of April, and continues till the monsoon lasts.
Naihati is famous for its Kali Puja & Durga puja, chhat puja etc. Although, family-based pujas were more dominant a few decades ago, today it has become a community-centric affair.