India




Sri Ramkrishna Sarada Vidyamahapith




Bengali, English




West Bengal




Hooghly District



Kamarpukur is a village situated in the Arambag subdivision of the Hooghly District in West Bengal state of India. It is famous for being the birthplace of Ramakrishna. It is the block headquarters of the Goghat –II community development block.
Kamarpukur is located at 22.91°N 87.65°E? / 22.91; 87.65. A mile to the north of Kamarpukur, is situated the village of Bhursubo where a well-to-do person named Manik Raja lived. The renowned tanks of Sukhasayer and Hatisayer excavated by him as also the mango-grove now almost extinct in the nearby meadows, testify to some of his noteworthy acts.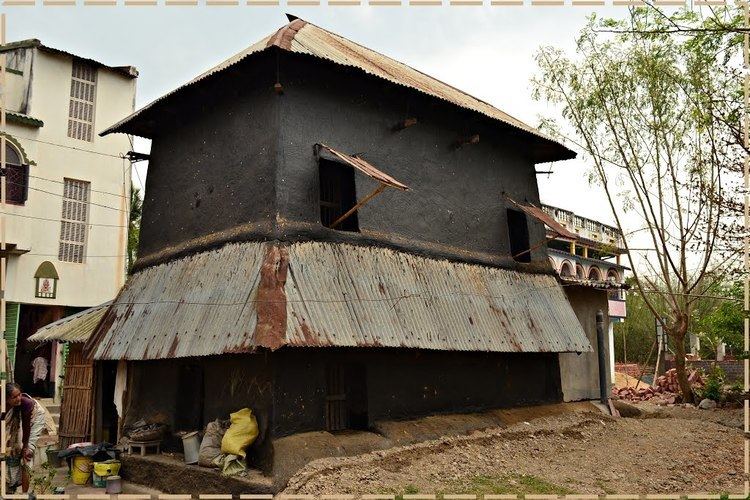 On the western border of Kamarpukur, the canal Bhutir-Khal flows in a zigzag course from the north to the south and joins the Amodar river at a little distance.
Two cremation grounds called Budhui Moral and Bhutir-Khal lie on the north-east and north-west of the village respectively. Along the eastern border of the village a spacious road runs from Burdwan (32 miles from Kamarpukur) to Puri in Orissa.
To the south-east are the ruins of Fort Mandaran and the ancient temple of Saileswara Shiva, which bear witness to the prosperous days of the Pathan rulers.
About 30 miles to the east, is the famous temple of Tarakeswar Shiva, which is connected with Kamarpukur by a road running via Jahanabad (or Arambagh). Besides this, Ghatal (18 miles to the south) and Vishnupur (30 miles to the west) are joined with Kamarpukur by another road that abuts on the aforesaid road to Puri, after passing through the village via Kotulpur and Koalpara.
Three miles to the west, is Jayrambati, the village in which the Holy Mother Sri Sarada Devi was born.
Kamarkupur gram panchayat (GP) is a constituent GP of Goghat–II community development block in Arambag subdivision of the Hooghly district. It is the block headquarters of the Goghat–II CD block.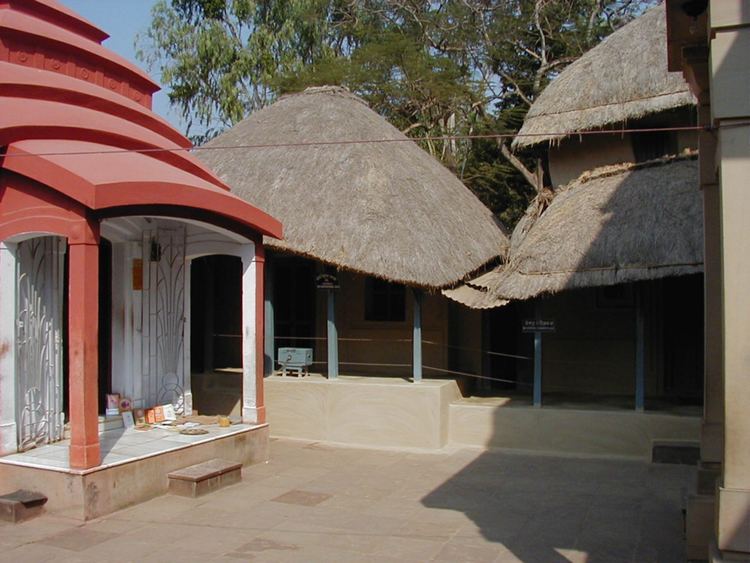 The signs of ancient prosperity are still visible everywhere at Kamarpukur. A number of ponds, tanks and old buildings and dilapidated temples still bear witness to its old glory. In olden days Kamarpukur, surrounded by extensive fields, looked like an island floating in a vast sea of green. Apart from agriculture, it was noted for cottage industries also. Sweet-meats like jilapi and nabat, hookah pipes of ebony, yarns, towels, cloth, etc., were prepared here and sent out for sale to Kolkata as well as to nearby markets. To this day, in the month of Chaitra (March—April), Kamarpukur reverberates with songs during the worship of Goddess Manasa and festival of Shiva, and in the following month, devotional choral songs of Hari are sung for three days at a stretch. Even now people belonging to the different strata of society live in peace in the tranquil atmosphere of the village.
Kamarpukur Wikipedia
(,)http://upload.wikimedia.org/wikipedia/commons/f/fe/Kamarpukur_Ramakrishna_Hut.jpg(,)http://img1.holidayiq.com/photos/13/1347471870-8815-jpg-images-attractions-619x240-1405693857-cropped.jpg(,)http://upload.wikimedia.org/wikipedia/commons/e/e7/Holy_mother_sarada.jpg(,)http://www.holidayhotspot.in/wp-content/uploads/2014/07/bisalakshi-temple.jpg(,)http://upload.wikimedia.org/wikipedia/commons/4/48/Panchavati_Ramakrishna.jpg(,)http://www.holidayhotspot.in/wp-content/uploads/2014/07/Inside-Natmandir-Pathshala.jpg(,)http://i.ytimg.com/vi/N8u1o1nvI44/hqdefault.jpg(,)http://i.ytimg.com/vi/7kbmYacZgRo/0.jpg
(,)http://thehansindia.com/assets/swamiji.jpg(,)http://static.panoramio.com/photos/large/94358285.jpg(,)http://static.panoramio.com/photos/large/94358230.jpg(,)http://static.panoramio.com/photos/large/94358364.jpg(,)https://www.mydreamplace.in/wb/wp-content/uploads/2014/12/kamarpukur.jpg(,)http://www.transindiatravels.com/wp-content/uploads/kamarpukur1.jpg(,)http://i01.i.aliimg.com/wsphoto/v0/1266668105/Cardboard-font-b-cross-b-font-font-b-stitch-b-font-mounting-font-b-material-b.jpg(,)http://i1.ytimg.com/vi/lcYhhiBcUbg/0.jpg(,)http://m.c.lnkd.licdn.com/mpr/mpr/shrink_500_500/p/2/000/09e/309/05962c2.jpg(,)http://i.ytimg.com/vi/k-Pecnk0XhY/0.jpg
(,)http://media-cdn.tripadvisor.com/media/photo-s/03/6b/78/95/yatriniwas-kamarpukur.jpg(,)http://www.mindweb.in/rkmpmkp.org/wp-content/uploads/2013/06/Kamarpukur-Math.jpg(,)http://www.mindweb.in/rkmpmkp.org/wp-content/uploads/2013/06/Kamarpukur-Math1.jpg(,)http://www.indiamike.com/india/attachments/64179d1414067073-one-day-tour-arambagh-kamarpukur-jairambati-1.jpg(,)http://www.rkmpmkp.org/wp-content/uploads/2014/05/Ma-Sarada-Joyrambati-resized.jpg(,)http://www.kolkataonwheels.com/uploads/product/546.jpg(,)http://media-cdn.tripadvisor.com/media/photo-s/03/bc/e3/76/mukundapur-temple.jpg(,)http://www.indiatravelcompanion.com/image/kamarpukur/ramkrisknamath.jpg(,)http://static.panoramio.com/photos/original/36447180.jpg