Not to be confused with Kalyug, a sacred hindu belief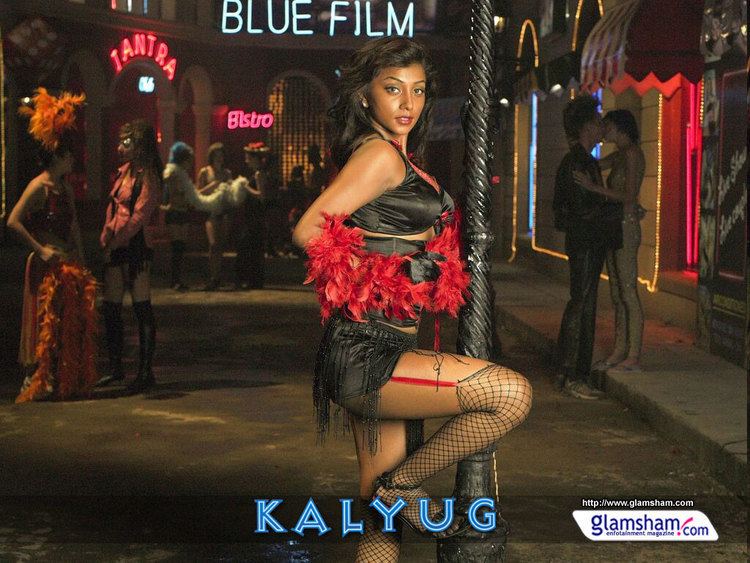 Kalyug (English: Modern Era) is a 2005 Indian action thriller film based on the pornographic film industry. The film was directed by Mohit Suri and produced by Mahesh Bhatt. It introduces actor Kunal Khemu, in his debut film as an adult actor. It also stars Emraan Hashmi, Smilie Suri and Amrita Singh. Kalyug released on 9 December 2005. Patcy N of Rediff.com called it an "just about average" film. It featured the fictional porn website indiapasssion.com which inspired a real website of the same name.
18 years ago, the Darr family, consisting of Pushkaran (Amitabh Bhattacharjee) and his son, Kunal (Kunal Khemu), were forced to leave Kashmir by terrorists, who had forced thousands of other Kashmiri Pandits to be mere refugees in their very own country. Pushkaran and Kunal re-locate to Bombay, where they live in a small room. This is where Kunal grows up, and gets a job at a gym. Then one day, the police knock on his door, informing him that his father had lost his hold from a crowded local train, fallen, and instantly killed. A devastated Kunal arranges his father's funeral, and before he could reconcile to living alone, his relatives contact him from Jammu, informing him that his father had promised to look after a young woman named Renuka (Smiley Suri). Kunal agrees to fulfill his father's promise.
When Renuka arrives, she finds out about the untimely death, and wants to return, but ticket reservation force her to stay with Kunal for a week. It is this week that changes their lives, for they fall in love and get married. During their first intimate night together, porn-website creator Simi Roy (Amrita Singh) and her partner Johnny (Ashutosh Rana) record them and turn them into porn-stars. Renuka can't take the embarrassment and commits suicide. Kunal is then arrested by police for illegal porn online. Kunal proves himself innocent, and decides to track down Simi Roy and her team and get revenge. He comes across Ali (Emraan Hashmi) a modern-day punk, who runs an adults only shop. In his shop, Kunal sees a magazine featuring a pornstar Kunal had seen on the same website where his and Renuka's video was. He uses Ali's help to track down the girl. Kunal and Ali track the girl down in a bar where she is a singer, suddenly Kunal finds a young girl being held hostage and beats up the bodyguards but he gets hit by Simi Roy's car. The next day, Kunal overhears Simi fighting with her abusive daughter Tanya about being drunk and doing sexual activities with her girlfriend Jessica. Kunal then asks Simi about the blue film porn website but Simi lies to him and explains that she has nothing to do with it. The girl is revealed to be Anna (Deepal Shaw) and reveals to Kunal that in her hometown Johnny and his friend Vick had killed everyone and forced her to run away. Kunal and Ali track down Johnny and his goons and start a furious fight and Kunal kills Johnny but Ali dies after being killed by Johnny. Kunal asks Tanya for help and in return he would help her ruin Simi's life, Simi who is watching the TV seeing her own daughter on her porn website and is approached by Kunal and Tanya where Tanya shoots her mother several times. Kunal is now bailed out from prison and starts a new life with Anna.
Kunal Khemu as Kunal P. Darr
Emraan Hashmi as Ali Bhai
Smiley Suri as Renuka
Amrita Singh as Simi Roy
Deepal Shaw as Anita (Annie)
Ashutosh Rana as Johny
Amitabh Bhattacharjee as Pushkaran.
Atul Parchure as Kunal Darr's friend
Nisha Lalwani as Simi Roy's Daughter
Sheena Bajaj
The film was initially titled 'Blue Film' however the title was later changed to 'Kalyug'.
Kalyug's VCDs and DVDs were released by Shemaroo six weeks after the theatrical release. The DVD Included Cast & Crew interviews, Television Promos of Kalyug, The Aadat Remix and Subtitles in four languages: English Tamil, Telugu and Bengali as Bonus Features.
The soundtrack was released on 29 October 2005. Raju Singh composed the film score while the songs featured in the Soundtrack were composed by Anu Malik, Faisal Rafi, Rohail Hyatt, Jal, Goher Mumtaz and Mithoon. The track "Aadat" was reused from Jal's album of the same name, with music being recreated by Mithoon. According to the Indian trade website Box Office India, with around 14,00,000 units sold, this film's soundtrack album was the year's twelfth highest-selling.
All lyrics written by Sayeed Quadri.