The city was selected as one of the hundred Indian cities to be developed as a smart city under PM Narendra Modi's flagship, Smart Cities Mission.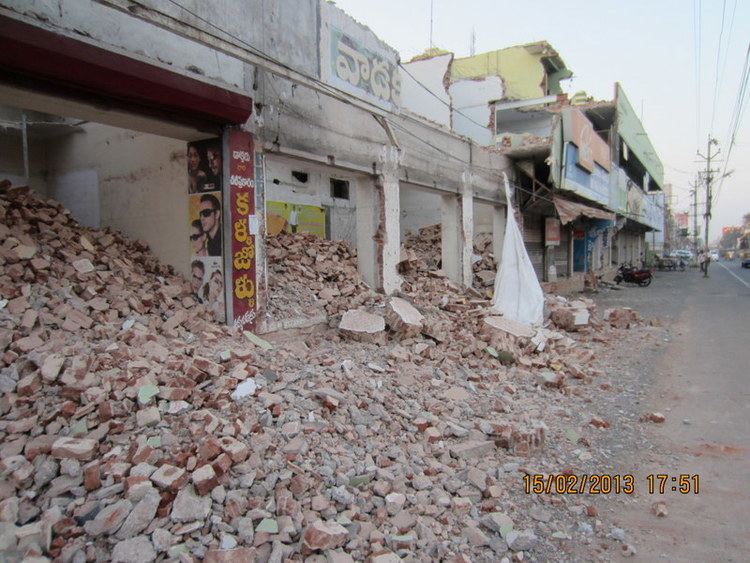 Kakinandivada, a village near the present Kakinada was a Dutch settlement. They also used to store and export Coconut products and, hence, the name Co–canada. The British East India Company also called it with the same name when they established the first Canadian Baptist Mission. After Independence, it finally got the name Kakinada. Some theories suggest Kakasura's losing his eye by an arrow of Lord Rama gave the name Kakinada or that Kakinandi vada is derived from Kaka, an Ikshvaku king, who built the town. Another theory says that it is Kakulavada, an abode of crows – for catching fish on the shore.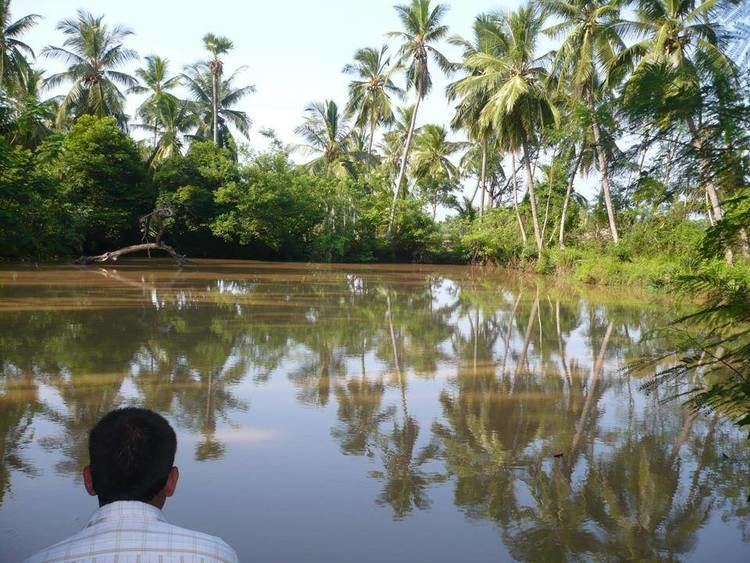 Kakinada is located at 16.93°N 82.22°E / 16.93; 82.22. The 82-degrees east longitude passes through the city. It has an average elevation of 2 metres (6 ft), and many areas of the city are below sea level.
The city consists of two regions, connected by bridges. The southern part, Jagannathapuram, is separated from the rest of the city by the Buckingham Canal. The canal and its branches form Medaline Island, which abuts the city in the southwest. During the colonisation of the Dutch Coromandel coast, the Dutch East India Company maintained a trading post known as Jaggernaikpoeram or Jaggernaickpuram (among other spellings) to the English.
An industrial belt, running north–south the length of the city, separates the eastern part from the coast. Kakinada is bordered on the southeast by Kakinada Bay and a marshy wetland, home to India's second largest mangrove forest and the Coringa Wildlife Sanctuary. A branch of the Godavari River, the Gouthami, flows into the Bay of Bengal at this point.
Kakinada has a tropical savanna climate with hot, humid weather most of the year. The warmest time of the year is late May and early June, with maximum temperatures around 38–42 °C (100–108 °F). January is the coolest month, with minimum temperatures of 18–20 °C (64–68 °F). The city gets most of its seasonal rainfall from the southwest monsoon, although considerable rain also falls during the northeast monsoon (from mid-October to mid-December). Cyclones in the Bay of Bengal frequently strike the city. Kakinada's prevailing winds are from the southwest for most of the year, except from October to January when they are from the northeast. The city's average annual rainfall is 110–115 centimetres (43–45 in).
As of 2011 census of India, Kakinada had population of 312,538 of which 152,571 were male and 159,967 female. The Kakinada urban agglomeration had a population of 443,028 of which males are 217,459 while female population are 225,569. There are 101 identified slums in the city, which contains a population of 132,185, 41% of the city's population.
Kakinada Municipal Corporation is spread over an area of 30.51 km2 (11.78 sq mi), while the urban agglomeration area of Kakinada spreads over an area of 57.36 km2 (22.15 sq mi). The urban agglomeration constituents include the areas of Kakinada Municipal Corporation, census towns of Chidiga, Ramanayyapeta, Suryaraopeta and the out growths of Ganganapalle, Sarpavaram, Vakalapudi and Turangi.
The economy of the city depends mainly on agriculture, fishing and industrial sectors. paddy, coconut are agro products from the city. The majority of the industrial sector is covered edible oil refineries, fertilizers and natural gas. During the late 1940s (around the time of Indian independence) there was little industry in or around Kakinada; the local economy was based on agriculture and fishing. Until the early 1980s (before the fertiliser companies began operation), the local economy revolved around the textile industry, auto parts, steel-related ancillary units, agriculture and fishing.
Hope Island, about 5 kilometres (3.1 mi) from the coast, makes Kakinada Port a natural harbour. It is home to two ports namely, an Anchorage port and a Deep-water port ( and also third port is going to be constructed in KSEZ which will be Greenfield Seaport ). Kakinada's deep-water port is the second-largest in the state (after Visakhapatnam port) and the first in the country to be built in a public-private partnership, in 1996 It is operated by Kakinada Seaports. Before the deep-water port was built, the Anchorage port was the largest of India's 40 minor ports.
Kakinada's principal exports include seafood (Prawns, Shrimp, Fish) and related products, agricultural products (including rice and corn, oilmeals, processed food products, chemicals, iron ore, bauxite powder and biofuel. Imports include chemicals, edible oils and agricultural products (including wheat and sugar).
A number of industries and edible oil refineries, and serves as a base for a thriving oil and gas industry for the state of Andhra Pradesh are established at Kakinada.
Agro−products
Coconuts are exported by several companies in and around Kakinada. The Murugappa Group-owned EID Parry (India) and Cargill International joint venture, Silk Road Sugars, has a port-based stand-alone sugar refinery in Kakinada with a capacity of 600,000 tonnes.
Edible oil refineries and biofuel plants
In 2002, several edible-oil refineries were established in Kakinada, with a refining capacity of 3,000 tons per day; they include Acalmar Oils and Fats (taken over by Adani Wilmar), Ruchi Infrastructure and Nikhil Refineries. The port facilitates the importation of crude palm and soybean oil.
Bio-fuel is next big bet if crude continues to rise |publisher=Moneycontrol|accessdate=20 November 2011}}</ref> Andhra Pradesh has entered into an agreement with Reliance Industries for jatropha planting. The company selected 200 acres (81 ha) of land in Kakinada to grow jatropha for quality biodiesel fuel.
Kakinada is a tier-II city. Software Technology Parks of India (STPI) established a facility here in 2007. Since then, several IT companies have come up in the city, mainly due to its educated workforce.
About 35 IT companies are operating in Kakinada. Godavari IT Association of East and West Godavari districts (GITA) is an association of IT companies in the twin Godavari districts and is based in the city.
Power generation
There are several power plants in and around Kakinada. Spectrum Power Generation has a 208-MW plant, and was one of the first Independent Power Producers in the country. The company is planning to expand the capacity to 1350 MW in phases. Tenders for a 350-MW expansion have been requested. A 220-MW power station (being expanded to 2400 MW at a cost of Rs 100 billion) owned by Reliance Energy and a 464-MW combined-cycle power plant by GVK Group are in operation at Samalkota (Kakinada Rural). These plants supply electricity to the state's transmission utility, AP Transco, under a power purchase agreement.
Natural gas and petroleum
Kakinada is the base for Oil and Natural Gas Corporation's Eastern Offshore Asset. Several oil companies use Kakinada for oil and gasoline shipments. Baker Hughes and Schlumberger are field-development companies working on offshore natural-gas fields near the city. The Krishna Godavari Basin is considered the largest natural-gas basin in India. Significant discoveries of oil and natural gas were made by Oil and Natural Gas Corporation (ONGC), Gujarat State Petroleum Corporation and Reliance, which has been extracting gas from its KG D6 block off the Kakinada coast. Reliance has an onshore terminal in Gadimoga, about 25 kilometres (16 mi) from Kakinada, to process and distribute gas to other parts of the country. Reliance Gas Transportation Infrastructure (RGTIL) has built a 1,440-kilometre (890 mi) pipeline from Kakinada to Bharuch (Gujarat) to transport 120 million cubic meters per day (mcmd) of natural gas from the Krishna-Godavari fields (owned by Reliance Industries) across India to its west coast.
In 2010, the Petroleum and Natural Gas Regulatory Board awarded Kakinada's gas-distribution project to Bhagyanagar Gas, a consortium of GAIL and Hindustan Petroleum. Construction is underway to supply gas to Kakinada and the surrounding towns of Samalkot, Peddapuram and Pithapuram, making Kakinada the second city in Andhra Pradesh to have a piped gas supply for domestic, commercial and industrial purposes (along with Vijayawada)
Kakinada Beach Festival (also Sagara Sambaralu) is a music festival held in Kakinada. It was declared as an annual festival by the government of Andhra Pradesh in 2012. It is a three-day event where many artists perform.
The city has its recognition in Tollywood films with notable actors, actresses and directors namely, Anjali Devi, Suryakantham, Relangi Venkata Ramaiah, Rao Gopal Rao, C. Pullaiah, P. B. Srinivas, S. V. Ranga Rao, and Chittajallu Srinivasa Rao
Journalism- Papa - was a political cartoonist whose works were published in newspapers Eenadu, Andhra Bhoomi ,Andhra Prabha and several other magazines
There are many scholars like Kasibhatta Brahmaiah Sastry, who is a noted Sanskrit and Telugu scholar and who coined the term "Navala" in Telugu literature, Peddada Ramaswamy english literatue, Chaganti Koteswara Rao (Hindu scholar), etc.
The city has various modes of transport in terms of road, rail and sea. The primary mode of intra-city public transport is auto rickshaws and there are about 7,000 of them being operated in the city limits with an additional of 3,000 from the surrounding settlements. Non-transport vehicles cover, Motorcycles, bicycles. For cyclists and motorists, there are planned cycling paths, bicycle sharing stations, and bike hiring outlets.
Kakinada is connected by road to the rest of the state and other cities of India ny means of national highways. National Highway 214 which stretches 270 km (170 mi) from Kathipudi to Pamaru passes through Kakinada. It is a well planned city with Grid type Road network. The city has a total road length of 719.21 km.
Kakinada Town and Kakinada Port are the two railway stations serving the rail needs of the city. Kakinada Town is classified as an A–category station in Vijayawada railway division. It is recognised as an one of the Adarsh station of the division in South Central Railway zone.
Kakinada Port is located on the shore of Bay of Bengal. It is one of the intermediate ports in the state. The National Waterway 4 connects Kakinada with Puducherry and was declared in 2008 as National Waterway by the Inland Waterways Authority of India for cargo transport and tourism.
The primary and secondary school education is imparted by government, aided and private schools of the School Education Department of the state. The medium of instruction followed by different schools are English, Telugu.
Kakinada is an educational hub, meeting the growing educational demands of the state. Several professional colleges in and around the city offer courses in engineering, medicine, information technology and management at the graduate and postgraduate levels. The Jawaharlal Nehru Technological University, Kakinada offers engineering courses and has a business school, and Rangaraya Medical College is a respected medical college in the state.
P R College is another old and famous college and one Shri Peddada Rama Swamy worked as principal for some time. Famous personalities like Devulapalli krishnasastri, P V Narasimha Rao, Ushasri were students at that time.
Andhra University Postgraduate Centre, established in 1977, is another college in Kakinada. The university is located on a 50.93-acre (20.61 ha) campus in Thimmapuram, six kilometres from the Kakinada Town Railway Station.
There are a total of 65 Government Schools with 11,240 students studying in them.
Coringa Wildlife Sanctuary, part of the Godavari delta, Hope Island, India, a sandspit formed by the Godavari, Konaseema, scenic Godavari delta islands. It is the second largest mangrove forest in India after sundarbans. Uppada beach is primarily considered as Kakinada beach which is having one of longest coastlines in Indian beaches. Kakinada beach is meant for its mild blue waters and cold breeze all the day. The famous temples Suryanarayana Swami and Kodandaramalayam are located at G. Mamidada which is 20 km from the city.
Cricket is the most popular game in the city, followed by badminton and athletics. Kakinada is home to a number of local cricket teams participating in district and zone matches, with a stadium used for Ranji Trophy matches. The East Godavari District Sports Authority has a sports complex in the city with an indoor stadium and swimming pool. Tennis is taught to students by the KTA (Kakinada Tennis Academy) at the tennis courts of Rangaraya Medical College There is a roller-skating rink in Vivekananda Park.