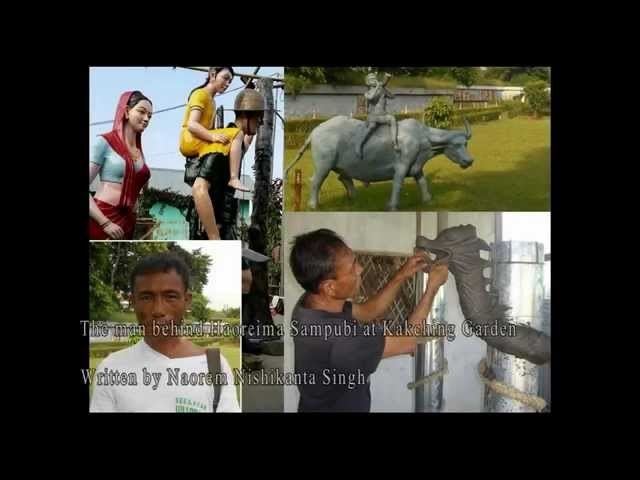 Kakching ( 24.48°N 93.98°E / 24.48; 93.98. )is located in the southern part of Imphal valley. It has an average elevation of 776 metres (2545 feet).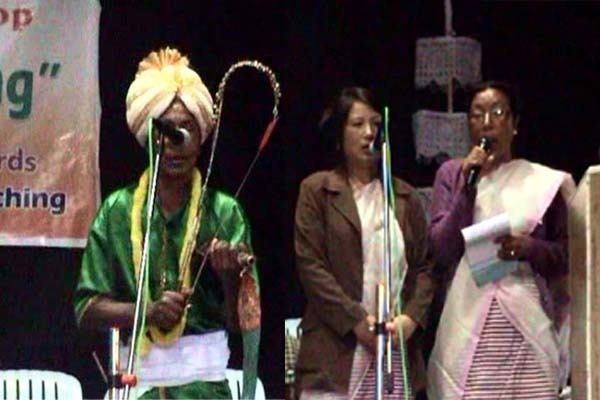 The town is about 44 km from the capital of Manipur, Imphal, and about 70 km from the border of India with Burma.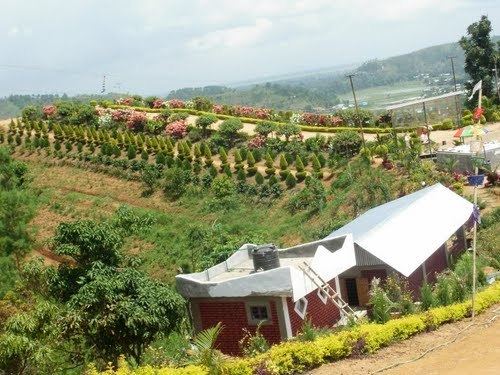 As of 2011 India census, Kakching had a population of 32,138of which 15,710 are males while 16,428 are females. Population of Children with age of 0-6 is 4181 which is 13.01% of total population of Kakching. In Kakching, Female Sex Ratio is of 1046 against state average of 985. Literacy rate of Kakching city is 83.08% higher than state average of 76.94%. In Kakching, Male literacy is around 90.21% while female literacy rate is 76.40%.
In terms of population, development and education, Kakching is the biggest town in Kakching District.
The main occupation of the people of Kakching has been the cultivation but the situation has changed in last five years. Sources of earning the livelihood has become manifold - like carpentory, gold smith, salespersons, jobs in private firms and business establishment, construction work, chicken, piggery and fishery farmings etc.
There are many self-help groups(SHGs)finance by the state government and central government.Its workers produce the highest percentage of food grains of Manipur, and hence it is known as the granary of Manipur. Because of availability of proper irrigation and canal facilities farmars are practice the double cropping. So rice, pulses, cereal, potatoes are the important production of this sub-division. Beside this hand-loom and handicraft products are highly abounded in Kakching Market.
Kakching has the highest literacy rate in the state of Manipur. It has colleges – Manipur University, Kha-Manipur College, Kakching, (Government), and Kakching Girls College (Private). There are many Higher Secondary Schools, High Schools, and several Middle and Primary Schools.There are many private schools in and around the Kakching town namely The Padma Ratna English School, the Martin grammar school, Victory high School, the Kakching public school, Grace Cottage Academy etc.
Youths of Kakching go outside the state for studies after class X, mainly after class XII. The top reasons of this is the law and order problem riddling the state. Kakching is an import town for higher studies in Indian Classical Music under the Bhatkhande Hindusthani Sangeet Mahavidyalay, the only institution in Eastern India where Indian classical music is taught up to the highest levels (Nipun). hundreds of students come from Manipur every year for further studies.
Culturally the town is very rich in many fields such as Nat Sankritan, Meitei pung cholom, Martial Arts, Thang-Ta, Satjal, Mukna, and Kangjei. Kakching Haraoba is one of the six Lai Haraoba of Manipur. The festival haraoba is in part a recollection of the creation stories played the deities with the first origin of this universe and evolution of the plants and animals through the will of Atiya Shidaba. The People's Museum houses many ethnic and valuable items. The municipality has three cinema halls that provide daily shows. Since the rapid increase of population, the occupation of Kakching people has changed towards business, government job other many trends. The language speaking in Kakching is slightly different from the main Meitei language in terms of the tone and style.
Recently, an eco park theme has been developed to attract the incoming tourists from different parts of the state (Eco-Park ADAM Kakching). The markets attract a variety of outsiders for their variety of products. Recently, the main attraction for the tourist is Uyok Ching (Kakching Garden).
It is situated at Uyok Ching, in the south of Kakching Bazar. Before the days long gone by the ancestors preserved woods for special kind to which was used particularly for constructing the public properties like Mandop, Hiyang Hiren. Temples etc. On the top of the hill, there was a stone statue of Lord Mahadev and apart from it there was also a stone statue to which was known as Kwak Tanba in the western part. People without gender and ages went there to worship on the very special day of Cheiraoba to which was one of the most valuable festivals of the people since the very olden days.
Form the time being the Water Supply Project was contructed on the foot of the hill (Uyok Ching) and people have started to settle down there. There were many Ingkhols (farms) owned by different people and cultivated variety of vegetables, sugercane plants, different plants of fruits, banana plants etc. They could get extra income for their survival. But there were not so attracted till 2007. But now there is a great change there.
After electing Shri Y. Surchandra Singh as Honorable MLA for Kakching Constituency, the site was developed as a tourist centre by proper proper and required infrastructures. Under his loyal care and proper guidance the site was developed by constructing the Mahadev Temple, Ibudhou Pakhangba Laiseng, erecting the statue of Hao Sampubi, Rose garden, proper park, restaurents, mandop etc. Above all, the road upto the hill was also constructed a pucca road to which vehicles could reach at the parking. Each and every infrastructures are constructed and developed by him with the help of the majority people of Kakching.
Now, people from inside and even the outside state of Manipur came here to see the beauties of Kakching Garden. Important programmes relating to social and culture mainly are also organised there.
Peace, harmony and tolerance of different faiths have been central values to Kakching.
Naorem Thambalngou Singh latter known as Thambalthang, is believed to be the first Christian convert of Kakching, Thoubal District, Manipur. However, the exact year of his conversion is uncertain but it is believed to be around 1957 according oral sources collected from his nephew, Naorem Manikchand Meitei of Kakching Ningthou Leikai.
He is the second son of Shri Naorem Mangoljao of Kakching Ningthou Leikai. He had a friendship with a Kuki major during World War 2 and his name seems to have changed to Thambalthang, a combined name of Meitei and a Kuki tribe. He was first local rice bear vendor in Kakching. Traditionally, running a local wine shop was supposed to be the profession of tribesmen. The public of Kakching opposed him running the rice bear vendor at Kakching and he pretended to be a tribal by producing a fake document, which is believed to be obtained from his Kuki friend.
He was poor and tried hard to earn livelihood and left home at young age in search of better source of earning and found doing a manual scavenger at Waikhong, 20 km away from his home town. He married to a Meitei woman from Waikhong and latter divorced. Then he moved to Tonsen a Kom village in southern Manipur and married to a Kom woman from Sagang in Churachandpur district and bore one son and two daughters.
He embraced Christianity when he and his wife were living in Tonsen, then moved to Lukhumbi village under Sagang region and became a member of Lukhumbi Baptist Church. Latter he worked as evangelist until he moved and breathed last in around 2004 and buried at Yangthingphai.
Moirangthem Lairenjao Meitei is a son of Moiranthem Lolito Meitei of Kakching Khunyai Leikai. He had two sons and two daughters. He heard the message of the gospel from Evangelist Thambalngou and embraced Christianity. He was baptised by an evangelist from Ukhrul in the month of December 1961.
His baptismal ceremony was carried out at Sekmai River near Kakching Bazar Bridge. It was first event of such in the history of Kakching. The out lookers flocked to the event site, as if a Meitei converting to a tribal.
Under his leadership, the United Pentecost Church was established, which is the first church at Kakching, presently situated near Library & Information Centre. He served the evangelist work for 65 years until he breathed last on 20 February 2007. He led many others to Christian faith and helped many young boys and girls from Kakching to study theology and nurses in Bible and Nursing colleges in different parts of India. Today there are nearly 1000 Christians and around 10 different denominational churches at Kakching. The Church of Christ at Kakching is playing its role in bringing the transformation within the community.
Greater Kakching Churches Fellowship, after having known the service rendered by duo evangelists, would like to acknowledge them as "Kakching Gi Christian Lamyanbasing" (The Pioneering Christians of Kakching) on 14 December 2014 during Advent Christmas Celebration, held at Kakching Library & Information Centre Auditorium.Madhuchandra Moirangthem - Early Christian of Kakching
Kakching is part of Outer Manipur (Lok Sabha constituency).It sends one MLA in the state assembly. Shri Y. Surchandra singh represents kakching assembly constituency in the 9th assembly election.
Kakching has a government run Community Health Centre at the foothill of Kakching Mahadeva, near Good Shepherd School. It was full fledge hospital known us Kakching Rural Hospital initially. Apart from this hospital, there are many private clinics rendered by the government employed doctors, who render medical services in their leaser time.
Jivan Hospital is newly opened hospital run by two retired Para Medical Officer Dr. Yengkhom Ashok Kumar and his wife Dr. Y. Jivanlata, a retired District Medical Superintendent. It is situated near Assam Rifle camp, formerly Airfield during World War II.
Jivan Hospital Jivan Hospital Kakching covers the medical services to the villages in Chandel, Thoubal and some part of Churachandpur districts. It is only the service in the area next to the services available at Imphal. The hospital meet the emergency needs, particularly to the accidental emergency patients. Its service is high and whole service is kept top most priority of maintaining nit and clean.
Consumers Welfare Union is a non-profitable and voluntary initiative of likeminded social workers and public leaders to serve the interest of LPG, Electricity and Water Supply consumers and to reduce and prevent their grievances.
It was formed on January 1, 2015 in a meeting convened at the resident of Y. Rajendro Singh, Councilor of Kakching Municipal Council Ward No. 9, where 20 right thinkers, social workers and public leaders discussed in length of the grievances faced the public of Kakching in the matter related to the Cooking Gas, Power and Water Supply. To tackle the public grievances, a consumer forum under the banner of Kakching GPW Consumers Welfare Union was formed. Ksh. Suresh was anonymously elected as convener with the scope to expand the committee and working groups.
Helpline Numbers: 7308058858, 9856332962 Kakching Consumers Forum [1]
Kakching is connected with Thoubal town by AH-1 and Moreh town. It also connected with chandel district headquarters by an inter-district road. Indo-Burma Sugunu road state highway connect the Sugunu town in the south and Mayang-Imphal in the north.