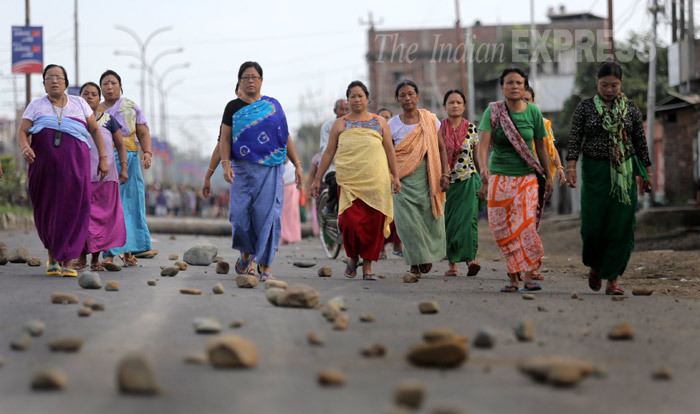 The Battle of Imphal took place between March and July 1944, during World War II.
The Imphal metropolitan area is made up of Bijoy Govinda, Chingangbam Leikai, Imphal, Khongman, Khurai Sajor Leikai, Kiyamgei, Kongkham Leikai (portion), Laipham Siphai, Lairikyengbam Leikai, Lamjaotongba, Lamshang (core town), Langjing, Langthabal Kunja, Langthabal Mantrikhong (portion), Lilong (Imphal West) (core town), Lilong (Thoubal), Naorem Leikai, Naoria Pakhanglakpa, Oinam Thingel, Porompat, Porompat Plan Area, Pangei, Sagolband (portion), Takyel Mapal, Thongju and Torban (Kshetri Leikai).
Imphal is located at 24.8074°N 93.9384°E / 24.8074; 93.9384 in extreme eastern India, with an average elevation of 786 metres (2,579 ft). It has a humid subtropical climate (Köppen Cwa) with mild, dry winters and a hot monsoon season. July temperatures average about 29 °C (84 °F); January is the coldest month, with average lows near 4 °C (39 °F). The city receives about 1,320 mm (52 in) of rain, with June the wettest month. The highest recorded temperature was 35.6 °C (96.1 °F), on 22 May 2009, and the lowest temperature was −2.7 °C (27.1 °F) on 10 January 1970.
Kangla Fort is on the banks of the Imphal River, and is also known as the Palace of Kangla. Kangla means "dry land" in the Meitei language. The fort was the palace of King Pakhangba, and also has religious significance. In the fort are a number of temples, and it is surrounded on three sides by a lake.
A religious site and a tourist attraction, the temple complex is noted for its annual Durga Puja festival in September or October.
This cemetery remembers British and Indian soldiers who fought and died in the Second World War (1944).
The market stalls are all run by women, and it is reportedly the only such market in the world.
Imphal International Airport is 8 kilometres (5.0 mi) south of the city which connects direct flights to New Delhi, Kolkata, Guwahati and Agartala.
Imphal is connected through National Highway which connects major cities like Guwahati, Kohima, Agartala and many more and also connects its neighbour states.
Assam
Tripura
Mizoram and
Nagaland.
Autorickshaw
In imphal Auto rickshaws run every where from airport to all major or minor parts of imphal.
In October 2012, India's Cabinet Committee on Infrastructure approved an extension of the Jiribam-Silchar railway to Imphal. The extension is expected to reach the city by March 2018.
The total length of the Jiribam-Tupul railway line is 110.62 Kms and the total revised estimated cost is Rs 9658 crore. So far, Rs 4927.65 crore has been spent. The Ministry has set a target of sanctioning Rs 1000 crore within the current financial year in order to speed up the railway construction work.
Khuman Lampak Main Stadium is a stadium in Imphal, India. It is used mostly for football and athletics. The stadium holds 26,000 people and was built in 1999. This stadium lies inside the Khuman Lampak Sports Complex.
jio 4g
vodafone 4g/3g/2g
idea 4g/3g/2g
airtel 4g/3g/2g
Imphal is developing itself for business and markets so now a day many markets and shopping mall are opened here and many projects are going to open here and now here is the some lists of supermakets and shopping malls in imphal
Thangal bazar
paona bazar
lamphel supermarket
pishumthong bazar
Kwakeithel Bazar
Mamas supermarket
vishal mega mart
bazar india
big bazar(coming soon)
Manipur Central University
Central Agricultural University
National Sports University
Manipur University of Culture
Indian Institute of Information Technology, Manipur
Manipur Institute of Technology
National Institute of Technology, Manipur
Manipur Technical University
Regional Institute of Medical Sciences
Jawaharlal Nehru Institute of Medical Science
There are so many schools in imphal affiliated from C.B.S.E and ICSE Board and there are state government schools also.
St Anthony's school imphal
Dav public school
Areca school
Sainik school imphal
Kendriya vidyalaya No 1 imphal
Lodestar public school
Sangai higher secondary school
Little flower school
Manipur public school
St Joseph school
Guru nanak public school
Johnstone higher secondary school
Herbert school
Sanfort school imphal
There are so many news companies in Manipur some of the leading news companies are
The sangai express
Poknapham News
ICHEL express
Imphal free press
Naharlogi Thoudang
Hueiyen Lanpao Newspaper
Manipur mail
istv news manipur
impact tv
Imphal is facilitated with many private and government hospitals which opens 24 hours and provides all required facility.
Regional institute of Medical sciences
Imphal hospital
Raj medicine
Sky hospital and research Institute
Mother's care hospital and research centre
Apex hospital
Jawahar lal nehru institute of Medical sciences
Horizon hospital and research Institute