Country

Nigeria




Area

1,190 sq mi




Governor

Mukhtar Ramalan Yero




Population

993,642 (1991)




State

Kaduna State








Colleges and Universities

Nigerian Defence Academy



Map of Kaduna
Kaduna is the state capital of Kaduna State in north-western Nigeria, on the Kaduna River, is a trade center and a major transportation hub for the surrounding agricultural areas with its rail and road junction. The population of Kaduna was at 760,084 as of the 2006 Nigerian census. Rapid urbanization over the past decade has created an increasingly large population, now estimated to be around 1.3 million. Kaduna's name derives from the Hausa word "kada" for crocodile ("kaduna" being the plural form).
Contents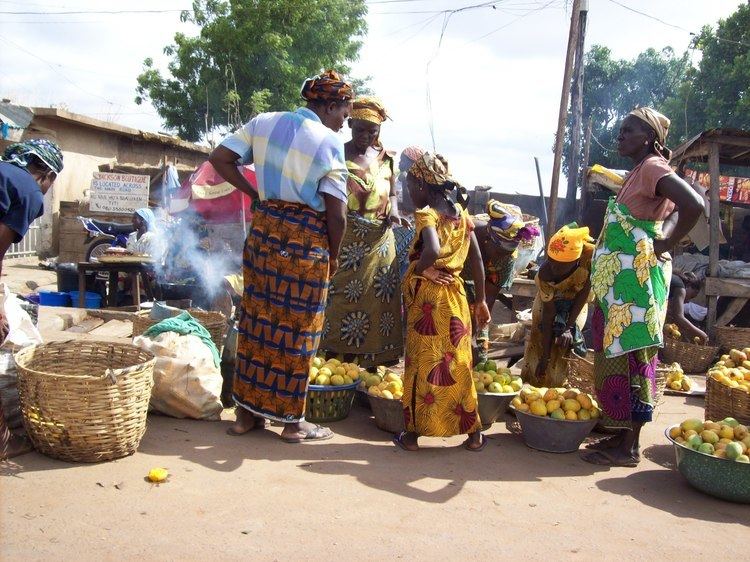 History
Kaduna was founded by the British in 1913 and became the capital of Nigeria's former Northern Region in 1917. It retained this status until 1967. The first British governor of Northern Nigeria, Sir Frederick Lugard, chose the present site due to its proximity to the Lagos-Kano Railway. Sir Ahmadu Bello, the premier of Northern Nigeria (1954-1966), was assassinated in Kaduna on January 15, 1966 in an all Igbo military coup. This contributed to the Nigerian Civil War (1967-1970).
People hailing from Kaduna include Dahiru Sadi, Tijani Babangida, Umar Farouk Abdulmutallab ("the underwear bomber"), Celestine Babayaro, Jafar Mohammed Bello (Eljaf) and Fiona Fullerton (British actress and former Bond girl). The Nigerian Islamic umbrella association Jama'atu Nasril Islam is based in the city.
Religious strife
Due to its religious makeup, Kaduna has been the scene of religious tension between Muslims and Christians, particularly over the implementation of shari'a law in Kaduna State beginning in 2001. In February 2000, nearly 1,000 people were killed in a riot and several cars and houses were burned to ashes. The city remains segregated to this day, with Muslims living mainly in the north and Christians in the south. Another incident in 2002 stemmed from an article in a Lagos newspaper that offended Muslims over the upcoming Miss World pageant scheduled for that week in the capital city of Abuja, suggesting that if Muhammad watched the beauty pageant he would end up marrying one of its contestants. A massive riot ensued. Churches were among the most frequently attacked targets: More than 20 were burned by Muslims. In retaliation, Christians burned eight mosques. Several hotels were also burned. The city suffered widespread damage, and 11,000 people were left homeless. In particular, the local offices of the newspaper that had published the offending article were torched. As a result, thousands of civilians fled the city to escape. Civil unrest soon spread to the capital, Abuja. After four days of rioting, Nigerian security forces quelled the riots and arrested hundreds of rioters. A temporary curfew was imposed, although individual killings continued. 215 bodies were counted on the streets or in morgues, while some others were buried by their families. 1,000 people were wounded. The funerals of many of the victims took place shortly after the riot ended. Muslim rioters were tried in Sharia courts, while Christian rioters were tried by civilian jurisdictions. The editor of the newspaper that had provoked the riots was arrested, and Isioma Daniel, the reporter who wrote the article, resigned and fled to Norway. Kaduna was the place where Umar Farouk Abdulmutallab, the suspect of the terrorist attempt of arson on Northwest flight 253 in December 2009, grew up and returned to on vacation.
Demographics
Muslims compose roughly 60% of the population and Christians constitute roughly 40% of the population.
Educational institutions
Kaduna State is home to the Nigerian Defence Academy (1964) Kaduna, Kaduna Polytechnic (1968) Kaduna, Ahmadu Bello University (1962) Zaria, Kaduna State University (2007) Kaduna, Nigerian College of Aviation Technology, Zaria, Nigerian Institute for Trypanosomiasis Research (1951) and the Nigerian Institute of Transport Technology. Government College Kaduna, Jamals International School, Essence International School, Imperial School, Federal Government College, Adeyemo college, Christ Ambassadors' College and Zamani College, sardauna memorial college, Kaduna capital school, are also located in Kaduna.
Economy and transport
Kaduna is an industrial center of Northern Nigeria, manufacturing products like textiles, machinery, steel, aluminum, petroleum products and bearings. However, the textile industry has been declining because of factory closings due to neglect during military rule and competition with Chinese imports. Automobile manufacturing also remains an important part of Kaduna's economy. Pottery is highly prized from Kaduna, especially from the Nok culture, which precedes Abuja and Minna. Other light manufactures include: plastics, pharmaceuticals, leather goods, furniture, and televisions. Some of the main agricultural exports include: cotton, peanuts, sorghum, and ginger.
One of Nigeria's four main oil refineries is located in Kaduna. It is supplied by a pipeline from the Niger Delta oil fields.
A 2009 World Bank survey states that Kaduna is one of the top six cities with the highest unemployment. 20% of the population is estimated to be unemployed.
The main highway through the city is called Ahmadu Bello Way. Many of the place names come from past sultans, emirs and decorated Civil War heroes. Kaduna has a large market, recently rebuilt after an extensive fire in the mid-1990s.
There is a large racecourse, approximately 1.6 kilometres (1 mi) round, inside which the Ahmadu Yakubu Polo Club and Kaduna Crocodile Club are situated, whilst the Kaduna and Rugby Clubs are on the periphery.
There are two airports, one of which is Kaduna Airport. Chanchangi Airlines has its head office in Kaduna.
Kaduna also has a branch of the Nigerian Stock Exchange.
Railways
Kaduna is an important junction on Nigeria's Cape gauge railway network. At Kaduna, a branch line connects the Lagos–Nguru Railway to the Port Harcourt–Maidugur Railway.
Kaduna is also on the route of the planned Lagos–Kano Standard Gauge Railway, which has been completed between the national capital of Abuja and Kaduna. Trains for Abuja depart from the Rigasa Railway Station in Kaduna.
Woman caught with gun in food sack
References
Kaduna Wikipedia
(Text) CC BY-SA