Nigeria




612,257 (1991)


300 km2


Kaduna State




Ahmadu Bello University, Nigerian College of Aviation Technology



Zaria is a major city in Kaduna State in Northern Nigeria, as well as being a Local Government Area. Formerly known as Zazzau, it was one of the original seven Hausa city-states. The 2006 Census population was 408,198. The current Emir of Zazzau (Sarkin Zazau in Hausa language) is Shehu Idris.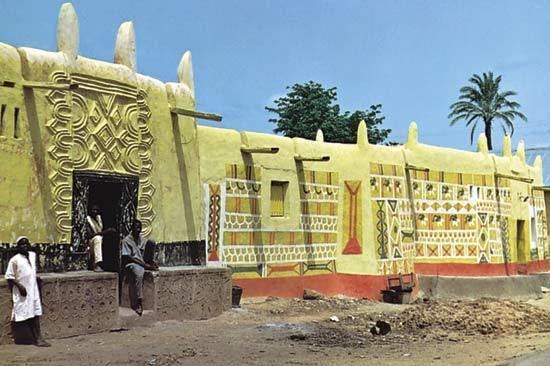 Zaria, initially known as Zazau, was also the capital of the Hausa kingdom of Zazzau. However, human settlement predates the rise of Zazzau, as the region, like some of its neighbors, had a history of sedentary Hausa settlement, with institutional but pre-capitalist market exchange and farming.
In the late 1450s, Islam arrived in Zaria by the way of its sister Habe cities, Kano and Katsina. Along with Islam, trade also flourished between the cities as traders brought camel caravans filled with salt in exchange for slaves and grain. Between the fifteenth and sixteenth century the kingdom became a tributary state of the Songhai Empire. In 1805 it was captured by the Fulani during the Fulani Jihad. British forces led by Frederick Lugard took the city in 1901.
A French hostage of islamist group Ansaru, held captive at Zaria, managed to escape in 2013 and reach a police station of the city.
Zarias economy is primarily based on agriculture. Staples are guinea corn and millet, and cash crops include cotton, groundnuts and tobacco. The city is considered by some to be a main center of Hausa agriculture. Not only is Zaria a market town for the surrounding area, it is the home of numerous artisans, from traditional crafts like leather work, dyeing and cap making, to tinkers, printshops and furniture makers. Zaria is also the center of a textile industry that for over 200 years has made elaborately hand-embroidered robes that are worn by men throughout Nigeria and West Africa.
Zaria Wikipedia
(,)http://media-1.web.britannica.com/eb-media/73/42273-004-18A28E85.jpg(,)http://www.anheuser-busch.com/s/uploads/Cooper_Amina.jpg(,)http://leadership.ng/wp-content/uploads/2015/03/Zaria-Emir%25E2%2580%2599s-palace.jpg(,)http://24.media.tumblr.com/0923db24c6d702e0e7d48e88da401c70/tumblr_mgfc8r1gcc1qgfbgio1_1280.png(,)http://upload.wikimedia.org/wikipedia/commons/9/9a/Arte_yoruba,_nigeria,_testa_da_ife,_12-15mo_secolo.JPG(,)https://s-media-cache-ak0.pinimg.com/originals/71/02/79/7102798fc174a354311b8ae76e4db946.jpg(,)http://twmagazine.net/wp-content/uploads/2013/12/QUEEN-AMINA-OF-ZARIA.jpg(,)http://www.cja-uk.org/wp-content/uploads/2012/08/Crowds-in-a-street-in-Zaria-Nigeria.-Photographer-Copyright-Michael-N.-de-la-Hay-%25C2%25A9-Commonwealth-Secretariat.jpeg(,)http://worldhistoryconnected.press.illinois.edu/3.1/images/gilbert_fig36b.jpg(,)http://www.dailyartfixx.com/wp-content/uploads/2010/01/The-Record-Seting-Workers-at-the-Factory-Krasnaya-Zaria-The-Red-Sunrise.-pavel-filonov-1931.jpg(,)http://1.bp.blogspot.com/-zTMAG8RisN0/ULobwg1riJI/AAAAAAAAA4A/5ey3-XVwOU8/s1600/tumblr_l7b7eauNru1qas9p3o1_r1_500.jpg(,)http://3.bp.blogspot.com/-c0nu2hG1FSg/UdoK_DdOMVI/AAAAAAAABpY/H9oFZexJjK0/s1600/Photo%2BZaria%2BNigeria.jpg
(,)http://i-cms.journaldesfemmes.com/image_cms/original/1039696-cuisine-zaria-d-hygena.jpg(,)http://www.zariadecoration.com/img/zariadeco-4.jpg(,)http://www.zariadecoration.com/img/zariadeco-15.jpg(,)http://www.connectnigeria.com/uploads/listings/businesses/49307-150112072707-15.jpg(,)http://static.boredpanda.com/blog/wp-content/uploads/2013/12/greenland-2012-paintings-zaria-forman-6.jpg(,)http://www.artfido.com/blog/wp-content/uploads/2014/12/hyper-realistic-paintings-zaria-forman-3.jpg(,)http://media02.hongkiat.com/realistic-finger-paint-by-zaria-forman/zaria-forman-01.jpg