Birth name

Suman Chattopadhyay




Years active

1992–present

Instruments

Vocals, guitar




Occupation(s)

Musician, singer-songwriter,journalist, writer, actor, politician

Albums

Onek Din Por, Gaanola Kabir Suman

Movies

Kangal Malsat, Four Chapters, Herbert

Similar

Sabina Yasmin, Anjan Dutt, Lopamudra Mitra
Free to sing a documentary on kabir suman full
Kabir Suman (born Suman Chattopadhyay; 16 March 1949) is an Indian singer, songwriter, musician, music director, poet, novelist, polyglot, journalist, political activist, TV presenter, and occasional actor. From May 2009 to 2014, he was a member of parliament of India in the 15th Lok Sabha, having been elected from the Jadavpur constituency in Kolkata from All India Trinamool Congress.
Contents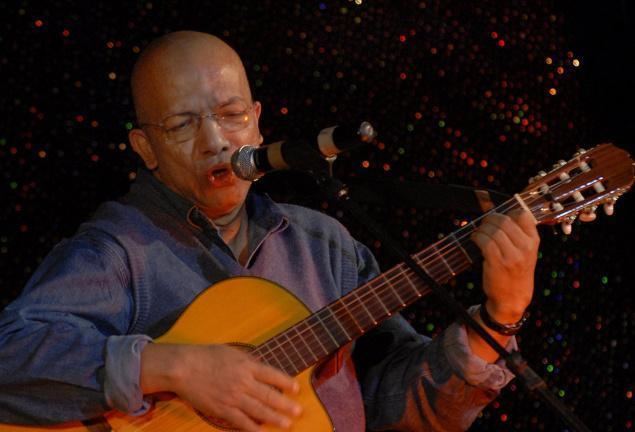 He changed his name from Suman Chattopadhay to Kabir Suman (Bangla: কবীর সুমন) when he converted to Islam to marry a Muslim singer from Bangladesh while claiming it as a mark of protest against the killing of christian missionary Graham Staines by Hindu fundamentalist group Bajrang Dal. He shot to fame in the 1990s with albums such as Tomake Chai (I Want You) and Boshe Anko (Sit-and-Draw).
Kabir Suman was the pioneer of alternative Bengali music around 1991. He advocated a new trend in Bengali Music with songs that were written, composed and sung, all by a single individual. Many contemporary solo artists like Anjan Dutta, Nachiketa Chakraborty, Anupam Roy and Rupam Islam followed this trend. He has influenced bands like Chandrabindoo and Cactus. He is the first singer of Bengali music industry who is a multi-instrumentalist. He plays the piano, guitar, harmonica and the melodica in his live concerts. The majority of his concerts are entirely solo. He is the first Indian musician who has recorded a complete album, where a solo artist has written, composed, sung, recorded, mixed and mastered all the songs.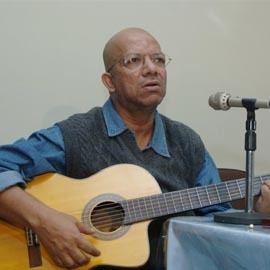 Ek laaphey periyo kabir suman a tribute
Childhood & Family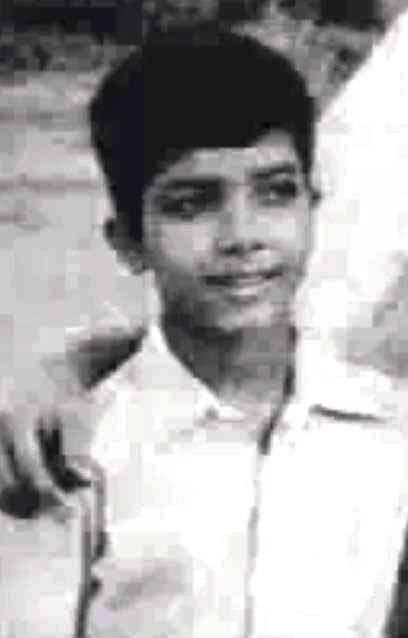 Suman was born in a Bengali Hindu Brahmin family on 16 March 1950 to Sudhindranath and Uma Chattopadhyay at Cuttack, Odisha. He started his training in classical music at a very young age, under the tutelage of his father. Although he learned Rabindrasangeet and Khayal since his childhood, his father did not want Suman to take up professional singing as he believed that the masses never respect a professional singer. His parents were professional singers, and had recorded a number of gramophone records. They were accomplished radio artists. Both of them stopped recording before Suman was born. Late Sudhindranath Chattopadhay was a generous listener of Indian arists like Ustad Amir Khan, Pandit Nikhil Banerjee, Ustad Bismillah Khan, Dilip Kumar Roy, Jnan Prakash Ghosh, Sachin Dev Burman, Salil Chowdhury, Nachiketa Ghosh, Hemanta Mukherjee, Pannalal Bhattacharya and Pankaj Mullick, as well as foreign compositions of Mozart, Beethoven, Paul Robeson, The Beatles and Elvis Presley, which enriched Suman's childhood. Suman says that he could have never been able to become a musician, had he not listened to these records since his childhood.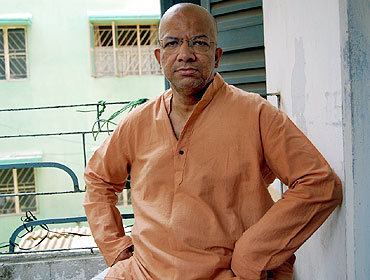 Sudhindranath got an opportunity to study music under Rabindranath Tagore in his youth although it was not possible for him to afford the costs due to financial constraints.
At a very young age, Suman accompanied his Father to Shantiniketan where he got the opportunity to observe Reel to real tape recording, and met Kanika Banerjee, a Rabindrasangeet maestro. Suman's father got a certificate from Kazi Nazrul Islam in 1942, which helped him secure a job at Akashvani. Suman's mother Uma Chattopadhyay learned music from Niharbindu Sen, Santosh Sengupta, Shailesh Datta Gupta and Panchanan Bhattacharya.
Suman's elder brother Anandarup Chatterjee was also an accomplished singer and harmonica player though he never took up singing professional ly.
When Suman was a child, Ustad Girin Chakrabarty suggested his mother to teach him the sarod, although this idea was never materialised. Radio played an important role in his life at that time. He started playing the harmonium and harmonica around 1960. For a short period, he also played the taishōgoto.
Suman's first public performance wa in 1958, as a child singer, where his father accompanied him with the harmonium. In the same year he performed at the much revered Shishumahal Hall. Around 1959, he learned Opera music under the guidance of Father Pinto, the man responsible for popularising Opera music in India. He sang in a radio program under the direction of renowned composer Pankaj Kumar Mallik as well.
Acharya Kalipada Das & Chinmoy Lahiri taught him khayal. Suman also idolised Sukumar Ray and Abanindranath Tagore and was greatly influenced by their language form and rhythm.
Suman added tune to a poem of Rabindranath Tagore, when he was just fourteen. Along with his continuous learning of Indian Classical Music, he also listened to many western songs of various artists like Pat Boone, Jim Reeves, Nat King Cole, Nina & Frederick, The Kingston Trio and Frank Sinatra. He was deeply inspired by Ustad Amir Khan. Suman auditioned for Akashbani as a singer and received the 'B-high' grade in Rabindrasangeet and Modern Music and'B' grade in Nazrulgeeti from Akashbani at the tender age of 16.
Youth
When he was seventeen, he started adding tune to lyrics and poems, written by others. He graduated with an honours in English Literature from Jadavpur University and did a diploma in French language and German language. He started reading both modern Bengali poems, especially those written by the Hungry Generation as well as English poems. He was highly inspired by poems written by Samar Sen, Subhash Mukhopadhyay and T. S. Eliot.
Rethinking about Bengali Songs
Around 1968, when he started learning songs of Himangshu Datta under Mani Chakraborty, he started feeling that those songs which he was listening to or even the ones composed by him were not so much in relation to the contemporary time and environment. He observed that the language and thinking of modern poem, story, novel, essay, journalism, drama, cinema, little magazine, agenda etc. has started changing, but not Bengali music. At that time the political environment of West Bengal started changing. It was turbulent times in Bengal. The Naxalbari Movement was slowly gaining strength. Emergency was imposed by Indira Gandhi. Kolkata witnessed daily bombings, arrests of the common people and police atrocities on those involved in the Naxal movement. The Vietnam War, Mao Zedong, Ho Chi Minh and Che Guevara became icons of the Bengali youth, but this did not reflect in contemporary Bengali songs. He felt that he was not satisfied with the music he sang because those songs did not represent his time. He felt that he had to write his own songs if he had to sing. He gave up learning under Kalipada Das. He resigned from Akashbani, stopped recording for INRECO and decided to focus on writing his own songs.
Early Recordings
Kabir Suman's first studio recording was in1972. It was a 7 inch single record, with one song on both sides, written and composed by Rabindranath Tagore. It was released from Hindustan Records. He was accompanied on flute, guitar, violin and tabla by other musicians. Subinoy Roy helped him in the recording, and this recording was done under the guidance of Sudhindranath Chatterjee. His second single vinyl record was published in 1973, from the same company, this was also a two-song record of Rabindranath Tagore. Both these records were commercially unsuccessful, but he got some small scale popularity and received the opportunity to perform in live concerts.
Influence of Bob Dylan and songwriting
After quiting Akashbani ( All India Radio) he joined a clerical post at United Bank of India. Kabir Suman shifted to France temporarily to teach the basics of Indian Classical Music in 1973. It was in Framce that he first listened to Bob Dylan's 'A Hard Rain's agonna Fall' from the album The Freewheeling Bob Dylan. Bob's simple music with an acoustic guitar and harmonica, unconventional voice, and offbeat lyrics, compositions and genre gave him a "shock". He also got the opportunity to listen to the compositions of Phil Ochs, Fados, Shanson and realized that western music has changed a lot, and successfully represents it's time and it's people.
This was when his will to write his own songs strengthed. He started listening to all types of music from the street side accordion to the pipe-organ in the Notre-Dame de Paris church. He also started playing the monophonic synthesizer.
Return to Kolkata
After returning to Kolkata, he stopped professional singing completely to focus on songwriting. He tried writing poems, but it was not satisfactory. His father suggested him to learn some musical instrument, and his parents inspired him not to stop singing completely.
First song
Suman's first songs was a six liner "E Kemon Akash Dekhale Tumi''. This song is still unreleased. Soon after, he left for West Germany.
1975—1979: In West Germany
Kabir Suman went to West Germany on 12th May, 1975 to study literature at the age of 26. He started learning the German Language for his convenience at work and worked part-time alongside his studies. At the end of 1975, Voice of Germany opened a Bengali department in Cologne, and he applied for a job there. They gave him some translation work, and he gradually became a regular freelancer for the Voice of Germany—Bengali division.
In Germany, works of German & Austrian musicians like Wolf Biermann, André Heller inspired him. The stage performance, lyrics and composition of Biermann changed his earlier concept of live performance, which would later have a great impact on his own stage performances. German Cabaret also taught him some lessons. He met Bengali poet Shahid Qadri in Germany.
Back in Kolkata
In May 1979, Suman returned to Kolkata, with an order to send at least two articles to Voice of Germany every month.He worked as a teacher of German at Ramakrishna Mission Institute of Culture, Kolkata and the Max Mueller Bhavan.
He started working in the Bengali daily Aajkal as a part-timer, and also contributed to the Desh (magazine) until 1980. He joined a band called "Samatan". However, this band was unsuccessful and the members broke up very soon. Some members of Samatan and some new members, all in their twenties and thirties joined him to establish a new band called 'Nagarik : Anya Katha Anya Gan'. Kamal Sarkar was the main lyricist and composer. During this time Suman completed his first song (written in 1975) "E Kemon Akash Dekhale Tumi". He also started playing the melodica and the Accordion. He wrote his second song "Bhalo Lagchhe Na Asahya Ei Dinkal", which was highly appreciated by his fellow band members. He started writing songs, breaking the song structure in two or three parts by Counter Point Harmony. After this he wrote another song "Satchallish Noy Swadhinata", the tune of which was inspired from a movie My Name Is Nobody. Shahid Kadri's poem "Rashtra Manei Left Right'' was transcripted by him as a song "Rashtra''. After this he wrote "Tomake Bhababoi"(finally released in 1994), and "Manusher Itihas Likhte Habe", which was a transcription of a Bertolt Brecht' poem. At that time Nagarik performed at two concerts at Ballygunge Science College & Gorky Sadan. Nagarik used the Accordion, Melodica, conga. However Suman felt that his musical talent was not being cultivated properly at Nagorik as he received limited opportunities to sing.
1980—1985: In USA
Kabir Suman went USA for a job in Voice of America, and he decided to join it. He planned with his friend that he will learn western music and buy many musical instruments as much as he can, and after five years he will return in Kolkata, to develop his musical career further.
Learning electronic keyboard
After reaching in USA, he bought a portable keyboard when he got the first salary, and started practicing to play in both hands. After two months he bought a Double Deck Organ in monthly installment and continued practice. At this time he started fully learning keyboard instrument with theory, chord practice, notation reading and writing etc. with help of many American books and cassettes. He also started playing Hammond Organ and Moog Synthesizer during this time. Many songs including "Agun Dekhechhi Ami"(finally published in 1993), "Duchokh Buje Jao", "Hazar Bachhar Dhare", "America Prabasi Bangalir Gan", "Sararat Jwelechhe" (finally published in 1994), "Bandhu Amar Ei Hat Dharo" etc. was created during this period.
During this period Kabir Suman decided to go Nicaragua to feel the environment of Sandinista Revolution. He started learning Spanish, and also history, politics and literature of Latin America, and also created a song "Jwalbe Agun"(finally published in 2012) about this revolution. In the mean time he bought two synthesizers, two organ, one keyboard, one four track tape recorder, one master recorder, microphone etc., and started multi track recording. Salil Chowdhury met with him in early 1982, when Suman was living in Silver Spring, Maryland. In this period, he started sending a feature in each month for 'Desh' magazine under pseudonym Manab Mitra, and also started writing in 'Frontier' magazine. Around 1983 he took some interview of Paul Swizi, Harry Mcdoff, Liror Jones, Amiri Baraka, Noam Chomsky, George Wald, Maxine Kline , Holly Mere, Maya Angelou, Barbara Eirenrich, Bertel Wolman, Anet Rubinstein & Pete Seeger.
During this interview period, Kabir Suman made an intimate relation as a friend, philosopher and guide with Pete Seeger. Pete inspired Suman very much about his songwriting, composing etc. He also helped Suman to go to Nicaragua for knowing details about the revolution.
Suman returned in Kolkata in early 1985. He bought many instruments, applicable for a complete recording studio, which was sent to Kolkata by ship. After returning in Kolkata, he rejoined with 'Nagarik' with some new vocalists and instrumentalists, and continued to writing and composing songs, thinking mainly as group songs.
After more than five years, 'Nagarik' again performed in a concert at Birla Academy Hall, where Kabir Suman played electronic keyboards. Other instruments were guitar, tabla, conga, drums and nal. After seeing the concert, Biman Ghosh, one of the officer of The Gramophone Company of India offered 'Nagarik' to record an album as both vinyl record and cassette tape format. He insisted Suman repeatedly to sing some songs on the forthcoming album, along with playing keyboards, but ultimately the recording company not showed much interest about alternative Bengali songs, and the recording was not done.
Breakup of Nagarik
From early 1986, 'Nagarik' started swinging due to clash of personality. Kabir Suman created some songs at that time like "Hariye Jeo Na", "Tomake Chai" (finally published in 1992), "Aro Balo Aro Katha" (partially published in 1992), "Machhi O Mara Mukher Gan", "Najehal Akashta", "Robbar" (finally published in 1994), "Tumi Gan Gaile (finally sung by Indranil Sen and published in 2002), "Ganahatyar Nam Bhopal", "Tirikshi Mejajer Je Lokta", "Abhibadan" (finally published in 1994) etc. His efforts became mostly useless because most members of 'Nagarik` were not practicing in home, so complex compositions made them troubled. Some old members departed, and some new members arrived. They planned to record some of his songs on cassette tape, the entire recording was planned domestically on his home at Baishnabghata. Kabir Suman himself written, composed, sung and played electronic keyboard on the recording. There were some other vocalists and instrumentalists, instruments included guitar and percussions. The entire recording was done by his four track tape recorder, where live vocals and live instruments were recorded in two tracks by all vocalists, and Kabir Suman himself added more electronic sounds on rest two tracks by playing synthesizer. His book "Mukta Nicaragua" about Sandinista revolution was published by K.P. Bagchi Publication at that time (republished many years later), but another book "Anya America" was failed to publish. He also recorded some information and song about Sandinista Revolution at that time. During this time he constructed a recording studio named 'Sing To Live' inside of an abandoned factory near Bansdroni.
1986—1989: In West Germany
Kabir Suman was not sure about the future of his created songs, and also not interested to involve in a general job. He thought if he could go to foreign country as an employee, he can buy many electronic music instruments. Thinking this, he went West Germany again in September 1986, and before departure he recorded another album of 'Nagarik', following the procedure just written before, but this time in the new studio he constructed.
Learning guitar
After reaching in West Germany, he started learning classical guitar. During this time he felt that guitar is a simple instrument, which could be played by a solo musician, and there is no question about any type of multi-instrument orchestra. Also a guitar makes a man moving-minded. Under an Italian teacher, he started learning guitar, with Finger-style, sight-reading, listening many guitarists' records like Andrés Segovia, Julian Bream etc., and also started learning jazz guitar & Blues guitar. He then started song creation on guitar, like "Hal Chherho Na Bandhu" (finally published in 1992), "Gan-ola" (finally published in 1994), etc. These guitar based songs started influencing of Baul, Bhawaiya, Kirtan, Folk, Blues and also some Ragas.
Suman returned in Kolkata in early 1989. He bought many instruments like before, this time both keyboard and guitar.
Struggling as a newcomer musician
After returning Kolkata, he saw 'Nagarik' has almost disbanded because of ego-clash, and the studio is also in a sinking mood. He decided to be a solo professional singer-songwriter and musician, and thought to work in some advertisement business, but nothing materialized. During this time he wrote some songs like "Tin Shataker Shahar", "Chena Duhkha Chena Sukh" (finally published in 1992), "Pratham Sabkichu" (finally published in 1994) etc.
First public performance with own song
In February 1990, a singer named Raju Bal took a gentleman Indranil Gupta to Suman's house. Indranil listened "Tin Shataker Shahar" and liked it, and told Suman that Kolkata Festival was holding on in Yuba Bharati Krirangan remembering so call tri-centenary celebration of Kolkata City, and that song relates with this, so he should sing this song at that festival.
He felt nervous because he was performing in stage after 17 years, and he was completely unknown, with his style. He sang "Tin Shataker Shahar" with guitar, then "Tomake Chai" and finally "Amader Janya" - both with electronic keyboard. After three songs, audience was highly appreciated his songs and music, and started applause and encore. Kabir Suman felt very happy to realize that his song got favor to general public, and became optimist. He started practice his voice with the help of electronic tanpura, continued keyboard and guitar playing, and also creating songs with some contemporary incidents. Kabir Suman performed first time as a professional singer in December 1990. He got appreciation from Dr. Barin Roy, Gour Kishor Ghosh, Ashis Chattopadhay etc. Shubhendu Maity helped him by give him a chance to perform in some concerts. His songs have not impressed rural people, but urban and suburban people appreciated his songs very much. He also sang at some political meetings of Communist Party of India (Marxist). During this time some controversy arose for one of his song "Anita Dewan".
Solo live performance
Kabir Suman performed his first solo live performance on 5 May 1991 at Shishir Mancha. Many magazines and newspapers were invited, like Aajkal, Desh, Business Standard, The Statesman, and they reviewed it. 'Desh' first labeled his songs as 'Sumaner Gan', which popularized his songs after this time and still now.
But although those reviews were positive, not any invitation other than his friend circle happed. He performed in some live programs with the help of his friends. All those were very unsure, and Kabir Suman also was not optimistic at that time about his eligibility. Many people of advertisement business done jingles or theme songs including "Lexpo 1991", but some of them either gave him not a single money, others gave him very little money, despite Kabir Suman made all this works completely alone with writing, composing, singing, playing instruments, and recording, mixing. Some advised him to go to Mumbai for some professional works, but he refused it.
He went to Doordarshan Kendra Kolkata for some work, but he was refused. He went at Akashbani Bhawan Kolkata, and applied with the help of his friend and famous newsreader Tarun Chakrabarty. Ultimately he sang some of his own songs and some songs of Rabindra Nath Tagore, after 16 years in radio. In 1991 he went to film director Tarun Majumdar for some works in soundtrack. Tarun Majumder listened some of his songs, and selected "Pratham Sabkichu" to use in one of his upcoming film 'Abhimane Anurage', although he requested Suman to change some of his lyrics to match with the theme of that movie. The song was recorded in February 1992. Kabir Suman himself played guitar, Pratap Roy played synthesizer, and Samir Khasnabis played bass guitar. Unfortunately the film was not completed, and so the song was also not released.
First solo album
Shubhendu Maity told to Mr. Somnath Chattopadhyay, one of the officials of The Gramophone Company of India about the songs of Kabir Suman, and after Shubhendu's request, Suman sent some songs to Somnath after home recording. Ravi Kichlu, the head of the product development division of that company welcomed Suman, and shown interest to record his songs. Kabir suman felt very happy and surprised after listening this, and asked to Ravi about the reason of it, Ravi Kichlu told him - "I will be doing a service to Indian Music". The recording started after some days in early 1992.
Tomake Chai
Kabir Suman recorded 12 songs for his first album, named 'Tomake Chai', which was published in April 1992. In many aspects, it was a milestone on the history of Bangla Song. It was the first Bengali Basic Song Album which was entirely written, composed, sung and musical instruments played by the artist himself. It was the first Bengali Basic Song Album which was recorded with the help of a four track tape recorder.
On first pressing, it was not sold well, but after the 2nd pressing, it gained a huge success, and was a big hit. With its offbeat lyric, and instrumentation, it drew a great attention to the listeners, and ultimately it got Platinum Disc.
After much deliberation, Suman zeroed in on the name, Kabir Suman. According to him, "I wanted to keep the name my parents gave me, so I kept Suman. I took the name Kabir after Sheikh Kabir, a Bengali Muslim poet who wrote Baishnab Padabali."
Personal life
As of 2016 Suman has been married five times. He is married to Sabina Yasmin, a Bangladeshi singer.
Musical life
Kabir Suman, recorded a number of albums between 1992 and 1999 under the name Suman Chattopaddhyay or Suman Chatterjee. After 1999, he returned in recording industry again in 2001, and this time as Kabir Suman.
His contemporary urban, socially conscious songs draw upon both Bengali adhunik (modern) and Western folk and protest music. His work has been a major influence in the development of the Bengali songs, which has influenced bands like Chandrabindoo, and has grown to become a major movement in contemporary Bengali music. Most of his songs are played solo with just a Piano, electronic keyboard or a guitar. Like many other Bengali singers, Suman recorded albums of Rabindra Sangeet (Songs of Rabindranath Tagore), starting in the late-1990s.
He released his first solo album, Tomake Chai, on 23 April 1992, which was immensely successful as it redefined Bengali songs. Later Suman stopped making songs for general audience and focused on more political issues.
Concert With Pete Seeger
One of Suman's greatest critical success, was his concert in Kalamandir (in Kolkata) with American folk icon Pete Seeger, in 1996. Unfortunately, all evidences of this concert, were removed and no recording was made. Such actions were taken by the then ruling CPIM government in Kolkata. This was a measure taken against Suman and was made to limit his popularity, as it was not often that Bengali musicians shared stage, with a universally acclaimed icon.
Present Status
Although he has not recorded any studio album after 2012 (actually his original recording in a professional recording studio last occurred in 2008, later he had recorded his studio album entirely at his home), he has recently recorded two soundtrack albums in 2014 and 2016. He is continuing live performance on various stages in Kolkata and various towns in West Bengal until 2017. He also performs live seldom in some cities outside of West Bengal, including some Indian and foreign cities, even outside of Asia. He also teaches songs in his house on weekends. Despite he is not physically fit completely due to some nervous problem, he still performs a three-hour solo live performance, playing electronic keyboard (now simply as an acoustic piano). Until recent, he played guitar. He also plays seldom melodica and harmonica at his concert. Since 2013, he took some additional musicians in his concert for playing additional acoustic guitar and electronic percussion/tabla.
Bangla Khayal
Recently, Kabir Suman is doing some serious works relating Bangla Khayal, which is also written and composed by himself. He organized some concerts about Bangla Khayal.
Influences and legacy
Suman has often been credited with creating a new Genre of music in Bengal, which is deceptively simple, with lyrics that reflect common life experiences. He is sometimes referred to as the Nagorik Kobial (urban troubadour). Some people consider his songs Jibonmukhi (songs facing life), though he doesn't like this title and consider his work as simply adhunik bangla gaan (modern Bengali song).
His music reflects on social mores and is often directly political. Suman draws from a very long and deep tradition of Bengali music, absorbing multiple genres including pop, light classical, film music and folk. His influences traverses a literal who's who of the Bengali music pantheon. He was also influenced by Western musicians such as Bob Dylan, Pete Seeger, Paul Simon and John Lennon. He transcribed (with credits) Dylan's "Blowin' in the Wind" as "Uttoro to Jana" in his album Ichche Holo in 1993 and "Farewell, Angelina" (initially recorded by Joan Baez in 1965) as "Biday Porichita" in his 1997 album Jatiswar. He transcribed (with credits) Paul Simon's "Sounds of Silence" as "Stobdhothar Gaan". Pete Seeger also had an influence on his music. Suman had transcribed Pete Seeger's Where Have All The Flowers Gone, to his song called "Kothay Gelo Tara". Which he sang at various occasions, but never recorded. He had sung this in his concert with Seeger in Kalamandir 1996, right after Pete sang his original.
His early albums were sparsely arranged, using primarily electronic keyboard, guitar and occasional mouth organ, all played by himself on multitrack recordings. The effect on the Bengali audience was not unlike what Bob Dylan produced on American audiences during the Beat Generation. Later albums were more elaborately arranged with full studio orchestra and often classical Hindustani accompaniment. Suman influenced a generation of singer-songwriters in Bengal after 90s, including Nachiketa Chakraborty, Anjan Dutt, Lopamudra Mitra, Srikanto Acharya and bands like Chandrabindoo.
Political activities
Suman was a journalist in Nicaragua during the Sandinista revolution and wrote Mukto Nicaragua (Liberated Nicaragua) on his experiences. During the 2002 Gujarat riots, he composed songs in protest against fundamentalism. He is also noted for his strong declamations against political opponents in public. Since 2006, when Suman was involved in the land struggle in Nandigram, he started aligning himself to All India Trinamool Congress (TMC) led by Mamata Banerjee. His songs on the Nandigram land issues have been released on two albums, Nandigram and Pratirodh. Suman participated in the Singur agitation & other TMC party programmes on a regular basis.
The Trinamoool Congress nominated him for the 2009 general election from Jadavpur constituency in Kolkata, West Bengal, and won the election, defeating his nearest rival, Sujan Chakraborty of the Communist Party of India (Marxist) (CPI(M)) by 54,000 votes (by a 10% margin).
In November 2009, Suman had a dispute with the Trinamool Congress. He complained that the local leaders of the party were not allowing him to work, and his views were not taken seriously in the party. However, the issue was resolved amicably in a series of closed door meetings.
Suman has also been vocal in his support for the movement of tribals in Lalgarh, and has composed an album called Chatradharer Gaan in support of the mass movement, going against the wishes of the party. Going against the party position, he has also expressed his protests against "Operation Green Hunt", the Indian Government's military operation where the Naxalites have some influence.
Suman, at the end of March 2010, claimed that he is going to leave Trinamool Congress and also his membership of the Parliament. On the request of Mahasweta Devi he postponed his resignation for seven days. Within a few days, however, he made a u-turn and declared on 7 April that he does not want to resign by further embarrassing the party. Currently he conveys his political opinions through his own website.
Discography
Solo albums with track lists:
63 te (2012)
Since 2011, many old and new songs are publishing in his website and Facebook
Collaborative albums
Onyo Katha Onyo Gaan Volumes I & II (1986) – Sing To Live [with Nagorik]
Nicaraguar Jonyo (1986) – Sing To Live [with Nagorik]
E Desh Tomaar Aamar (1991) – SFI / HMV
Konthe Nilaam Notun Gaan (1994) – Concord Records (two songs sung by Concord Trio)
Shobujer Protishodh (1995) – HMV (Haimanti Sukla)
Choto Boro Mile (1996) – HMV [with Nachiketa Chakravarty, Anjan Dutt, Indrani Sen, Lopamudra Mitra, Payel Kar, Shalini Chatterjee, Sreetoma Ghosh, Shayari Das, Tanushree Haldar, Paromita Chatterjee, Reema Roy, Shubhanwita Guha and Reetomaa Gupto]
Notun Gaaner Nouka Bawa (1997) – Bhetorghore Brishti (1998) – HMV [two songs sung by Lopamudra Mitra on each album]
Dhanya Hok (1998) – HMV [two songs sung by Sandhya Mukherjee]
Shesh Dorjata Perole (1998) – HMV [two songs sung by Sandhya Mukherjee]
Tomaye Khnujechi (1999) – Soundtech Sabina Yasmin
Ochena Chuti / Gaane Gaane Duti Mon (1999) – Raagaa/Soundtech [with Sabina Yasmin]
Aashche Shotabdite (1999) – HMV [two songs sung by Sandhya Mukherjee]
Ekshaathe Bnachboi (1999) – HMV [with Sohini, Shinjini, Debdutta, Shidhdhaartho, Anirban, Oindrila, Shreya, Shilpi, Arindam, Chiranjeeb, Rajshekhar, Shongeeta, Gaargi, Arundhati, Indrani, Shoilangi, Gargi, Aakaash and Payel]
Rongdhonu Taanaa Shetu (2000) – HMV [two songs sung by Sandhya Mukherjee]
Shada Paayra Giyeche Ure (2001) – HMV [two songs sung by Sandhya Mukherjee]
Tumi Gaan Gaile (2002) – Prime Music (Indranil Sen)
Awshshomedher Ghora Chhutchche (2003) – HMV [two songs sung by Sandhya Mukherjee]
Protichhobi (2004) – No Audio Release [with Sabina Yasmin and Bnaadhon]
Onekdin Por (2004) – Cozmic Harmony [with Anjan Dutt]
Tero (2006) – Cozmic Harmony [with Sabina Yasmin]
Suprabhat Bishannata (2008) - Cozmic Harmony (Sabina Yasmin)
Live albums and collaborations
Onurodher Aashor (1994) – T-Series
Ei Shomoye Ei Dujon- Live at GD Birla Sabhaghar (1997) – HMV (with Nachiketa)
Tribeni (1997) – HMV [with Nachiketa Chakravarty and Anjan Dutt]
Notun Shurer Chnoa (1999) – HMV (with Sandhya Mukhopadhyay, Lopamudra Mitra, Haimanti Sukla and Swagatalakshmi Dasgupta)
Praan Khola Gaan (1999) – HMV (with Lopamudra Mitra, Nachiketa Chakraborty and Bhoomi)
Onyo Hawaye Onyo Gaan (2004) – HMV [with Lopamudra Mitra]
Pujor Shera Gaan (2004) – HMV [with Sandhya Mukhopadhyay]
Graphiti (2006) – HMV [with Nachiketa Chakravarty, Anjan Dutt, Lopamudra Mitra, Protul Mukherjee and Moushumi Bhowmick]
Onno gaaner bhorey (2009) – HMV (with Nachiketa)
Film albums
Obhimaane Onuraage (1992) [Unreleased] – [Playback Singers: Kabir Suman]
Attojaa (1993) – [No Audio Release][Playback Singers: Kabir Suman, Haimanti Sukla]
Mahasangram (1994) – HMV [Playback Singers: Kabir Suman, Indrani Sen]
Bhoy (1996) – Beethoven Records [Playback Singer: Kabir Suman in two songs]
Krishnachura [Bilingual in Assamese (released) and Bengali (unreleased)] (1995) – HMV [Playback Singers: Kabir Suman, Haimanti Sukla]
Jodhdha (1995) – HMV [Playback Singer: Kabir Suman in one song]
Shedin Choitromash (1997) – HMV [Playback Singers: Kabir Suman, Nachiketa Chakravarty, Swagatatalakhi Dasgupta and Lopamudra Mitra]Best song-AMI JE CHILAM BESH...
Shurjokanya (1998) – HMV [Playback Singers: Kabir Suman, Sriradha Banerjee, Swagatatalakhi Dasgupta and Srikanto Acharya]
Katha (2007) [No Audio Release]
Ranjana Ami Ar Asbo Na (2011)
Jaatishwar (2014) - T Series [Playback Singers: Kabir Suman, Rupankar Bagchi & others]
Shankar Mudi (2016) - R P Tech-vision [Playback Singers: Kabir Suman, Srikanto Acharya, Pratik Chowdhury, Raghab Chatterjee, Bidipta Chakrabarty & others]
Publications
Suman, Kabir (2012). Discovering the Other America: Radical Voices from the 1980s in conversation with Kabir Suman. Thema. ISBN 978-93-81703-10-6.
Awards & Honours
1997 - BFJA Awards - Best Lyrics for Bhai
2014 - National Film Award for Best Music Direction for the film Jaatishwar.
2014 - Mirchi Music Awards Bangla for Music Composer of The Year (E Tumi Kemon Tumi - Jaatishwar)
2014 - Mirchi Music Awards Bangla for Lyricist of The Year (Khudar Kasam Jaan - Jaatishwar)
Honoured with Sangeet Mahasamman by Government of West Bengal in 2015.
References
Kabir Suman Wikipedia
(Text) CC BY-SA