K Madhu | Film Director | Celebrity Chat | Full Episode | ntvHD
K. Madhu is a Malayalam film director. Popular for his suspense and investigation thrillers, K. Madhu has a long list of hits in his kitty. He is uncle of the famous Malayalam film actress Navya Nair.
Contents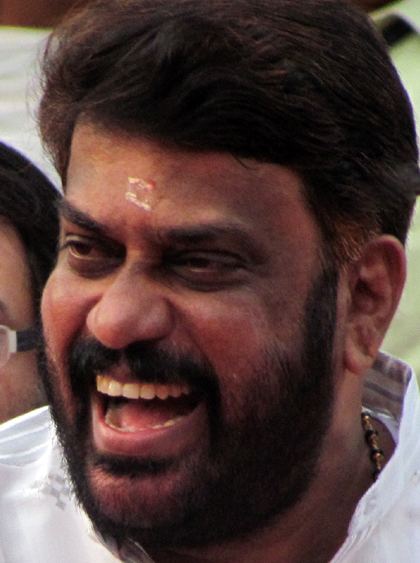 Director / Producer K Madhu on On Record 18th Sep 2013 Part 3
Career
K. Madhu made his debut as a director in 1986, with Malarum Kiliyum. Though, the film failed in creating an impact, Madhu succeeded in getting a career break in 1987 with Irupatham Noottandu. The huge success of Irupatham Noottandu was followed by Oru CBI Diary Kurippu in 1988, which created a sensation in Kerala. Though has worked with several script writers, most of his huge hits has come from his combination with S. N. Swamy.
K. Madhu-Mammooty
K. Madhu-Mammootty combination have given several super hits to Malayalam cinema.Mammooty was the hero of his first film Malarum Kiliyum (1986). Together they had done many mystery-legal thriller films and most of these films were declared as blockbusters. They had joined together for 13 films. Sethurama Iyer, the highest grossing film series in Malayalam film industry was their teamwork. These films were considered as the most memorable films of megastar Mammootty as Sethurama Iyer, a CBI officer. Their new film CBI Part 5:Black Ivestigators, the sequel of Sethurama Iyer CBI is in pre-production.
K. Madhu-Mohanlal
K. Madhu-Mohanlal combination also delivered several super hits to Malayalam cinema especially Known for 1987 Industry Hit Irupatham Noottandu creating first ever record of running housefull shows, highest ever footfalls & crossing ₹ 2 crore mark at box office breaking records of Rajavinte Makan, Avanazhi & many others. After huge success of Irupatham Noottandu, they collaborated for 3 films such as Moonnam Mura and Adhipan, both turned into box office blockbusters with former became sensational hit due to first film genre of rescue mission thriller and real stunts which also remade in Telugu as Magaadu and latter was high octane revenge film, but their next film Chaturangam turned into flop due to lack of Story content & misuse of ensemble cast including Superstar Mohanlal.
K. Madhu-S. N. Swami
S. N. Swami and K. Madhu jointly worked for many a film. Together they have presented many blockbusters include Sethurama Iyer CBI, Irupatham Noottandu, Moonnam Mura, Nariman, Oru CBI Diary Kurippu and many others. The first film they joined together was Irupatham Noottandu which was a box office hit from which they started granting superhits. Their next film Oru CBI Diary Kurippu was another blockbuster. Most of the films they joined together were a Legal-crime thriller. But they took a break after Rahasya Police which become a flop at box office. But they are joining together for the sequel of Sethurama Iyer, CBI Part 5:Black Ivestigators. All the sequels of this series was declared as superhits.
References
K. Madhu Wikipedia
(Text) CC BY-SA