President

Joko Widodo


Spouse

Veronica Tan




Preceded by

Prijanto




Role

Governor of Jakarta



Preceded by

Joko Widodo


Name

Basuki Purnama




Deputy

Djarot Saiful Hidayat




Deputy

Khairul Efendi




Education

Trisakti University






Born

29 June 1966 (age 51), Manggar, Indonesia




Children

Daud Albeenner Purnama, Nathania Purnama, Nicholas Purnama




Parents

Indra Tjahaja Purnama, Buniarti Ningsih




Siblings

Basuri Tjahaja Purnama, Harry Basuki, Fifi Lety




Similar People

Joko Widodo, Lulung Lunggana, Setya Novanto, Prabowo Subianto Djojohadikusumo, Fadli Zon




Profiles




Twitter




Succeeded by

Djarot Saiful Hidayat



Setapak the social innovation project basuki tjahaja purnama
Basuki Tjahaja Purnama (EYD: Basuki Cahaya Purnama; Chinese: 鍾萬學; Tjung Ban Hok; pinyin: Zhōng Wànxué; Hakka Pha̍k-fa-sṳ: Chûng Van-ho̍k; born 29 June 1966) is an Indonesian politician and former governor of Jakarta. He is also known by his Hakka Chinese nickname Ahok (Chinese: 阿學).
Contents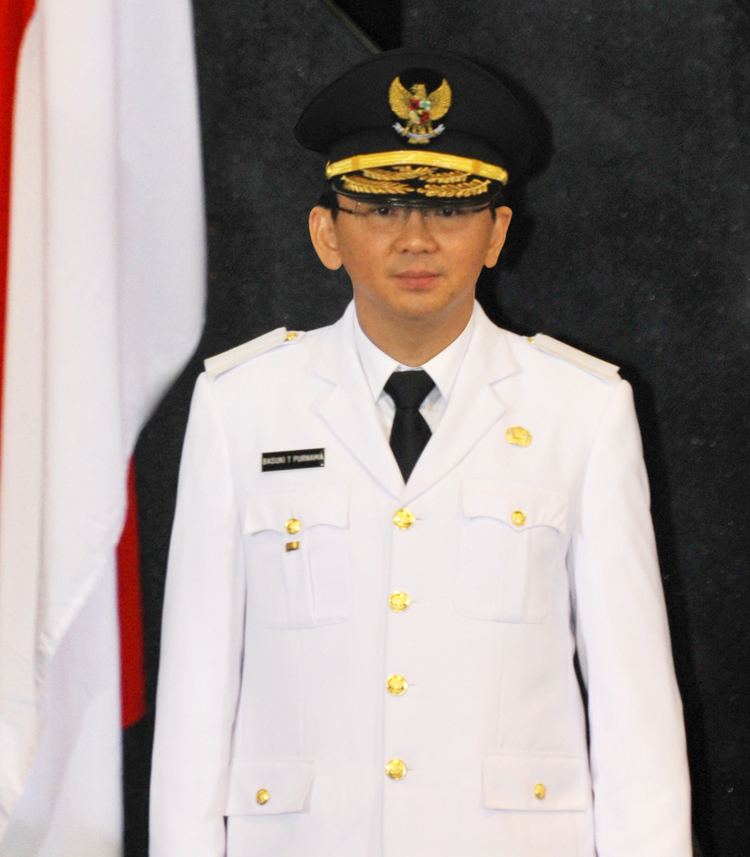 Basuki was a legislator in the Indonesian People's Representative Council and Regent of East Belitung. He was elected to the Komisi II House of Representatives for the 2009–2014 term but resigned in 2012 to run in the Jakarta governor election. He was inaugurated as the governor of Jakarta by the president of Indonesia, Joko Widodo, on 19 November 2014. However in the 2017 Jakarta gubernatorial election he was defeated by Anies Baswedan.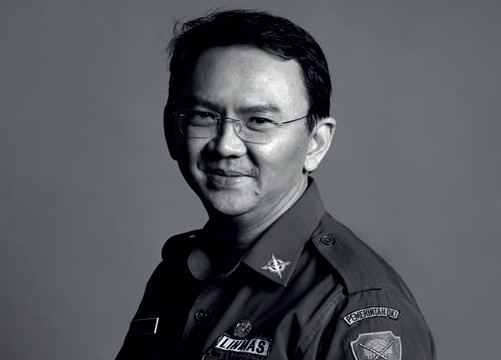 During his tenure as the governor of Jakarta, he made a controversial speech while introducing a government project at Thousand Islands in which he referenced a verse from the Quran to not vote for a non-Muslim as a leader. Some Muslim communities were offended and seen this speech as blasphemous, thus reported him to the police. He was later convicted of blasphemy against Islam by the North Jakarta District Court and sentenced to two years imprisonment. He was replaced by his deputy, Djarot Saiful Hidayat.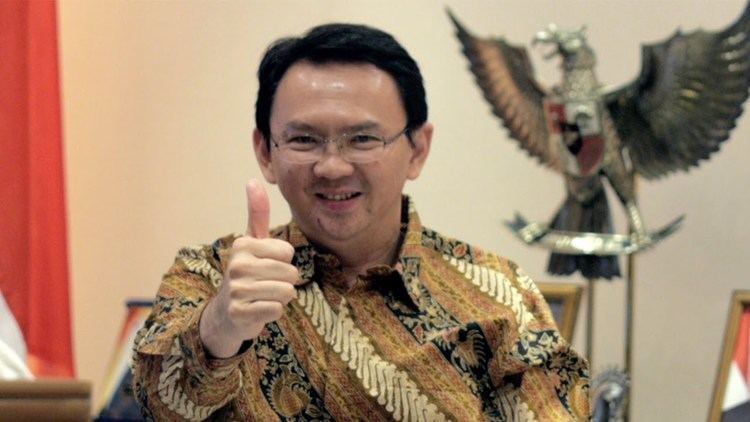 Basuki is the second governor with Chinese ancestry and also the second Christian governor of Jakarta, following Henk Ngantung, who was governor from 1964-65.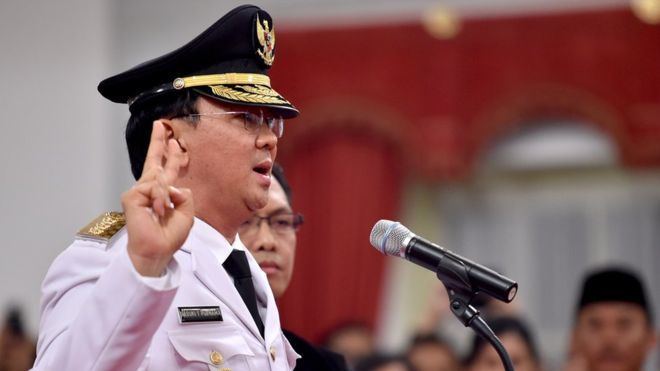 Jakarta Governor Purnama 'Ahok' found guilty of blasphemy
Early life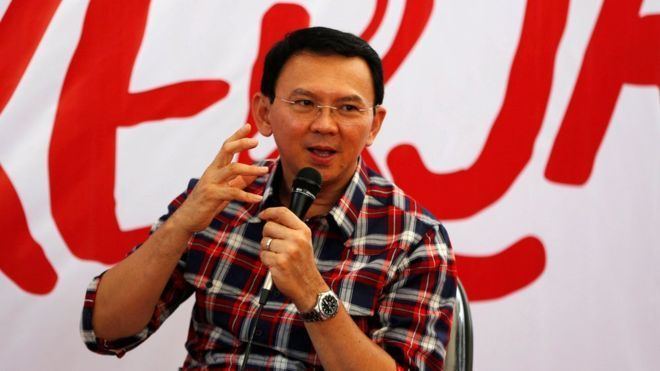 Basuki was born on June 29, 1966 and grew up in Manggar, East Belitung. He is the first son of Buniarti Ningsih (Boon Nien Yauw) and the late Indra Tjahaja Purnama (Chung Kin Nam). Basuki has three siblings: Basuri Tjahaja Purnama, Fifi Lety, and Harry Basuki.
Education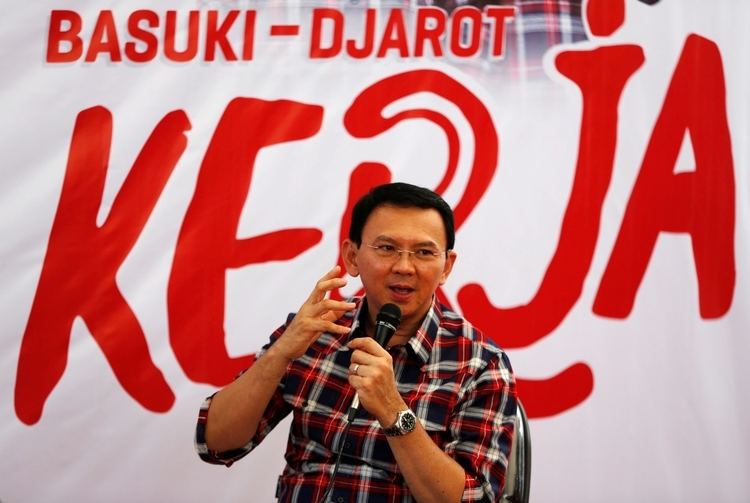 Basuki attended Trisakti University, majoring in mineral resources and technology. He graduated with a bachelor of science degree in geological engineering in 1989 and returned to his hometown in Belitung to build a company that dealt in mining contracts.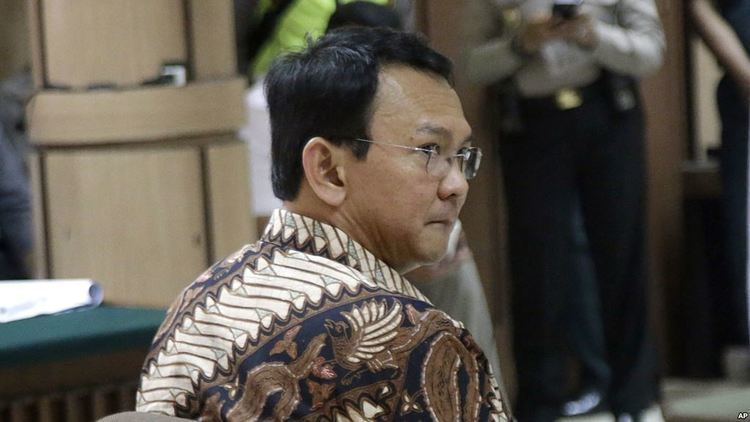 After two years of working in the company, he decided to pursue a master's degree in financial management at Prasetiya Mulya Business School in Jakarta. He graduated with a Master of Business Administration.
Family
Basuki is married to Veronica Tan, and the couple has three children: Nicolas Sean, Natania, and Daud Albeneer.
Early involvement with politics
Basuki entered politics in his home region of Belitung. He ran in the 2005 East Belitung regent election with Khairul Effendi as his running mate and was elected as regent with 37.13% of the vote. Basuki believes that Indonesia is breaking with the past, that had a long and often violent history of prejudice and resentment. He is nicknamed "The Father" and "The Law" for strong actions against corruption. After a month in office, Basuki confronted key issues related to traffic congestion, labor, corruption and the bureaucracy. He mediated a minimum wage increase, proposed incentives for street vendors to move to designated markets in order to reduce congestion, migrating poor villagers into new flats, launched sudden inspections of government offices, and proposed installing closed circuit televisions to improve accountability.
2007 Bangka-Belitung governor election
Basuki resigned from his position as East Belitung regent on 11 December 2006 in order to run in the 2007 Bangka-Belitung gubernatorial election. He later credited former Indonesian president Abdurrahman Wahid, for convincing him to run for public office. Wahid supported Basuki's candidacy and praised Ahok's healthcare reforms.
Basuki was defeated by Eko Maulana Ali.
In 2008, Basuki wrote a biography titled Merubah Indonesia (Reforming Indonesia).
Parliamentary career (2009-2012)
In 2009, Basuki was elected to the House of Representatives, as a Golkar politician. He was elected with 119,232 votes, and was assigned to the Second Commission. In 2011, he created a controversy during a visit to his local constituency. He was recorded by the local media condemning local tin mining businesses for causing environmental damage. The comment was regarded as an insult by a local youth NGO, who reported him to the House Ethics Committee.
Jakarta's deputy governor (2012-2014)
In 2011, Basuki considered to run as Jakarta governor as an independent. However, he decided not to run as he was pessimistic about his chances on getting 250 thousand signatures, the requirement for running as an independent gubernatorial candidate in Jakarta. However, he then ran along Joko Widodo in the 2012 election as his running mate. Jokowi and Basuki won 1.847.157 (42,60%) votes in the first round, and 2.472.130 (53,82%) in the second round, defeating incumbernt governor Fauzi Bowo. The ticket was nominated by the Indonesian Democratic Party – Struggle (PDI-P) and the Great Indonesia Movement Party (Gerindra). On 10 September 2014, Basuki left Gerindra due to a dispute on a proposed bill on regional elections. Since then, he becomes politically unaffiliated.
Governorship (2014-2017)
When Joko Widodo took a temporary leave from his post as Jakarta governor to campaign for President, Basuki became the acting Governor of Jakarta from 1 June to 22 July 2014. Following Jokowi's victory, he succeeded him as governor and was sworn into office on 18 November 2014.
Jakarta governor election, 2017
Basuki initially had declared to run for the 2017 Jakarta gubernatorial election as an independent candidate with Teman Ahok, a group of volunteers responsible for collecting over one million Identity Cards, representing over one million supporters required by Indonesian law to be eligible to run from independent ticket. Due to a new state regulation that stricken independent candidate's requirements to run for gubernatorial election, Basuki is set to run from political party ticket from three political parties, who previously declared endorsements earlier in 2016. The three political parties consisting Golkar, People's Conscience Party, and Nasdem Party. On 20 September 2016, Indonesian Democratic Party of Struggle (PDIP) declared its support for Basuki.
In the first round of voting on 15 February 2017, Ahok secured passage to the second round run-off between two candidates, having secured approximately 43 percent of the vote, ahead of Anies Baswedan on 40 percent, and well ahead of Agus Yudhoyono on 17 percent.
Quick counts for the 19 April runoff indicated that Anies Baswedan was elected as governor; Ahok conceded defeat hours after the polls closed. The official results of the runoff was published by General Elections Commissions (KPU) in May, and Anies Baswedan was elected as the new governor of Jakarta.
Incident
On 27 September 2016, while introducing a government project through a speech in front of citizens of the Thousand Islands, Basuki realized and acknowledged that some citizens are understandable if they would not vote for him because they are being "threatened and deceived" by some groups using Verse 51 of Al Maidah and variations of it," referring to a verse that some groups have cited as grounds to oppose him. The provincial government of Jakarta uploaded the video recording to YouTube in a channel which often feature Basuki's activities. The video was later edited by Buni Yani and one word was omitted from that video that created a misinterpretation of Basuki's statement, and went viral as some citizens were considering it an insult on the Quran. The video became viral and Basuki was widely criticized in social media such as Facebook and Twitter. A Change.org petition criticising him gained tens of thousands of signatures.
Protests
Several fundamentalist organizations, including the Islamic Defenders Front (Front Pembela Islam) and a local chapter of the Indonesian Ulema Council, reported Basuki to the police, accusing him blindly of having violated Indonesia's Law on Misuse and Insult of Religion. On October 10, 2016, Basuki publicly apologized to those he offended with his statement, stating that it was not his intention to do so, and that some of his policies that he said had benefited Muslims, such granting permits for Islamic schools, providing Jakarta Smart Cards (KJP) to the students, and building a mosque in the City Hall complex. He also pointed out that during his September 7 speech in the Thousand Islands in which he mentioned Surah al-Maidah, verse 51 of the Quran, the residents were not insulted, and even laughed during his recitation.
Trial
On 9 May 2017, Basuki has been sentenced to two years in prison by the North Jakarta District Court after being found guilty of committing a criminal act of blasphemy and inciting violence. The panel of judges rejects Basuki defense that he made reference to a Quranic verse to highlight political discrimination.
Because of this case, Basuki was unable to continue his position as governor of Jakarta and was replaced by his deputy, Djarot Saiful Hidayat as the acting governor until a higher court overturns his conviction or sentence, or until the end of current administration, which will end on October 2017. Basuki and his lawyers have filed an appeal against the verdict. In an unusual move, the prosecutors also filed an appeal against the verdict, citing that the sentence was much heavier than what they had requested.
The verdict delivered by the panel of judges was met with scrutiny and heavy criticism by many Indonesians and observers in the international community. Many have accused that the verdict was politically driven and that the judges had succumbed to public pressure from groups demanding that Ahok be jailed for having committed blasphemy towards Islam. The promotion of three judges from the panel a few days after the verdict have also raised suspicions and spurred criticism from many Indonesian citizens.
Based on a court hearing on 9 May 2017, the judge said that the speech by defendant Basuki Tjahaja Purnama in Thousand Islands, North Jakarta, 27 September 2016, contained elements of religious blasphemy. Quoting the judge:
"From the statement the defendant considers Al-Maidah as a tool to deceive or source of lies"
The judge said Al Maidah verse 51 is part of the Quran, and that anyone who quotes should not have any intent of deception. On 9 May at the North Jakarta District Court, it was decided that Basuki would be sentenced to 2 years of imprisonment disregarding the public prosecutor in seeking 1 year of imprisonment. Basuki and his attorney decided not to appeal. The appeal however was submitted from the public prosecutor. The judge took into consideration a book Basuki had written in 2008 titled "Changing Indonesia". In the book, Ahok had mentioned the Al-Maidah verse 51. That is, Ahok understand that Al Maidah verse 51 is part of the contents of the holy book of Muslims. Likewise with the view of the meaning of the word aulia in Al Maidah verse 51. Some experts say that aulia means leader. Therefore, there should be no prohibition for those who follow the opinion that aulia is a leader. "So it is not legally prohibited and it is not SARA." Just as people take the leader from the same tribe, the same party is not prohibited and not SARA," said the judge. "Considering from the above description of consideration, the defendant's remarks have degraded and insulted the holy book of the Qur'an," the judge said. The judge also agreed with the expert witnesses in this trial. "Considering from the above description, these words contain the nature of Islamic blasphemy," said the judge.
Aftermath
Several Organisations including the United Nations and Amnesty International condemns Indonesia's action on the jailing of Purnama.
Addie MS conducted a singing protest in front of the Balai Kota, the Governor's workplace with his Vice Governor Saiful Djarot Hidayat sweeping with tears.
As a form of peaceful protest and a tribute to Ahok, many Indonesians have organised candle-lit vigils and recite national songs in various cities both inside and outside of Indonesia.
In many countries around the world candlelight vigils were held in 2017 in support of Ahok..
Many observers and individuals both inside and outside of Indonesia have also petitioned the Indonesian government to amend the blasphemy law on the basis that it is discriminatory and targets minorities.
Ahok, who initially wished to appeal, withdrew his appeal on the 22nd of May. He is currently incarcerated at Cipinang.
Before his arrest Ahok had said that one day he wanted to be president of Indonesia.
References
Basuki Tjahaja Purnama Wikipedia
(Text) CC BY-SA