In 2017, the population of Joinville reached approximately 570,000 people, many of whom are of German, Swiss, Norwegian and Italian descent. The metropolitan area is home to 1,212,997 residents according to the 2010 census by IBGE.
Owing to urban development and relatively good infrastructure, Joinville has become a major center for events and business conferences. The city has one of the highest standards of living in Latin America.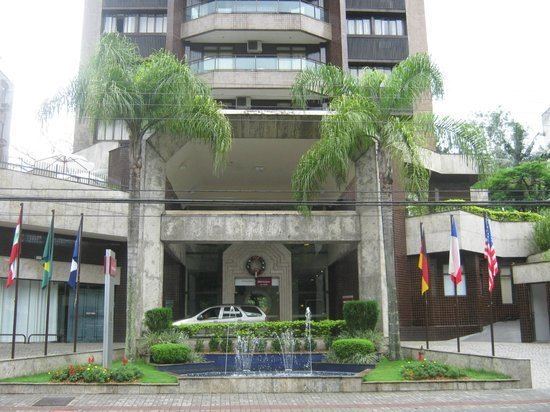 The first inhabitants in the region of Joinville were probably the Tupi people. Archeological indications and more than forty sambaquis (middens) found locally indicate human habitation as far back as 4800 BC. Although there are signs of agricultural activity, the principal elements in the diet at that time were apparently fish and shell-fish.
Joinville was founded on March 9, 1851, by German, Swiss and Norwegian immigrants.
Even though it is considered a German-Brazilian city, its name is French (Joinville was named after François d'Orléans, prince of Joinville, son of King Louis-Philippe of France, who married Princess Francisca of Brazil, in 1843). The city's former name was Colônia Dona Francisca (Lady Francisca Colony), but was changed to Joinville in 1851.
The land where Joinville is located was part of the French and Brazilian Royal Family wedding gift, even though the Prince of Joinville and his Brazilian bride had never been to the land.
However, a Royal Palace was built in their honor around 1870. In 1851, the French prince, after a financial crisis, sold almost all his lands in Southern Brazil to the German Senator Mathias Schröder.
Senator Schröder was a member of the Colonization Society of Hamburg. This society, made up of bankers, businessmen and merchants, attracted immigrants to be sent to Brazil and thereby establish commercial ties between Germany and the German communities in Brazil. In 1851, the first 118 German and Swiss immigrants arrived, followed by 74 Norwegian immigrants.
From 1850 to 1888, Joinville received 17,000 German immigrants, most of them Lutherans, poor peasants coming to occupy this part of Brazil.
Joinville is located in the northeast of the State of Santa Catarina, close to the Atlantic coast, and is crossed by the river Cachoeira. It is not too far from the borders with the state of Paraná and its capital, Curitiba. The city is surrounded by the municipalities of Garuva, São Francisco do Sul, Araquari, Guaramirim, Schroeder, Jaraguá do Sul and Campo Alegre (this one in the microregion of São Bento do Sul).
The city contains a port on Babitonga Bay (Baía da Babitonga), which leads to the Atlantic Ocean and provides an important route for exporting manufactured products. In 2006–07 there were public discussions about creating a Baía da Babitonga Wildlife Reserve to manage the mangroves, fishery and aquaculture in the bay. This was defeated by politicians and businesspeople who were concerned about the impact on planned projects including a port expansion.
Joinville has a humid subtropical climate (Köppen climate classification data). In some rare cases, Joinville gets hit by South Atlantic cyclones, the most notable being Cyclone Catarina in 2004. Although Joinville lies outside the tropic zone, and because of its low altitude and proximity to the Atlantic Ocean it sees little temperature variation throughout the year, with every month seeing average highs in the 20s C.
Joinville is famous for its strong German-influenced culture. The city retains many aspects of German culture, in its architecture, in the local dishes, parties and in the way of life of its inhabitants.
Joinville is the host city of the Festival de Dança de Joinville (Joinville Dance Festival) which is the world's largest dance event, held every year during the month of July. Joinville is the only city outside of Moscow to have a school of the Bolshoi Ballet, the renowned Russian Ballet Company. The city is home to a Catholic bishop, several Lutheran churches (one of the largest communities in Brazil), a Botanical Garden and a Zoo. Parks, and several beaches are less than an hour's drive away from the city. Joinville is also home to several museums including the "MUBI" bicycle museum.
The Royal Palace, built in the mid-19th century, nowadays is a designated National Museum of Immigration History, specifically detailing the struggle and hardship German immigrants went through on their journey to Brazil in the 1800's. It has furniture and costumes dating back to the mid-19th century.
the
Every year since 1982, Joinville's Dance Festival gathers in the city thousands of professional dancers and viewers from all over the world. The festival always takes place in the second half of July. The 11 days of presentations attract around 50 thousand people to Centreventos Cau Hansen, making it one of the largest events of its kind in the world. Joinville's Dance Festival has even received a mention in the 2005 edition of the Guinness Book of World Records as the world's "largest dance festival". There are competitions in seven different categories, from classical ballet to folk dances. Squares, shopping centres and many companies take the opportunity to promote other events at the same time, such as courses and talks.
With a population of over half a million inhabitants and an economy based mainly on industry, Joinville has become the largest city in State of Santa Catarina.
European Brazilians compose most of the city's population, tracing their origins mostly from Southern and Central Europe. A minority of the population (7.32%) are Black or Pardo (Brown-colored multiracials).
Source: IBGE 2000.
The first settlers were mainly Lutherans but, nowadays, followers of this religion make up only 6.13% of the population. Today, most of the Protestants are of Pentecostal faith. The first congregation of The Church of Jesus Christ of Latter-day Saints in Brazil was organized in Joinville. The main religion, as in most of Brazil, is Roman Catholicism.
Source: IBGE 2000.
Joinville's economy is based on industrial activities and commerce. The city is also the center to some of Brazil's largest software companies such as: Datasul, Logocenter, Microvix and SoftExpert.
Joinville is also home to many well known large corporations in Brazil such as: Tupy, Tigre, Embraco, Döhler,Whirlpool, Wetzel, Busscar, Ciser, Schulz S/A.
The city has one of the highest standards of living in Brazil. Its industrial output is the third-largest in the Southern States of Brazil, after the large main cities of Porto Alegre and Curitiba. Joinville is also the third most populous city in the southern region of Brazil, after the neighboring state capitals of Curitiba and Porto Alegre.
General Motors opened a motors factory in Joinville in 2012. It plans to invest up to US$1 billion in the coming years in another plant next to its new plant and a full assembly line is in the works for the future.
In April 2013 BMW announced the building of its first plant in Latin America in the neighboring town of Araquari - the headquarters of BMW are expected to be in the city of Joinville. BMW will build the X1, X3, and 3 series initially in this plant and possibly some models of the Mini Cooper. It was confirmed on Dec 16, 2013 that the following models will be built in the plant: Series 1, X1, X3, Series 3 and the Mini Cooper Countryman - the factory is set to open by the end of 2014.
English and Spanish are part of the official high school curriculum. As most of Joinville's inhabitants are of German ancestry, the German language is also taught in some schools.
State and Federal
UFSC - Federal University of Santa Catarina
IFSC - Federal Institute of Santa Catarina
UDESC - Universidade do Estado de Santa Catarina
Private
ACE - Associação Catarinense de Ensino
FCJ - Faculdade Cenecista de Joinville
CATÓLICA - Centro Universitário - Católica de Santa Catarina [1]
IELUSC - Instituto Superior e Centro Educacional Luterano Bom Jesus
IESVILLE - Instituto de Ensino Superior de Joinville
INESA - Instituto de Ensino Superior Santo Antônio
SENAI - Serviço Nacional de Aprendizagem Industrial
SOCIESC - Sociedade Educacional de Santa Catarina (pt Wikipedia)
UNIVILLE - Universidade da Região de Joinville
Joinville-Lauro Carneiro de Loyola Airport (IATA code: JOI) is a minor airport in southern Brazil and serves only domestic flights. It is located 13 km from downtown.
Joinville is 135 km away from Curitiba on the BR-101, and 184 km from Florianópolis, the state capital.
The city also offers leisure options in sports: there is a golf course, equestrian centre and a kart track. For outdoor activities lovers, there are places suitable for practicing any sport, from shooting (German tradition from the Middle Ages, kept until today) to adventure and nautical - the largest and best equipped Yacht Club in Santa Catarina State is in the municipality. The city also hosts famous teams of basketball, salon (Indoors) football and volleyball, all of them highly recognised in the national leagues.
Sporting clubs
Joinville Esporte Clube (abbreviation: JEC).
On December 8, 2013, Joinville made headlines in the sport world when the game between Clube Atlético Paranaense and Vasco da Gama-RJ at Arena Joinville, the main football stadium in town was interrupted by violent fights between fans. The game was part of the last qualifying games of the Premier league "Serie A" in Brazil - Atlético Paranaense were fighting for a position in the Libertadores Cup and Vasco da Gama was fighting not to be relegated to the lower league "Serie B". Atlético Paranaense were hosting a game in Joinville after already being penalized for violence in its own arena in Curitiba, Paraná (120 km away from Joinville).
Eduardo Fischer, swimmer.
Maurício Gugelmin, former Formula One and ChampCar driver.
Juarez Machado, artist
Ana Cláudia Michels, fashion model.
Vitor Miranda, Thaiboxer and martial artist.
Márcia Narloch, gold medal winner in the women's marathon at the 2003 Pan American Games.
Daniel Orzechowski, swimmer.
Tiago Splitter, Brazilian basketball player.