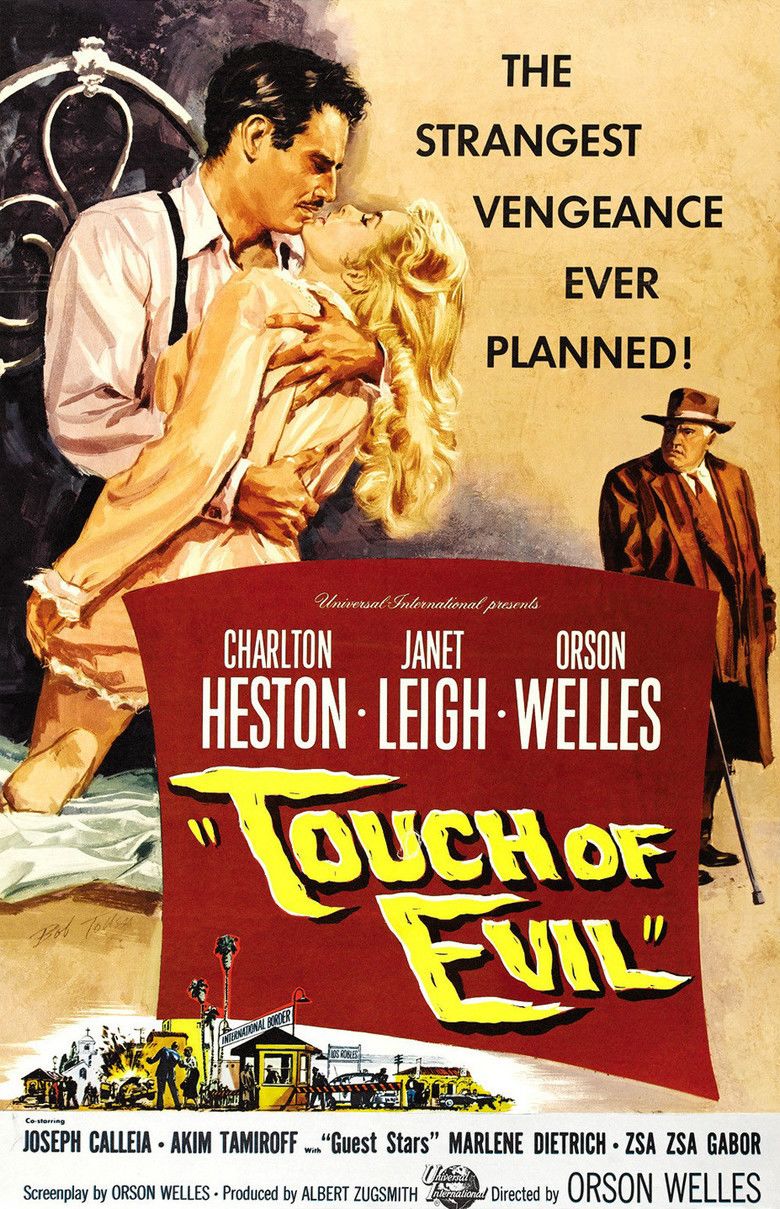 In a Mexican town along the U.S.–Mexico border, a time bomb is planted in a car. Rudy Linnekar (Jeffrey Green) and woman Zita enter the vehicle and make a slow journey through town to the U.S. border, the woman (Joi Lansing) insisting that she hears something ticking. Newlyweds Miguel "Mike" Vargas (Charlton Heston), a drug enforcement official in the Mexican government, and his wife Susie (Janet Leigh) pass the car several times on foot. The car crosses the border, then explodes.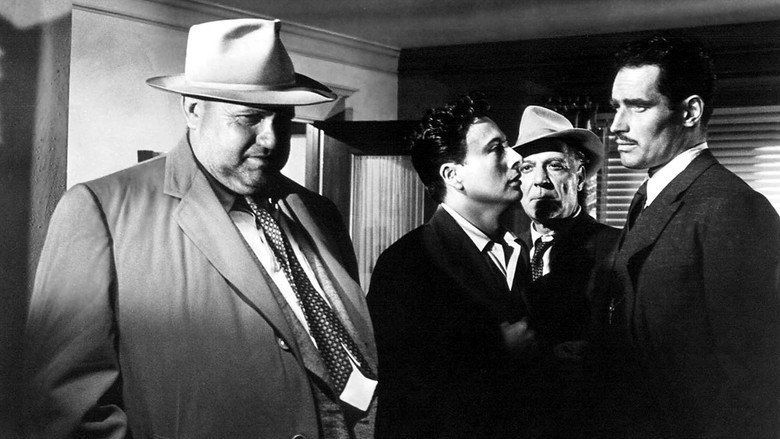 Realizing the implications of a Mexican bomb exploding on American soil, Vargas takes an interest in the investigation. Police Chief Pete Gould (Harry Shannon) and District Attorney Adair (Ray Collins) arrive on the scene, followed by the game-legged police captain Hank Quinlan (Orson Welles) and Quinlan's longtime partner, Pete Menzies (Joseph Calleia)—who clearly worships Quinlan. The obese and disheveled Captain nostalgically visits a brothel run by Tanya (Marlene Dietrich), who barely recognizes him.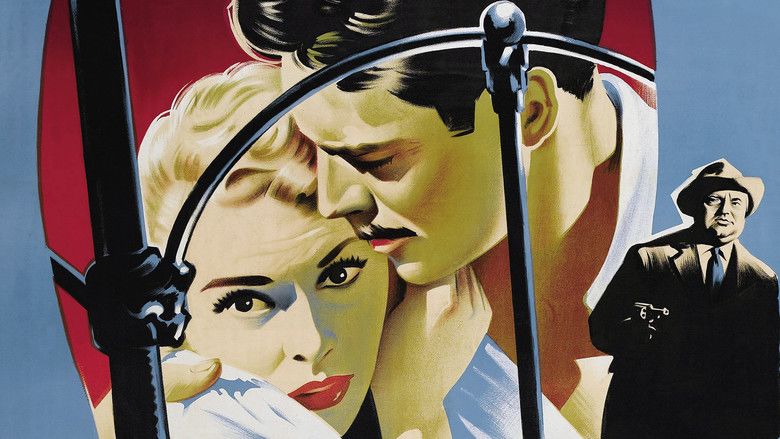 Quinlan's and Menzies' prime suspect is Sanchez, a young Mexican secretly married to the victim's daughter (Joanna Moore). They interrogate Sanchez in his apartment with Vargas present. Vargas visits the bathroom and accidentally knocks over an empty shoebox. Moments later, Menzies enters the bathroom and announces that two sticks of dynamite were found in the same shoebox. Vargas accuses Quinlan of planting the evidence and begins to suspect that he may have been doing so for years, to help win convictions. Quinlan dismisses the Vargas claim, saying he is just biased in favor of fellow Mexicans. The stress of these accusations, along with pressure from "Uncle" Joe Grandi (Akim Tamiroff), the brother of a man Vargas has been investigating, to strike a deal to discredit Vargas, causes Quinlan—who has been sober for 12 years—to fall off the wagon. With assistance from District Attorney's Assistant Al Schwartz (Mort Mills), Vargas studies the public records on Quinlan's previous cases, revealing his findings to Gould and Adair. Quinlan arrives in time to overhear the discussion and angrily threatens to resign.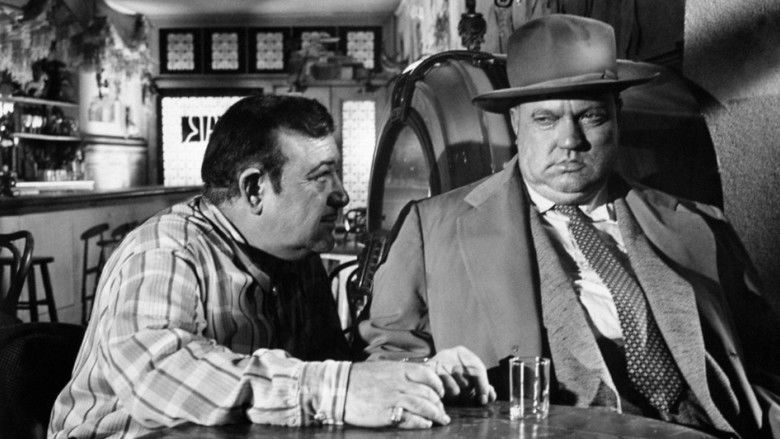 Susie Vargas is moved from her Mexican hotel to a remote American motel to escape the unwanted attention of Grandi. The motel, which Menzies recommended to her, has no other guests and is staffed only by a very peculiar night manager (Dennis Weaver), and, unknown to Susie, is owned by Grandi himself. Grandi's family members take over the motel and terrorize Susie. Vargas becomes concerned when his attempts to telephone Susie at the motel are blocked. Quinlan conspires with Grandi, arranging for Susie to be knocked unconscious, kidnapped, and made to look like she had overdosed on drugs by placing drugs around her unconscious body. Quinlan then double-crosses Grandi, strangles him, and leaves Susie, still unconscious, in the room with Grandi's body, all in order to discredit the narcotics officer Vargas. However, exhausted, drunk, and shaken from killing Grandi, Quinlan carelessly leaves his cane at the scene of the murder, implicating himself. When Susie wakes up, she sees Grandi's body, screams for help, and is arrested on suspicion of murder.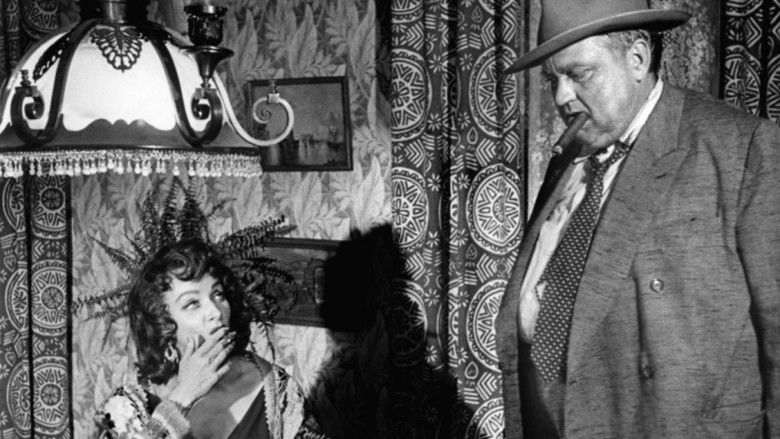 Vargas confronts Menzies about the history of evidence "discovered" by Quinlan. When he goes to Susie's motel, but can't find her, Vargas learns the motel is owned by Grandi, and that his handgun has been stolen. He rushes back to town and enters a bar, where he confronts the gang members who attacked his wife. When they refuse to answer his questions, Vargas violently beats them down, destroying the bar in the process. Schwarz then informs a shocked Vargas that Susie has been arrested for murder. At the lockup, Vargas finds her barely conscious. Menzies reveals to Vargas that he discovered Quinlan's cane at the murder scene. Vargas fits Menzies with a wire. Near an oil field, Menzies meets Quinlan, while being tracked on foot by Vargas, who is recording the conversation.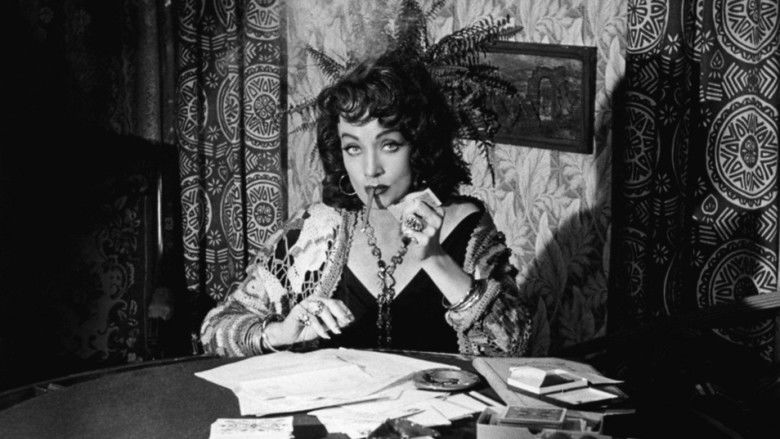 Quinlan admits to Menzies that he planted evidence on people, but insists that he did so only because he knew they were guilty. Quinlan hears an echo from the secret microphone and says his "game leg" has informed him of Menzies' betrayal. Quinlan demands that Vargas show himself. Quinlan then shoots Menzies with Vargas's gun, which he had earlier stolen from Vargas's briefcase. Quinlan prepares to shoot Vargas (saying that he can claim Vargas was resisting arrest) but is, instead, shot in the final act of the dying Menzies. Quinlan staggers backwards into a filthy pool of wastewater and dies. Schwartz arrives at the scene and tells Vargas that the planted dynamite was unnecessary because Sanchez confessed to the crime. Schwartz asks Tanya, as she walks away, what she has to say about Quinlan. Tanya replies, "He was some kind of a man. What does it matter what you say about people?"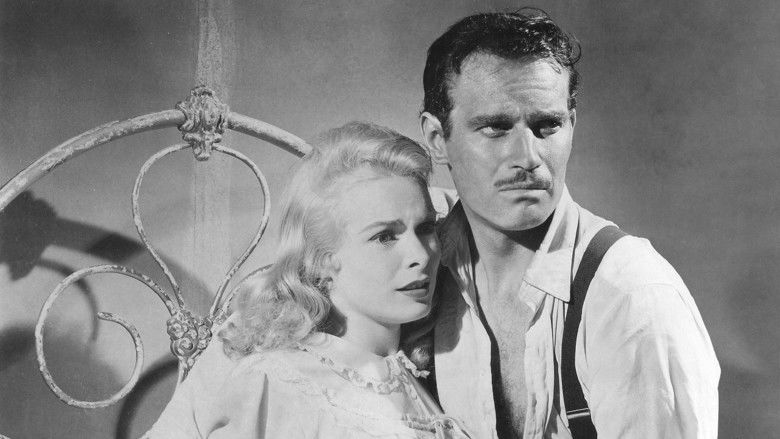 Charlton Heston as Ramon Miguel Vargas
Janet Leigh as Susan Vargas
Orson Welles as Police Captain Hank Quinlan
Joseph Calleia as Pete Menzies
Akim Tamiroff as Uncle Joe Grandi
Joanna Cook Moore as Marcia Linnekar
Ray Collins as District Attorney Adair
Dennis Weaver as the Night Manager
Val de Vargas as Pancho
Mort Mills as Al Schwartz
Victor Millan as Manolo Sanchez
Lalo Rios as Risto
Phil Harvey as Blaine
Joi Lansing as Blonde
Harry Shannon as Police Chief Pete Gould
Rusty Wescoatt as Casey
Wayne Taylor as a gang member
Ken Miller as a gang member
Raymond Rodriguez as a gang member
Arlene McQuade as Ginnie
Dan White as the Border Guard
Zsa Zsa Gabor as the Strip-club owner
Marlene Dietrich as Tanya
Mercedes McCambridge as a hoodlum
William Tannen as Howard Frantz
Joseph Cotten as a Detective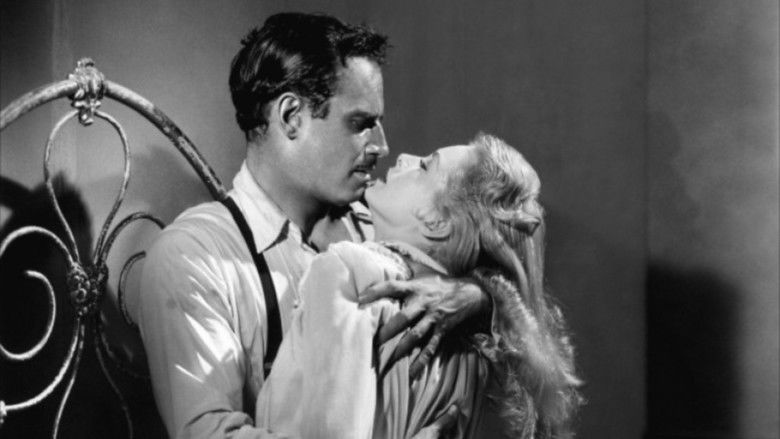 There are two stories as to how Welles ended up directing Touch of Evil. Charlton Heston recalled that Welles was originally hired to act in the film only, not to direct or write. Universal was keen to secure Heston for the lead, but he wanted the studio to confirm the director before he signed on. After learning that Welles was in the cast, Heston expressed his greater interest in starring if Welles were directing.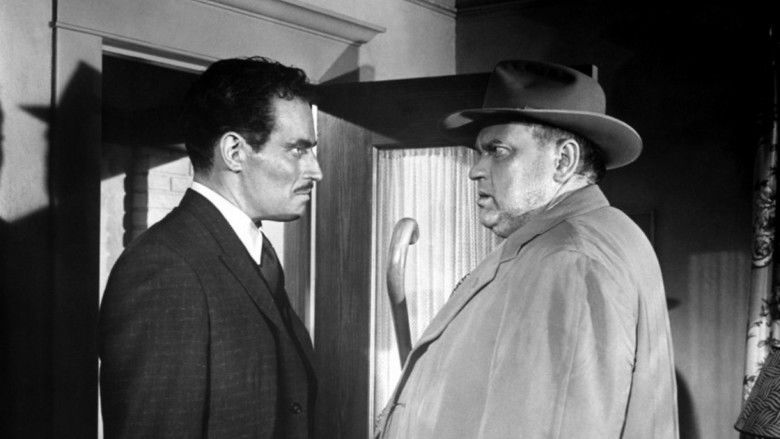 The other story is that Welles had recently worked with producer Albert Zugsmith, known as the "King of the Bs", on a film called Man in the Shadow and was interested in directing something for him. Zugsmith offered him a pile of scripts, of which Welles asked for the worst to prove he could make a great film out of a bad script. At the time, the script was called Badge of Evil, after a Whit Masterson novel on which it was based. Welles did a rewrite and took it into production. After a decade in Europe during which he completed only a few films, Welles was eager to direct for Hollywood again, so he agreed to take only an acting fee for the role of Quinlan.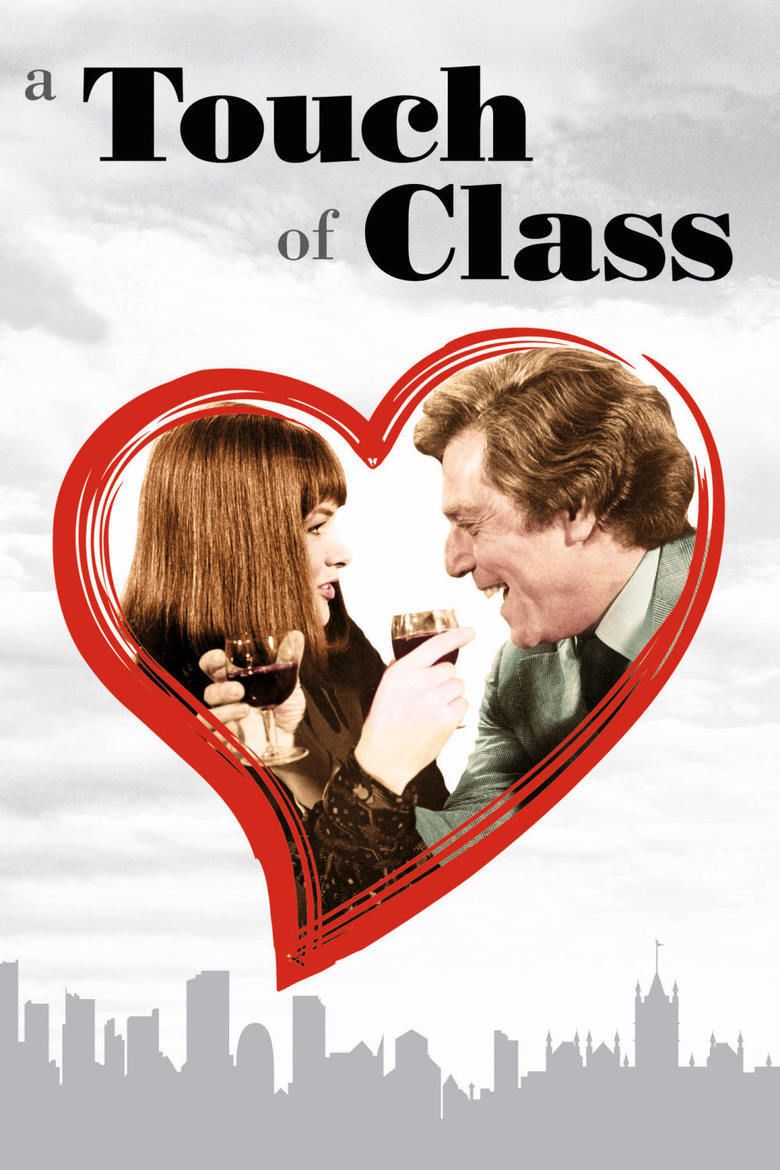 A number of notable actors pop up in roles. Dennis Weaver plays a night clerk at a motel, in a truly over-the-top performance. Heston liked Weaver and his film acting work. Zsa Zsa Gabor, who appears briefly as the impresario of a strip club, was a friend of the producer. Joseph Calleia portrays Quinlan's betrayed partner. Many of the actors worked for lower wages just to make a film with Welles. Marlene Dietrich's role was a surprise to the producers and they raised her fee so they could advertise her involvement. Welles' friend and Mercury Theatre colleague Joseph Cotten appears uncredited as a coroner.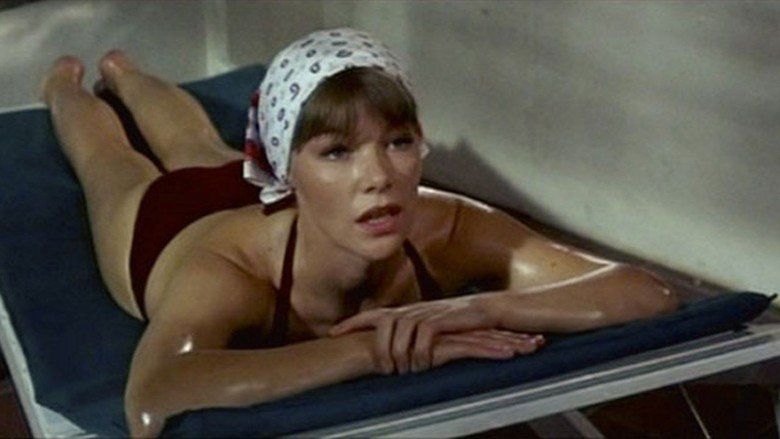 Janet Leigh recalled how Welles asked for input from the actors in the cast: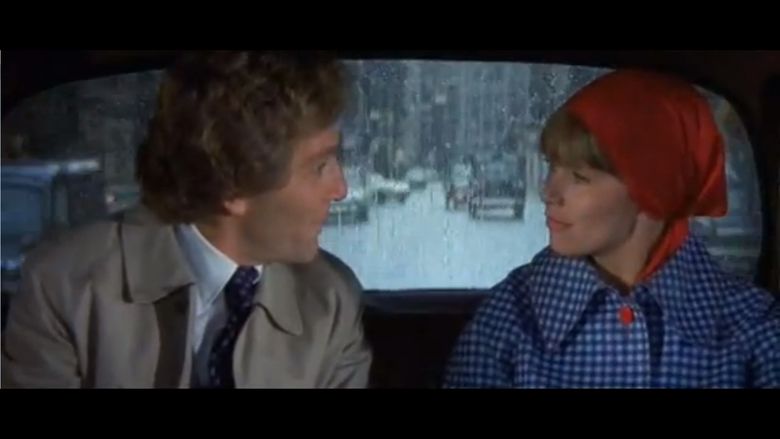 It started with rehearsals. We rehearsed two weeks prior to shooting, which was unusual. We rewrote most of the dialogue, all of us, which was also unusual, and Mr. Welles always wanted our input. It was a collective effort, and there was such a surge of participation, of creativity, of energy. You could feel the pulse growing as we rehearsed. You felt you were inventing something as you went along. Mr. Welles wanted to seize every moment. He didn't want one bland moment. He made you feel you were involved in a wonderful event that was happening before your eyes.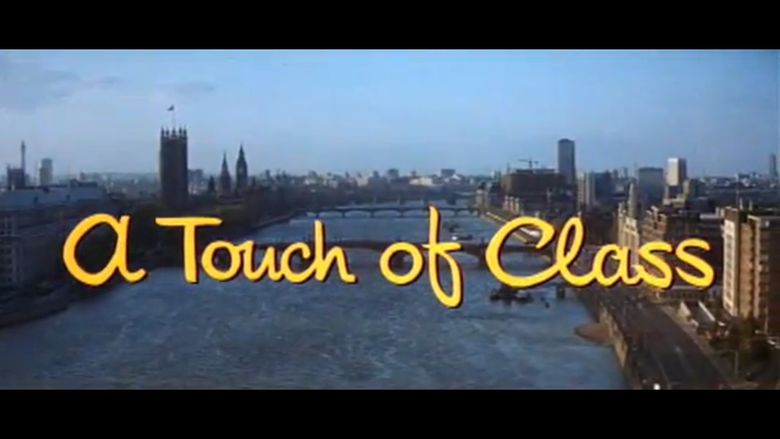 Welles wrapped production on time, delivered a rough cut to Universal, and was convinced that his Hollywood career was back on the rails. However, the film was then re-edited (and in part re-shot) by Universal International pictures. The editing process was protracted and disputed, and the version eventually released was not the film Universal or Welles had hoped for. It was released as a B-movie, the lower half of a double feature. The A-movie was The Female Animal, starring Hedy Lamarr, produced by Albert Zugsmith and directed by Harry Keller, whom the studio had hired to direct the re-shot material in Touch of Evil. The two films even had the same cameraman, Russell Metty. Welles' film was given little publicity despite the many stars in the cast. Though it had little commercial success in the US (Welles himself claimed that the movie turned a good profit but other records disputed his claim), it was well received in Europe, particularly by critics like future filmmaker François Truffaut.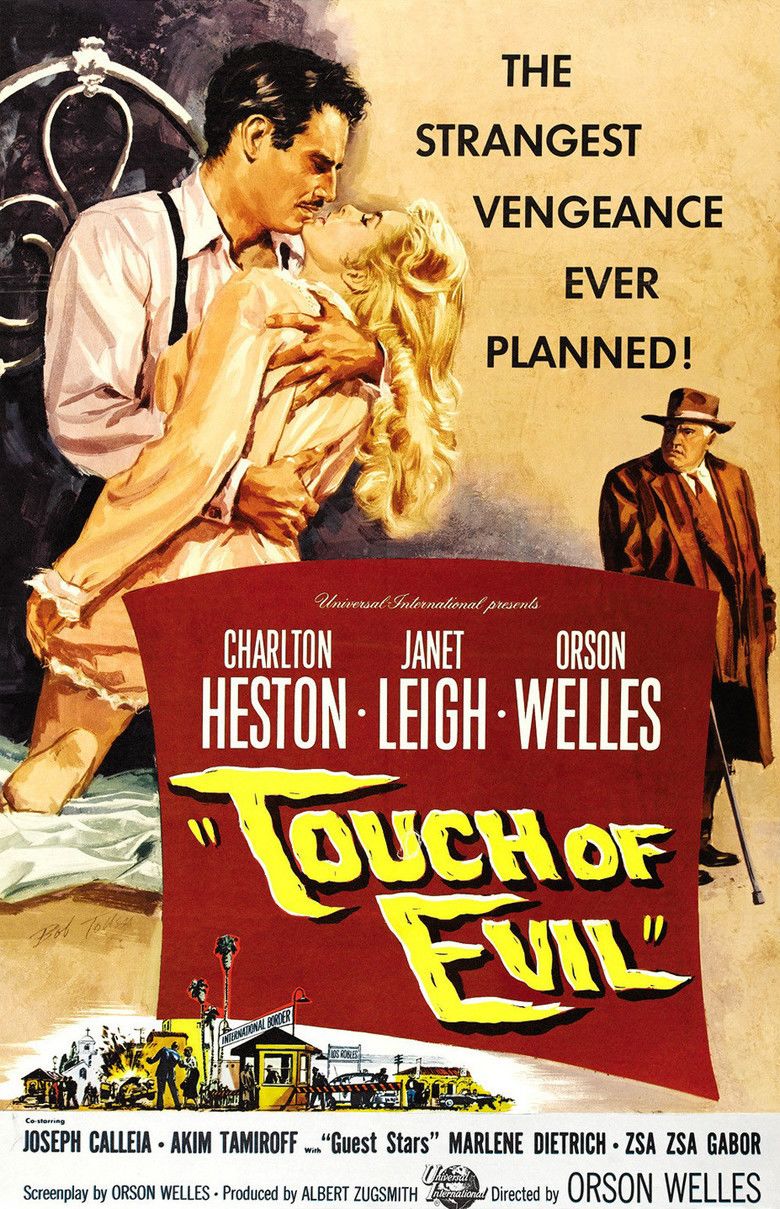 The film opens with a three-minute, twenty-second tracking shot widely considered by critics as one of the greatest long takes in cinema history.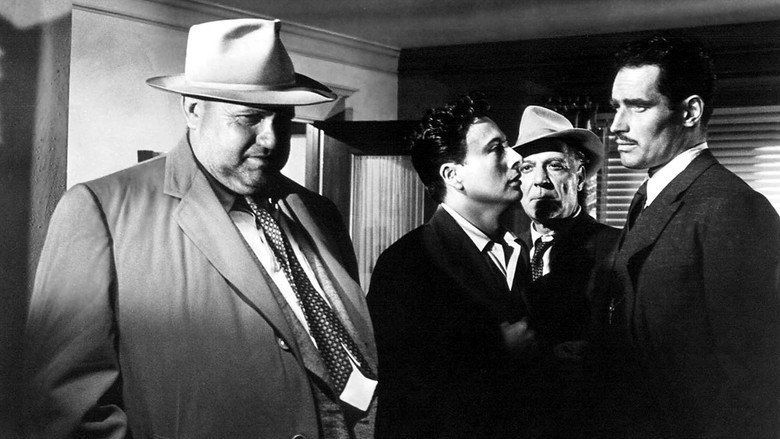 Three versions of the film have been released: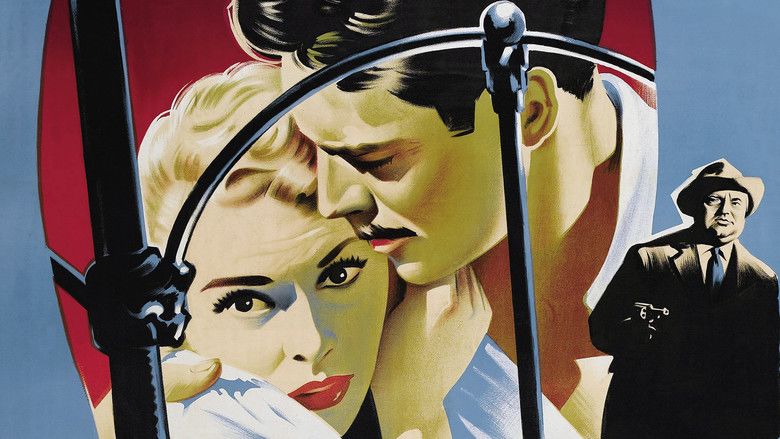 The original 1958 release (93 minutes). This version differed substantially from Welles' original cut, both in the editing and in the addition of new scenes directed by Harry Keller.
A 108-minute version released in 1976 that incorporated material cut from the 1958 release.
A 111-minute version released in 1998 that implemented Welles' notes from his long memo to the studio. Welles wrote this memo in December 1957 after viewing a version incorporating Keller's scenes, and that had been edited without Welles' participation.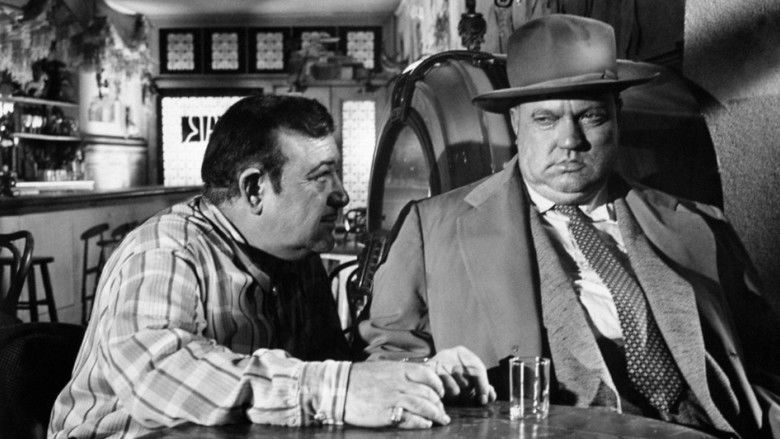 Welles' rough cut as submitted to Universal no longer exists. That cut was worked on and trimmed down by Universal staff, and in late 1957 Universal decided to perform some reshoots. Welles claimed these were done without his knowledge, but Universal claimed that Welles ignored the studio's requests to return and undertake further work. It was at this point that Keller came aboard: some of his material was entirely new, others replaced Welles' scenes. Welles screened the new cut and wrote a 58-page memo to Universal's head of production, Edward Muhl, detailing what he thought needed to be done to make the film work. However, many of his suggestions went unheeded and Touch of Evil was eventually released in a version running 93 minutes.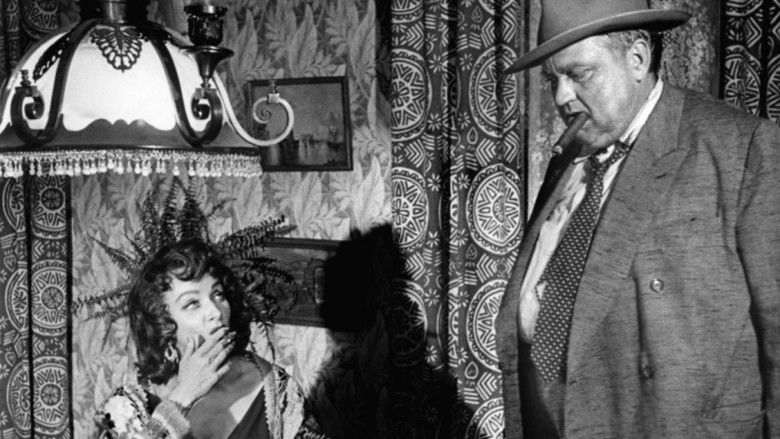 In the mid-1970s, Universal discovered that it held a 108-minute print of Touch of Evil in its archives. Aware that there was a growing audience of cineastes with a strong interest in Welles' work, the studio released this version to cinemas in 1976 and later issued it on video, billing it as "complete, uncut and restored". In fact, this print was not a restoration at all, but a preview version which post-dated the Welles memo but pre-dated the release version. While it did feature some vital Welles scenes that Universal cut from the release version, the preview version also featured more of Keller's material than the release version.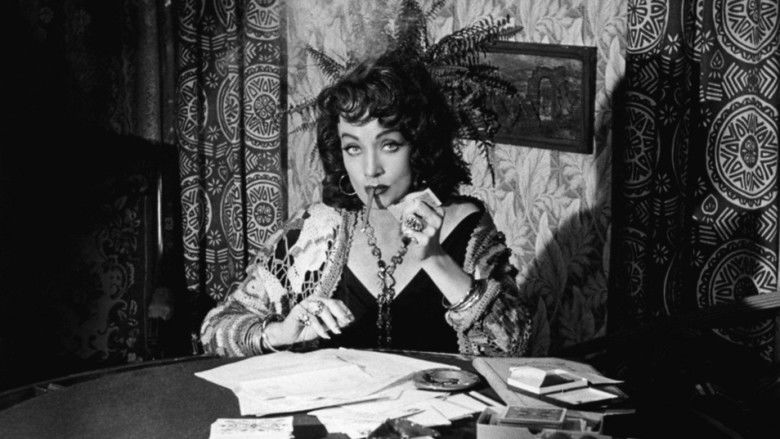 In 1998, Walter Murch, working from all available material, re-edited the film based on the Welles memo, with Rick Schmidlin who produced the re-edit and with the help of Bob O'Neil, Universal's director of film restoration, and Bill Varney, Universal's Vice President of Sound Operations, participating in the restoration. As Welles' rough cut no longer exists, no true "director's cut" is possible, but Murch was able to assemble a version incorporating most of the existing material, omitting some of the Keller scenes (though some were retained, either because they had replaced Welles scenes which no longer existed and were necessary to the plot, or because Welles had approved of their inclusion). In addition, some of Welles' complaints concerned subtle sound and editing choices, and Murch re-edited the material accordingly. Notable changes include the removal of the credits and Henry Mancini's music from the opening sequence, cross-cutting between the main story and Janet Leigh's subplot, and the removal of Harry Keller's hotel lobby scene. Rick Schmidlin produced the 1998 edit, which had a limited but successful theatrical release (again by Universal) and was subsequently made available on DVD. The DVD includes a reproduction of the 58-page memo.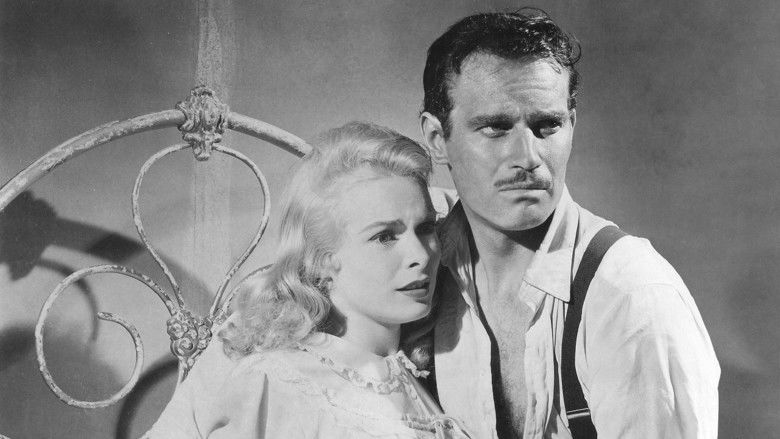 Originally scheduled to be premiered at the 1998 Cannes Film Festival with Janet Leigh, Walter Murch and Rick Schmidlin attending, the screening was canceled at the eleventh hour after threats of litigation from Welles' daughter, Beatrice Welles. Her suit against Universal, for not consulting her or obtaining her consent prior to the reworking of Touch of Evil, was settled out of court. Welles later said she had only asked Universal to inform her on what was being done, and when she was ignored she told the Cannes Festival that the restoration was not sanctioned by the Welles Estate. "I saw it later and it was wonderful," she said. "I thought they did an amazing job and it was very well done. It was what he wanted and it made much more sense than that chopped up nightmare there was before. It was fine and it was his. If they had told me that from the very beginning, none of that would have happened."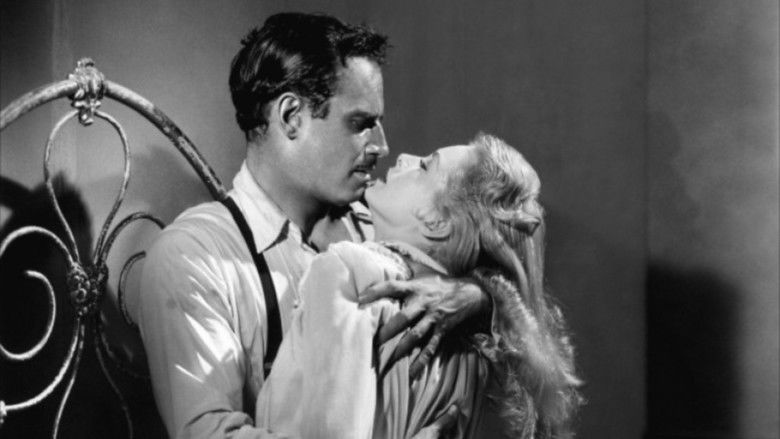 Touch of Evil was placed #64 on American Film Institute's "100 Years, 100 Thrills" list in 2001.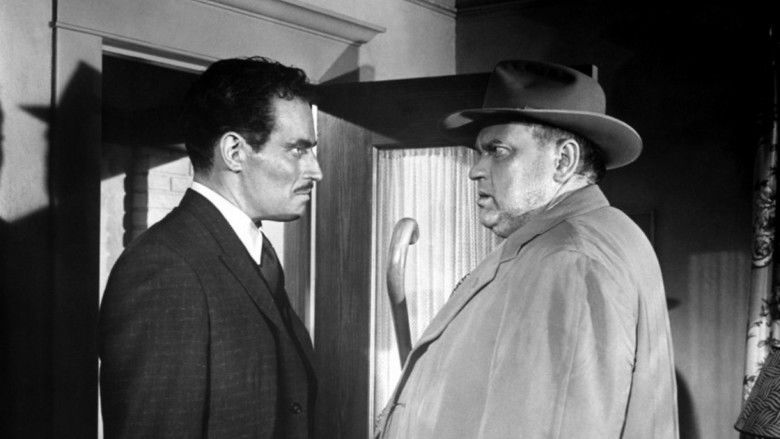 Roger Ebert added Touch of Evil to his Great Movies list in 1998.
In the Greatest Films of All Time poll conducted by Sight & Sound in 2012 the movie was placed #26 and #57 by the directors and the critics respectively.
The 1998 re-edit received awards from the New York Film Critics Circle, the Los Angeles Film Critics Association and National Society of Film Critics.