Portrayed by

Reece Dinsdale




First appearance

26 May 2008




Introduced by

Peter Whalley




Played by

Reece Dinsdale




Spouse

Gail McIntyre




TV show

Coronation Street




Duration

2008–2010




Created by

Kim Crowther




Classification

Former; regular




Daughter

Tina McIntyre




Last appearance

8 February 2010






Similar

Gail McIntyre, Teresa Bryant, Amber Kalirai, Tara Mandal, Natasha Blakeman
Joseph "Joe" McIntyre is a fictional character in the UK television ITV soap opera, Coronation Street. The character was portrayed by actor Reece Dinsdale. Joe was introduced as the father of Tina McIntyre (Michelle Keegan), and made his first appearing on-screen during the episode that aired in the UK on 26 May 2008. After Dinsdale quit the show in 2009, the character was killed-off in February 2010, when Joe tried to fake his own death in order to claim insurance money, but died in a boating accident when he was knocked overboard by the sail, and drowned in a lake.
Contents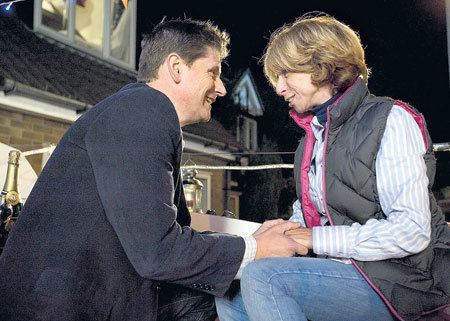 Creation and development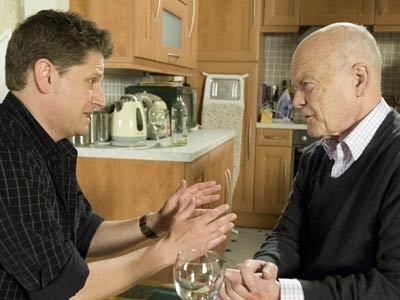 Dinsdale was hired for the role following auditions. He is also known for playing Matthew Willows in Home to Roost and has co-starred in other comedy series such as Haggard, the short series Bliss, and more recently Born and Bred, The Chase, and Dalziel and Pascoe.
It was revealed on 5 July 2009 that although the producers offered him a pay rise to keep his character with the show, Dinsdale has quit to avoid being a typecast actor.
Storylines
Joe is introduced as the father of Tina McIntyre (Michelle Keegan) in May 2008. He visits on 13 June 2008 where he meets Tina's boyfriend, David Platt (Jack P. Shepherd). In August 2008, he begins a secret romance with Gail (Helen Worth), David's mother. Joe also arranges a date for Tina and David in an attempt to reunite them after they split up, but fails. Once David and Tina have been reunited, he offers David a job fitting kitchens, much to the delight of Tina. Tina and David are not pleased when they learn that their parents are dating, when they walk into No.8 and catch Gail and Joe kissing.
Shortly afterwards, David steals money from the Windass family, who refuse to pay for a kitchen Joe fitted. In revenge, Gary Windass (Mikey North) and his uncle Len (Conor Ryan) steal Joe's tools so Tina, David and Graeme Proctor (Craig Gazey) rip out the Windasses' kitchen and set it on fire but their plan backfires as Gary and Len tear out Gail's kitchen. Joe goes to great expense to build her a new one, despite being in a lot of debt from the failure of his business. His plan for a perfect Christmas is ruined when Gail invites the Windasses over for Christmas Day. They give him a tool belt as a Christmas present, which reminds Joe of the tools that have been stolen from him. When Gary repeatedly makes moves on Tina and Gary and David get into a brawl, Joe has enough. He begins screaming at the Windasses, telling them they are pathetic, and throws food at them. They leave the house humiliated. Joe then walks out. The next day, Gail and Joe make up, but Gail is shaken, as he has reminded her of some of the men from her past.
Joe is having problems paying his debts, due to lack of work but hides this from Gail. In January 2009, he gets a job with builder Bill Webster (Peter Armitage) but asks him to say that he is fitting kitchens for him. He moves in with Gail, still keeping quiet about his debts and recent eviction from his flat. Gary begins to persistently pester and flirt with Tina, resulting in Joe warning him off, after he pushes his luck and asks Tina out on a date. After Joe warns Gary off a second time, Gary calls Len to help him break into the builders yard and steal copper piping. The following day, Bill and Jason suspect Joe is responsible and Gary mocks Joe because of this, resulting in Joe lashing out, but Bill and Jason hold him back. David, who has witnessed Gary and Len driving away from the builders yard, reports them to the police.
Gary then begins to pester David while still flirting with Tina and mocking David about his past so David goes to punch Gary, leading to a fight between them. David is left with a broken nose and concussion and is rushed to hospital, while Gary is arrested. David convinces Tina, who saw the fight, to tell the police that Gary threw the first punch. Len then locks himself and Tina in the kebab shop and threatens Tina to change her statement so Gary would not be sent to prison but Joe warns Len not to intimidate Tina, stating that she is all he has left.
On 23 February 2009, Joe receives a phone call from someone needing nineteen new kitchens for a building development. Overjoyed at the news, he goes to the site where he is dismayed to find that Len is responsible. He tells Joe that he will give him the job on the condition that he persuade Tina to retract her statement. Joe is stunned when Tina admits that she was lying about the incident but he vows to support her nonetheless. Later, under the mounting pressure of debts, Joe secretly agrees to the deal with Len. In March, after Gary is cleared, David sees Joe shaking hands with Len over a contract agreement. Tina is furious when she finds out and tells Gail that Joe has only moved in with her as he has been evicted from his flat and that he has suffered severe depression in the past and Joe is horrified to learn that Gail paid for Tina to have an abortion a year ago. Gail ends the relationship and throws him out, warning him never to return. When Joe comes to collect his belongings from Gail's, she tells him that he can stay in Sarah's (Tina O'Brien) old room. When David learns this, he is furious and throws Joe's things down the stairs. After Gail chooses Joe over David, he moves out and stays with his father Martin (Sean Wilson).
Joe and Tina decide to rent a flat together, but as Joe is moving his things out of Gail's, he slips a disk in his back meaning that he cannot work or move out of Gail's much to her secret delight; the couple then reconcile. However, Joe continues to push himself too far trying to go back to work before he is ready and because of this, he collapses.
Following his back injury it becomes increasingly clear that Joe is becoming dependent on prescription drugs. After David deviously hides his pills Joe panics only for David to later "discover" them in the pocket of Gail's dressing gown. By June 2009, Joe is becoming increasingly more dependent and trashes the kitchen when he cannot find the medication. In July 2009, Graeme spots Joe's painkillers and Joe is interested to hear how there was a black market for them when Graeme was in the young offenders' institute. Later, a desperate Joe asks Graeme if he could obtain some painkillers for him until his back is better. Graeme agrees to speak to his contact, and as promised gets Joe the painkillers, but tells him it is a one-off favour. David later finds out about Joe's addiction and persuades Graeme to stop Joe's supply. David then tells Joe he will supply him drugs in exchange for a "favour". Much later, David reveals this to be a deviously underhand attempt to force Joe to split up Jason and Tina.
Joe steals from Gail so he can pay Graeme to get him more painkillers. He steals £30 from her purse, but later makes it up with her. In a later episode he steals keys from Gail's bag to get into the medical centre in order to obtain painkillers but sets the alarm off and is arrested on suspicion of burglary. Joe is soon cured of his addiction, and he goes back to helping Tina and Jason with the flat and working with Jason.
Joe surprises Gail with a meal and champagne on the back of the boat, which is still parked on the drive of No.8. He then proposes to her, which she delightfully accepts and in the background fireworks are set off, however, David and Gail's mother Audrey Roberts (Sue Nicholls) aren't happy. Gail asks her father Ted Page (Michael Byrne) if he would give her away, which he delightedly accepts.
Joe is revealed to be in debt when a loan shark called Rick Neelan comes round to the house. Joe has to give up his van to pay up most of the debt. He then confesses to Gail about his problem, and Gail later suggests they sell up the house, pay his debts and use the rest of the money for a flat and the wedding. David doesn't like this and tells Audrey about it, who is angry at Gail. When Audrey can't get through to Gail, she later contacts her grandson Nick Tilsley (Ben Price) to speak some sense to Gail. However, when Nick meets Joe, he thinks Joe is an 'alright man' and they get along as Nick tells Gail he is pleased for them both. On 7 January 2010, Joe borrows money from Ted, telling him it is for a deposit for a flat. He then uses it to pay back Rick, the loan shark, and they both agree that they end their acquaintances.
On 8 January 2010, Joe marries Gail. She is given away by Ted, and the best man is Gail's son Nick. At the reception in the Rovers, Joe goes to the bathroom and bumps into Rick again. Rick tells Joe that he would now have to pay interest, £500 for the next ten weeks, leading to at least £5,000 pounds. He also threatens Joe again and Joe becomes scared of what will happen to his daughter. Before Joe and Gail leave to go on their honeymoon, Joe tells Jason to look after Tina and watch her.
Soon after their wedding, Joe decides that the only way to escape his problems is to fake his own death, deciding to disappear in the Lake District, where they spent their honeymoon. Joe explains his plans to a horrified Gail, who tries to stop him by getting into the boat with him, knowing that he won't set sail with her in the boat, but he pushes her away and sets sail. Unfortunately, his plan goes wrong, and soon after, he comes into difficulties, losing his lifeboat in the process. At the last minute, Joe attempts to get the lifeboat back, but he slips into the water. In his final moments, he tries to swim back to the boat but cannot survive the freezing cold water, his hands slip off of the side of the boat and he drowns. Joe stated earlier in the episode that he planned to emulate "that canoe bloke who faked his own death". This is a reference to John Darwin, a British man who was famously jailed for trying to fake his own death for the insurance money by disappearing in a canoe out at sea.
Almost two weeks after his death, Joe's body is seen floating in the lake. A local woman, who is out walking her dog, discovers Joe's body at the edge of the lake, when her dog sniffs out his corpse. On 22 February 2010, the police inform Gail that they have found a body at the lakes, and they believe that it is Joe's. David tells Tina that Joe is dead and she attacks him because she believes he is lying. Tina later apologises for accusing David of lying. Later, Tina and Gail identify Joe's body in the morgue. Tina is devastated to realise that it is the body of her father.
Four years later in 2014, Tina is murdered by Rob Donovan (Marc Baylis) and is buried beside her father. Due to Tina's death, her mother Ann (Lorraine Hodgson) and Gail are now the last surviving members of the McIntyre family.
Reception
In August 2009, praise was given to Coronation Street producers by doctors for the soap's painkiller storyline when Joe became addicted. Experts at The Priory Group, which operates drug and alcohol treatment centres across the country, backed the programme's decision to tackle the issue on screen.
Dr Ash Kahn told The Sun newspaper: "Medication abuse can be very dangerous. Misuse of over-the-counter or prescription drugs can lead to dependence that is physical and mental."
References
Joe McIntyre (Coronation Street) Wikipedia
(Text) CC BY-SA