Nationality

American




Role

Author




Name

Joan Didion





Subject

memoir, drama


Period

1963–present




Children

Quintana Roo Dunne







Born

December 5, 1934 (age 86) Sacramento, California, US (

1934-12-05

)


Occupation

Novelist, memoirist, essayist


Notable works

Slouching Towards Bethlehem (1968)Play It as It Lays (1970)The Year of Magical Thinking (2005)


Spouse

John Gregory Dunne (m. 1964–2003)


Movies

The Panic in Needle Park, Up Close and Personal


Books

The Year of Magical Thinking, Slouching Towards Bethlehem, Blue Nights, The White Album, Play It as It Lays


Similar People

John Gregory Dunne, Quintana Roo Dunne, Tom Wolfe, Truman Capote, Kitty Winn


Profiles




Facebook
Joan didion hammer readings
Joan Didion (born December 5, 1934) is an American author best known for her novels and her literary journalism. Her novels and essays explore the disintegration of American morals and cultural chaos, where the overriding theme is individual and social fragmentation. A sense of anxiety or dread permeates much of her work.
Contents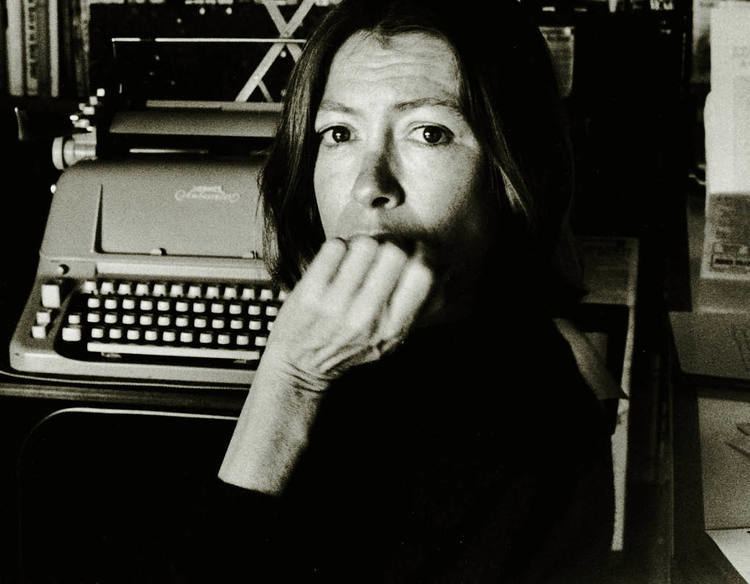 Mid 20th century writers joan didion
Childhood and education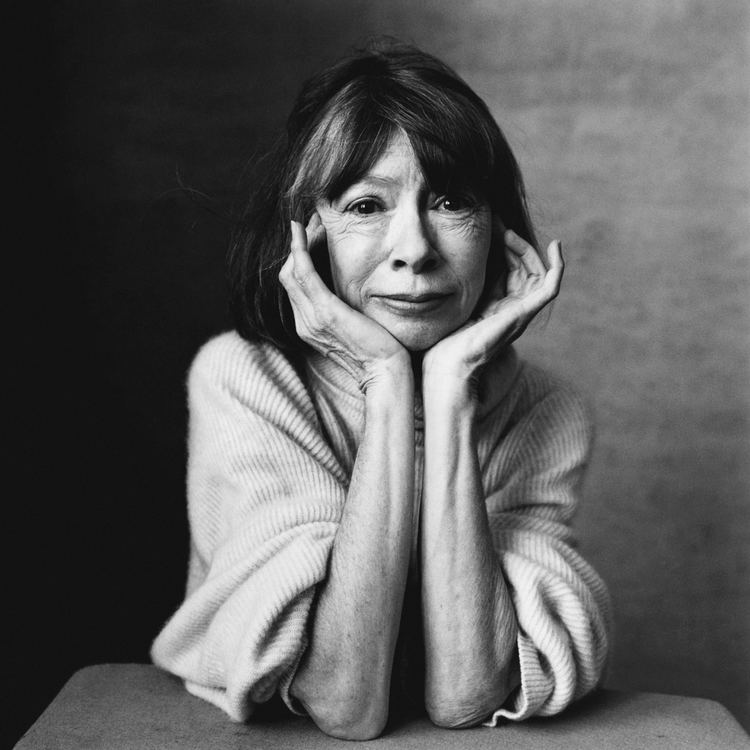 Joan Didion was born and raised in Sacramento, California, to parents Frank Reese and Eduene (née Jerrett) Didion. Didion recalls writing things down as early as age five, though she claims that she never saw herself as a writer until after being published. She read everything she could get her hands on after learning how to read and even needed written permission from her mother to borrow adult books, biographies especially, from the library at a young age. With this, she identified herself as being a "shy, bookish child", who pushed herself to overcome her social anxiety through acting and public speaking.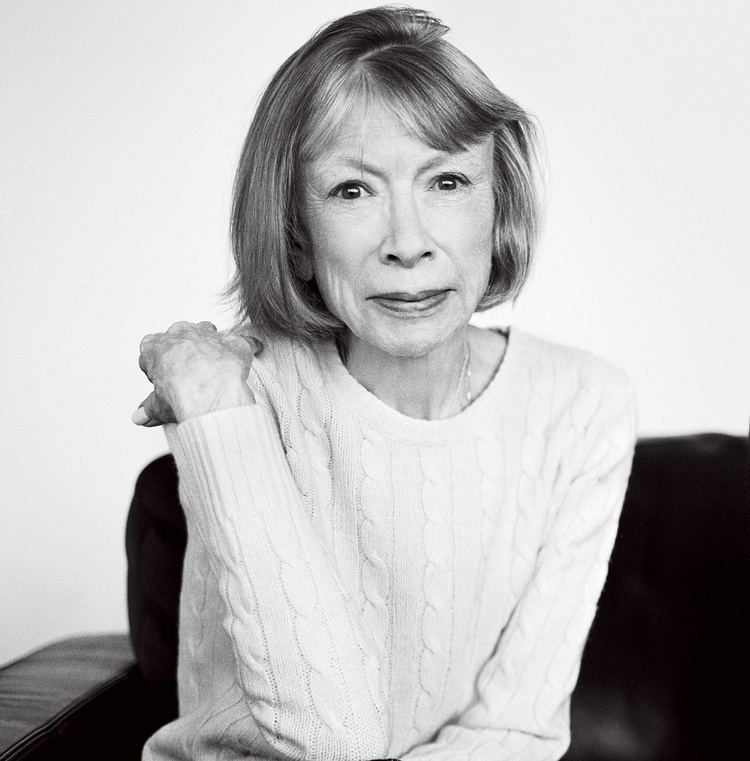 Didion attended kindergarten and first grade, but because her father was in the Army Air Corps during World War II and her family was constantly being relocated, she did not attend school on a regular basis. In 1943 or early 1944, her family settled back in Sacramento, and her father went to Detroit to settle defense contracts for World War I and II. Didion wrote in her 2003 memoir Where I Was From that moving so often made her feel like a perpetual outsider.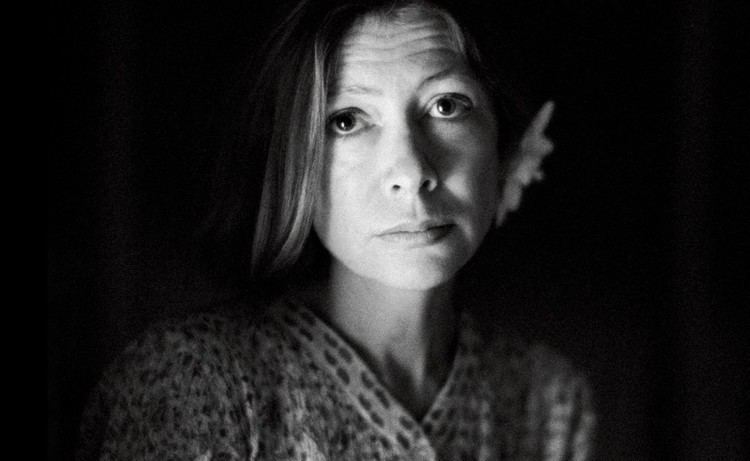 In 1956, Didion graduated from the University of California, Berkeley with a Bachelor of Arts degree in English. During her senior year, she won first place in the Prix de Paris essay contest sponsored by Vogue, and was awarded a job as a research assistant at the magazine, having written a story on the San Francisco architect William Wilson Wurster.
Professional life
In seven years at Vogue, Didion worked her way up from promotional copywriter to associate feature editor. While there, and homesick for California, she wrote her first novel, Run, River, which was published in 1963. Writer and friend John Gregory Dunne helped her edit the book, and the two took an apartment together. A year later they married, and Didion returned to California with her new husband, and in 1968, published Slouching Towards Bethlehem, her first work of nonfiction, a collection of magazine pieces about her experiences in California.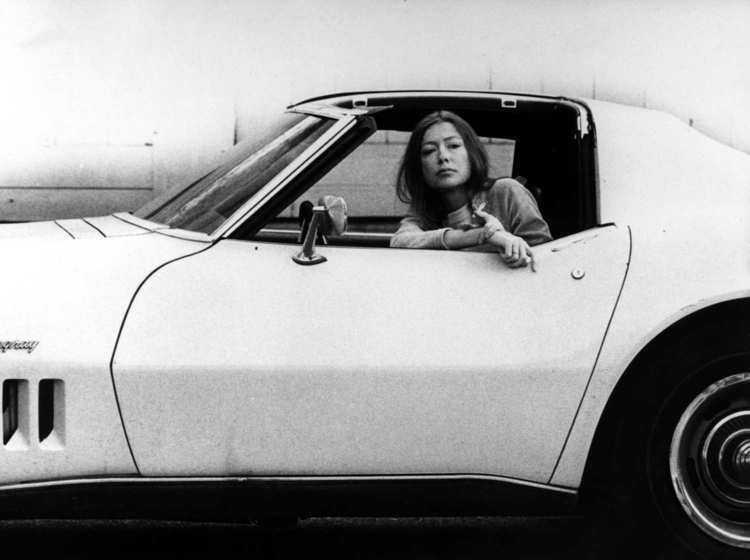 Play It as It Lays, set in Hollywood, was published in 1970 and A Book of Common Prayer was published in 1977. In 1979, she published The White Album, another collection of magazine pieces from Life, Esquire, The Saturday Evening Post, The New York Times, and The New York Review of Books.
Her 1983 essay, Salvador, was written after a two-week-long trip to El Salvador with her husband. She also published Democracy in 1984, which narrates the story of a long but unrequited love affair between a wealthy heiress and an older man, a CIA officer, against the background of the Cold War and the Vietnam conflict. Her 1987 nonfiction book, Miami, looked at the Cuban expatriate community in Miami. In 1992, she published After Henry, a collection of twelve geographical essays. In 1996, she published The Last Thing He Wanted, a romantic thriller.
Dunne and Didion worked closely together for most of their careers, and indeed much of their writing is intertwined. With Dunne, Didion co-wrote a number of screenplays, including an adaptation of her novel Play It As It Lays for a film that starred Anthony Perkins and Tuesday Weld. She and Dunne also spent eight years adapting the biography of journalist Jessica Savitch into the film Up Close & Personal.
Didion began writing The Year of Magical Thinking, a narrative of her response to the death of her husband and severe illness of their daughter, Quintana, on October 4, 2004, and finished the manuscript 88 days later on New Year's Eve. She went on a book tour following the release of this memoir, doing many readings and interviews to promote it. She has said that she found the process very therapeutic during her period of mourning.
In 2006, Everyman's Library published We Tell Ourselves Stories in Order to Live, a compendium of much of Didion's writing, including the full content of her first seven published nonfiction books Slouching Towards Bethlehem, The White Album, Salvador, Miami, After Henry, Political Fictions, and Where I Was From, with an introduction by her contemporary, the noted critic John Leonard.
In 2007, she began working on a one-woman adaptation of The Year of Magical Thinking. Produced by Scott Rudin, this Broadway play featured Vanessa Redgrave. Although at first she was hesitant about writing a play, she has since found this new genre to be quite exciting.
Didion wrote early drafts of the screenplay for an HBO biopic directed by Robert Benton on The Washington Post publisher Katharine Graham. It remains untitled. Sources say it may trace the paper's dogged reportage on the Watergate scandal which led to President Richard Nixon's resignation. However, Didion is no longer working on that project.
In 2011, Knopf published Blue Nights, a memoir about aging. The book focuses on Didion's daughter, Quintana Roo Dunne, who died just before her previous memoir, The Year of Magical Thinking, was published. It addresses their relationship with "stunning frankness." More generally, the book deals with the anxieties Didion experienced about adopting and raising a child, and also about the aging process.
A photo of Didion shot by Playboy was used as part of the luxury French brand Céline's spring/summer 2015 campaign.
Personal life
While in New York and working at Vogue, Didion met Dunne, her future husband, who at the Time was writing for Time. He was the younger brother of author, businessman and television mystery show host Dominick Dunne. The couple married in 1964 and moved to Los Angeles with intentions of staying only temporarily, but California ultimately became their home for the next twenty years. Their daughter Quintana Roo Dunne was adopted in 1966.
In the title essay of The White Album, Didion documents a nervous breakdown she experienced in the summer of 1968. After undergoing a psychiatric evaluation, she was diagnosed as having had an attack of vertigo and nausea. She was also diagnosed with multiple sclerosis.
In 1979, Didion was living in Brentwood Park, California, a quiet, residential neighborhood of Los Angeles. Before her move to Brentwood she lived in the Hollywood/Los Feliz area on Franklin Ave, one block north of Hollywood Blvd.
Two tragedies struck Didion in the space of less than two years. On December 30, 2003, while their daughter Quintana Roo Dunne lay comatose in the ICU with septic shock resulting from pneumonia, her husband suffered a fatal heart attack while at the dinner table. Didion put off his funeral arrangements for approximately three months until Quintana was well enough to attend the service. Visiting Los Angeles after her father's funeral, Quintana fell at the airport, hit her head on pavement and suffered a massive hematoma. She required six hours of brain surgery at UCLA Medical Center. After making progress toward recovery in 2004, Quintana died of acute pancreatitis on August 26, 2005, during Didion's New York promotion for The Year of Magical Thinking. She was thirty-nine. Didion later wrote about Quintana's death in the 2011 book Blue Nights.
As of 2005, Didion was living in an apartment on East 71st Street in New York City.
New Journalism
New Journalism seeks to communicate facts through narrative storytelling and literary techniques. This style is also described as creative nonfiction, intimate journalism, or literary nonfiction. It is a popular moment in the longer history of literary journalism in America. Tom Wolfe, who along with E.W. Johnson edited the anthology The New Journalism (1973), and wrote a manifesto for the style that popularized the term, pointed to the idea that "it is possible to write journalism that would ... read like a novel." New Journalist writers tend to turn away from "just the facts" and focus more upon the dialogue of the situation and the scenarios that the author may have experienced. The style gives the author more creative freedom. This can help to represent the truth and reality through the author's eyes. Exhibiting subjectivity is a major theme in New Journalism. Here, the author's voice is critical to a reader forming opinions and thoughts concerning the work.
Didion's Slouching Towards Bethlehem exemplifies much of what New Journalism represents as it explores the cultural values and experiences of American life in the 1960s. Didion includes her personal feelings and memories in this first person narrative, describing the chaos of individuals and the way in which they perceive the world. Here Didion rejects conventional journalism, and instead prefers to create a subjective approach to essays, a style that is her own.
Writing style and themes
In a notorious essay published in 1980 called "Joan Didion: Only Disconnect," Barbara Grizzuti Harrison called Didion a "neurasthenic Cher" whose style was "a bag of tricks" and whose "subject is always herself." The criticism from Harrison "still gets her (Didion's) hackles up, decades later," New York Magazine reported in 2011.
Didion views the structure of the sentence as essential to what she is conveying in her work. In The New York Times article, Why I Write (1976) Didion remarks, "To shift the structure of a sentence alters the meaning of that sentence, as definitely and inflexibly as the position of a camera alters the meaning of the object photographed...The arrangement of the words matters, and the arrangement you want can be found in the picture in your mind...The picture tells you how to arrange the words and the arrangement of the words tells you, or tells me, what's going on in the picture."
Didion is heavily influenced by Ernest Hemingway, whose writing taught Didion the importance of the way sentences work within a text. Other influences include writer Henry James, who wrote "perfect, indirect, complicated sentences" and George Eliot.
Because of her belief that it is the media that tells us how to live, Joan Didion has become an observer of journalists themselves. She believes that the difference between the process of fiction and nonfiction is the element of discovery that takes place in nonfiction. This happens not during the writing, but during the research.
There are rituals that are a part of Didion's creative thought process. At the end of the day, Didion must take a break from writing to remove herself from the "pages." She feels closeness to her work; without a necessary break, she cannot make proper adjustments. Didion spends a great deal of time cutting out and editing her prose before concluding her evening. The next day, Didion begins by looking over her work from the previous evening, making further adjustments as she sees fit. As this process culminates, Didion feels that it is necessary to sleep in the same room as her book. In Didion's own words, "That's one reason I go home to Sacramento to finish things. Somehow the book doesn't leave you when you're right next to it."
Awards and recognitions
In 2002, Didion received the St. Louis Literary Award from the Saint Louis University Library Associates.
Didion has received a great deal of recognition for The Year of Magical Thinking, which was awarded the National Book Award for Nonfiction in 2005. Documenting the grief she experienced following the sudden death of her husband, the book has been said to be a "masterpiece of two genres: memoir and investigative journalism."
In 2007, Didion received the National Book Foundation's annual Medal for Distinguished Contribution to American Letters. From the citation: "An incisive observer of American politics and culture for more than forty-five years, her distinctive blend of spare, elegant prose and fierce intelligence has earned her books a place in the canon of American literature as well as the admiration of generations of writers and journalists." This same year, Didion also won the Evelyn F. Burkey Award from the Writers Guild of America.
In 2009, Didion was awarded an honorary Doctor of Letters degree by Harvard University. Yale University conferred another honorary Doctor of Letters degree on the writer in 2011. On July 3, 2013 the White House announced Didion as one of the recipients of the National Medals of Arts and Humanities, to be presented by President Barack Obama. In 2010 Didion had complained that under Obama the U.S. had become "an irony-free zone".
Fiction
Run, River (1963)
Play It as It Lays (1970)
A Book of Common Prayer (1977)
Democracy (1984)
The Last Thing He Wanted (1996)
Nonfiction
Slouching Towards Bethlehem (1968)
The White Album (1979)
Salvador (1983)
Miami (1987)
After Henry (1992)
Political Fictions (2001)
Where I Was From (2003)
Fixed Ideas: America Since 9.11 (2003, preface by Frank Rich)
Vintage Didion (2004, selected excerpts of previous works)
The Year of Magical Thinking (2005)
We Tell Ourselves Stories in Order to Live: Collected Nonfiction (2006, includes her first seven volumes of nonfiction)
Blue Nights (2011) ISBN 9780307267672
South and West: From a Notebook (2017) ISBN 9781524732790
Screenplays
The Panic in Needle Park (1971)
Play It as It Lays (1972) (based on her novel)
A Star Is Born (1976)
True Confessions (1981)
Up Close & Personal (1996)
As it Happens (2012) (with Todd Field)
References
Joan Didion Wikipedia
(Text) CC BY-SA