Years active

1978–present




Name

Jenilee Harrison





Role

actress


Spouse

Bruce Oppenheim (m. 1993)






Born

June 12, 1958 (age 65) (

1958-06-12

) Northridge, California, U.S.


Occupation

Actress, TV Infomercial pitchperson




Education

University of Southern California




Movies and TV shows

Three's Company, Tank, Panga, Malibu


Similar People

Priscilla Barnes, Joyce DeWitt, Audra Lindley, Ann Wedgeworth, Bruce Oppenheim
Jenilee harrison from the heart part 1
Jenilee Harrison (born June 12, 1958) is an American actress possibly best known for her role as the replacement blonde roommate Cindy Snow on the hit sitcom Three's Company, between 1980 and 1982. She went on to play Jamie Ewing in Dallas from 1984 to 1986.
Contents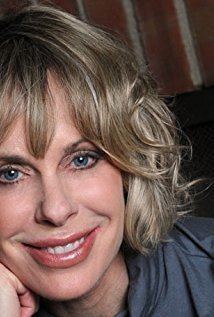 Jenilee harrison hollywood show las vegas on dallas donna reed 3 s company cary grant more
Early years
Before breaking into show business, Harrison was a cheerleader from 1978–1980 for the Los Angeles Rams.
Three's Company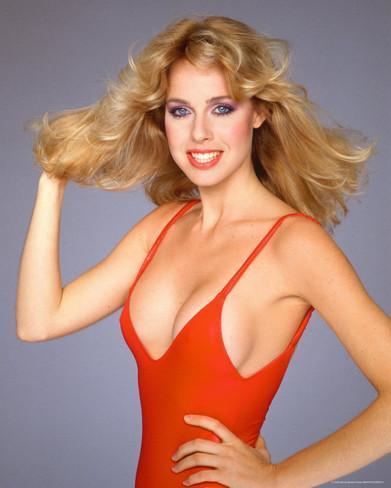 Harrison joined the cast of ABC's Three's Company in 1980. She entered the show as a replacement for Suzanne Somers who played the sitcom's "ditzy blonde" Chrissy Snow. Somers left the show just after the show's fifth season had begun. Harrison was cast as Somers' replacement. Harrison's character, Cindy Snow, was created to be Chrissy Snow's cousin. Unlike Chrissy, Cindy was not a "dumb blonde"; instead, she was an extremely clumsy farm-girl. The character of Cindy was similar enough to Chrissy, however, that producers could use scripts already written with the Chrissy character in mind. Harrison debuted on Three's Company in the episode entitled "Chrissy's Cousin" (season 5, episode 7). She enters as Jack and Janet's new roommate after Chrissy's departure. Cindy proves she's a klutz right away by knocking Jack down. Her constant "accidents" (mainly with Jack) added to the show's gags of characters being clumsy. Even though she had replaced Somers, Harrison was not given opening credits billing, and instead Somers still obtained opening billing (as a part of finishing off her contract). Harrison was end-credits billed, as a guest star.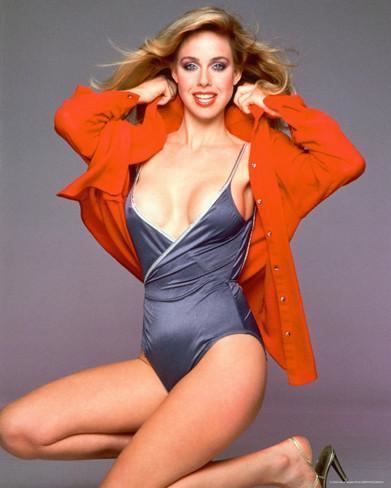 For the sixth season of Three's Company, a new blonde roommate named Terri Alden (Priscilla Barnes), a smart nurse, took Cindy's place in the apartment. Harrison was retained on the show and this time was given opening cast billing. However, she now had a lesser role, appearing less frequently in the series, with the character living near the apartment, at UCLA. By the end of the season, however, Cindy Snow disappeared from the series. Her last appearance was in "Janet Wigs Out" (season 6, episode 24).
Later career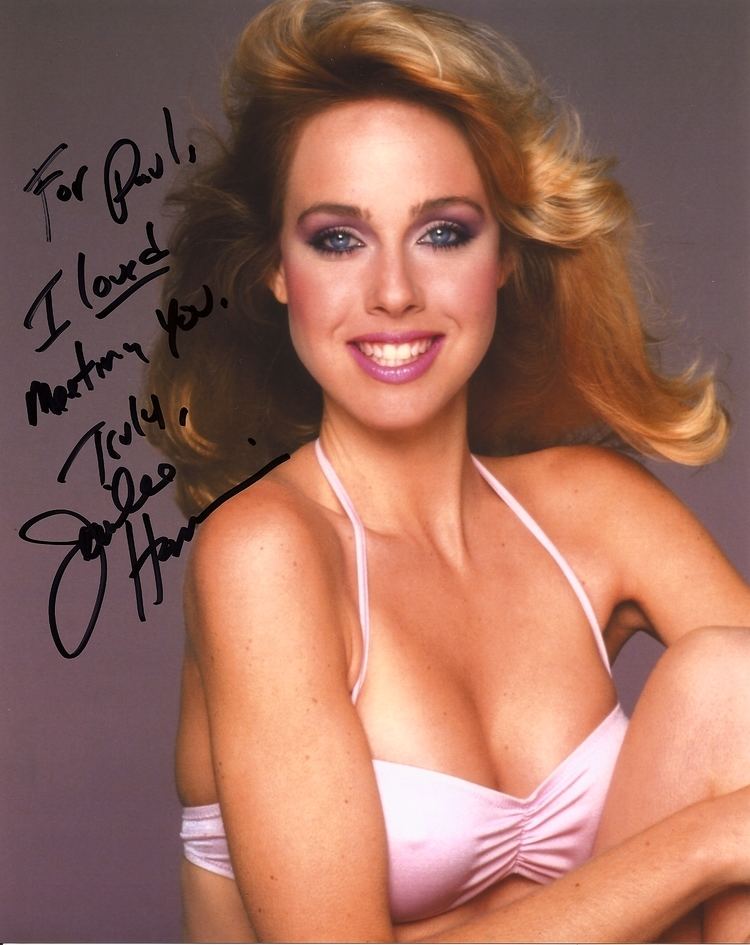 Beginning in 1984, Harrison portrayed the recurring character Jamie Ewing Barnes in the drama Dallas. She played the role until 1986. Her character was actually killed off twice, first when she starts the car belonging to her brother, Jack Ewing, in the episode "Blast from the Past" and it explodes killing her. After the whole season was explained away as a dream, Harrison returned for her character to die again. Early in 1987, Jamie was killed in a mountain climbing accident.
In 1984, Harrison played a reluctant prostitute in the movie Tank alongside James Garner and C. Thomas Howell.
In 1985, she appeared on Super Password with Dick Gautier, appearing again in 1986, this time with Marty Cohen, Michael Young and Bruce Baum, and Dallas star Ken Kercheval back in 1987 with Bert Convy.
Harrison also guest-starred on That '70s Show in 1999.
In 2005, Harrison began appearing in infomercials for the Ultimate Chopper with Chef Tony.
Family/Personal life
In the early 1980's Harrison dated L.A. Rams guard Dennis Harrah and major league baseball player Reggie Jackson.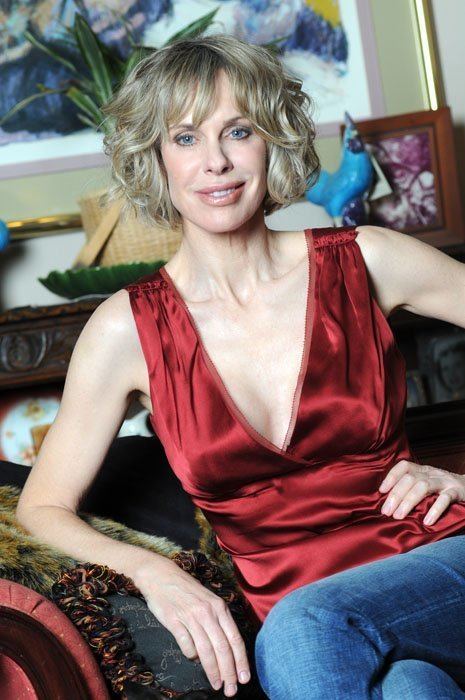 In 1993, Harrison married Dr. Bruce Oppenheim, a prominent Los Angeles area chiropractor, who is the ex-husband of actress Cybil Shepard. She has two stepchildren from her husband's previous marriage to Shepard; Molly Ariel Shepherd-Oppenheim, and Cyrus Zachariah Shepherd-Oppenheim.
Filmography
Actress
2002
The Power (TV Movie)
as
Hillary
2000
The Redemption
as
Sarah Snyder
1999
That '70s Show (TV Series)
as
Carol
- Red's Birthday (1999) - Carol
1995
Fists of Iron
as
Julie Weaver
1992
Illicit Behavior
as
Charlene Lernoux
1991
Prime Target
as
Kathy Bloodstone
1991
Curse III: Blood Sacrifice
as
Elizabeth Armstrong
1991
They Came from Outer Space (TV Series)
as
Dr. H.J. Pretzel
- Play Doctor (1991) - Dr. H.J. Pretzel
1988
She's the Sheriff (TV Series)
as
Grace
- Hair (1988) - Grace
1987
Murder, She Wrote (TV Series)
as
Serena
- The Way to Dusty Death (1987) - Serena
1984
The New Mike Hammer (TV Series)
as
Maggie / Shelley Steele
- Lady Killer (1987) - Maggie
- Shots in the Dark (1984) - Shelley Steele
1987
Hotel (TV Series)
as
Brenda Thompkins
- Class of '72 (1987) - Brenda Thompkins
1981
The Love Boat (TV Series)
as
Connie Wilker / Sarah York / Sheila / ...
- Who Killed Maxwell Thorn? (1987) - Sarah York
- The Lady and the Maid/Love Is Blind/The Babymakers (1984) - Sheila
- The Captain's Replacement/Sly as a Fox/Here Comes the Bride - Maybe (1983) - Erica Dupont
- The Expedition/Julie's Wedding/The Mongala/Julie's Replacement/The Three R's/The Professor's Wife: Part 2 (1981) - Connie Wilker
- The Expedition/Julie's Wedding/The Mongala/Julie's Replacement/The Three R's/The Professor's Wife: Part 1 (1981) - Connie Wilker
1984
Dallas (TV Series)
as
Jamie Ewing
- Bar-B-Cued (1986) - Jamie Ewing
- Something Old, Something New (1986) - Jamie Ewing
- Proof Positive (1986) - Jamie Ewing
- Who's Who at the Oil Baron's Ball? (1986) - Jamie Ewing
- Bells Are Ringing (1986) - Jamie Ewing
- The Second Time Around (1986) - Jamie Ewing
- Territorial Imperative (1986) - Jamie Ewing
- Enigma (1986) - Jamie Ewing
- Once and Future King (1986) - Jamie Ewing
- Pari Per Sue (1986) - Jamie Ewing
- Return to Camelot: Part 1 (1986) - Jamie Ewing
- Return to Camelot: Part 2 (1986) - Jamie Ewing
- Blast from the Past (1986) - Jamie Ewing
- Hello- Goodbye- Hello (1986) - Jamie Ewing
- Thrice in a Lifetime (1986) - Jamie Ewing
- Serendipity (1986) - Jamie Ewing
- J.R. Rising (1986) - Jamie Ewing
- Nothing's Ever Perfect (1986) - Jamie Ewing
- Just Desserts (1986) - Jamie Ewing
- Masquerade (1986) - Jamie Ewing
- Sitting Ducks (1986) - Jamie Ewing
- Overture (1986) - Jamie Ewing
- Dire Straits (1986) - Jamie Ewing (credit only)
- Missing (1986) - Jamie Ewing
- Shadow Games (1986) - Jamie Ewing
- Blame It on Bogota (1986) - Jamie Ewing
- The Deadly Game (1986) - Jamie Ewing
- Twenty-Four Hours (1986) - Jamie Ewing
- The Missing Link (1986) - Jamie Ewing
- Curiosity Killed the Cat (1985) - Jamie Ewing
- Goodbye, Farewell and Amen (1985) - Jamie Ewing
- En Passant (1985) - Jamie Ewing
- The Prize (1985) - Jamie Ewing
- Suffer the Little Children (1985) - Jamie Ewing
- Close Encounters (1985) - Jamie Ewing
- Quandary (1985) - Jamie Ewing
- The Wind of Change (1985) - Jamie Ewing
- Mothers (1985) - Jamie Ewing
- Saving Grace (1985) - Jamie Ewing
- Resurrection (1985) - Jamie Ewing
- Those Eyes (1985) - Jamie Ewing
- The Family Ewing (1985) - Jamie Ewing
- Rock Bottom (1985) - Jamie Ewing
- Swan Song (1985) - Jamie Ewing
- Deliverance (1985) - Jamie Ewing
- Deeds and Misdeeds (1985) - Jamie Ewing
- The Ewing Connection (1985) - Jamie Ewing
- Terms of Estrangement (1985) - Jamie Ewing
- Sentences (1985) - Jamie Ewing
- The Verdict (1985) - Jamie Ewing
- Trial & Error (1985) - Jamie Ewing
- Dead Ends (1985) - Jamie Ewing
- Shattered Dreams (1985) - Jamie Ewing
- The Brothers Ewing (1985) - Jamie Ewing
- Sins of the Fathers (1985) - Jamie Ewing
- Legacy of Hate (1985) - Jamie Ewing
- Bail Out (1985) - Jamie Ewing
- Winds of War (1985) - Jamie Ewing
- Lockup in Laredo (1985) - Jamie Ewing
- Odd Man Out (1984) - Jamie Ewing
- Deja Vu (1984) - Jamie Ewing
- Do You Take This Woman? (1984) - Jamie Ewing
- Barbecue Five (1984) - Jamie Ewing
- Charlie (1984) - Jamie Ewing
- Shadows (1984) - Jamie Ewing
- Oil Baron's Ball III (1984) - Jamie Ewing
- Homecoming (1984) - Jamie Ewing
- Shadow of a Doubt (1984) - Jamie Ewing
- Family (1984) - Jamie Ewing
- Jamie (1984) - Jamie Ewing
1986
Simon & Simon (TV Series)
as
Jennifer Tucker
- Just Because I'm Paranoid- (1986) - Jennifer Tucker
1985
Loverboy: Lovin' Every Minute of It (Music Video)
as
Waitress
1981
Fantasy Island (TV Series)
as
Barbara Jessup / Jenny Ryan / Ginger Donovan
- Games People Play/The Sweet Life (1984) - Barbara Jessup
- The Angel's Triangle/Natchez Bound (1982) - Jenny Ryan
- Show Me a Hero/Slam Dunk (1981) - Ginger Donovan
1983
Bring 'Em Back Alive (TV Series)
as
Stacey Martin
- The Shadow Women of Chung-Tai (1983) - Stacey Martin
1983
Malibu (TV Movie)
as
Cindy
1980
Three's Company (TV Series)
as
Cindy Snow
- Mate for Each Other (1982) - Cindy Snow (credit only)
- Up in the Air (1982) - Cindy Snow (credit only)
- Janet Wigs Out (1982) - Cindy Snow
- And Now, Here's Jack (1982) - Cindy Snow (credit only)
- Paradise Lost (1982) - Cindy Snow (credit only)
- Critic's Choice (1982) - Cindy Snow (credit only)
- Doctor in the House (1982) - Cindy Snow
- Jack's 10 (1982) - Cindy Snow (credit only)
- A Friend in Need (1982) - Cindy Snow (credit only)
- Urban Plowboy (1982) - Cindy Snow
- Hearts and Flowers (1982) - Cindy Snow (credit only)
- Maid to Order (1982) - Cindy Snow
- Oh, Nun (1982) - Cindy Snow (credit only)
- The Matchbreakers (1982) - Cindy Snow
- Strangers in the Night (1982) - Cindy Snow (credit only)
- Macho Man (1981) - Cindy Snow
- Dates of Wrath (1981) - Cindy Snow (credit only)
- Boy Meets Dummy (1981) - Cindy Snow (credit only)
- Eyewitness Blues (1981) - Cindy Snow
- Two Flew Over the Cuckoo's Nest (1981) - Cindy Snow (credit only)
- Lies My Roommate Told Me (1981) - Cindy Snow
- Some of That Jazz (1981) - Cindy Snow
- Professor Jack (1981) - Cindy Snow
- Terri Makes Her Move (1981) - Cindy Snow (credit only)
- Jack Bares All: Part 2 (1981) - Cindy Snow
- Jack Bares All: Part 1 (1981) - Cindy Snow
- Honest Jack Tripper (1981) - Cindy Snow
- The Case of the Missing Blonde (1981) - Cindy Snow
- Dying to Meet You (1981) - Cindy Snow
- Double Trouble (1981) - Cindy Snow
- Night of the Ropers (1981) - Cindy Snow
- And Baby Makes Four (1981) - Cindy Snow
- Teacher's Pet (1981) - Cindy Snow
- In Like Larry (1981) - Cindy Snow
- Furley vs. Furley (1981) - Cindy Snow
- Father of the Bride (1981) - Cindy Snow
- Janet's Secret (1981) - Cindy Snow
- Make Room for Daddy (1981) - Cindy Snow
- Jack's Other Mother (1981) - Cindy Snow
- The Not-So-Great Imposter (1981) - Cindy Snow
- Jack to the Rescue (1981) - Cindy Snow
- Chrissy's Cousin (1980) - Cindy Snow
1979
240-Robert (TV Series)
as
Jill / College Girl
- The Applicant (1979) - Jill
- Stuntman (1979) - College Girl
1978
CHiPs (TV Series)
as
Cheerleader
- High Flyer (1978) - Cheerleader
Soundtrack
1986
Super Password (TV Series) (performer - 1 episode)
- Episode #2.86 (1986) - (performer: "Happy Birthday to You" - uncredited)
Self
2005
TV Land Confidential (TV Series documentary)
as
Self
- Breakout and Disappearing Star (2005) - Self
- Network Notes (2005) - Self
2004
Remembering John Ritter (Video short)
as
Self
2002
The Ultimate Chopper (TV Short)
as
Self
2000
VH-1 Where Are They Now? (TV Series documentary)
as
Self
- TV Bombshells (2000) - Self
1998
E! True Hollywood Story (TV Series documentary)
as
Self
- Three's Company (1998) - Self
1991
Acting Crazy (TV Series)
as
Self
1986
The New Hollywood Squares (TV Series)
as
Self - Panelist
- Episode dated 11 April 1988 (1988) - Self - Panelist
- Episode dated 8 June 1987 (1987) - Self - Panelist
- Episode dated 23 February 1987 (1987) - Self - Panelist
- Episode dated 10 November 1986 (1986) - Self - Panelist
1987
Sex Symbols; Past, Present and Future (TV Movie documentary)
as
Self
1985
Super Password (TV Series)
as
Self - Celebrity Contestant
1986
King Kong! The Living Legend (TV Special documentary)
as
Self
1985
Hour Magazine (TV Series)
as
Self
- Episode dated 27 October 1986 (1986) - Self
- Episode dated 13 September 1985 (1985) - Self
1985
Macy's Thanksgiving Day Parade (TV Series)
as
Self
- CBS All-American Thanksgiving Day Parade (1985) - Self
1984
Body Language (TV Series)
as
Self
- Episode dated 20 September 1985 (1985) - Self
- Episode dated 19 September 1985 (1985) - Self
- Episode dated 18 September 1985 (1985) - Self
- Episode dated 17 September 1985 (1985) - Self
- Episode dated 16 September 1985 (1985) - Self
- Episode #1.68 (1984) - Self
- Episode #1.67 (1984) - Self
- Episode #1.66 (1984) - Self
1985
All Star Blitz (TV Series)
as
Self
- Jenilee Harrison. Robert Mandan, Abby Dalton, Tim Reid (1985) - Self
1985
Battle of the Network Stars XVIII (TV Special)
as
Self - CBS Team
1984
Hot Potato (TV Series)
as
Self
- Episode dated 11 May 1984 (1984) - Self
- Episode dated 10 May 1984 (1984) - Self
- Episode dated 9 May 1984 (1984) - Self
- Episode dated 8 May 1984 (1984) - Self
- Episode dated 7 May 1984 (1984) - Self
1984
Match Game/Hollywood Squares Hour (TV Series)
as
Self - Panelist
- Episode dated 13 January 1984 (1984) - Self - Panelist
- Episode dated 12 January 1984 (1984) - Self - Panelist
- Episode dated 11 January 1984 (1984) - Self - Panelist
- Episode dated 10 January 1984 (1984) - Self - Panelist
- Episode dated 9 January 1984 (1984) - Self - Panelist
1983
Battle of the Video Games (TV Special)
as
Self - Gray Team Member
1983
Celebrity Daredevils (TV Movie)
as
Self
1982
The New Battlestars (TV Series)
as
Self
- Episode dated 23 March 1982 (1982) - Self
1982
Tattletales (TV Series)
as
Self
- Gordon & Anna Jump, Jeff Severson & Jennilee Harrison, William Shatner & Marcy Lafferty - day 5 (1982) - Self
- Gordon & Anna Jump, Jeff Severson & Jennilee Harrison, William Shatner & Marcy Lafferty - day 4 (1982) - Self
- Gordon & Anna Jump, Jeff Severson & Jennilee Harrison, William Shatner & Marcy Lafferty - day 3 (1982) - Self
- Gordon & Anna Jump, Jeff Severson & Jennilee Harrison, William Shatner & Marcy Lafferty - day 2 (1982) - Self
- Gordon & Anna Jump, Jeff Severson & Jennilee Harrison, William Shatner & Marcy Lafferty - day 1 (1982) - Self
1981
Password Plus (TV Series)
as
Self - Celebrity Contestant
- Episode dated 29 December 1981 (1981) - Self - Celebrity Contestant
- Episode dated 28 December 1981 (1981) - Self - Celebrity Contestant
- Episode dated 25 December 1981 (1981) - Self - Celebrity Contestant
- Episode dated 24 December 1981 (1981) - Self - Celebrity Contestant
- Episode dated 23 December 1981 (1981) - Self - Celebrity Contestant
1981
Battle of the Network Stars X (TV Special)
as
Self - ABC Team
Archive Footage
2005
Game Show Moments Gone Bananas (TV Mini Series)
as
Self
- Episode #1.2 (2005) - Self
- Episode #1.1 (2005) - Self
2004
Dallas Reunion: Return to Southfork (TV Movie documentary)
as
Jamie Ewing (uncredited)
1982
Three's Company (TV Series)
as
Cindy Snow
- The Best of Three's Company: Part 2 (1982) - Cindy Snow
- The Best of Three's Company: Part 1 (1982) - Cindy Snow
References
Jenilee Harrison Wikipedia
(Text) CC BY-SA