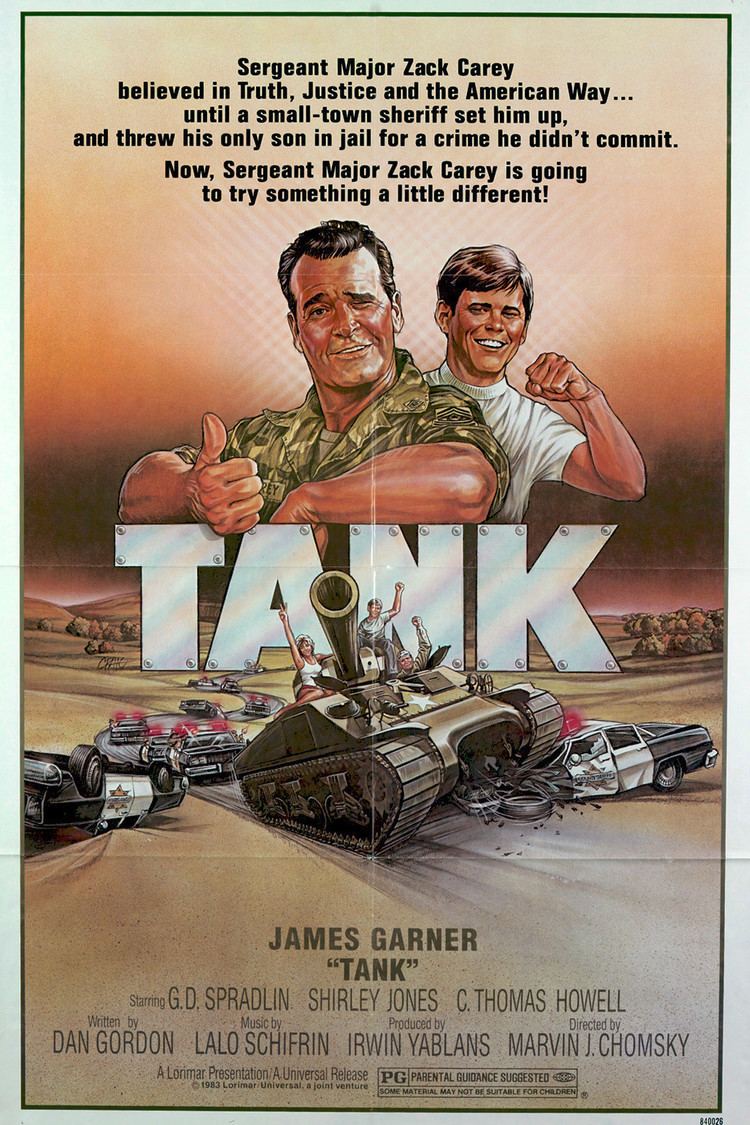 US Army Command Sergeant Major Zack Carey (played by Garner) is about to retire from the military after taking his last post in rural Georgia (loosely based on Fort Benning). Despite being offered the possibility of becoming Sergeant Major of the Army, he insists he just wishes to finish his tour and retire in peace to spend time with his family. Several years earlier, his older son had been killed in an Army training accident, and his relationship with his only surviving son, Billy (played by Howell), is strained. Zack is shown to be a tough but fair NCO.
Zack owns a vintage Sherman tank from World War II that he has restored with his younger son's help, and he uses it for parades and public relations. While visiting an off-base bar, he meets a young woman named Sarah (Jenilee Harrison) and the two of them strike up a conversation over drinks. During their conversation, the local deputy sheriff, Euclid Baker (James Cromwell) sees them together and orders Sarah to get back to work, insulting her and slapping her in the process. Carey quickly steps in and defends her.
Sarah had been forced into prostitution by Cyrus Buelton, the corrupt sheriff (G. D. Spradlin). Sheriff Buelton tries to arrest Carey, but finds he has no jurisdiction while Carey is on the base, which is Federal property. To get revenge on Carey, Sheriff Buelton frames Billy for drug possession by planting marijuana in his gym locker at school.
Sheriff Buelton offers to drop the charges if CSM Carey would give the Sheriff a hefty bribe, approximately equal to his retirement savings. Zack's wife, LaDonna (Shirley Jones) refuses to take part in "good old boy" justice and calls a lawyer. The lawyer is thrown into jail himself on trumped-up contempt of court charges, Billy is put on trial immediately without benefit of counsel and sentenced to several years of hard labor.
LaDonna, finally realizing the depths of Sheriff Buelton's corruption and cruelty, goes to Zach and tells him what happened. When Carey tries to offer the bribe, Buelton accepts the money but refuses to release his son, simply stating that it will prevent him from being shot "accidentally" or while "attempting to escape", or from being raped by other inmates – temporarily.
Carey decides to take matters into his own hands and climbs into his vintage tank, destroying the local jail and police station.
Carey and Sarah depart for the county work farm where they use the tank to liberate Billy (and all the other prisoners) and flee from the town. Once away from town and the jail, his plan is to escape to neighboring Tennessee, where they can get a fair hearing regarding extradition.
Sheriff Buelton demands military intervention from Carey's commanding general, Major General V.E. Hubik. The general points out that Carey had already retired from the Army, so he has broken no military law. Buelton then demands that Hubik order the post's personnel and tanks to pursue Carey, and that if refused, he will call the Governor of Georgia. General Hubik again declines and cites the Posse Comitatus Act, which states that the Department of Defense is prevented from interfering in domestic law enforcement.
Through a long series of chases and evasion through rural Georgia, while being aided by relatives of people jailed by Buelton who died while incarcerated, the tank and its crew quickly become folk heroes. Despite Sheriff Buelton insisting they are criminals, the nation rallies behind them as a sort of modern-day Robin Hood. On the Tennessee side of the line, thousands of people gather to welcome the tank. Meanwhile, LaDonna has met with the Governor of Tennessee, and using the threat of unseating him at the next election manages to get a formal guarantee that they will be given a proper extradition hearing.
A showdown brews at the Tennessee state line, where a huge crowd of supporters for the tank and its crew have gathered. The sheriff and his men are foiled. The protagonists climb out of the tank to a hero's welcome by the people and the Governor of Tennessee.
James Garner as CSM Zack Carey
Shirley Jones as LaDonna Carey
C. Thomas Howell as William "Billy" Carey
Mark Herrier as SSG Jerry Elliott, Soldier Magazine Reporter
Sandy Ward as MG V.E. Hubik
Jenilee Harrison as Sarah
James Cromwell as Deputy Euclid Baker
Dorian Harewood as SFC Ed Tippet, Provost Marshal's Office
G. D. Spradlin as Sheriff Cyrus Buelton
John Hancock as Mess MSG Johnson
Guy Boyd as SGT Wimofsky
Randy Bass as Governor's Aide
Tank was filmed at Fort Benning as well as the small town of Zebulon, GA. The final tank scene at the faux Tennessee State line was filmed in SW Atlanta, GA at the SE intersection of Fulton Industrial Blvd GA hwy 70/154 and Campbellton Rd., Georgia Highway 166.